Pursuing low-carbon consumption is critical for the success of environmental conservation.
Last summer, China announced to extend, for the third time, the purchase tax exemption for new-energy vehicles (NEVs) to the end of 2023. It is one of the many moves the country has taken in recent years to promote low-carbon consumption.
Human daily activities are a key source of greenhouse gas emissions. Studies show that households account for 65 percent or more of global emissions of greenhouse gases. This figure is 53 percent in China. Pursuing low-carbon consumption is, therefore, critical for the success of environmental conservation.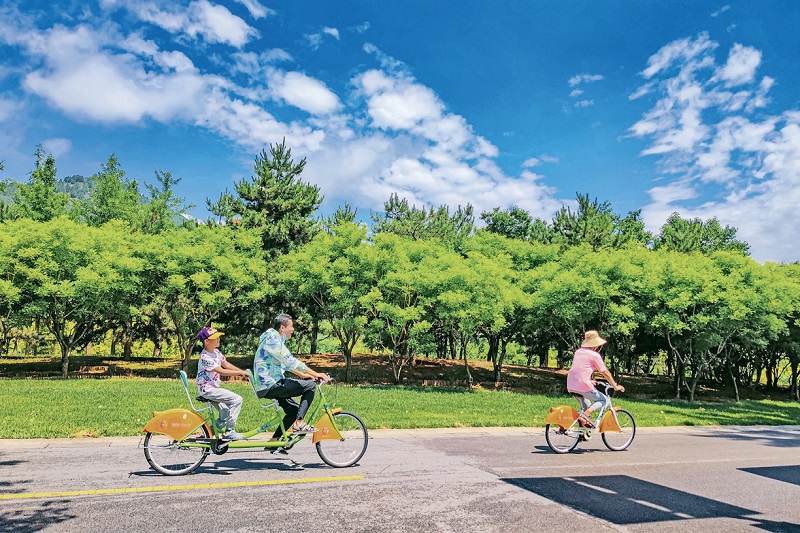 Tourists ride their bicycles around the Yanqi Lake in Beijing's Huairou District on June 4, 2022.
Circular Economy and Resource Recycling
A major path to carbon reduction is to develop the circular economy. This involves both conventional recycling of waste materials and reuse of waste empowered by technologies.
Zhu Di, an expert with the Institute of Sociology, Chinese Academy of Social Sciences, heads a state-funded research program on Chinese urban residents' green, low-carbon lifestyles. She said that consumption of secondhand goods is a key aspect in low-carbon consumption. As commodities are re-bought and reused, resources are given an extended life.
With growing awareness of recycling in China, new business opportunities have emerged. ATRenew is a forerunner in this area, with the mission of "giving a second life to unused goods." According to Tian Mu, the company's chief for branding, when the company was founded in 2011, the reuse of mobile phones faced obstacles, such as lack of trustworthy trading agencies, or transparency in resale prices, and risks of leaking private information. Employing big data, algorithms, and other advanced technologies, ATRenew solved these problems over its 10 years of development. Today, its services cover the entire industrial chain from collection to sales of pre-owned consumer electronics.
In 2021 alone, transactions of used mobile phones on the ATRenew platform helped reduce 463,700 tons of carbon emissions, equivalent to the annual carbon sink of 150,000 hectares of forests. Meanwhile, the company's AHS Device service, which enables it to have access to mainstream markets of pre-owned consumer electronics in Southeast Asia, Latin America, and Africa, contributes to sustainable development in the global market.
As a veteran business insider, Tian Mu has witnessed people's rising awareness of low-carbon consumption over the years, and the rollout of a slew of supportive policies for businesses specializing in recycling of secondhand goods. As a result, the market value of secondhand consumer electronics sales and services soared from RMB 79 billion in 2016 to RMB 309.5 billion in 2021, he said.
In January 2022, seven central authorities, including the National Development and Reform Commission, issued the Implementation Plan for Promoting Green Consumption. The document pledged efforts to accelerate the formation of simple, moderate, green, low-carbon, and healthy ways of living and consumption. It set goals for low-carbon consumption by 2025 and 2030. In the view of Tian Mu, supportive measures set out in this document will help expand the market of secondhand consumer electronics and grow the sector into a standardized and well-regulated industry.
According to the China Secondhand Trade Carbon Emission Reduction Report, jointly released by the Institute of Energy, Environment and Economy of Tsinghua University and Frost & Sullivan, the market value for transactions of secondhand goods in China is expected to exceed RMB 3 trillion in 2025.
Though secondhand goods consumption in China has not reached the expected scale, Zhu Di is confident about its future.
"The state is vigorously developing a circular economy. Sales platforms for idle products are thriving, and new consumption trends are gaining momentum. Under this circumstance, purchasing secondhand goods has bright prospects, and will play a big role in fostering greener lifestyles."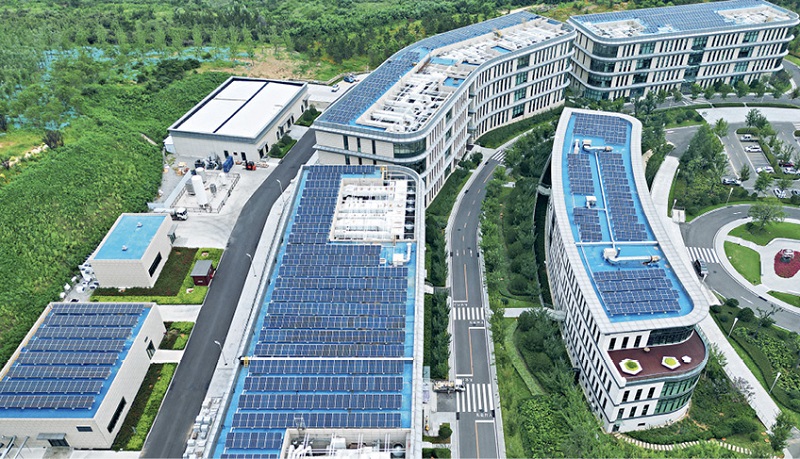 Wanhua Chemical Group makes full use of the roof space of its headquarters building to provide green electricity for the office area with distributed photovoltaic power generation, creating a new sample of green low-carbon parks in Yantai, Shandong Province, on August 7, 2022.
Making Green Consumption a Daily Practice
Zhu Di and her research team conducted a survey on low-carbon consumption in Chinese cities last year. It shows that Chinese consumers generally have a strong awareness of environmental protection and endorse low-carbon ways of living. But Zhu cautioned, "Consumer behavior is more shaped by the supply system. For example, [consumers choices will be swayed by] whether there are abundant green products in the market or whether the products are cost effective."
Convenience is another important factor. "Such things as garbage classification and carrying one's own tableware when eating out are deemed inconvenient by some people. Such perception affects their daily habits," said Zhu. She, therefore, suggested that low-carbon products and services be adapted to widely-adopted ways of living among consumers. "This is an effective method to advance a low-carbon way of life at a faster pace."
Extensive studies have shown that commuting is also a major source of carbon emissions in people's daily activities, accounting for 17 percent of the total emissions by individual consumers. The rapid growth of China's NEV industry has lent strong support to green commuting. In a 2015 survey Zhu's team conducted, the most cited concerns about NEVs were long charging time and inconvenience. "Like refilling a gas tank, to recharge a new-energy vehicle in the past, you had to go to a dedicated place. Today, technological advances allow charging poles to be installed at homes and workplaces, making recharging more easily accessible. This is a typical case of adapting products and services to consumption habits through innovations in the supply system," said Zhu.
Corporations should not passively cater to consumers' needs. Instead, they should stand at the forefront of consumption trends, added Zhu. "Solely relying on policy tools, such as tax reductions and government subsidies, is unsustainable for the state, enterprises, and consumers as well," she said. Zhu further pointed out that in the process of making charging facilities more accessible to NEV owners, enterprises played the dominant role, while media and social organizations also made positive contributions. This reveals the significance of society-wide innovation.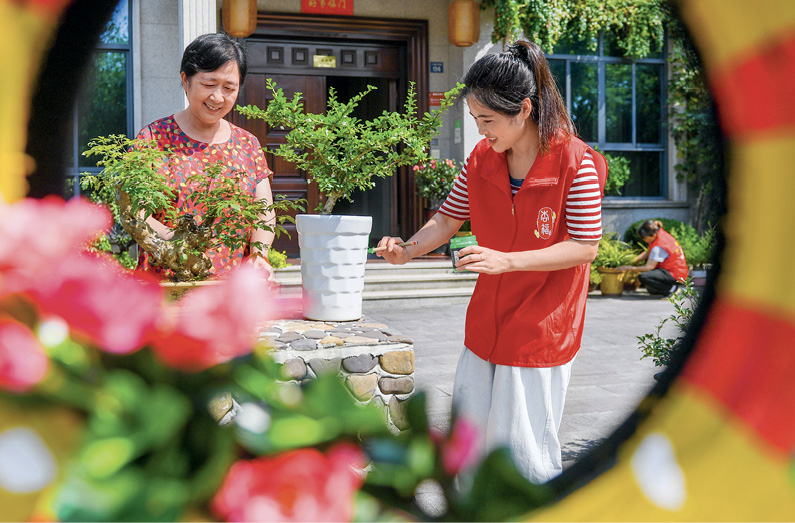 Wanhua Chemical Group makes full use of the roof space of its headquarters building to provide green electricity for the office area with distributed photovoltaic power generation, creating a new sample of green low-carbon parks in Yantai, Shandong Province, on August 7, 2022.
The Middle-Income Group, a Key Driver
In their study of low-carbon consumption in Chinese cities in 2022, Zhu Di and her team measured the carbon emissions of three types of privately-owned cars – those being gasoline-powered, hybrid, and electric. They found that the emissions in first-tier cities are slightly higher than that in other cities. When looking at income levels, the cars owned by families earning less than RMB 10,000 and more than RMB 30,000 per month discharged a larger amount of carbon, while those of families with the monthly income at RMB 15,000-20,000 emitted the lowest emissions.
This finding meshes with the conclusions of existing papers, highlighting the leading role middle-income groups can play in promoting low-carbon consumption.
Zhu's team also noticed that in large cities like Beijing and Shanghai, more residents prefer walking and rail transit for their commuting. "In first-tier cities, the rail transit system is more developed, and shopping and recreational destinations, residential areas, and business offices are always close to metro lines. This makes low-carbon traveling a widely-adopted choice," said Zhu.
This year, Zhu and her team will build a database of policies for green consumption and carbon emissions by consumers over the past 20 years. They will make the database available to the public in due course, hoping that it will play a part in promoting a low-carbon lifestyle across society.