The ecological value of carbon sinks has been continuously exploited in recent years. How to transform their economic value and help with high-level ecological protection and high-quality economic development has subsequently become a hot topic of conversation.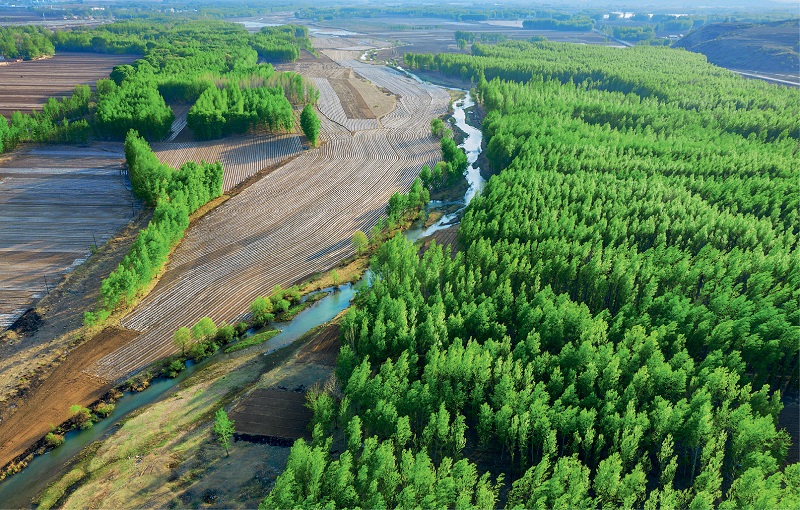 An aerial photograph of the Laoha River Basin in Ningcheng County, Inner Mongolia taken on May 2, 2021.
The total carbon sink is 125,500 tonnes, valued at RMB 6 million! The Hubei Geological Survey released its study result on the carbon sink of Chenhu Wetland Nature Reserve in November 2022. This data was released at the 14th meeting of the Conference of the Contracting Parties to the Ramsar Convention on Wetlands (COP14) in Wuhan, Hubei Province.
With the ecological value of a carbon sink being continuously exploited in recent years, the question of how to transform its economic value and promote high-level ecological protection and high-quality economic development is an ongoing topic of discussion. A carbon sink means anything that absorbs more carbon from the atmosphere than it releases. Globally, the two most important carbon sinks are vegetation and the ocean.
Great Value
To achieve China's "dual carbon goal" (to peak carbon dioxide emissions before 2030 and achieve carbon neutrality before 2060) does not merely mean a reduction in carbon emissions; how to absorb existing carbon dioxide is also of concern. "The essence of carbon sink is to absorb and store carbon dioxide in the atmosphere through natural or artificial means, so as to reduce carbon concentration and mitigate the negative effects of climate change," said associate professor Zhang Da at the Institute of Energy, Environment, and Economy (3E), Tsinghua University. Natural carbon sinks include forests, wetlands, and oceans, and there are also artificial carbon sinks, such as direct air capture and carbon sequestration technology (DACCS).
According to Liu Yi, a researcher at the Institute of Atmospheric Physics, the Chinese Academy of Sciences, marine and terrestrial ecosystems can sink about 50 percent of human carbon emissions. Obviously, carbon sinks can greatly contribute to the realization of the "dual carbon goal."
Wetlands are one of the most important ecosystems on Earth and of great importance in terms of carbon sinks. With a total area of 115.79 square kilometers, the Chenhu Wetland is the largest typical freshwater lake and swamp wetland in the Jianghan Plain. Liu Li, senior engineer of Hubei Geological Survey, said that on the basis of the previous ecological and geological surveys, his institute applied methods such as the eddy covariance technique, biomass survey, and the static box, to monitor and analyze the carbon budget of the wetland water, vegetation, atmosphere and other media, before finally obtaining the wetland's carbon sink data.
Over the past three decades since it joined the Ramsar Convention, China has spared no effort in protecting and restoring wetlands. Currently, 13 cities in China have been selected as International Wetland Cities certified by the Convention. At the Geneva parallel session of COP14, Wuhan was awarded the certificate of International Wetland City. Dr. Musonda Mumba, secretary general of the Convention, expressed her congratulations and recalled her good impression of the city.
Undoubtedly, the ecosystem carbon sink has immeasurable ecological value. According to Liu Li, in the future, under measurable, reportable, and verifiable conditions, the wetland carbon sinks will be included in the carbon market, and the resulting proceeds will be used for wetland protection, restoration, and management, which can form a sustainable virtuous circle. This is essential for addressing climate change, preserving biodiversity, and safeguarding the health and well-being of people and the planet as a whole. This process is being further explored.
More than 50 Chinese and foreign media journalists attend the China Beijing Environment Exchange to learn more about Beijing's positive results in promoting green and low-carbon development on February 16, 2022.
Restarting CCER
The voluntary carbon market is an important channel to help countries and enterprises achieve carbon neutrality, and is also an important effort to promote the deepening development of the carbon market and achieve low-cost emission reduction. China's voluntary carbon market has been moving forward during the past decade. Since the release of the Interim Procedures for the Administration of Voluntary Greenhouse Gas Emission Reduction Trading in 2012, China has built a relatively complete operation management system for its voluntary carbon market. China Certified Emission Reduction (CCER) trading is expanding, and played an important role in carbon offset and compliance with the national carbon allocation market at the end of 2021. Improving the voluntary greenhouse gas emission reduction trading mechanism will be one of the main tasks to ensure the smooth and effective operation and healthy development of China's carbon market.
Ecological protection initiatives such as afforestation and wetland protection require huge financial support. "As a state-certified voluntary greenhouse gas emission reduction trading market, CCER, once restarted, can support entities other than key carbon emitting enterprises to voluntarily participate in market transactions, generate economic benefits, promote investment, and enable carbon emission reduction projects such as carbon sinks to achieve good development," said Zhang Da.
China Beijing Environment Exchange (CBEEX) is a voluntary emission reduction trading institution registered with the National Development and Reform Commission. CBEEX is now building a national voluntary greenhouse gas emission reduction trading system and a registration system, fully supporting Beijing's work in building a national voluntary emission reduction trading center. Because the CCER methodology of forestry carbon sink has been recorded, other CCER methodologies such as the wetland carbon sink and marine carbon sink are still blank, so the carbon sink products that can participate in domestic voluntary emission reduction trading are mainly those of forest carbon sinks.
Among the cross-regional carbon trading attempts carried out in Beijing and Chengde, Hebei Province, forest carbon sinks are the focus of carbon emission trading. In 2015, the Saihanba Forest Farm in Chengde started the first batch of carbon emission reductions for afforestation carbon sinks and forest management carbon sink projects. The first batch of 182,800 tonnes of carbon emission reductions was listed and successfully traded on the CBEEX in 2016. On August 23, 2022, at the Saihanba carbon reduction product value realization and credit extension signing ceremony, 12 enterprises purchased eight carbon reduction products and realized a value conversion of RMB 24.6 million. At present, the Saihanba forestry carbon sink project has been recorded by the National Development and Reform Commission to be 4.749 million tonnes, with economic benefits of over RMB 100 million.
Changkou Village in Sanming City, Fujian Province, issues carbon tickets by evaluating the value of villagers' forest products, and villagers receive economic proceeds and compensation through these tickets. In September 2022, villagers received the first forestry carbon ticket dividend of RMB 140,000. Locals have regarded carbon tickets as an important source of income for their families. The transaction volume of carbon emission rights in Fujian in 2021 was RMB 805 million, of which that of the forestry carbon sink trading ranked first in China.
In addition, government enterprises have played a leading role in the circulation of forestry carbon tickets. For example, China Forestry Group Corporation has worked on the national reserve forest construction project in Sanming City since 2021, which has promoted the issuance, pricing, and circulation of forestry carbon tickets.
On April 10, 2022, China issued a guideline on building a unified national market more rapidly, requiring the construction of a unified national energy market and the cultivation and development of a unified national ecological environment market. The report to the 20th National Congress of the Communist Party of China (CPC) stated that China will improve the statistics and accounting system and the cap-and-trade system for carbon emissions.
"The CCER is conducive to fully mobilizing the whole society to participate in the work of addressing climate change, and also provides a new platform for society and enterprises to participate in this work, which is conducive to promoting the realization of the dual carbon goal," said Li Gao, director general of the Department of Climate Change at the Ministry of Ecology and Environment, on October 27, 2022. China will accelerate the construction of the CCER market so that it can come into operation and start producing practical results as soon as possible.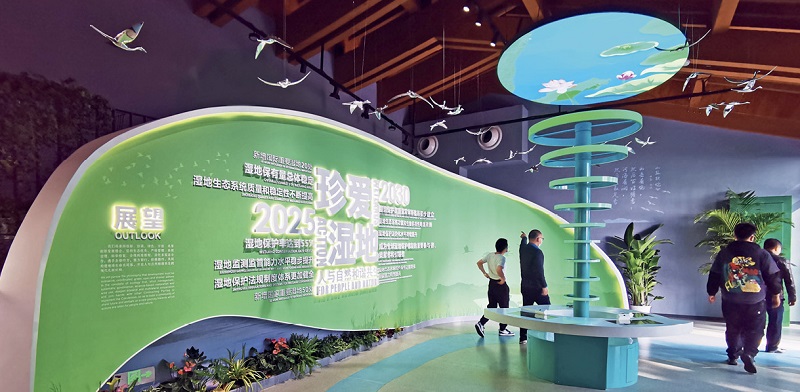 Visitors at the Exhibition for the Achievements of the 30th Anniversary of China's Implementation of the Ramsar Convention on Wetlands in Donghu National Wetland Park in Wuhan, on November 15, 2022.
Overcoming Difficulties
Carbon sinks and emission reduction projects need to be developed according to relevant methodologies and strict technical standards, and certified and documented before they can participate in voluntary emission reduction trading. "How to truly and accurately measure emission reductions is one of the core issues to be solved," said Zhang Da.
"For forest carbon sinks, the traditional measurement method is to manually calculate the number, height and other data of trees in the sample plot. However, the high cost, low sample coverage, and low monitoring frequency make it difficult to meet the demand for accurate measurements of carbon sinks to support trading," said Zhang. He said remote sensing technology, represented by airborne lidar, has obvious advantages in data reliability, availability, and scale processing, and has brought new solutions for the measurement and monitoring of emission reductions of carbon sink projects. It has been widely used in recent years.
Founded in 1980, 3E is the earliest team in Chinese universities to carry out energy and climate change research, and has led a number of national climate change projects. This global climate governance think tank has international influence. In recent years, 3E has cooperated with relevant institutions to carry out research on forestry carbon sinks, conduct field measurements of clean development mechanism projects in Wuzhou City, Guangxi Zhuang Autonomous Region, and CCER projects in Fangshan District, Beijing, verify project emission reductions, and establish emission reduction measurement models.
Now, the research team plans to report the results to further improve the measurement and monitoring system of emission reductions of forestry carbon sink projects, enhance the reliability of voluntary emission reductions of forestry carbon sink projects, and help achieve China's "dual carbon goal."
In the process of exploring and improving the carbon sink trading mechanism, the next step is to strengthen the research and demonstration of carbon sink methodologies such as those of the marine carbon sink and wetland carbon sink, and include more types of carbon sink products into market trading. In addition, it is necessary to strengthen relevant capacity building and policy popularization, so that the public can have a clearer understanding of the value of carbon sinks and the conditions and requirements for carbon sink trading, and reduce unnecessary costs for promoting the development of carbon sinks.