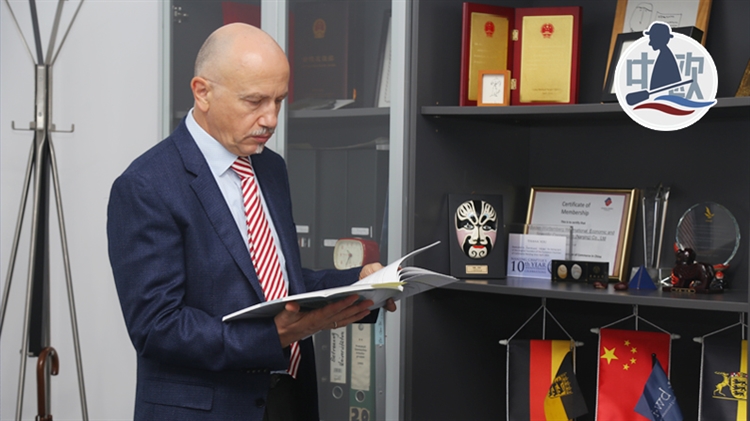 Over the years, a lot has been achieved in interlocal cooperation between Europe and China. There is a great potential for cooperation in low-carbon development and sustainable development. Bernhard Weber, Chief Representative of Baden-Württemberg in China, discussed the progress and potential of Sino-European cooperation in ecology and environmental protection with Nouvelles d'Europe.
Nouvelles d'Europe: Baden-Württemberg cultivates close long-term partnerships with Jiangsu and Liaoning. Both provinces are typical traditional industrial bases in China. Could you tell us about the cooperation projects between Baden-Württemberg and these two provinces regarding industrial transformation and green development?
Weber:In our regular high level meetings between the various departments of the governments of the two sides, we always try to promote cooperation regarding industrial transformation and green development. The industry in Baden-Wuerttemberg is very advanced and has a lot of experience in smart manufacturing, our office in Nanjing facilitates the market entry for many SMEs from our state into the Chinese market. More than ten years ago, one of our universities, the world famous Technical University of Karlsruhe KIT, established an institute in Suzhou for the promotion of smart manufacturing (GAMI), supporting companies in China in the transformation process.
As for green development, we have established a competence center for environmental technologies, also under the roof of GAMI in Suzhou. This Competence Center (TRENT) is a cooperation between the Baden-Wuerttemberg ministry of Environment, the Baden-Wuerttemberg State Association of Environmental Technology and the University of Karlsruhe (KIT), in Jiangsu we closely work together with the provincial bureau of Environment and the local Environment Technology Association. In this project, we have regular workshops and online events, where we try to combine academic exchange and exchange between companies in the field. I am happy to say that this project already has resulted in specific cooperation between several companies.
Nouvelles d'Europe: Baden-Württemberg has an excellent reputation in the global automotive industry, and the Chinese market is essential for automobile companies. Could you tell us about the progress and prospects for cooperation on new energy vehicles?
Weber:The automotive industry is one of the back-bones of the industry in Baden-Wuerttemberg, Benz and Porsche have their headquarters in our state, Audi has a factory there as well. A lot of our enterprises are providing machinery and parts used in the manufacturing of cars, conventional and new energy vehicles. We understand that China is a very important and very advanced market for new energy vehicles, and we are glad to say that some companies of our state are already active supply the local new energy vehicle market with very advanced products.
Nouvelles d'Europe: Baden-Württemberg is one of the most important industrial locations in Germany regarding the sustainable building. Over the past decade, urbanization has accelerated in China, with a rapid expansion of the construction industry. Is there any cooperation between the two sides in this area? What do you think are the prospects for future cooperation?
Weber:The government of Baden-Wuerttemberg promotes sustainable building very strongly. All new buildings must include photovoltaic panels on their roofs, wood as a building material is heavily promoted, our universities are researching in the field. There are many possibilities for future cooperation, in both directions. Already now, China is the main producer for photovoltaic panels, therefore in this field we already have a strong presence of Chinese companies in our state. I think a much stronger cooperation would be possible. Our building regulations regarding the preservation of energy are exemplary, and we have many companies which are interested to provide technologies and products for more sustainable building in China.
Nouvelles d'Europe: Many European enterprises have advanced technologies in reducing or eliminating pollution to the air, water, and land. What cooperation does Baden-Württemberg have with China in this field?
Weber:Many companies in our state have a lot of experience in the mentioned fields. Since there is a close cooperation between the corporate world, the universities and the various research institutes in Baden-Wuerttemberg, many of our companies can provide tailor made solutions for many environmental issues. Already now, a lot of these companies are invested in China.
Nouvelles d'Europe: Over the past decade, China's photovoltaic industry has been developing rapidly, and the EU is one of the biggest markets for Chinese photovoltaic enterprises. The EU Commission launched two anti-competition cases against Chinese manufacturers of solar modules and core products. How does this affect the collaboration?
Weber:This should not affect collaborations as long as the Chinese manufacturers are trading fairly, and in line with the rules and regulations of the EU market. As I mentioned above, already now, Chinese companies dominate the photovoltaic market in Europe, this will not chance in the short term.
Nouvelles d'Europe: Based on your many years of working and living experience in China, what do you think about the environmental awareness of Chinese people and Chinese enterprises?
Weber:My own experience in China started in 1982. We all know, that China went through different stages of development, and sacrificed a lot of environmental health in the process, instead of adopting more sustainable technologies in the first place. For many years, growth and profit were the main goal of the development, resulting in pollution of air, water and soil. In this, the development of China – unfortunately – did not differ from the development of the more advanced industrial nations, the whole process only started much later.
Nevertheless, the awareness of the problems started quite early, specially at the people who had to suffer directly from it. Therefore, the regulatory framework followed fast, learning from similar experiences world-wide and adopting high standards. We all have experienced that over the last years, these regulations were really adopted and were also really successful in improving the quality of air and water in most regions. This of course is only the beginning. China is the biggest producer of CO2 in the world, some of the CO2 produced in China is going into products which are exported, but the majority comes from production and consumption in the country. I believe that therefore the responsibility for global sustainability of China is very high and I hope that the leadership of China will take all measures necessary to reach the goals they set to achieve its climate goals. I have experienced many positive developments in these respect in my time in China. I remember very well how barren the hills of many provinces were in the 1980s, and how green they are now. I know that the afforested areas more than doubled since I came to China the first time. This makes me confident, that China will also lead the way towards a sustainable future.