WITH the right momentum and united focused effort, experts believe the post-COVID-19 economic recovery plan is crucial to ensuring that the world achieves the UN Sustainable Development Goals and the goals set by the Paris Agreement.
On July 23, 2020, the 15th Climate Change Global Lecture, one of the open lectures of the Tsinghua Global Summer School (GSS) 2020, opened for faculty and students from all over the world. Its theme was "Climate Governance in the Post-Pandemic World," its keynote speakers included Antonio Guterres, the United Nations Secretary-General, Laurence Tubiana, former French climate change ambassador and CEO of the European Climate Foundation, and Xie Zhenhua, special advisor for climate change affairs at China's Ministry of Ecology and Environment, and president of the Institute of Climate Change and Sustainable Development (ICCSD), Tsinghua University. Xie called on countries to take advantage of the post-pandemic economic recovery and join hands to take transformative measures to promote high-quality green development.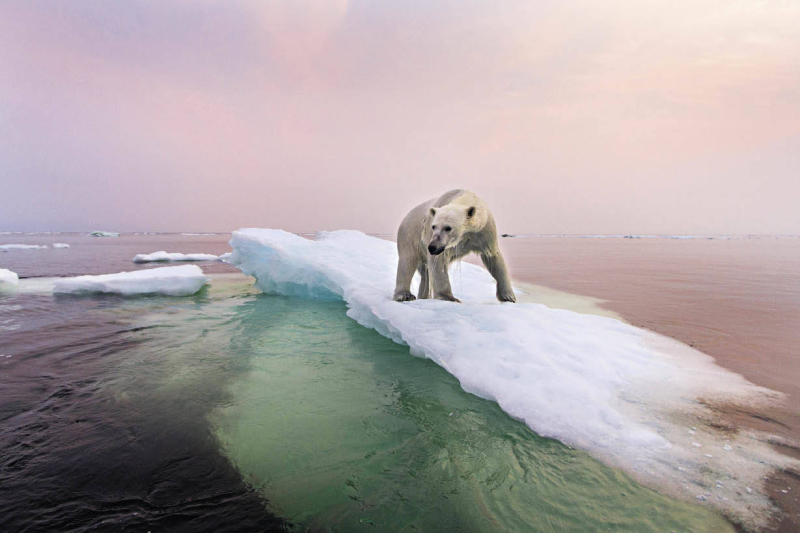 If global warming continues, the polar bear may become extinct around 2100 as the Arctic ice melts away.
Threat of Climate Change
Burning fossil fuels like oil and coal and cutting down and burning forests can produce large amounts of carbon dioxide, or greenhouse gases, which can lead to a rise of the Earth's temperature.
The past five years have been the warmest on record. The Arctic Circle is thought to have recorded its highest temperature ever of 38°C this June in Verkhoyansk, a Siberian town, in contrast with the usual 18°C. Meanwhile, data showed that this year the average temperature in Siberia within the Arctic Circle is around 5 °C higher than the past years.
The same happened in the Antarctic. According to NASA satellite data, the Artic and Antarctic are quietly turning green, and the highest temperature in the Antarctic this year reached 20.75°C, setting a new record for the continent. Studies suggest that as global warming intensifies, temperatures in the polar regions will rise even higher as glaciers melt.
The annual mean global temperature is likely to be at least 1°C above pre-industrial levels (1850-1900) in each of the coming five years (2020-2024) and there is a 20 percent chance that the increase will exceed 1.5°C in at least one year, according to the latest predictions issued by the World Meteorological Organization.
The scientific community points out that 1.5°C is a tipping point beyond which the global situation would deteriorate dramatically, triggering a series of devastating consequences. By the end of the century, 70 percent of coral reefs will disappear and insect habitat will be halved, exacerbating global food security issues and leading to a dramatic increase in the frequency and intensity of extreme weather events. Likely consequences of global warming will be the redistribution of the global rainfall, melting glaciers and permafrost, and rising sea levels, which will not only harm the balance of natural ecosystems, but also lead to secondary disasters such as floods and high temperatures. Some bacteria may be released as a result of rising temperatures; the emission of greenhouse gases causes the rise of the temperature on the planet and the decrease of the temperature difference between land and ocean, which further leads to the slowing down of airflow. Hence, the haze cannot be blown away in a short time, leading to the increase of hazy weather in many cities and threatening the survival of human beings.
A Cleaner, Fairer, and Safer World
The United Nations Framework Convention on Climate Change (UNFCCC) is an international treaty adopted in 1992, meant to tackle global warming. Under the convention, developed countries agreed to reduce their CO2 emissions and other greenhouse gases discharges into the atmosphere to 1990 levels by the year 2000. In addition, these countries, which together account for 60 percent of global CO2 emissions each year, agreed to transfer technology and information to developing countries to help deal with emissions.
In his speech at the Tsinghua's online lecture, Guterres called on all countries to take advantage of the post-COVID-19 economic recovery opportunity to promote high-quality green development. He said that countries should take actions to cope with climate change while restarting their economies, in order to rebuild a world that is cleaner, fairer, and safer for all.
"Done right, we can steer the recovery toward a more inclusive, resilient, and sustainable path and the achievement of the Sustainable Development Goals and the Paris Agreement on Climate Change. But poorly coordinated policies risk locking in – or even worsening – already unsustainable inequalities, reversing hard-won development gains and poverty reduction, and a high emissions future," said Guterres.
The Paris Agreement proposed to keep the increase in global average temperature to less than 2°C above pre-industrial levels, pursue efforts to limit the temperature increase to 1.5°C above pre-industrial levels, and achieve net-zero gas emissions on average by 2050, a goal that today faces huge challenges.
In his speech, Guterres stressed that post-COVID-19 sustainable economic development goals must limit temperature increases to 1.5 C° and protect those already being hit the hardest. "This means we must achieve net-zero emissions well before 2050, and 45 percent cuts by 2030," he pointed out.
"We have no excuse for failing to meet these goals. We have the policies, the technology and knowhow, and the global framework in the Paris Agreement to achieve this. And we have a global groundswell of public pressure for change. This will only grow, because people everywhere know their health and prosperity depend on it," he said, adding that, "We have a narrow window, but a vast opportunity, to rebuild a world that is cleaner, fairer, and safer for all."
Guteres asked all countries to consider six climate-positive actions as they rescue, rebuild, and reset their economies.
First, we need to make our societies more resilient and ensure a just transition.
Second, we need green jobs and sustainable growth.
Third, bailouts of industry, aviation, and shipping should be conditional on them aligning with the goals of the Paris Agreement.
Fourth, we need to stop wasting money on fossil fuel subsidies and the funding of coal.
Fifth, we need to consider climate risk in all decision-making. This is more important than ever in the coming months as companies, investors, and countries make far-reaching financial decisions about the future.
Sixth, we need to work together. Global challenges require global solutions. It is imperative that G20 countries lead by example.
"I have asked all G20 countries to lead the green recovery, commit to net-zero emissions before 2050 and submit more ambitious national climate plans to the Paris Agreement before COP 26 in Glasgow next year," he said.
According to Guterres, in the global race to go green, nations and companies that move quickly will reap vast competitive advantages. This is why global investors are shunning fossil fuels and searching for clean energy to invest in at scale.
Tubiana said in her keynote speech that the speed, scale, and content of the post-COVID-19 recovery plan are critical to the achievement of the Paris Agreement and the Sustainable Development Goals. At this critical moment, it is imperative for China, one of the world's leading economies, and Europe, the world's leading region, to work together to find pragmatic solutions, she indicated.
China's Responsibilities
According to Xie, although the pandemic has disrupted the normal rhythms of economic and social development of the whole world, green and low-carbon development set forth in the Paris Agreement is an irreversible trend, and addressing climate change still occupies an important place in global governance and the economic and social development agenda of all countries.
He believes that the suggestions given by Guterres have set the course for the global community to jointly tackle the climate crisis and rebuild the human-nature relationship while working together to fight COVID-19.
Guterres acknowledged that China has shown a clear capacity for climate leadership. "In the past five years, China has deployed more solar and wind capacity than any other country. More than 50 percent of electric vehicles in the world are sold in China. China also makes 99 percent of the world's electric buses. As the world moves from fossil fuels to clean energy, China can reap huge benefits by taking bold actions: stronger growth, more jobs, cleaner air, better health. Like COVID-19, climate change respects no borders. By seizing the mantle of leadership, China can help protect all people who share this planet," he pointed out in the speech.
By 2018, China had slashed carbon intensity, or the amount of carbon emissions per unit of GDP, by 45.8 percent from its 2005 level, meeting the target of a 40 to 45 percent decrease by 2020 ahead of schedule. Non-fossil energy consumption accounted for 14.3 percent of the country's total energy consumption in 2018. About a quarter of the world's newly added green area since 2000 has come from China. China has made remarkable achievements in combating air pollution and improving air quality. It has actively promoted international cooperation on climate change, actively promoted the building of a green Silk Road, and helped the Belt and Road countries construct renewable energy projects such as hydropower, wind power, and photovoltaic. It has given a strong boost to these countries' energy transformation and green development, and set an example for the international community.
Xie pointed out that China has always attached great importance to addressing climate change, which is strategically important for China to promote high-quality sustainable development, and serving as an honoring of its commitment to build a community with a shared future for mankind. Despite the severe impact of the pandemic on China's economic growth, China will continue to make active policies and take actions to address climate change in the future, making new and greater contributions to global climate governance and green and high-quality recovery. Xie pointed out that in the context of the global climate governance process the main task is to implement the Paris Agreement, and strengthening global capability for action has become the focus.
He also suggested that all parties related combine pandemic prevention and control, economic recovery, employment promotion, health security, and environmental protection with the actions to cope with climate change, so as to enhance synergistic interaction, build momentum for green and low-carbon transition, and contribute to realizing the goals of the Paris Agreement and the 2030 Agenda for Sustainable Development.
We should integrate the reduction of heat emission into an everyday life routine and limit waste of household goods, so as to curb the industrial overflow. It is the common mission and cause of humankind to work together for a greener and higher-quality recovery. Facing the challenges of COVID-19, it is therefore all the more important for countries to uphold international cooperation, pursue low-carbon development, and create a sustainable human homeland.