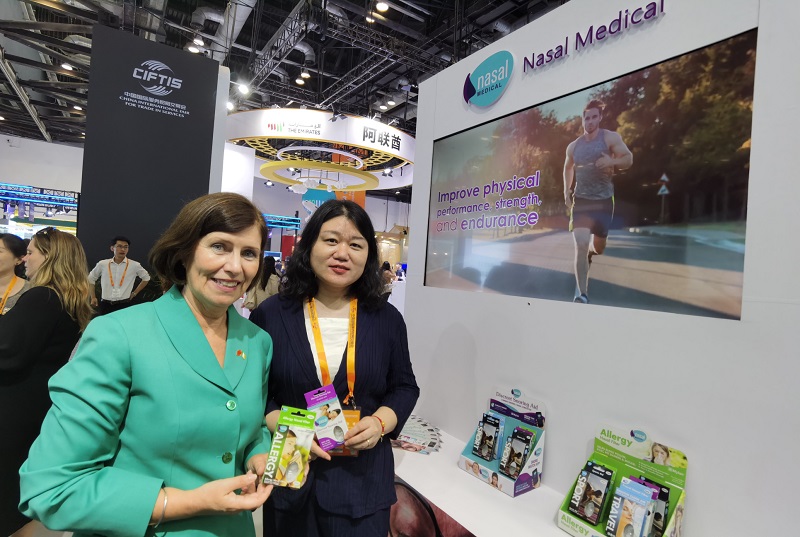 Ann Derwin, Ambassador of Ireland to China, introduces the products of Irish company Nasal Medical that manufactures nasal devices for healthy breathing at the Irish national pavilion of the 2023 CIFTIS on September 2. (Photo by Zhou Lin)
Ireland, a regular participant of the China International Fair for Trade in Services (CIFITS), is known for its quality agricultural products, higher education, hi-tech and innovation, as well as its picturesque landscape and unique cultural experiences. Ann Derwin, the Irish Ambassador to China, told China Today in an exclusive that CIFTIS is an excellent opportunity to showcase Ireland's strengths in services trade.
Derwin said trade in goods between Ireland and China increased by 37 percent last year, while bilateral trade in services grew 16 percent. The two countries are highly complementary in services trade. With the Chinese Government's commitment to high-quality development, she hopes services trade between Ireland and China will grow exponentially.
Although a small economy, Ireland's openness to global trade is the foundation of its prosperity. A member state of the European Union, it has a strong service industry, with trade in services accounting for over 64 percent of its total trade. China is Ireland's fifth largest trading partner. The vast consumer market in China are giving Irish companies huge business opportunities.
Ireland is now the second largest exporter of medical technology products in Europe and the biggest employer of medtech professionals in Europe per capita, according to the Irish Embassy in China. This year, several well-known Irish medtech companies are at the CIFTIS to display their capabilities.