The British national pavilion debuted at the 2023 China International Fair for Trade in Services (CIFTIS) at the China National Convention Center in Beijing on September 2 in style. As the guest country of honor, the U.K. brought its largest business delegation to date with more than 60 firms and institutions, ranging from banks to medical and energy companies.
The sprawling 224-square-meter pavilion showcases the U.K.'s strengths and distinctiveness in a spectrum of industries, like finance, education, sports, healthcare and cultural creativity. The virtual and augmented reality devices at the pavilion provide interactive experiences, giving visitors a glimpse into the U.K.'s role in the development of simulation scenarios for sports, wildlife conservation, and vocational education.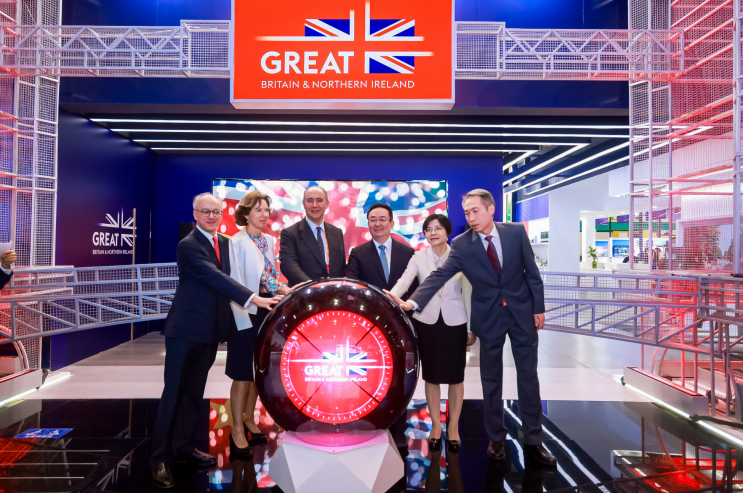 The British national pavilion debuts at the 2023 CIFTIS on September 2, 2023.
"The U.K. and China are really important countries when it comes to services in trade around the world," said Tom Duke, the British Trade Commissioner to China, describing CIFTIS as an ideal platform for both countries to deepen their cooperation and market access in the service sector.
Rahul Ahluwalia, Minister-Counsellor and Director for Financial and Professional Services and Investment at the British Embassy in Beijing, shared some statistics with China Today: "China is the second largest trading partner of the U.K., and there is still huge potential for cooperation between the two countries in the fields of services trade since from 1997 to 2020, the average annual growth rate of U.K.-China services trade was 12.2 percent."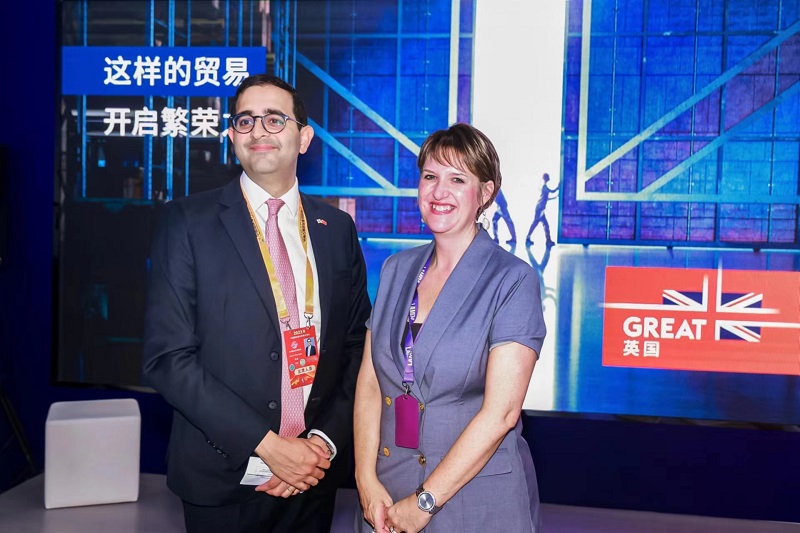 Rahul Ahluwalia (left), Minister-Counsellor and Director for Financial & Professional Services and Investment at the British Embassy in Beijing, takes a group photo with a British exhibitor at the British national pavilion on September 2, 2023.
British banks, such as HSBC and Standard Chartered, organized a salon on environmental, social and corporate governance (ESG) and low-carbon transformation during the fair on September 2. Schroders also introduced its new business in China as a beneficiary of China's opening-up policies in the financial sector.
In an exclusive interview with China Today, Sebastian Wood, current Chairman of Schroders China and former U.K. Ambassador to China, said that his company has entered the Chinese market for more than 30 years. "China is quite a big part of our global business. We have a wide range of capabilities here, and we want to use all of this strength to build our business," Wood said.
Prompted by China's strong economic recovery expectations and accelerated financial opening-up, Schroder Investment Management (China) decided to establish a wholly-owned subsidiary public fund management company in China, and obtained approval from the China Securities Regulatory Commission on January 10, 2023.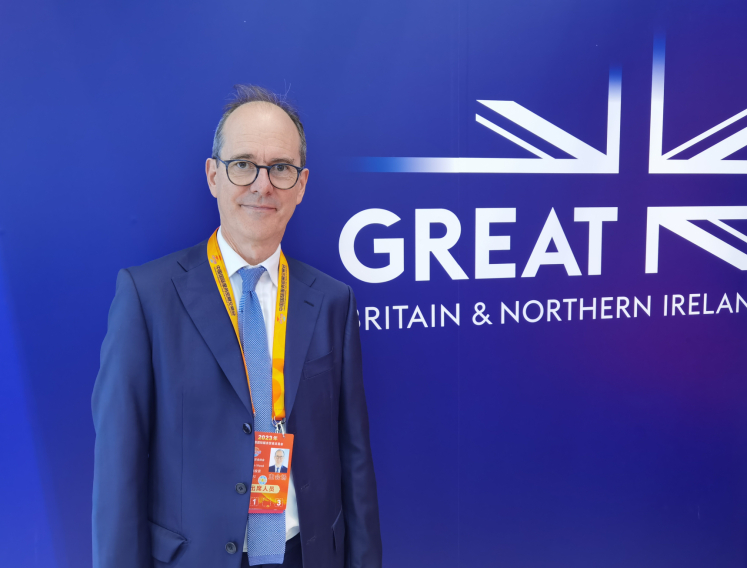 Sebastian Wood, Chairman of Schroders China (Photo by Zhou Lin)
"The Chinese market is still emerging. So it has enormous growth potential," Wood said. Most Chinese savings are kept either in banks or are invested in property. Only a small percentage is invested in publicly listed securities, shares and bonds. However, in the U.S., for example, around 30 percent of public wealth is invested in such assets. "So clearly the Chinese market is going to develop in that direction. And it is a very, very large opportunity for the global asset management industry," he said.
In recent years, China has been opening up the investment market to more foreign participation. It has been welcomed by global investors, and is believed to boost its economy. "It is good for Chinese individual investors and also good for the Chinese economy. We're very proud to have this long-term strategic commitment to be part of China's opening up," Wood added.
Regarding ESG and green investment, he said the asset management industry, including large companies as well as large asset owners such as pension funds and insurance companies, can play a bigger part in the transition to zero carbon by investing in those areas, and also by engaging with companies to help them in the transition to lower carbon business models.
"We have a strong ESG record internationally. We look forward very much to bringing that capability to China to help China's carbon transition and support the regulators in the government as they put policies in place that will accelerate the shift to zero carbon," Wood said. It is important for investors to reduce their carbon footprint as the world chases a zero-carbon goal. Companies that are serious about reducing their carbon emissions are the ones that create the most value, Wood concluded.