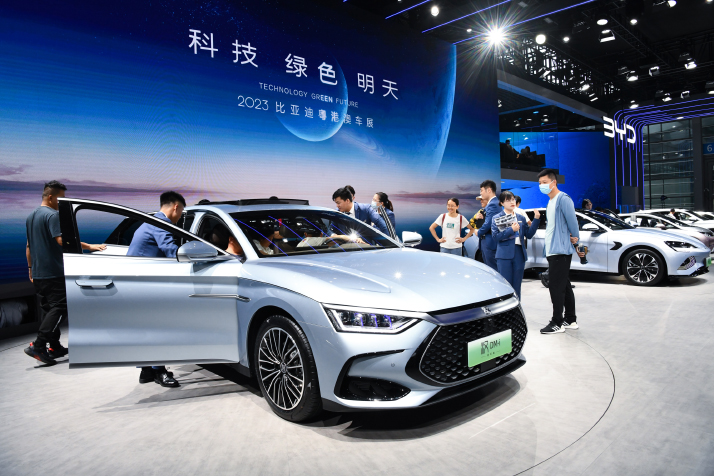 Visitors view a new-energy car produced by Chinese carmaker BYD at the 27th Guangdong-Hong Kong-Macao Greater Bay Area International Auto Show in Shenzhen, Guangdong Province, on June 16 (XINHUA)
In recent years, the automotive industry has witnessed a significant surge in the production and adoption of new-energy vehicles (NEVs). As the world transitions toward a greener future, NEVs have gained prominence due to their reduced carbon footprint and increased energy efficiency.
NEV sales were strong internationally in 2022, despite the gloomy overall trend in the auto market. This year, they are expected to account for 18 percent of the world's total vehicle sales. Market share growth has slowed slightly compared with 2021, but NEVs will comprise almost one third of the global market in 2027 as more models are developed and produced and emission controls get tougher.
In China, the term NEV is used to designate automobiles that are fully or predominantly powered by electric energy, which include plug-in vehicles, battery electric vehicles, plug-in hybrid electric vehicles and fuel cell electric vehicles.
China is now emerging as the leading player in the manufacturing and use of NEVs. According to the MIT Technology Review of February 21, 2023, "In just the past two years, the number of electric vehicles (EVs) sold annually in China grew from 1.3 million to a whopping 6.8 million, making 2022 the eighth consecutive year in which China was the world's largest market for EVs. For comparison, the U.S. only sold about 800,000 EVs in 2022."
Emergence of the market
In China, NEVs are not only growing in popularity, but customer satisfaction and performance are on the rise as well. A recent study by J.D. Power and Associates, a global consumer research agency, shows that China has become a global power in the industry.
The study polled 7,209 NEV owners who purchased their vehicles between July 2022 and January 2023, involving 76 models from 36 different brands, from January through March this year in 81 cities across China. Participants were asked to indicate their emotional attachment to and excitement regarding 45 attributes of their NEVs, with the results used to produce a score out of 1,000 for overall satisfaction.
China Daily summarized the findings, saying international brands performed well, with their average score rising 40 points from 2022 to 784, surpassing Chinese startups at 781. Chinese startups, including NIO and XPENG, had scored higher for the previous two years. Established Chinese brands like Geely also made great progress, with an increase of 42 points from 2022 to 773.
Yet despite the international brands' higher average score, it was models from Chinese marques that sat atop the list in the survey, ranging from Geely's Geometry E in the small EV segment to BYD's Han EV in the compact sedan segment and the NIO ET7 in the premium vehicle segment.
These findings are important because China is focused on increasing its strength in the global NEV market, competing with carmakers from the United States and Europe. But winning the global NEV game is not just about making the cars, it's also about making the batteries, mining rare-earth elements and expanding China's brands around the world.
China has supported the industry in several ways, including giving generous government subsidies and expanding lithium battery production. To boost its domestic NEV sales, China announced on June 21 that it will again extend the purchase tax exemption to the end of 2027.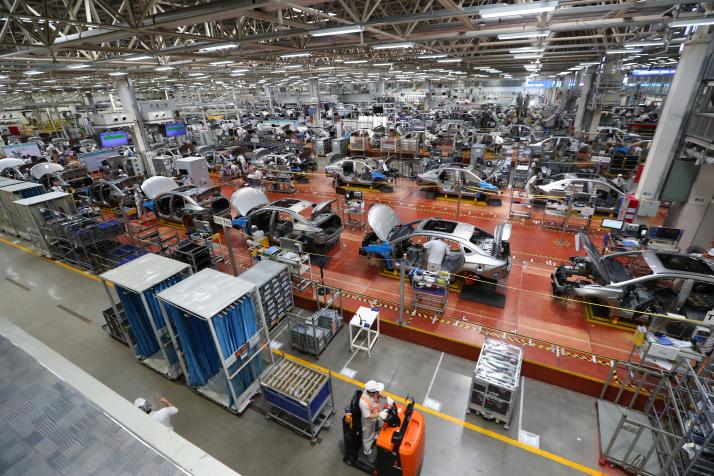 An intelligent workshop of Chinese electric car company GAC Aion in Panyu District of Guangzhou, Guangdong, on June 10 (XINHUA)
China vs U.S.
How does China stack up in the global race for NEV supremacy? Comparisons between American and Chinese NEVs in terms of quality show that automakers in both countries have made substantial investments in research and development to improve the performance of their products. American manufacturers such as Tesla have pioneered cutting-edge EV technologies, boasting long-range capabilities and rapid charging infrastructure. Chinese companies, on the other hand, have focused on creating affordable NEVs with advanced battery technologies and improved range.
American NEVs are often associated with high build quality, luxurious interiors and sleek designs. Tesla, for instance, has gained a reputation for its premium EVs that offer a seamless blend of performance and style. Chinese NEVs, while making significant strides in recent years, are generally perceived to have comparatively lower build quality, but as the J.D. Power and Associates study shows, Chinese automakers are rapidly improving their design language and incorporating innovative features to compete on a global scale.
Battery technology is a crucial aspect of NEV performance and range. American manufacturers have made substantial advancements in this area, with Tesla's innovations leading the market in terms of energy density and longevity. Chinese NEVs have predominantly focused on developing affordable battery solutions, leveraging economies of scale to drive down costs. While American companies lead in terms of cutting-edge battery technologies, Chinese manufacturers have made significant progress in providing cost-effective solutions.
The competition between American and Chinese NEVs extends beyond market share. Geopolitical factors, such as trade disputes, have created challenges and uncertainties for automakers in the two countries.
To navigate these challenges and gain a competitive edge, both American and Chinese automakers have pursued collaborations and partnerships. American companies have sought alliances with Chinese battery manufacturers to secure a steady supply of cost-effective batteries, while Chinese automakers have sought technological partnerships with established American companies to enhance their product offerings. These collaborations aim to leverage the strengths of each side and accelerate innovation in the NEV space.
Great potential
NEVs play a crucial role in reducing greenhouse gas emissions and mitigating climate change. With the transportation sector being a significant contributor to global carbon emissions, transitioning to NEVs is essential to combating climate change and improving air quality in cities.
NEVs present an opportunity for countries to reduce their dependence on fossil fuels and achieve greater energy independence. As renewable energy sources become more prevalent, the NEV industry has stimulated technological innovation, created new job opportunities and fostered economic growth. By investing in NEV research, development and manufacturing, countries can position themselves as leaders in the evolving automotive landscape, driving technological advancements and creating high-skilled jobs.
China has made a major commitment to the NEV movement, for domestic consumption, for global sales, for positioning as a key supply chain hub for the global industry and for improvement of the environment. The comparison between American and Chinese NEVs highlights the diverse approaches and strengths of each country. American NEVs excel in cutting-edge technologies, premium design and battery advancements, and Chinese companies are catching up fast, while still focusing on affordability, mass production and expanding market share.
As global competition intensifies, collaborations and partnerships between American and Chinese companies are becoming increasingly important. The future of the automotive industry lies in the continued development and adoption of NEVs, with both American and Chinese automakers playing significant roles in shaping this process.
The author is founder and CEO of U.S.-based consulting firms 5 New Digital and China BrightStar
Copyedited by G.P. Wilson
Comments to lixiaoyang@cicgamericas.com