Guizhou's makeover from one of the poorest regions to China's "green corridor" and big data pioneer shows the impact of the ecological civilization vision.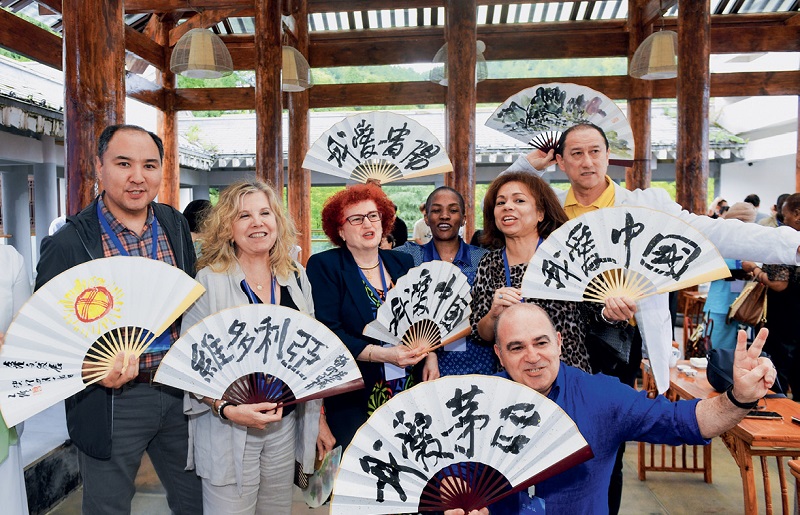 Envoys to China hold fans with calligraphy to express their love for Guizhou. Liu Yang
On June 5, the World Environment Day, diplomats and officials from 19 countries and the Shanghai Cooperation Organization (SCO) did something unusual. Collectively, they planted osmanthus saplings in an offbeat destination far from Beijing. It was part of their efforts to witness China's progress in creating an ecological civilization where economic progress is balanced with environmental protection.
"We should tell the international community the story of China's ecological governance and its success," said Juan Jose Buitrago, consul general of the Spanish Embassy in Beijing, as the group finished the planting in the International Ecological Friendship Forest.
Their destination was Huawu, also known as the "cliffside village" as it is tucked away among mountains in Bijie in southwest China's Guizhou Province.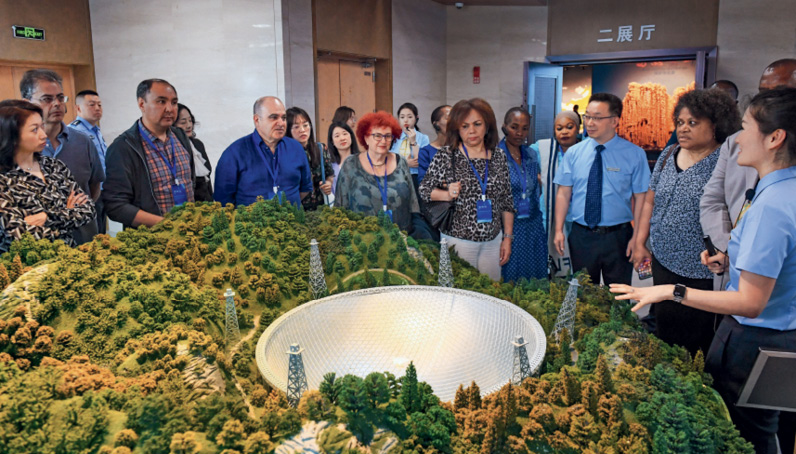 The envoys to China visit Guizhou Natural Eco-museum on June 6, 2023. Liu Yang
Green Is Gold
Home to the ethnic Miao and Yi communities, Huawu was once isolated from the outside world due to lack of roads. The inaccessibility made it one of the poorest villages in the region where the residents eked out a precarious living by growing corn and fishing. Severe soil erosion hampered agriculture while environmental degradation posed a health hazard.
However, dramatic improvements took place over recent years. Amid national ecological preservation initiative, major projects were started in the village to prevent water and soil loss. The "Grain for Green" conservation program gave farmers incentive to retire degraded farmland susceptible to soil erosion so that it could return to forests. The drive has led to a 60-percent forest cover in the village.
The Wujiang River, the mother river of Guizhou and the largest tributary in the southern reach of the Yangtze River, was once called a "polluted river" due to the high volume of sewage and other deposits, especially wastes containing phosphorus. The river has been cleaned up and become a boating destination. A 10-year fishing ban in all key water bodies in the Yangtze, implemented in 2021, has accelerated ecological restoration and boosted sustainable development.
The steep hillside has been carved into terraced fields for farming and greening the once bare mountains, while local infrastructure and public services have been improved. The old dirt roads have been hardened and villagers' courtyard walls strengthened.
Zhao Yinfeng, a Miao girl who along with other villagers waited to greet the delegation dressed in their traditional costumes, said a road through the hills has been opened, enabling transportation. The villagers practice organic farming and understory cultivation – growing small trees and herbs under the shade of taller trees, and also growing specialty fruits like loquats and cherries. That visitors come to pick fruits and admire the greenery and ecotourism has become a prime source of income for locals.
When the visitors reached Huawu, it was soaking up the early June rainfall. From the observation platform on the Wujiang River, they saw greenery all around. The once bare mountains were covered by green vegetation while the river was clean.
According to the local authorities, Guizhou had a forest coverage of more than 62 percent in 2022, while over 98 percent of the surface water in nearly 120 sections was certified as excellent quality, according to the national water standard. The people's satisfaction with the province's environment ranked second across the country, according to a survey, a testimony to what ecological benefits mean for human wellbeing.
The visitors signed a joint statement on ecological civilization, which urged all countries to reinvigorate the global partnership for sustainable development and advocated harmonious coexistence between humans and nature, thus enhancing global ecological resilience.
Buitrago said China's vast experience in tackling climate change and pursuing green development is a source of "smarter solutions" that would help to achieve the UN sustainable development goals.
The diplomats plant osmanthus saplings in the International Ecological Friendship Forest nearby Huawu Village, on June 5, 2023.
High-Tech for Sustainability
Guizhou has also become a pioneer in the development of big data. In 2016, the province was approved for hosting the National Big Data (Guizhou) Comprehensive Pilot Zone, the first in China, and its exhibition center in the provincial capital Guiyang has become a must-visit place for visiting dignitaries to witness China's technological development. Big data has become a critical tool to grow the real economy, vitalize rural areas and improve social governance as well as public services. China's top three telecom operators – China Mobile, China Telecom and China Unicom – as well as tech giants like Alibaba and Tencent all have their offices in Guiyang.
The Maltese Ambassador to China John Busuttil wanted to know how the local government supplied the large amount of energy needed for data computing since data storage requires intensive air conditioning, which means high power consumption. He was told Guizhou's cool climate and geological structure have combined to slash costs. Eco-friendly data centers are built in its signature karst caves, formed by the dissolution of rocks by underground streams, and the natural low temperature of the caves helps to reduce energy consumption.
Reda Oudghiri Idrissi, economic counselor of the Embassy of Morocco in China, said in his four years in China, he has learned about the magical power of e-commerce and the digital economy. "Drawing on Guizhou's experience, Morocco too has new opportunities for development from the digital economy," he said. Morocco and Guizhou have established cooperation in digital economy. During the International Big Data Industry Expo held in Guiyang in 2019, Morocco and Guizhou signed a memorandum of cooperation to jointly digitalize government services in Morocco. Alibaba's digital payment service Alipay can be used in many stores in Morocco, which means tourists can make payments simply by scanning a QR code.
Idrissi said smart agriculture is another field that holds promise for future cooperation, as both Morocco and China are major agricultural countries. Morocco's Plan Maroc Vert aims to develop modern intensive agriculture and increase farmers' incomes through small-scale agricultural modernization. On learning that Guizhou uses big data to operate drones for farming in Guizhou, he admitted it was a better alternative to traditional irrigation methods, which were costly, time-consuming, and labor-intensive.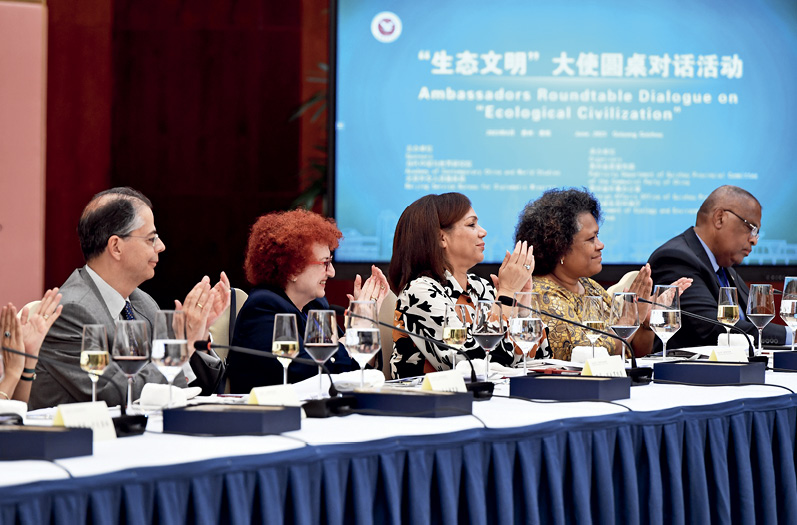 The envoys to China respond warmly during the Ambassador Roundtable Dialogue on "Ecological Civilization" held in Guiyang, capital city of Guizhou Province, on June 6, 2023.
Enhancing Global Cooperation
The envoys marveled at the karst caves, the magnificent waterfalls, and the clean environment in Guizhou. Some of the cities in their countries have sister-city pacts with Guizhou for cooperation in ecological protection, poverty alleviation, and eco-tourism.
The bridge on the Baling River in Anshun, one of the world's highest bridges with a length of 2,237 meters and a suspension span of 1,088 meters, made Evgenios Kalpyris, the Greek Ambassador to China, fish out his mobile phone and begin to take photographs. He said Greece and Guizhou have many similarities. Like Guizhou, teeming with plateaus and mountains, Greece has 80 percent of its territory covered by mountain ranges. Greece also has about 6,000 islands and the government has launched the GR-eco Islands Initiative to make them models of green economy, energy autonomy, digital innovation, and ecological mobility. He hoped that China and the European Union would strengthen experience exchange, achieve complementary cooperation in developing renewable energy, as well as explore more opportunities for cooperation in a third country, particularly in developing countries.
SCO Deputy Secretary General Nuran Niyazaliev said once considered one of the poorest regions in China, Guizhou had become the "green corridor of China" and the "most environmentally friendly region in China." Remarkable achievements have been made in rural revitalization, the digital economy, and the construction of an ecological civilization. Its eco-friendly development model has also made it a tourist magnet. "Guizhou is advancing green transformation of its energy sector, has built a state-level pilot zone for comprehensive utilization of big data, and is working to establish a mountain tourism cluster, a national pilot zone of ecological civilization and a pilot zone for open economy, all of which provide invaluable experiences," he said.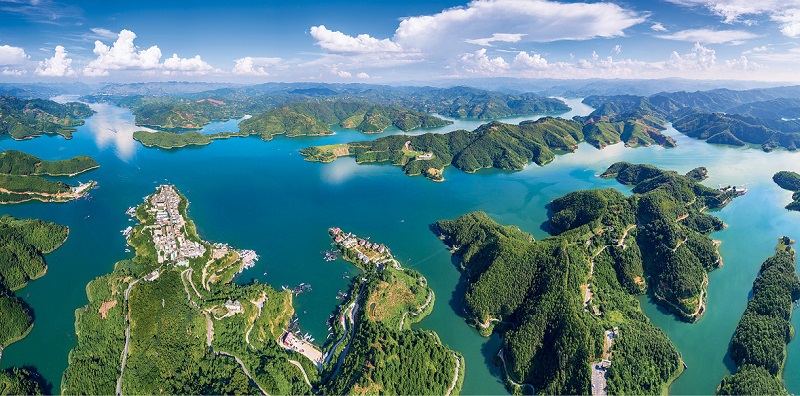 An aerial view of the Wanfeng Lake in Xingyi City, Qianxinan Bouyei and Miao Autonomous Prefecture in Guizhou Province, an important water source at the upper reaches of the Pearl River. Liu Zhaofu
Niyazaliev called the Chinese path to modernization a demonstration "that development and environmental protection can go hand in hand." Over the past decade, China has experienced rapid economic growth yet still, the quality of its ecological environment has continued to improve. At the same time, China is also participating in international environmental governance, promoting global climate change negotiation, and advancing the Belt and Road Initiative in a green manner. He said SCO countries look forward to deepening cooperation with China for ecological and environmental protection and addressing global environmental challenges.
Fijian Ambassador to China Manasa Tagicakibau Manasa called Guizhou an epitome of China's ecological civilization, and a typical example of the Chinese path to modernization. "We call on all countries and regions to take active actions to pursue harmonious coexistence between humans and nature, and continue to promote the restoration of the ecological environment," he said. "It is not just a declaration, but also our commitment to global environmental protection."