As an important part of the BRI, energy cooperation is key to realizing the Initiative's goals.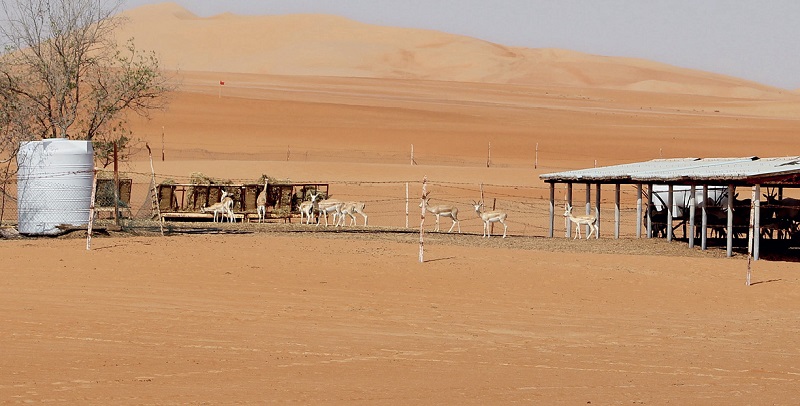 Strictly implementing the QHSE management system in the UAE, CNPC bypassed wildlife habitats to build shelters for wild animals to rest during the summer.
This year marks the 10th anniversary of the launching of the Belt and Road Initiative (BRI) as well as the 30th anniversary of China National Petroleum Corporation's (CNPC) going global. Since Chinese President Xi Jinping proposed the Initiative in 2013, it has received positive response and support from the international community. During the past five years, China has adhered to the principle of extensive consultation, joint contribution, and shared benefits, promoted high-quality development, and continuously deepened exchanges in various fields to achieve mutual benefit and win-win cooperation under the BRI.
As an important part of the BRI, energy cooperation is key to realizing the Initiative's goals of policy coordination, facilities connectivity, unimpeded trade, financial integration and people-to-people bond and to deepening cooperation and exchanges among participating countries of BRI. As the pioneer of and main force behind the BRI construction, over the past decade CNPC has earnestly implemented President Xi's requirements on strengthening cooperation in the energy sector within the BRI framework with other countries. With the target of high standards, sustainability, and benefiting people's livelihood, CNPC continues to deepen cooperation across the whole energy industry chain in key countries and regions along the routes through major oil and gas projects. It is striving to achieve a higher level of win-win cooperation, build a community of shared interests in oil and gas cooperation, and contribute Chinese wisdom and strength to maintaining the stability and security of the global energy industry chain and deepening global energy governance.
By the end of 2022, CNPC had operated a total of 51 projects in 19 BRI countries with a number of key oil and gas cooperation projects initiated in Russia, Iraq, Brazil, and Abu Dhabi. More than half of its oil and gas trade volume comes from markets located along the BRI routes, continuously injecting fresh vitality and development momentum into the Initiative. At the end of the same year, it had contributed about US $30 billion in tax revenue to the BRI countries, invested more than US $150 million in social welfare funds, and contributed to environmental protection, employment promotion, education and medical care facilities, benefiting more than three million local people. CNPC also created hundreds of thousands of local jobs, and the localization rate of overseas projects exceeded 90 percent. It has thus led to the rapid growth of a number of local enterprises and made important contributions to promoting the economic and social development of the host countries.
Besides, CNPC focuses on local sustainable development, actively fulfills its social responsibilities, and places priority on establishing close relations with the peoples of BRI countries, allowing the development to benefit BRI countries and improve the lives of their people. A number of model projects have improved people's livelihood in host countries including Kazakhstan and Niger, and won the high praise of local governments and people.
In Central Asia, the China-Central Asia Gas Pipeline has promoted natural gas development and utilization in regional countries, created nearly 10,000 employment opportunities in those countries, and promoted the development of local pipeline construction, materials, and equipment production. It has also strengthened the talent reserve in engineering technology and management, and brought great changes to the economic and social development, culture, education, and health of people in the countries. Turkmen President Serdar Berdymukhamedov said that Turkmenistan is willing to further strengthen cooperation with China on natural gas and other energy to better benefit both countries.
In the Middle East, China-Iraq energy cooperation has brought mutual benefits and win-win development to both sides. CNPC is fully integrated itself into the local economic and social development. The Halfaya oil field in Maysan Province supplies natural gas to local power plants. The ring road built in Rumaila has helped solve the problem of travel difficulties for people living in the oil area. CNPC adheres to the principle of localized employment, paying attention to cultivating local talent for the sustainable development of the local petroleum industry. Presently, a large number of outstanding Iraqi employees come to China every year to study and they have promoted Sino-Iraqi cultural exchanges.
In Africa, the upstream and downstream industrial integration projects undertaken by CNPC have helped Niger establish a complete modern petroleum industry system, achieved self-sufficiency in oil, trained 105,000 local employees, and created about 5,000 jobs, making outstanding contributions to promoting local economic and social development as well as improving people's living standards.
In Indonesia, CNPC carries out projects under the guidance of local governments, providing assistance to local communities in the fields of education, economic development, infrastructure construction, and a healthy environment. By installing portable water treatment equipment for communities around its oil fields, establishing mobile libraries, providing support for orphans, helping farmers grow and process coffee, and training workers in operating dairy farms, CNPC has won the recognition from the local people and increased mutual understanding.
Moreover, CNPC pays attention to deepening exchanges with governments, enterprises, business partners, and residents of host BRI countries. By holding roundtable negotiations on oil and gas cooperation, it actively strengthens regular exchanges with governments of local countries, and organizes press corps and youth cultural exchange activities, which all generated positive results.
CNPC also attaches great importance to local environmental protection and green development. It strictly abides by the environmental protection laws and regulations and relevant international standards to minimize the impact of production activities on the local natural ecology. As the only member of the Oil and Gas Industry Climate Initiative (OGCI) in China, CNPC has increased international technical cooperation in the fields of energy efficiency improvement, low-carbon hydrogen energy, low-carbon fuel, and carbon capture, utilization and storage. Together with other member companies, CNPC contributes to the global response to dealing with climate change and to the green and low-carbon transformation of the oil and gas industry.
According to the report to the 20th National Congress of the Communist Party of China in 2022, China will pursue high-standard opening-up, shared growth through discussion and collaboration, and win-win cooperation, in order to promote the high-quality development of the BRI. China this year has put forward new requirements for high-quality development of the BRI and shaping a new pattern of international and domestic circulation. CNPC will continue to focus on the BRI, practice the concept of community with a shared future for mankind, continue to deepen cooperation with BRI countries, and continue to create more new models of win-win energy cooperation, so as to enable the BRI to benefit the world and people of various countries.
ZHANG YONG is the press director of the Culture Department of the CNPC.
WANG XINYUE is a reporter with China Petroleum Daily.