The China Development Forum 2023 was held in Beijing from March 25 to 27 with the theme of "Economic Recovery: Opportunities and Cooperation." During the forum, senior leaders of the Chinese government, global business leaders, international organizations, and Chinese and foreign scholars discussed topics such as the driving force of economic recovery, the continuous expansion of opening-up, and the opportunities for global economic development.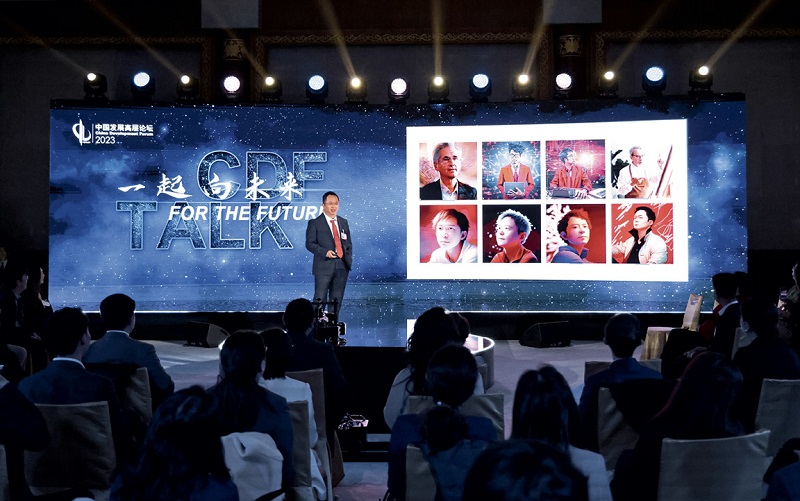 Zhou Hongyi, founder of Chinese internet security firm Qihoo 360, is speaking at the China Development Forum 2023 held on March 25, 2023 in Beijing, China.
Investing in the Future
"The enormous potential combined with the stable and sound development of China's economy will provide an extensive platform for cooperation and valuable development opportunities for domestic and foreign investors," said Zheng Shanjie, director of the National Development and Reform Commission. China's macroeconomic development depends on its past economic state, current situation, and the future trends. China's total economic output has reached a new level during the past decade. Its economic structure has achieved new optimization, economic momentum has realized new advantages, and economic vitality has reached new heights. China's economic operation has continued to rise again since the beginning of this year with an overall expanding growth momentum, achieving generally stable growth while making further progress. Judging from predicted future trend, China has embarked on a new journey of building a modern socialist country in all respects with strong economic resilience and great potential.
According to Kristalina Georgieva, managing director of International Monetary Fund (IMF), the IMF in January forecasted that China's economy would grow by 5.2 percent this year, which is important not only for China, but also for the world. This means that China's economy will account for one-third of global growth in 2023, or even more. She also pointed out how China's economy is so deeply integrated into the global economy, that every one percent of China's GDP growth drives the overall growth of the Asian economy by 0.3 percent. China's economic recovery is now stable and has a very strong momentum.
According to Oliver Bäte, chairman and CEO of Allianz Group, the international community needs China, the world's second-largest economy, more than ever now. As Germany's most important trading partner, China is deeply involved in the global supply chain and global economic development. It is highly expected that the recovery of China's economy will inject vitality into the world economy.
As one of the world's largest insurance companies and asset management companies, Allianz Group has always regarded China as its key strategic market. Along with the accelerating opening-up of China's financial industry, the group keeps benefiting from the Chinese market. In recent years, Allianz has transformed its joint venture into a wholly foreign-owned life insurance company — Allianz China Life Insurance Co., Ltd., and established Allianz China Holding, the first wholly foreign-owned insurance holding company in China.
Bäte appreciated the Chinese government and regulators for their support over the past few years, adding that Allianz is conducting in-depth research on the market and striving to develop and deliver high-quality products and services that leverage existing strengths to achieve future business growth.
According to the China Foreign Investment Development Report (2022) released by the Institute of International Economy of the University of International Business and Economics, China's foreign direct investment in actual use increased from US $111.716 billion in 2012 to US $173.48 billion in 2021, an increase of more than 55 percent. China's annual use of foreign investment now ranks second in the world and has remained the largest among developing countries for three decades. Its cumulative use of foreign direct investment over the past 10 years has exceeded US $1.2 trillion. The structure of foreign investment has been gradually upgraded, and the quality and level of foreign investment have been significantly improved. The proportion of foreign investment in hi-tech industries increased from 14.1 percent in 2012 to 30.2 percent in 2021.
Expanding Opening-up
During the forum, Chinese Minister of Commerce Wang Wentao met with senior executives of 11 multinational companies, including Apple, Nestlé, and BMW. Wang said that opening up to the outside world is China's basic national policy. China will unswervingly continue to promote high-standard opening-up and deepen cooperation in the global industrial chain and supply chain.
Chinese officials have made it clear on various occasions that China will unswervingly expand opening-up. The Central Economic Work Conference in December 2022 declared to promote high-level opening-up and improve the quality and level of trade and investment cooperation. This year's government work report also announced to expand market access and increase the opening-up of the modern service industry.
China's vision and determination to open up to the rest of the world have gradually been translated into reality. It has continuously reduced the entries concerning the service industry in the negative list for foreign investment access, added service industry entries in the catalogue of industries that encourage foreign investment, and allowed more cities to launch comprehensive pilot programs for opening up the service sector. To align with international economic and trade rules, China is working actively for its accession to the Comprehensive and Progressive Agreement for Trans-Pacific Partnership (CPTPP), and negotiations on joining the Digital Economy Partnership Agreement (DEPA) have also begun.
Over the past several years, China has optimized its business environment and created facilitating conditions for investors. For example, during the COVID-19, the government set up working teams for key foreign-funded projects to solve difficulties relating to raw materials and labor supply in a timely manner, which have been recognized by foreign companies in China. According to a survey by the China Council for the Promotion of International Trade, foreign enterprises were generally satisfied with China's business environment during the fourth quarter of 2022, with about 90 percent of respondents satisfied with the acquisition of business premises and tax assessments.
Being one of the first multinational companies to enter China, Nestlé has benefited from the continuous improvement of China's foreign investment environment. Mark Schneider, CEO of Nestlé Group, said that China's opening-up to the outside world has provided foreign companies with more business opportunities, especially China's current consumption upgrading has provided a good opportunity for related foreign products to enter the Chinese market.
Resilient Industrial Chain and Supply Chain
China's economic growth over the past four decades has been based on a combination of opening-up and deep integration into the global economic system, said Ola Kallenius, chairman of the Board of Directors of Mercedes-Benz AG. He looks forward to further opening of China's economy to global supply chain partners and hopes that Chinese enterprises will play a more active role on the global stage as reliable supply chain partners with regional characteristics.
With nearly three decades of experience in the Chinese market, the BMW Group is not only a contributor to economic growth, but also a participant in scientific and technological innovation, social development, and cultural progress of the country. China now seats its largest production and research and development operations outside Germany, and its investment in the country has been growing steadily. Its Shenyang production site has received more than RMB 83 billion in investment since 2010, making it the cornerstone of BMW's development in China and a model for Sino-German trade cooperation.
Oliver Zipse, chairman of the Board of Management of BMW AG, believes that BMW Brilliance's successful experience proves that cooperation creates prosperity. Cooperation is the foundation of economic development and growth is the driver of prosperity. He believes that the modernization of China, a country with a huge population, will be a key to unleash demand for innovative products and services. Foreign direct investment in China and Europe, which links our economies together, is a powerful rebuttal of the idea of decoupling, he said.
Minister of Industry and Information Technology Jin Zhuanglong pointed out that maintaining the resilience and stability of the global industrial chain and supply chain is important to the growth of the world economy as well as the common interests of people around the world. Under the current global division of labor countries are interdependent in the industrial sector, as the result of economic globalization and market mechanisms. "The continuous extension and expansion of the industrial and supply chains has driven industries in various countries to expand exchanges and cooperation, bringing economic prosperity and wealth growth to the world," Jin said.
He stressed that the key to promoting world economic recovery and smoothing the global economic flows lies in building safe, stable, and resilient industrial and supply chains. China will establish itself on the new development stage, implement the new development philosophy, build a new development pattern, promote high-quality development, accelerate new industrialization, and take practical and effective measures to improve the resilience and security of the industrial and supply chains.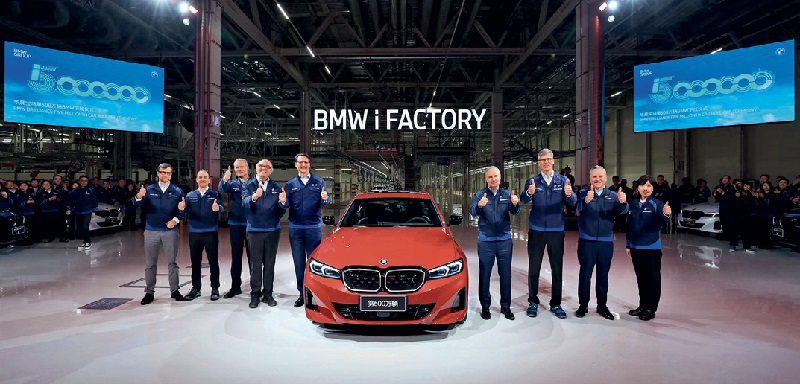 BMW celebrates the unveiling of the 5 millionth vehicle — an all-new fully electric BMW i3 eDrive40L on February 20, 2023 at its Shenyang Production Base in Liaoning Province.
Promoting Green Economic Growth
IMF Managing Director Kristalina Georgieva believes that China now is facing two important opportunities. By raising productivity and rebalancing the economy while at the same time shifting from investment-driven growth to more consumption-led growth, it can create a growth trend that would be more persistent and less debt-dependent. The second is green growth. China has set the goal of achieving carbon neutrality by 2060, which shows the importance of addressing climate change for long-term development.
According to Zhao Yingmin, vice minister of ecology and environment, over the past decade, China has achieved more than six percent annual economic growth with an average annual energy consumption growth of three percent. The carbon dioxide emission intensity has been reduced by 35 percent, and green, low-carbon and high-quality development has achieved positive results, making contribution to the global response to climate change.
At the same time, as the world's largest developing country, China is still facing the problems of unbalanced and insufficient development. On the whole, the pressures of environmental protection has not been alleviated. Unlike developed countries that first solve the problem of environmental pollution and then control carbon emissions, China intends to reduce pollution and control carbon at the same time, which is not only a big challenge but also a major opportunity to realize the latecomer advantage.
"China will focus on key areas, strengthen governance at the source, pay attention to innovation, and encourage pioneering. It is necessary to actively promote integration between pollution reduction and carbon reduction to achieve green growth," said Zhao.
According to Bill Winters, group chief executive of Standard Chartered PLC, promoting the transition to green energy requires active efforts on all levels. The world is facing the challenge of rising temperatures. To meet this challenge, it will require significant financial support of the green energy transition. It is necessary to give play to the role of the government, while at the same time pay attention to the role of the market. More public resources must be channeled into the green transformation, and more private sector investment must also be leveraged.
Laura Cha, chairman of the Hong Kong Stock Exchange (HKEX), said that HKEX will vigorously develop the carbon market and other ESG (environmental, social, and governance) products, and use the power of the capital market to promote the global transition towards carbon neutrality.
Jakob Stausholm, chief executive of Rio Tinto, a global mineral resources giant, said that in a sense, Rio Tinto's success was inextricably linked to China's success. Rio Tinto is one of the world's leading iron ore producers. In line with its strategy to address climate change through low-carbon transition, the company plans to achieve net-zero emissions by 2050.
According to Stausholm, tackling climate change means building a new energy system. The market will need more copper, aluminum, battery materials, and even more steel. Rio Tinto wants to work with its customers to decarbonize the entire steel industrial chain. Only by carrying out ESG work well on all fronts can we ensure that future growth will be sustainable. At present, the company is cooperating with Tsinghua University, Sinomine Resource Group, and others on decarbonization and climate change.
"Rio Tinto is very optimistic about the future prospects of the Chinese market. The company provides the materials needed for the Chinese market and has established efficient trading relations, and the demand for (coping with) climate change has taken the cooperation between the two parties to a new level," he said.
The article is based on reports of Xinhua News Agency, China News Service, the Paper and the Economic Daily.