Against the backdrop of achieving carbon peaking and carbon neutrality goals, waste recycling and reusing has become an effective approach to green development of agriculture in China.
The random piling and discharge of agricultural waste causes severe pollution in the air, water, and the living environment in rural areas. Waste disposal has always been a significant task for environmental protection in the agricultural field. Against the backdrop of achieving carbon peaking and carbon neutrality goals, waste recycling and reusing has become an effective way for green development of agriculture in China.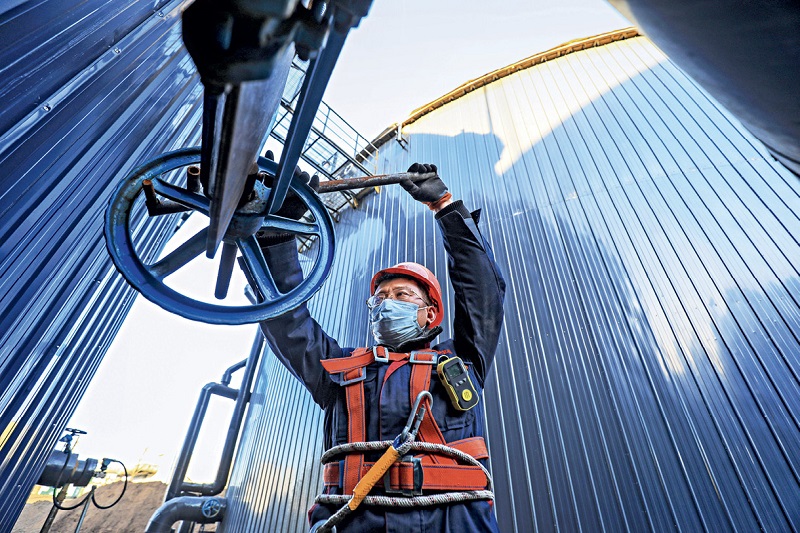 A worker adjusting manual stirring valves outside a large enamel anaerobic fermenter in Luannan County, Hebei Province on January 10, 2022.
New Use of Straw
During annual harvest time in the past, clouds of thick black smoke were seen in the fields as farmers burned "useless" straw in the open air. As a result of people's increasing awareness of environmental protection, and the progress of science and technology, straw has become a treasure in many people's eyes.
Anping County in north China's Hebei Province has more than 30,000 hectares of arable land, producing about 210,000 tons of straw annually. Ma Yue's company has a solution to disposing such a large amount of "waste." "Our company currently implements a cogeneration project. After the autumn harvest each year, a large amount of straw is baled and transported to our biomass thermal power plant, where it is used to generate electricity, and the afterheat from the generator provides heating for residents in winter," said Ma, marketing manager of Hebei Jing'an Bioenergy Technology Co., Ltd.
The project provides power supply for 30,000 residents, and heating for 25,000 households during winter months. "It's a good way to recycle the straw," Ma said.
Jing'an has also established a mechanized system for straw collection in partnership with farmers' cooperatives. The model has involved 5,000 households in the collection, processing, storage, transportation, and sales of straw. As a result, the comprehensive utilization rate of straw in the county exceeded 96 percent. The recycling of straw generated RMB 120 million in output, becoming a new source of income for farmers.
"In addition to generating power and heating supply, some straw is made into organic fertilizer through high-temperature fermentation and other processes and goes back to the soil," Ma said.
According to Yao Zonglu, a researcher at the Institute of Environment and Sustainable Development in Agriculture of the Chinese Academy of Agricultural Sciences, straw is short-term annual plant, and the amount of carbon dioxide it absorbs basically equals the amount it emits during its growth, and it does not cause excess emissions. The use of straw as fuel, or for biogas production and power generation, can effectively reduce carbon emissions. In addition, it can also be turned into organic fertilizer and fodder or be used as growth substrate for mushrooms.
China's Ministry of Agriculture and Rural Affairs released a report on the comprehensive utilization of crop straw in October 2022, showing that the comprehensive utilization rate of crop straw nationwide has steadily improved. In 2021, the figure was 88.1 percent, an increase of 3.4 percentage points over 2018.
According to Yao, China boasts mature technology in recycling straw for biogas and fuel power generation, and has a mature market for straw recycling. "Currently, China is promoting straw recycling in more areas, and it is safe to say that we lead the world in this regard," Yao said, calling for greater efforts in developing liquid fuel from straw.
Smart Use of Dung
Four giant green pillars are quite eye-catching in Jing'an industrial park. They are anaerobic fermenters. A national key leading enterprise in agricultural industrialization, the company produces more than 80,000 breeding pigs and more than 260,000 commercial pigs every year, said Ma. These pigs produce hundreds of thousands of tons of dung every year, which are then treated with the four 5,000-cubic-meter anaerobic fermenters.
Ten years ago, Jing'an began to cooperate with Chinese Academy of Agricultural Sciences and other research institutes to carry out scientific research. The 16 patented technologies they jointly developed enabled the company to emerge as the first biogas power generation enterprise in northern China to use livestock and poultry feces to generate electricity for the national power grid.
Jing'an has also reached agreements with livestock farmers, promising to buy their livestock and poultry feces. It treats them in fermenters to produce biogas, and then generate electricity and purified natural gas. "In the process, the digestate can also be used as substrate to prepare a variety of organic fertilizers," Ma said. He added that the industrial park produces about 250,000 tons of organic fertilizer annually, which is sold to Henan, Shandong, Xinjiang, Yunnan, and other places outside Hebei Province.
Through these projects, Jing'an has formed a unique model for recycling farming waste. With this model, the company annually produces 11.52 million cubic meters of biogas and generates 15.12 million kWh of electricity. By the measurements of the Chinese Certified Emission Reduction, it annually reduces carbon dioxide emissions by 105,000 tons and fecal emissions by 300,000 tons and saves about 5,000 tons of standard coal.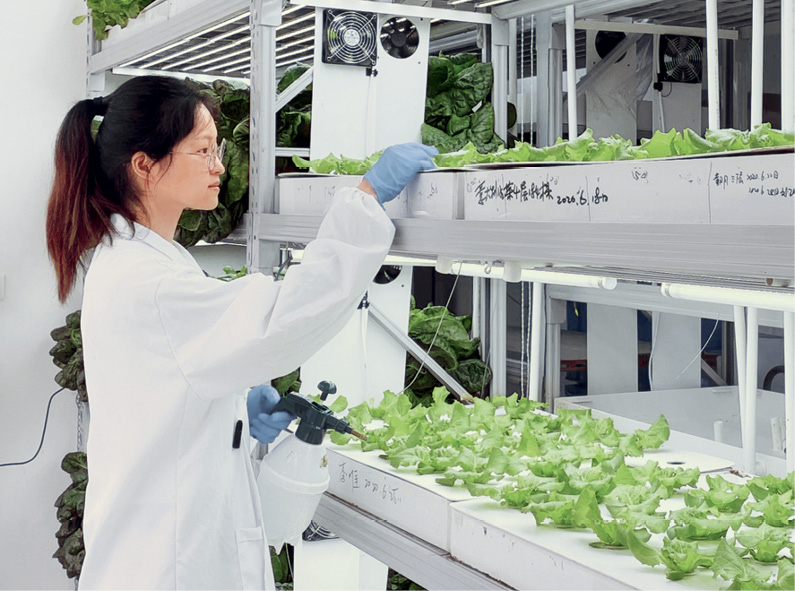 Li Wei examining the growth of lettuce crown with carbon fertilizer in her laboratory.
New Fertilizers
Li Wei is an associate professor at the College of Materials and Energy of South China Agricultural University. Together with her team of researchers, she discovered that using discarded Chinese medicine residue as fertilizer can increase crop yields. Her initial research focused on carbon nanomaterials. A kind of carbon nanosphere widely used in the field of biomedicine has been utilized in animals. "Can it be used in plants?" Li was enlightened by the idea. "We have been exploring the effects when it is absorbed by plants," said Li.
Dozens million tons of decoction dregs are produced annually, but only around one percent were recycled. After analysis, Li's team found that 40 percent of the residue has active ingredients, and there were microelements, such as calcium, iron, phosphorus, and magnesium. After years of scientific research, the team successfully synthesized organic nanocarbon fertilizers from decoction dregs, and acquired independent intellectual property rights for the fertilizers.
"Compared with traditional compost, our fertilizers are more effective, and improve the efficiency of plants' photosynthesis. Besides, it can convert more amounts of carbon dioxide in the air into organic matter, helping to reduce carbon emissions," Li said.
Mumian Village in Guangzhou is the hometown of a member of Li's team. The village boasts a famous ancient lychee tree planted during the Ming Dynasty (1368-1644). Due to its extensive cultivation, lychee has become a famous local specialty. After team members patiently explained the nanocarbon fertilizers, 20 households of lychee farmers agreed to use them in their orchards on a trial basis.
"Ordinary fertilizers were used before, and the soil became hardened, creating a negative impact on plant growth," said villager Xie Zhenxi who grows 13 hectares of lychee trees. After using the nanocarbon fertilizers, he saw a significant improvement of the soil texture, an improvement in the taste of the fruit, and an increase of 17 tons of harvest in one year. "It also enabled me to reduce the use of chemical fertilizers, saving RMB 40,000 a year, and the annual income has increased by RMB 270,000," Xie said with a happy smile on his face.
From 2016 to 2022, the team cooperated with several agricultural companies and farmers' cooperatives, applying the fertilizers in over 30 hectares of farmland for fruits, vegetables, and flowers. Good results have been achieved.
At present, it is teaming up with Guangdong Agribusiness Group Corporation in promoting the fertilizers. They plan to recycle 10,000 tons of decoction dregs in traditional Chinese medicine over the next three years, which will generate nanocarbon fertilizers helping avert soil depletion in an area of 10,000 hectares, and reduce carbon emissions by 40,000 tons. By 2027, they are expected to develop new products based on nanocarbon fertilizers and help 500 farming households to increase their income by RMB 10 million.
Agriculture is the second largest source of greenhouse gas emissions as well as a significant source of carbon emissions. According to Yao Zonglu, it is estimated that the greenhouse gas emissions from the agricultural sector are 830 million tons, accounting for 7.4 percent of the national total, while at the same time, agriculture has great potential in carbon sequestration. China has been a major agricultural country since ancient times. Growing rice and breeding ruminants will inevitably produce greenhouse gases. For this reason, how to reduce greenhouse gas emissions to ensure food security is one of the major problems facing the agricultural sector.
In the "No. 1 document" for 2023 released in February, China's central authorities pledged to scale up support for agriculture with science and technology and equipment and promote the green development of agriculture. Such support includes efforts to recycle crop straw, fecal residue, and other agricultural waste, a boon to recycling businesses like Jing'an and farmers in China's vast rural areas.