Women are rising as a strong force on the market as creators, investors, and consumers as well.
A long line of people are waiting at the entrance of the Dior store in China Central Place, a shopping mall in Beijing's Chaoyang District, on March 27, 2021.
On December 16, 2022, securities brokerage company Sealand Securities and Roland Berger, a global consultancy, jointly released the whitepaper New Women, New Values, New Services — Insight into Women's Wealth Management in the She Age. The first of its kind, the document discloses that women are playing an increasingly important role in family finance. Nearly 81 percent are the decision-makers for daily consumption, 68.4 percent dominate short-term family investment, and 75.8 percent have a bigger say in long-term investment. Women are rising as a strong force on the market as creators, investors, and consumers as well.
The term "She economy" was officially released as a new phrase in the Chinese language by the Ministry of Education in 2007. It was first mentioned by economist Shi Qingqi, referring to the trend that more and more businesses are approaching their consumers and developing products from the female perspective. This phenomenon reflects surging consumption demands and the buying power of the women of today as they are becoming better educated, more self-conscious, and more financially independent.
According to data from Accenture, the number of female consumers aged 20-60 is approaching 400 million in China. They represent an annual spending might of RMB 10 trillion, which nearly equals the combined value of the German, French, and British retail markets. "Women will become a leading force driving China's consumption growth, a key factor in advancing high-quality development of its service sector, a major source of innovation, and a key player in economic governance and decision-making," Wang Wei, director general of the Institute for Market Economy, Development Research Center of the State Council, said in a speech at a 2021 forum on the She economy.
It is estimated that there are nearly five million businesses engaged in the She economy across China. In 2021 alone, over 1.3 million were registered, marking a year-on-year growth of 21.8 percent. A "womenomic" tsunami is sweeping across the country.
Given the multiple roles women play in life — like employee, wife, mother, and daughter — the market for women is hugely diversified, covering food, clothing, home products, and more. In addition to conventional sectors, the increasing sense of self-awareness among women has created new spots of growth, such as skin care and beauty products and services.
"I got a nose job and breast augmentation two years ago. I have an anti-aging injection every two weeks, slimming face injection every six months, and thermage treatment every year," said a young lady who only prefers to be called by her given name Lele when waiting for her weekly skin care therapy at a Beijing saloon. "Beauty is sustained by money. I have spent more than RMB 100,000 on these services," she admitted.
Lele is one of the tens of millions of Chinese women who have the desire and resources to pay for beauty enhancement, which has created enormous business opportunities. More than 84,000 medical cosmetology companies operated in China last year, with 17,300 established during the first half of the year alone, representing an annualized growth of 38.83 percent. According to data shared by Frost & Sullivan, a growth strategy consulting and research firm, the value of China's medical cosmetology market stood at RMB 189.1 billion in 2021, and is projected to reach RMB 638.2 billion in 2030.
Women are also strong spenders in the fields that are not traditionally women-dominant, such as tourism and sports. A 2022 report of Tongcheng (ly.com), an online travel platform, says that women make the decisions for nearly 70 percent of tourism expenditures. Meanwhile their sphere of interest is expanding from conventional theme parks to more specialized places like pet hotels, ski resorts, and video game hotels. A 2022 report from another tourism platform, ctrip.com, found that in large cities, the average amount of spending by women on traveling is higher than the local level for the whole population in the per person term.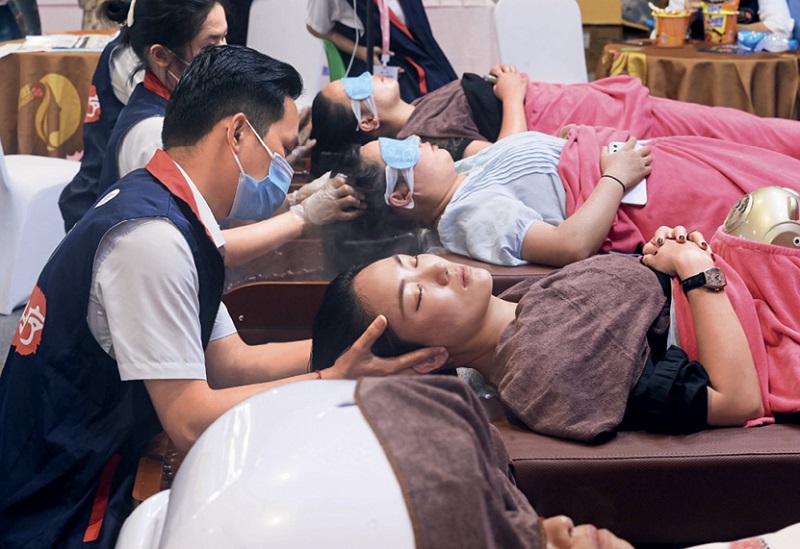 Visitors experiencing the latest beauty products at the 2022 Chinese International Beauty Cosmetic Exhibition held in Nanjing, Jiangsu Province.
This strong spending power is based on growing earning power. Since the founding of the People's Republic of China in 1949, Chinese women have experienced a steady increase in social status, education level, and incomes. According to the 2021 whitepaper, Moderate Prosperity in All Respects: Another Milestone Achieved in China's Human Rights, the proportion of female students in junior colleges and universities rose from 24.1 percent in 1978 to 51.7 percent in 2019. And women account for more than 40 percent of the employed. They are increasingly empowered to participate in economic and social affairs, express their views, and please themselves.
Women are not only at the spending end but also the generating end of the economy. Many female designers, investors, and executives have achieved success in various realms. The most prominent names includes Gree Electric Chairwoman Dong Mingzhu, who is considered one of China's toughest business leaders, billionaire businesswoman and property developer Yang Huiyan, and founder of Capital Today Xu Xin, dubbed China's venture investment queen.
Xu Xin (Kathy Xu) regained the top spot in the New Forbes China Best Women Venture Investor List for 2023. She had held this position from 2019 to 2021. Formerly a bank clerk earning about RMB 1,000 per month, Xu is now managing over US $2.8 billion in funds. Though her name is not immediately recognized by average people, she is known as the kingmaker in the online business sector, having bankrolled startups that are now household names in China and beyond, such as JD, NetEase, Wahaha, Vip, and Meituan. The founders of the first three companies – Liu Qiangdong of online shopping platform JD, Ding Lei of tech giant NetEase, and Zong Qinghou of beverage company Wahaha – all earned the title of the richest people on China's mainland in the past years.
Female professionals are leading, driving, and shaping the She economy. By 2020, women accounted for a quarter of the 42 million corporate managerial personnel across China. Studies by Fidelity International show that the gender diversity level among Chinese enterprises has continued to rise over the past several years, including in their boards of directors. For instance, Women on Boards: Progress Report 2021, which was released by MSCI last year, notices that the share of female board members in publicly traded Chinese companies rose to 13.8 percent in 2021, from 13 percent in 2020. Although it was still below the global average of 22.6 percent, the gap also indicates greater potential to be tapped.
Weeks after China scrapped its COVID-19 restrictions to rev up economic recovery, the APEC Women Leadership Forum opened in Sanya on January 13, 2023. In his opening address, Vice Chairman of China Council for the Promotion of International Trade Yu Jianlong lauded the important position women's spending holds in China's economic development and women's role as a strong force for innovation in consumption. The forum would fully illustrate the indispensable part they play in advancing social progress and industrial transformation, he added.
"As the Asia-Pacific economy entered a critical stage in the post-pandemic recovery, women playing an important role in such fields as public health, science & technology, and Internet have become a prerequisite for realizing sustainable and inclusive growth," Vice Chairwoman of the All-China Women's Federation Lin Yi stressed in her speech at the forum.