China and Europe will support enterprises flexibly on the path of continuous upgrading to make them the main drivers of post-epidemic economic development in China and Europe.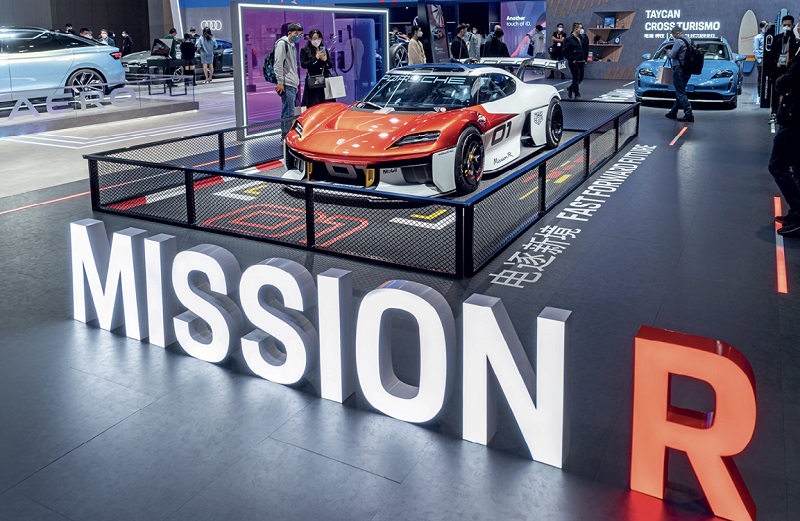 The latest electric model from Porsche MISSION R, a subsidiary of the Volkswagen Group, is unveiled at the 5th CIIE in Shanghai on November 7, 2022.
The global economy faced many challenges resulting from COVID-19 and geopolitical conflicts during the year 2022. Meanwhile, the development of new energy infrastructure and the consumption of new energies accelerated, and e-commerce and the low-carbon economy became new highlights in solving difficulties related to international economic and trade cooperation. The synergy between China and Europe continued to experience a steady rise, with bilateral trade and investment following close behind, has become a stable force in interregional trade and economic cooperation.
During his visit to China in early December, European Council President Charles Michel expressed his willingness to work with China in addressing global challenges by strengthening direct dialogue and reducing misunderstandings. He also expressed his willingness to continue to work on the China-Europe bilateral investment treaty to enhance supply chain stability and deepen cooperation in various fields.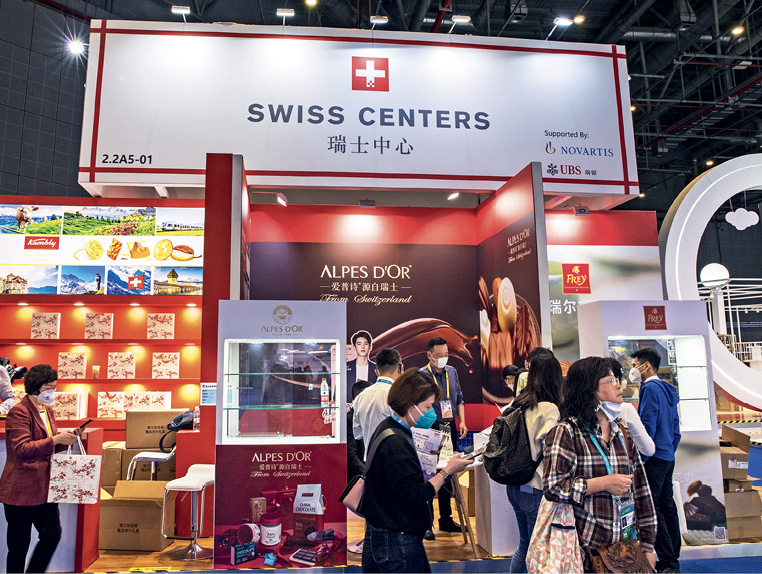 Visitors wander around the Swiss Centers booth exhibit at the 5th CIIE in Shanghai on November 10, 2022.
Complementary Bilateral Trade
According to Chinese customs statistics, from January to October 2022, Chinese imports of goods from European countries totaled US $406.4 billion, an increase of 4.4 percent compared to the same period of 2021. At the same time, Chinese exports to European countries totaled US $621.36 billion, a year-on-year increase of 10.8 percent. China's trade with Europe recorded strong results during this period, including exports in January with a 33.5 percent year-on-year increase. This is due to the acceleration of the economic recovery in the main countries and regions of the world starting in the second half of 2021, and the fact that the consumer price index of the European market has moved from negative to positive, leading to an increase in payment capacity and strong growth in imports and exports.
At an important time when global supply chains are facing challenges, and overcapacity is turning into undercapacity, the Chinese market offers European companies a stable environment to grow, and is meeting the production and consumption needs of European businesses and consumers.
China's trade with Europe shows a stable growth trend in terms of country distribution. From January to October 2022, eight European countries exported more than US $10 billion to China, including Germany, Russia, Switzerland, France, and Italy. Among these countries, Chinese imports from Russia and Switzerland increased by 49.9 percent and 31.1 percent respectively compared to the same period of 2021. On the other hand, China exported more than US $10 billion to 11 European countries, all experiencing a year-on-year growth, with the exception of the U.K., which encountered a 3.5 percent fall in imports from China. In addition, exports to the Netherlands, Italy, Spain, the Czech Republic, and Greece increased by more than 20 percent.
The composition of trade between countries reflects both industrial comparative advantages and the degree and mode of coordination of the transnational industrial chain. Despite the impact of the pandemic, Chinese and European enterprises have explored and fully developed the resources and benefits of the industrial structure of countries along the China-Europe freight line. By doing so, they strengthened the complementary interests and economic interdependence between China and Europe. During the first 10 months of 2022, China imported a lot of fossil fuels, machinery, vehicles, electronics, and jewelry from Europe, accounting for 19.1 percent, 10.4 percent, 9.9 percent, 8.8 percent, and 8.8 percent of total imports from Europe, respectively.
The Chinese economy and market have created expectations of stable and long-term development for European exporters. Import promotion platforms such as the China International Import Expo (CIIE) have not only provided European companies with a space to showcase their innovative products, but also expanded their export channels to China. In contrast, China's exports to Europe have been more concentrated, with the top three products in terms of export value being electronic goods (26.6 percent), machinery (17.6 percent), and automobiles (5.4 percent), mainly to the Netherlands, Germany, Russia, and the U.K.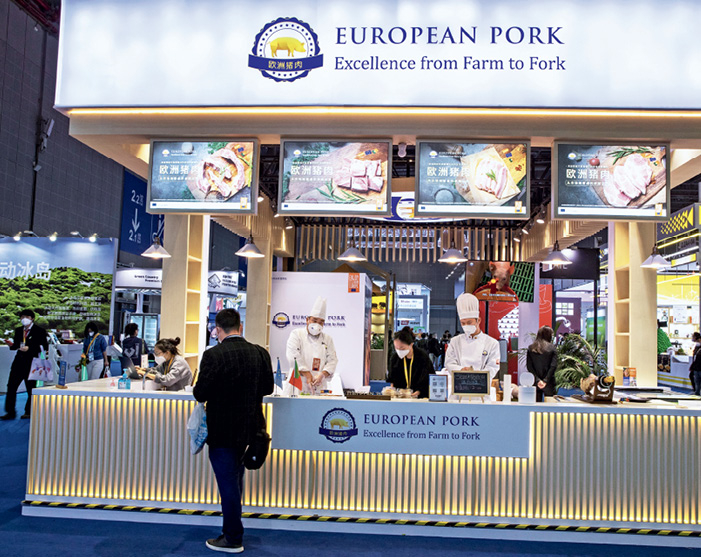 A booth showcasing European pork at the exhibition area of the 5th CIIE in Shanghai, November 10, 2022.
Reciprocal Investments
Two-way investment between China and Europe continued to expand in 2022. During the first eight months, FDI flows to China from EU countries alone jumped by 123.7 percent year-on-year. On September 6, German chemical group BASF inaugurated an integration site in Zhanjiang, Guangdong Province. This project, which is planned to be completed in 2030, will be BASF's third largest integrated production base worldwide and largest one outside of Europe. Mature infrastructure, a wide range of upstream and downstream companies in the supply chain, and the large market in China are the main factors that attract BASF's investment. On September 2, German technology company Merck inaugurated its China Electronic Technology Center and its first production site for OLED materials for displays in Shanghai, an act which further enhanced China's competitive advantage in the field of LCD.
In the automotive sector, Audi FAW launched a new-energy vehicle project in Changchun, Jilin Province, and BMW also said it was expanding its battery manufacturing project in China. One of the world's leading auto parts companies, France's EFI Automotive, has invested in building a R&D center and a new plant in Wuhan, Hubei Province. This rapid growth of investment in China by European automotive companies demonstrates the importance they attach to the Chinese market and will provide Chinese consumers with a wider and better choice.
At the same time, investments in Europe by Chinese companies are not lacking in highlights. Chinese companies have invested more in Europe in areas such as batteries to coordinate their industrial chains. COSCO's investment in the Port of Hamburg responds to the need to improve logistics and transport support, particularly in information technology.
Expectations for global economic growth in 2023, however, are far from ideal, which will affect business investment expectations. In its October 2022 World Economic Outlook, the International Monetary Fund (IMF) forecasted that economic growth in the Eurozone and U.K. will fall from 3.1 percent and 3.6 percent respectively during 2022 to 0.5 percent and 0.3 percent in 2023. Due to geopolitical shocks, the European economy will face significant challenges in terms of energy supply, trade and investment relations, financial flows, and personnel exchange, which will not only affect countries' ability to achieve a balance between supply and demand in their markets, but will also cause more stress in the supply chains of companies investing in Europe. The weakening development momentum of major economies such as Germany and France will make the European integration process more difficult, and the EU could become more unstable due to the widening gap in socio-economic development among its members and the contraction of financial resources, all important factors that will affect Chinese companies' investment in Europe.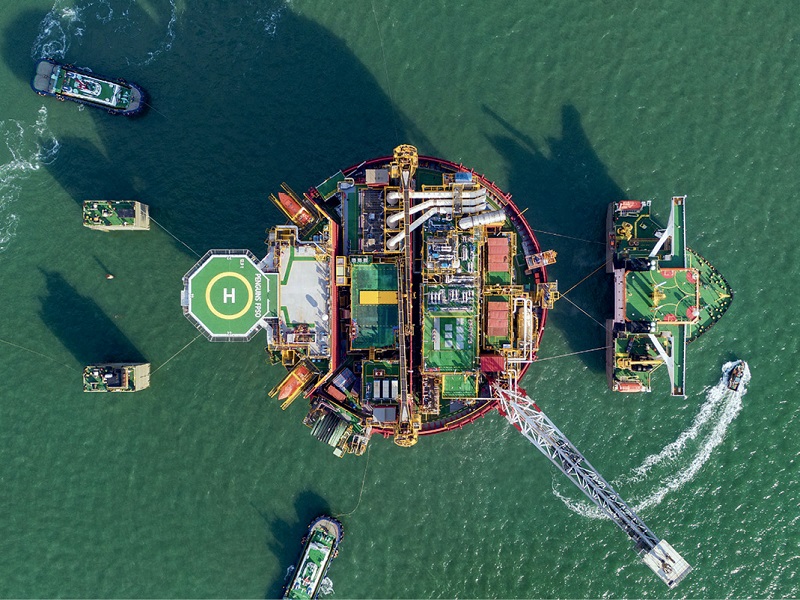 On December 6, 2022, the floating production, storage, and offloading (FPSO) unit called "Penguin," the largest and heaviest built in China, leaves Qingdao, Shandong Province for the North Sea on a journey that will cross over 17,000 nautical miles in about 55 days.
Cooperation at a Higher Level
China and Europe are two important players in the global economy. China is actively promoting a Chinese-style modernization process, while the EU insists on strategic autonomy. The two sides share a broad consensus and common interests and must also play a more active and important role in overcoming the difficulties of the global economy. In the face of various uncertainties, China and Europe have agreed to abide by international rules and practices, address common concerns through cooperation rather than confrontation, and create the necessary conditions and space for economic globalization through development. Indeed, this path has the best ratio of benefits to costs.
On December 1 during his meeting with the visiting European Council President Charles Michel, Chinese President Xi Jinping stressed the need to strengthen Sino-European cooperation. China will pursue a high level of openness to the outside world and accelerate the construction of a new development model, welcoming the European side to continue participating in and realizing win-win cooperation.
The high-level economic and trade dialogue between China and Europe has created favorable conditions for the two sides to reach consensus and move forward in due course. China and Europe should create a more stable external environment with clear rules for economic and trade cooperation between enterprises of the two sides, encourage enterprises to increase development efficiency and improve welfare through long-term planning and effective resource allocation based on market demands. This bilateral cooperation can take place in both Europe and China, and can also be conducted in third markets. The two sides will support enterprises flexibly on the path of continuous upgrading to make them the main drivers of post-epidemic economic development in China and Europe.
ZHOU MI is a researcher at the Chinese Academy of International Trade and Economic Cooperation.