Decathlon will launch more innovative and high-quality products to meet people's increasing sports needs and upgraded sports consumption concepts, and grow together with the Chinese market.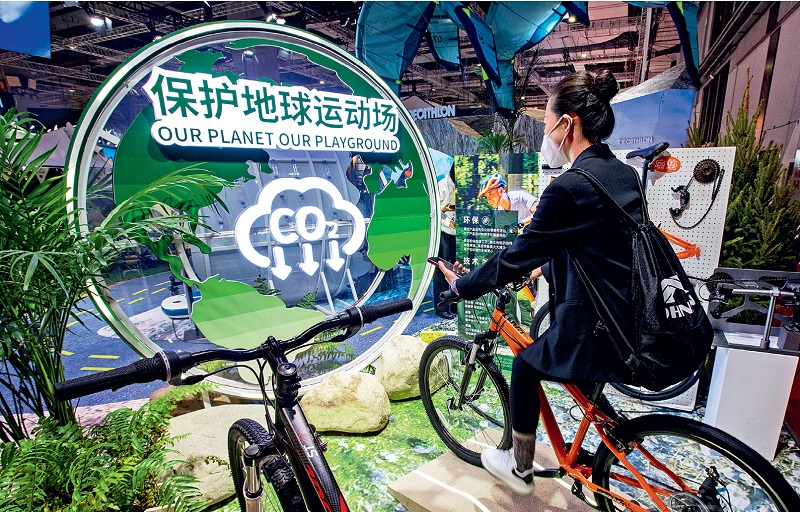 Decathlon launches its eco-designed mountain bikes at the 5th CIIE.
"We highlight the urgency and significance of decarbonizing value chains and establishing circular business models, engaging in dialogue and partnership with partners to explore solutions to decarbonize value chains," said Pascal Bizard, senior vice president of Decathlon China.
Decathlon showcased four themed sports experience areas in an effort to fully tap the potential of the Chinese market at the fifth China International Import Expo (CIIE) that was held in Shanghai in November 2022.
Ecological Product Design
Decathlon's multifunctional rowing machine designed with innovative technology was introduced to the market in late December 2022. When unfolded, it is an installation-free, self-generating integrated rowing machine that can provide the power it needs through the user's movement and even charge devices such as smartphones. When folded up, it is an ottoman for three people, and the wooden structure makes it an ideal addition to home decorations, which is space-saving and aesthetically pleasing.
According to Pascal, this rowing machine made of FSC-certified materials can be connected to a variety of cellphone applications and integrates entertainment and sports through different challenge and competitive modes. The machine attracted many experiencers at the CIIE, and the fact that it is environmentally friendly, space-saving, and quiet make it attractive to customers.
Another ecologically designed product, a mountain bike, also boasts many highlights. It incorporates sustainable concepts in the design, production, transportation, retail, operation, and recycling process, through the use of baking paint, optimization of raw materials, and structural weight reduction. On the basis of ensuring sports performance and safety, the carbon dioxide emissions of making a bike are reduced by 10 percent.
"Environmentally-friendly products are increasingly sought after by Chinese consumers. Because of this trend, the number of Decathlon China's eco-design products has almost doubled during the year 2021," said Pascal. There has been a growing awareness among young people of the significance and urgency of environmental protection, and Decathlon will continue to provide more alternative green products to meet market needs.
Products are just one part of Decathlon's ecological value chain. Pascal said that Decathlon has always been committed to sustainably allowing the public to enjoy the benefits of sports. As a sports industry chain enterprise, it has built a production line that exhibits carbon reduction in the whole process from product design, research and development, manufacturing, and logistics to sales, so as to promote the green transformation of the entire industry chain, which will also involve upstream and downstream partners in the supply chain.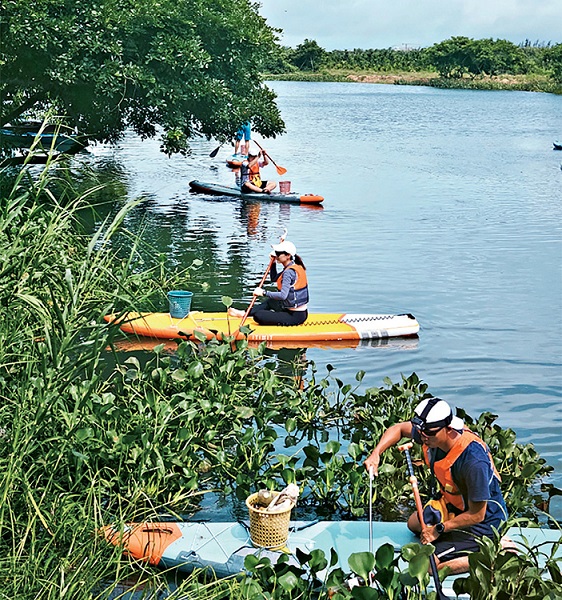 Workers conducting a water environmental protection activity launched by Decathlon in 2021.
Focus on Green
According to Matthieu Brière, vice president of Decathlon China, carbon dioxide emitted in the design and sales process is not the largest in its entire industry chain. "Carbon dioxide emissions mainly come from upstream operations, including supply, manufacturing, and processing of raw materials," he said. Since 2020, Decathlon has urged key suppliers to set carbon reduction roadmaps in accordance with the scientific methodology, develop energy conservation and emission reduction projects, encourage tier-one suppliers to stop burning coal and use green energy such as photovoltaics throughout the entire production process, and jointly set a goal for all suppliers to use green energy by 2026.
They have also done this for logistics and transportation. According to Wang Feng, vice president of Decathlon China, its logistics department is responsible for not only all product transport services domestically, but also the export of its Chinese-made products to the world. Decathlon China formulated its 2026 low-carbon blueprint for logistics in 2022, aiming to use new technologies to make logistics greener and enable low-carbon consumption and business models.
"Currently low-carbon transportation is one of Decathlon's core strategies for achieving low-carbon logistics. Based on the superior policies and technology of the Chinese market, we have established the 2026 logistics carbon reduction blueprint. One of the most important actions is to accelerate the application of new-energy electric trucks," Wang Feng said that Decathlon also optimizes transportation routes by using hi-tech means such as the Internet of Things and the Internet of Vehicles to reduce energy consumption.
In addition to this, developing the circular economy is also the focus of Decathlon's sustainable development strategy, including products (raw materials and eco-designs), response to new consumption patterns (maintenance, second-hand trading, and leasing), and end-of-life product management. Decathlon has launched projects to recycle hangers, electronic watches, and other products in many stores. For products that are used infrequently, such as kayaks, snowboards, and strollers, Decathlon offers second-hand trading and leasing services to avoid waste.
Decathlon has formed a relatively complete circular economy value chain in China, covering the entire life cycle of products from design, production, and sales to recycling. It carries out second-hand baby carriage trading and supporting maintenance services in 70 stores in 23 provinces across China. Through an innovative business model, it advocates more sustainable use of sports products to help people enjoy the fun of sports and makes green consumption a trend and lifestyle.
Growing Together
According to Pascal, China has played a great strategic role in Decathlon's business development. At present, more than 50 percent of its products are produced in China. "China owns high-quality industrial production and innovation capabilities, which enable it to produce a wealth of high-quality products. In addition, as more and more people participate in sports, China's sports market has great potential," said Pascal.
He first visited China back in 1991 to explore the market, and returned to China as a buyer in 1994. Then Decathlon officially entered the Chinese market with the opening of its first standard concept store in Shanghai in 2003. Since then, Pascal has been living and working in China, and has witnessed the development of the Chinese sports market.
Over the past decade, he has noticed an increase in the number of Chinese people who are enthusiastic about sports and have made sports a part of their lives. Decathlon's business in China has also grown, presently having more than 240 stores in 100 cities across the country. "In recent years, especially after China's successful bid for the Beijing Winter Olympics in 2022, winter sports have flourished in China, and niche sports such as camping and frisbee have become more common. The concept of sports communities has emerged, bringing together people with common sports interests through social media and connection through offline activities," said Pascal. Decathlon will continue to launch more innovative and high-quality products to meet the increasing rise in sports awareness and upgrade sports consumption concepts, and grow together with the Chinese market.