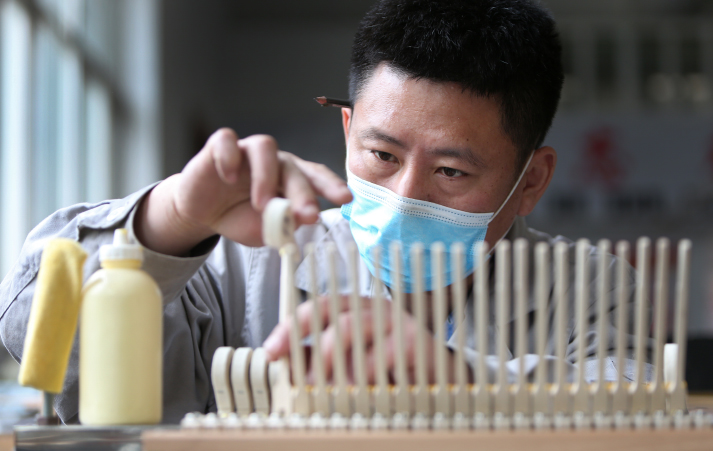 A worker assembles a piano in a piano factory in Yingkou, Liaoning Province, on April 28 (XINHUA)
Lu Jianxin, now an engineer with China State Construction Engineering Corp., has been dedicated to the innovation of construction engineering technology and has won multiple national patents and prizes.
Lu is one of the craftsmen who have contributed to the country's industrial development over recent decades, and a participant of the First Innovation Exchange Conference for Craftsmen of the Nation, held both online and offline from April 25 to 27.
The meeting received high level attention. In a congratulatory letter sent to the conference, President Xi Jinping called for contributing wisdom and strength to high-quality development. He said that skilled workers are a significant force to shore up China's manufacturing and innovation.
Encouraging workers to strive to meet the needs of scientific and technological revolution and industrial transformation in today's world, Xi called on them to continuously enhance their technical skills and contribute wisdom and strength to promoting high-quality development, implementing the strategy of making China a leader in manufacturing, and building a modern socialist country in all respects.
Party committees and governments at all levels should deepen reforms in the cultivation of industrial workers and attach importance to giving play to the roles of skilled workers to fully stimulate their innovation capacity, Xi said.
Hosted by the All-China Federation of Trade Unions (ACFTU) with a theme of Craftsmanship and Innovation Makes China Stronger, the conference showcases the superb skills and innovation outcomes of Chinese workers, and serves as an exchange platform for highly-skilled workers.
Pursuit of perfection
Lu majored in engineering measurement in college, and after graduation went to work for a branch of China Construction Third Engineering Bureau Corp. in Hubei Province.
In 1982, he received a letter from a colleague who said he was constructing a 160-meter-tall building with 50 floors in Shenzhen, a special economic zone in Guangdong Province. Lu, who had seen only five-story buildings, longed to go to Shenzhen to take part in the construction.
Lu was assigned by his company to build the high-rise—the international trade center—in Shenzhen that same year. However, the city was different from his imagination. He had expected it to be prosperous like Hong Kong but when he arrived, he found the city was characterized by low buildings, muddy roads and construction sites.
Lu's living conditions in Shenzhen were poor. He lived in a makeshift two-story bamboo building. As there was no air conditioner, it was very hot in summer and the roof was often blown away by typhoons.
It was under such conditions that Lu witnessed the speed of construction in Shenzhen, with one floor built in three days. It made him happy to see the building grow taller every day.
After the first building was completed, he then took part in the construction of the 165-meter-high development center in Shenzhen, which was the first super-high steel structure in China.
To ensure the building was straight, Lu had to make sure his measurements were accurate. Although the measurement methods were still relatively primitive, he finally succeeded in obtaining the measurements he needed.
Lu has taken part in the construction of major landmark buildings in Shenzhen and helped bring China's steel structure architecture construction technologies to world-leading levels. By 2020, Lu had taken part in the
construction of 46 projects, the total height of which was 3,600 meters, in eight cities both in China and abroad.
At the beginning of 2020, Lu and his colleagues were tasked with building an emergency hospital with 1,000 beds near the Third People's Hospital of Shenzhen to make preparations for possible COVID-19 outbreaks. The project was designed to be finished in 20 days, so Lu's team used prefabricated construction materials to finish the project on time. As he had been exploring technological innovation to construct prefabricated buildings, garages and urban roads, he contributed to the project's success with his expertise.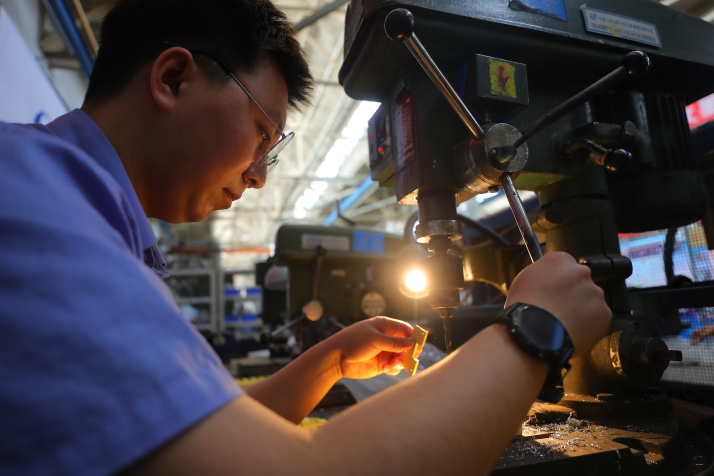 A worker processes plane components at Shenyang Aircraft Corp. in Shenyang, Liaoning Province, on April 19 (XINHUA)
Promoting innovation
An exhibition was held in Shenzhen on the sidelines of this conference to showcase the achievements of the Chinese manufacturing industry and industrial workers.
At the booth of the Guangdong Federation of Trade Unions, innovations made by craftsmen in Guangdong were displayed. In recent years, the federation has launched a campaign to encourage learning from outstanding craftsmen of the province and has recommended 100 people, including Lu, as role models.
These craftsmen from the areas of national defense and military, equipment manufacturing, transportation, traditional handicraft and cutting-edge technologies have made outstanding contributions to the province's high-quality development. Guangdong has paid increasing attention to training a skilled workforce in recent years and has given out 64.75 million yuan ($9.78 million) in subsidies to help 50,000 workers to study for diplomas and 33,000 workers to improve technical skills.
"A craftsman should produce high-quality products and he or she should also help other workers master new technologies so as to push for innovation," Lu said.
Wang Xiaofeng, head of the Labor and Economy Department of the ACFTU, said the conference was held to enable the whole society to see the hardworking nature and craftsmanship of technical workers, their innovation and their contribution to high-quality economic development so as to encourage more technical workers to pursue innovation.
Wang Qilin, a senior technical expert with the Shenzhen Power Supply Bureau of the China Southern Power Grid, said the country is paying increasing attention to blue-collar workers and as a technical talent, he makes the same amount of salary as the deputy general manager of his company.
Wang Xiaofeng said to inspire innovation and creativity among technical workers, institutional reforms should be carried out to improve technical workers' economic, political, social and cultural status.
(Print Edition Title: Pursuing Excellence)
Copyedited by G. P. Wilson
Comments to jijing@cicgamericas.com