Rongjiang County, located in Qiandongnan Miao and Dong Autonomous Prefecture, Guizhou Province, is host to a unique, multi-ethnic culture and a picturesque landscape. At the end of 2020, the whole county had its poverty status removed, marking the great strides it made in poverty reduction.
Empowering Local Industries with New Media
In October 2021, local farmers were busying themselves in the paddy fields of Baiwang Village, Rongjiang County, with the rice harvest. Rice grains were flying out of the threshing machine, ushering in a harvest season. Nearby, merrily swimming fish attract tourists dressed in festive local ethnic clothes. In the distance, green mountains and clear waters form a beautiful landscape.
This charming pastoral scene was broadcast live to viewers in other parts of the nation through the lens of Duliujiang Culture and Media, a local company.
Duliujiang Culture and Media Company belongs to the multimedia center of Rongjiang County. According to Zhu Yuying, director of the center's general office, the company was established in October 2020 with the aim of introducing local life of the county. "The farmers in the live broadcast of the threshing were also our anchors. During the harvest season, we thought it a good opportunity to show our charming rustic life to people of other regions," said Zhu. In her eyes, the ultimate goal of China's rural revitalization drive is to create a good life for everyone.
The online response lived up to expectations. The beautiful scenery and authentic representation of rural life attracted a large audience. National broadcaster China Central Television also chimed in to recommend their channel to more audiences, helping them get over 100,000 views for their show.
Duliujiang is also jumping on the livestreaming bandwagon to sell local agricultural products. Yang Zhenzhen is one of the local livestreaming sellers. Hailing from Dujiang Village, she makes a living by farming and taking on odd jobs here and there. In 2021, based on the advice of her relatives, Yang contracted 13.3 hectares of farmland with friends to grow golden pomelos. In addition to offline sales, they are also sold through online channels such as Pinduoduo and WeChat. As the pomelos are famous for being green, healthy, and tasty, Yang was invited by Duliujiang for the live broadcast of the 2022 pre-Chinese New Year Shopping Festival.
During the livestream, over 5,000 kilograms of pomelos were sold in just two hours, with the sales volume at RMB 40,000. Zhu Yuying was elated. For a small county like theirs, it was a good figure. As a state-owned company, Duliujiang's livestreaming services are totally non-profit. "A livestreaming show brings farmers what they spent a whole season to make in the past, which is huge progress."
Via livestream selling, Duliujiang helped the locals earn around RMB 600,000 in six months.
To encourage and regulate the new media industry, on January 26, 2022, the Cyberspace Administration of China released an action plan for digital development in rural areas from 2022 to 2025, aiming to promote rural modernization and revitalization through information technology. The plan stressed to train farmers to be new media savvy, and to develop digital culture in the countryside. Rongjiang County is taking advantages of these favorable policies.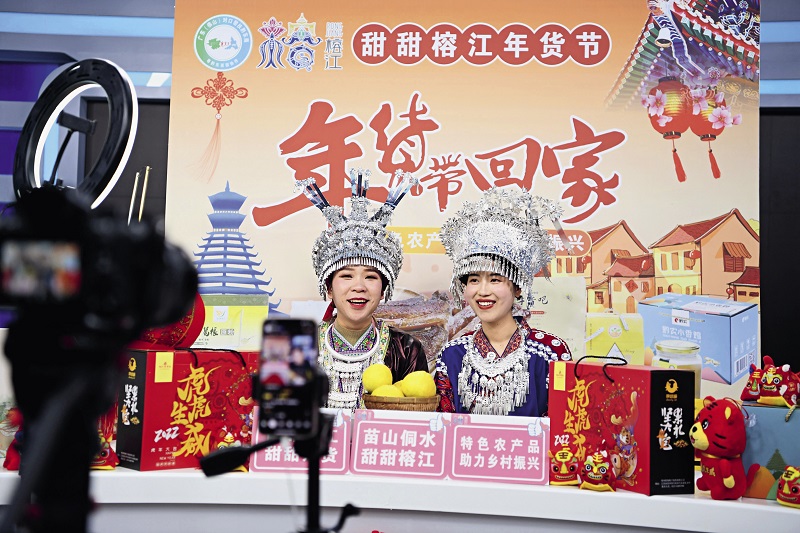 Livestream anchors are promoting local agricultural products during a shopping festival ahead of the Spring Festival on January 22.
Optimistic about Their Future
Wu Zhuhuan is from Wugong Village, Zhaihao Town of Rongjiang County. Her family used to be a registered poor household. Now she runs an inn and an embroidery workshop.
The traditional embroidery of the Dong ethnic group, one of the National Intangible Cultural Heritages, is famous for colorful patterns stitched with silk and cotton threads. Wu, a Dong ethnic woman, has been interested in the design and embroidery of Dong costumes since childhood. For a while she made some embroidery in her spare time. However, small orders did not bring a noticeable difference to her family. Her husband worked on a construction site with an unstable income. The annual income of her family was only around RMB 10,000.
"We have two sons. Due to financial constraints, my elder son did not go to college after graduating from high school," said a wistful Wu. In 2014, things began to change. Her family was classified as a registered poor household, and with the help of the local government, the school fees of her younger son were waived off. They also got an extra subsidy, free chickens and young fish to raise, and medical insurance.
In June 2021, Wu rented a hotel and opened up her own embroidery workshop. The beautiful scenery and charming local culture have attracted many tourists, and Wu also opened personal accounts on social media platforms, which also brought Wu much business.
However, due to lack of professional marketing skills, the number of followers did not grow as she expected. To help solve this problem facing many livestreamers in the county, the company where Zhu Yuying worked invited professionals from Beijing and other cities to give lectures. "We organized a series of training classes on the trends of new media, on how to shoot a video, and how to livestream at home with a smartphone," Zhu explained.
On November 25, 2021, a cultural industrial park program was initiated in Rongjiang, aiming to revitalize the county through new media platforms. On the sidelines, a project to incubate 1,000 villagers as spokespersons of their hometowns was also launched. With encouragement, as it turned out, over 500 people signed up.
The industrial park has multiple functions, including incubating and training new media talent, pooling online influencers, and connecting livestream forerunner enterprises, building a high quality product supply chain, and providing government support policies. Up to now, local people have registered a total of 351 online accounts on various social media platforms, and posted 5,565 video clips.
An office has also been set up in Rongjiang to coordinate local resources for the multi-media development. According to Wang Qiang, a leader of the office, there are 12 enterprises setting up branches in the industrial park. On January 21, 2022, a circular was released by the local government to support enterprises to settle in the park. "We provide houses free of rent for their employees. Rongjiang is doing its best to facilitate the running of businesses," said Wang.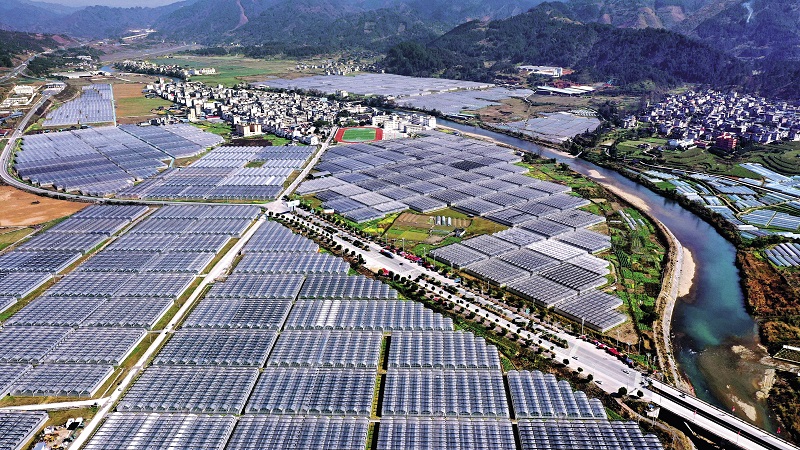 A bird's eye view of Zhongcheng Town, Rongjiang County in spring.
Cooperation between Different Regions
Rongjiang is a transport hub in southern Guizhou Province, and is also a gateway to the Guangdong-Hong Kong-Macao Greater Bay Area. It is now being built into a pivot regional city in Guizhou, a healthcare center, a tourism destination, and a backyard garden of the Greater Bay Area as it is within three-hour drive from the latter.
Meanwhile, Rongjiang seized the opportunity of east-west cooperation and worked hand in hand with Nanhai District of Foshan City, Guangdong Province, in consolidating the achievements of poverty alleviation, regional cooperation, and rural revitalization.
Qiandongnan Huipeng Agri-tech Company (short as Huipeng) is a subsidiary of Foshan Huipeng Agri-tech Company based in Rongjiang. Liu Peng, its general manager, said that the company entered the Rongjiang market in March 2021 focusing on buying local agricultural products and selling them across the Greater Bay Area. "We have also registered a brand for locally produced fungus to promote the region's agricultural products in the whole country," said Liu.
"The fungi here are natural and nutritious, but when picking them, local farmers are always in a rush. As a result, many are wasted and the general quality is not ideal," said Liu. To sell them at a better price on the market, Penghui organized technical training for the locals, which proved to be effective. Based on a dozen field visits, Penghui set up a standard for the fungus growers and pickers, making sure that their products get the highest added value.
Under the national initiative of bringing economic stimulus to tens of thousands of villages with the help of tens of thousands of enterprises, from November 2021, Penghui started to assist Kouma Village in Rongjiang. Ginger plantation in Kouma used to play a big role in lifting the village out of poverty. However, due to market fluctuations, the price of ginger fell below the cost in 2021. "In 2020, it was sold at RMB 5.6 per kilogram, but in 2021 it was only RMB 1.6 per kilogram," said a worried local farmer, Wu Ya.
Penghui stepped in and helped out at this critical moment. It purchased all the ginger at double the price and contacted a catering association to look for other sales channels. Till now, Penghui has helped the village sell more than 10 tons of ginger. Liu Peng said that in 2021 alone, Penghui helped Rongjiang sell agricultural products worth more than RMB 3 million, and in 2022 the figure is expected to reach RMB 5 million. A fungus processing plant will also be opened in Rongjiang soon.
With the help of the local government, Penghui has contracted a freight train to send the purchased agricultural products from 16 counties in Qiandongnan Miao and Dong Autonomous Prefecture to Foshan City in Guangdong Province each week, which is more effective and cheaper than before.
"In 2022, we are aiming for the Shenzhen market. With the Shenzhen-Rongjiang high-speed railway inaugurated earlier this year, Rongjiang is within the three-hour economic radius of the Greater Bay Area," said Liu Peng.
With the help of enterprises with a mature industrial chain like Penghui, Rongjiang is developing rapidly. In 2021, its agricultural, forestry, and animal husbandry products as well as local handicrafts sold in Guangdong and other provinces brought Rongjiang RMB 473 million. At present, Rongjiang and Nanhai District of Foshan are drafting an east-west cooperation plan for the period till 2025.