European companies have their eyes on the huge market in Southwest China.
"In 2020, 42 percent of EU companies working in China reported revenue growth, with the highest growth of 52 percent in the southwestern region. With its favorable policies, open business environment, and fast-growing consumer market, the southwestern region of China has become a new choice for EU investors," said Ma Xiaoli, vice president of the European Union Chamber of Commerce in China (EUCCC), at a press conference for the release of the Business Confidence Survey 2021 held in Chengdu in December 2021.
A total of 585 member companies of the chamber were surveyed on their performance during 2020 and prospects for the future. The chamber is recognized by both the European Commission and the Chinese government as the official representative of EU enterprises in China. Currently, it is composed of more than 1,700 EU enterprises that are important participants in China's economic development.
With the COVID-19 pandemic sweeping the world, the resilient Chinese market is attracting an increasing number of EU companies. Thanks to China's rapid and effective containment of the pandemic within its borders its quick economic recovery, as well as the strong financial and policy support from the government, the Chinese market has become a pillar of the global economy for many EU multinationals.
According to the survey, the EBIT (earnings before interest and tax) of 51 percent of EU companies operating in China is higher than the global market average.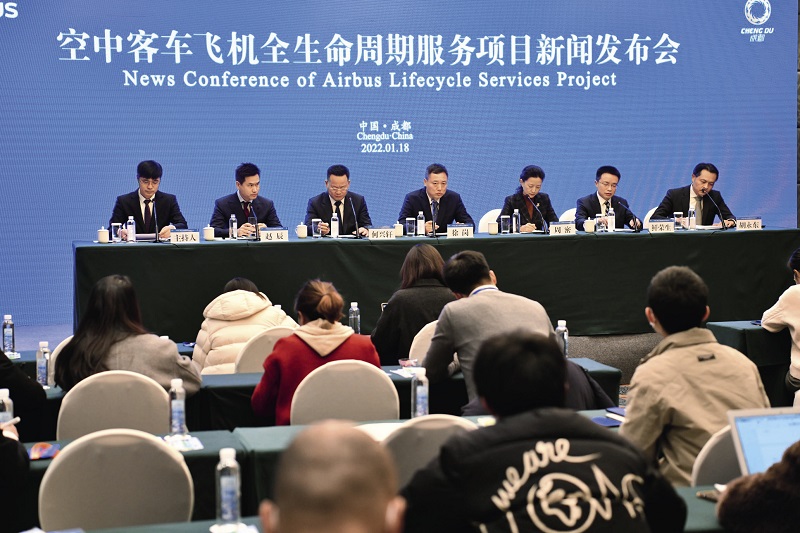 A news conference of Airbus Lifecycle Services Project is held in Chengdu on January 18, 2022. It is the first aircraft recycling project that Airbus has made direct investmensts in outside Europe. The signing of this project marks the opening of a new model of green circular economy for aircraft by Airbus and Chengdu.
Diversified Investment
In recent years, notable changes have been made in EU companies' investment in China. According to Ma, the EU companies surveyed mainly invest in manufacturing and services. While the Chinese market continues to open up its doors to the outside world, EU enterprises have made diversified investment in China, entering finance, new energy vehicles, and other fields that have begun to be open to foreign investment over the past two years.
"EU companies are now more committed to the Chinese market than ever before," said Ma. He noted that they have raised their stakes in joint ventures, moved their supply chains into China, and spent more in maintaining market shares. There's now a consensus among EU businesses that a company cannot be globally competitive if it does not have a strong presence in China.
Data from the survey show that during 2020, 75 percent of the companies surveyed maintained a moderate growth compared with 2019, among which retail and automobile industries performed the best. More than a third of retailers reported revenue growth of more than 20 percent, while 30 percent of respondents have established joint ventures with Chinese partners, and 25 percent intend to relocate at least part of their supply chains to China.
With more favorable policies, a more mature business environment, and new transportation advantages in southwest China, more and more EU companies are turning their focus to the region as a new choice for investment.
Ma said that southwest China has witnessed a rapid growth in its economy and population over the last few years and also seen continuous improvements of its transportation infrastructure such as a new land-sea corridor, the China-Europe freight train service and the Tianfu International Airport, as well as smoother logistics and a more mature market. With its geographical advantages, China's southwest region can serve as an important hub for European companies to connect cities on the east coast of China with European countries.
"Meanwhile, the connectivity of infrastructure is also a good opportunity to reach a wider range of people. As the investment of EU companies in southwest China is more diversified now, the region has become both a manufacturing base and an important sales market and operation center," Ma said.
"Besides, southwest China, especially Chengdu, is a charming place that boasts a beautiful environment, profound history, and delicious food," said Ma. His family is going to relocate to Chengdu and he will set up a branch office of his company there, hoping to board the "express train" of western China's development.
There are presently more than 200 member companies in the southwest branch of the chamber, and that number is increasing every year. Fourteen percent of member companies surveyed registered a new branch business or branch office in the region in 2020, and 29 percent of the registrations were completed within 15 days. "These figures show the efficiency of the local government and the recognition of the investment potential by EU companies."
Innovative Cooperation in Full Swing
Ma noted that the opening of China-Europe freight train routes and the construction of the new land-sea corridor in the west of China have benefited EU businesses and greatly improved the efficiency of cargo circulation. He noted that according to a survey they conducted a few years ago, they found that 14 percent of EU enterprises have actively participated in the Belt and Road Initiative (BRI), in the form of cooperation in infrastructure construction and services. Today, the number of EU enterprises intending to participate in the BRI is on the rise. Although bilateral cooperation has slowed down due to the impact of the pandemic, he believes that with the recovery of the European and Chinese economies, there will be more cooperation opportunities under the BRI framework.
According to Business Confidence Survey 2021, about 68 percent of the enterprises surveyed were optimistic about the business prospects of their industries over the next two years, up 20 percentage points year-on-year; 23 percent believed that the conclusion of the Regional Comprehensive Economic Partnership (RCEP) will have a positive impact on their business, 67 percent of them believed that China will increase exports to other RCEP signatories, which will as a result increase the income of EU enterprises in China, and 29 percent were prepared to increase investment by more than 10 percent of their annual revenue.
As for how EU companies view China's investment prospects, Ma pointed out that China has contributed nearly 30 percent to world economic growth for the past few years, and this figure is expected to rise further in the future. As Chinese people's quality of life has improved, their demands for daily necessities and health products will also increase, attracting more and more EU companies. As they are very optimistic about the prospects, EU companies will not only hold on to the existing Chinese market, but also further expand their business in China.
Ma stressed that China's innovation capacity is also continuing to increase year by year, and 72 percent of the companies surveyed believe that Chinese enterprises are at least as innovative as their European counterparts. In this regard, in the near future there will be more ground for cooperation, including cooperation projects on climate change and biodiversity.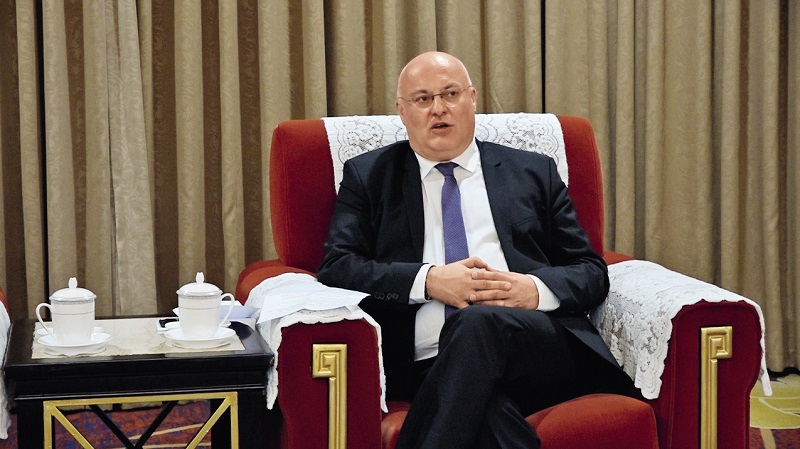 Massimo Bagnasco, vice president of the European Chamber.
Sustainable Development
China's commitment to go carbon neutral by 2060 has been warmly received by EU companies who are constantly exploring new business opportunities.
Ma pointed out that the Chinese government has made a lot of contributions to environmental protection and pollution control in recent years, but the goal of carbon neutrality is a global issue and thus requires cooperation from all sides. "We hope to get more involved in the discussion and policy coordination between the central and local governments on emission reduction strategies, and make more changes in science and technology, urban management, production, and lifestyle in light of local conditions."
"The relationship between Europe and China is getting closer. The two sides are carrying out more and more cooperation in environmental protection, carbon reduction, and people-to-people exchanges," said Ma. To achieve carbon neutrality, Ma believes it is necessary to integrate urban planning, transportation, environmental protection, waste treatment, and control of water pollution and other resources in a comprehensive master plan. He called for the introduction of more advanced technologies to further speed up China's emissions-reduction plan and encourage local companies to work towards carbon neutrality.
The construction of the Chengdu-Chongqing economic circle has become a hot topic among EU companies. Many of them have consulted the EU Chamber of Commerce in China about investment and development in the region, expressing their interest in learning how they can participate in the construction more effectively and achieve better development through it.
"In 2020, the trade volume of EU companies in Chengdu accounted for 20.3 percent of Chengdu's total foreign trade, making the EU Chengdu's third largest trading partner," said Ma. Many members of the chamber from Beijing, Shanghai, and other places involved in semiconductor, banking, and other industries, hope to know more about the Chengdu market. The Chengdu and Chongqing region is becoming an irresistible attraction to many EU businesses.
"Compared with economic circles such as Beijing-Tianjin-Hebei, Guangdong-Hong Kong-Macao, and the Yangtze River Delta, the Chengdu-Chongqing economic circle is still young. Most of the current work being done is in the area of infrastructure, which we hope to participate in from the initial stage," Ma said, who is also eager to strengthen communication with policy makers to promote sustainable development there.
To Ma Xiaoli, the perfect timing for local governments to attract investment is not after construction is completed, but rather at the planning stage, and he believes there's much more to expect.
LI HUIPIN is a reporter with the Belt and Road Reports.