In recent years Chinese enterprises have made a concerted effort to venture abroad to expand their operations. The resulting international expansion has not only promoted their own business development, but also increased economic growth in the host countries, creating jobs and fostering people-to-people bonds.
As a world-leading clean energy supplier and service provider, CGN Europe Energy (CGNEE), a subsidiary of China General Nuclear Power Group (CGN), was founded in Paris in 2014. During the past seven years CGNEE has developed into the fifth largest clean energy operator in France, and is also known as a clean energy company with the fastest growth in the European market. On New Year's Eve in 2022, Huang Yuanzheng, general manager of CGNEE, was up to his ears in work at the headquarters in Paris.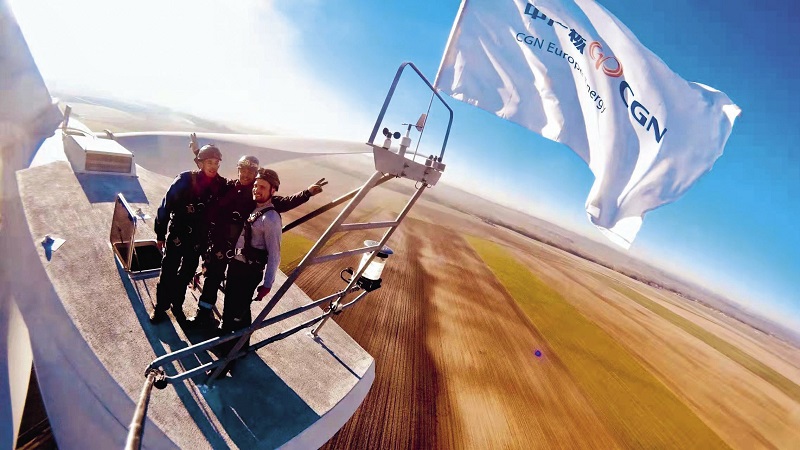 Engineers of CGNEE take a photo on top of a wind turbine after overhauling it in Assac, southwest France.
Green Energy Lights up Europe
The small town of Assac in southwest France is located at the scenic Gorges du Tarn, where wind resources are abundant, with ancient windmills built along the river. Nowadays, a six-kilometer hiking route connects the old windmills with the modern wind farm. In July 2021, a visual open day themed "From Wind Farm to Windmill" was held at Assac. Hosted by Charlotte Bouteloup, a well-known anchor of BFM TV, France's most-watched news network, the event guests included Myriam Vigroux, mayor of Assac Town, along with more than 250 local primary school students and residents, who had an immersive experience of the changes that wind energy has brought to the town.
"Why is the electricity generated by wind turbines called green energy?" "How were these 85-meter-high and 45-meter-long wind turbines set up?" The questions raised by the pupils were all answered by the CGNEE engineers.
According to Huang, the company has 180 wind turbines in France, and 10 wind turbines on the Assac wind farm, which generated 30,000 MWh in 2020, enough to provide electricity for 6,500 households or 14,000 people. In order to better fulfill its social responsibilities, the company organized this event to help more locals become aware of the need to protect the ecological environment through green energy.
"[Apart from green energy] we have also done a lot to protect biodiversity, especially in bird protection," said Huang. During the construction of the wind farm, CGNEE installed monitoring and sound warning equipment, which can monitor real-time bird species, distance, and flight trajectories. Through these advanced technologies, the risk of any collision is detected in advance, and the warning equipment can be activated in time.
The local Office de Tourisme Vallé du Tarn & Mont d'Albigeois has incorporated the Assac wind farm into the local "Industrial Tourism" promotion project, which organized public visits with the theme of "Exploring Wind Farms." "I didn't expect that this industrial tourism project on the wind farm could attract so many tourists," said Mayor Vigroux when greeting the pedestrians, while acclaiming that the hiking trail has brought new life to the town.
The event was broadcast on BFM TV, a news station with 12 million viewers in France, at prime time every night for two consecutive weeks. Meanwhile, it was featured on more than 100 foreign social media platforms in multiple languages, generating more than 1.2 billion hits. The achievement is a massive morale booster for Huang and his team.
To date, CGNEE's installed capacity has reached 2.4 GW, with its main business focusing on the development, operation, and maintenance of wind power, solar energy, and other renewable energy projects. In 2020, CGNEE's new energy project fed approximately 5.291 billion kWh into the power grid, which can provide electricity to approximately 3.17 million European families. Huang indicated that in the future, CGNEE will adhere to its strategy of combining the clean energy development with fulfilling social responsibilities, actively integrate into local communities, strive to protect biodiversity, and adopt a mutual consultation, co-construction, and benefit-sharing mechanism with its partners.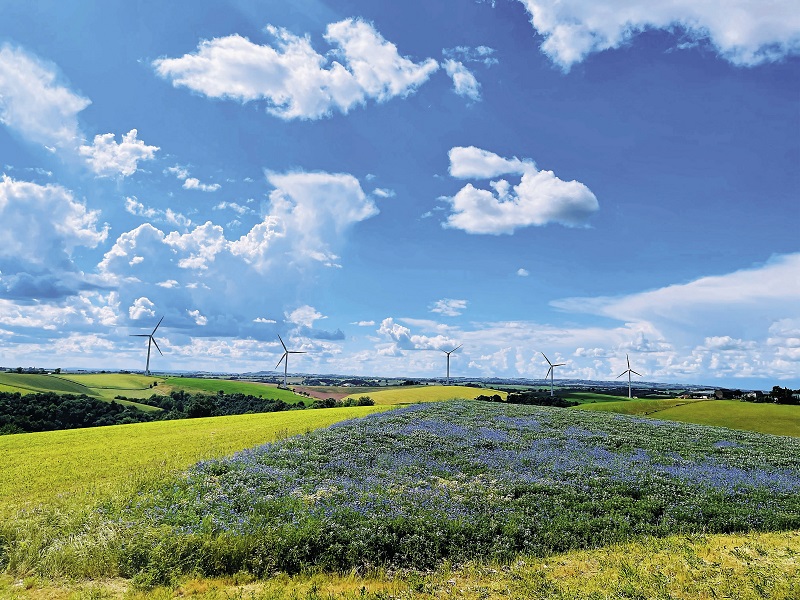 CGNEE has 180 wind turbines in France, 10 of which are located on the Assac wind farm.
Contributing to Green Architecture
As more Chinese enterprises are integrating into the global market, the internationalization of these companies has gained worldwide attention. Last December, the 2021 Chinese Enterprise Image Global Survey Report was released in Beijing at the Chinese Enterprise Global Image Summit. The report, designed with four dimensional indicators – "responsibility, fairness, credibility, and success," conducted evaluations on the global image of Chinese companies in nearly 60 countries in Central and Eastern Europe, ASEAN, Africa, Latin America, and regions along the Belt and Road routes. The results indicates that the world's recognition of Chinese companies has shown an upward trend year-by-year. From 2017 to 2019, the ratio of respondents in ASEAN, Africa, and Latin America who lauded the achievements of Chinese companies had reached 71 percent, 81 percent, and 87 percent respectively.
China State Construction Engineering Corporation (CSCEC), one of the largest and earliest international engineering contractors in China, has made contributions to more than 7,000 projects in 130-plus countries and regions. At the Summit, Zhou Yong, vice general manager of CSCEC, said that even with the severe impact of COVID-19, the company still signed new contracts totaling US $502.08 billion in 2020, of which the value of overseas contracts was US $29.37 billion, ranking 13th in the Fortune Global 500, and first among ENR's Top 250 Global Contractors.
Zhou further pointed out, "CSCEC has always taken infrastructure as the main business, being familiar with rules and standards as the major support, and heart-to-heart connections among peoples as a solid foundation to promote the high quality and mutually beneficial development and make contributions to building a community with a shared future for humankind."
Cairo, capital of Egypt, is the biggest city in the Middle East and North Africa, with a population of more than 20 million, but had suffered disruptive traffic congestion. In 2015, the Egyptian government began to plan a new administrative capital some 45 kilometers east of Cairo, covering an area of about 700 square kilometers. On January 21, 2016, witnessed by Chinese President Xi Jinping and Egyptian President Abdel-Fattah El-Sisi, China State Construction Engineering, a subsidiary of CSCEC, signed a general framework agreement with the housing ministry of Egypt for the construction of Egypt's new administrative capital. Later, the general contract for the central business district of the new administrative capital was also signed by the two sides. The most eye-catching aspect of the project is a tower soaring up to 385.8 meters, making it not only the tallest building in Africa, but a genuine "green intelligent building" as nicknamed by local media.
Construction skills were also brought to Egypt. On the eve of the New Year in 2020, the Luban Institute, established by CSCEC in Egypt, was unveiled, with 12 courses covering three architecture majors. As part of the courses, Chinese engineers provided skills training to local employees, and introduced advanced Chinese technologies used on the construction of high-rise buildings. During the Spring Festival, the engineers demonstrated arts and crafts of traditional Chinese culture such as papercutting and calligraphy. "The project has created tens of thousands of jobs," said Zhou, adding, "It has created opportunities for the development of Egypt's construction industry, and brought real benefits to the lives of local people."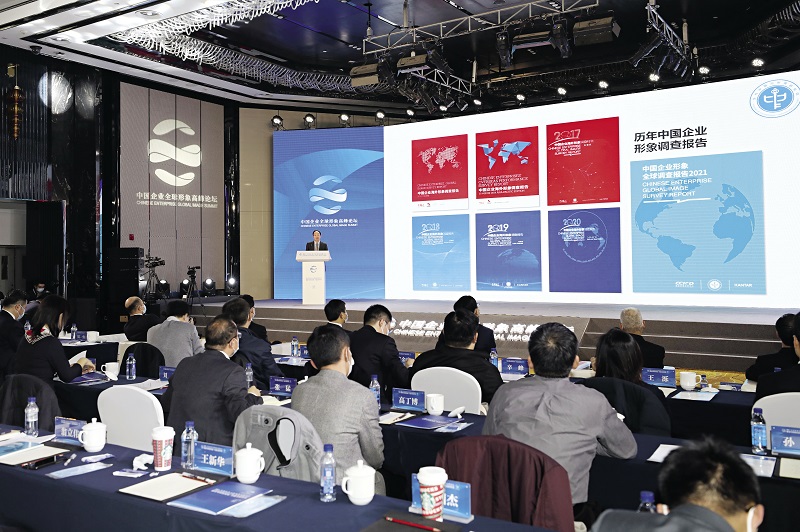 Participants listen to the release of the 2021 Chinese Enterprise Global Image Survey Report in Beijing at the Chinese Enterprise Global Image Summit held in December 2021.
Leading in Sustainable Development
"More and more Chinese enterprises have expanded their business overseas, which boosted the economic development of the host countries and provided plenty of employment opportunities for the local people," said Gu Xueming, president of the Chinese Academy of International Trade and Economic Cooperation of the Ministry of Commerce, adding that by the end of 2020, China's foreign direct investment stock reached US $2.3 trillion, which has injected a large amount of capital into the economic development of the host countries, making up for the funding gap of certain enterprises and industries. During the 13th Five-Year Plan period (2016-2020), the cumulative turnover of Chinese enterprises' contracted projects reached US $825.9 billion, and a number of key projects progressed smoothly, effectively improving the infrastructure construction level of the host countries and providing strong support for local economic and social development.
Yu Yunquan, president of the Academy of Contemporary China and World Studies, expounded on the 2021 Chinese Enterprise Image Global Survey Report, saying that 68 percent of the global respondents believed that Chinese companies are taking the lead in advancing technological innovation and green technology progress. In addition, the report also revealed that the Belt and Road Initiative has gained global attention and been acclaimed by the international community, especially in terms of improving local livelihoods and people's well-being. The respondents showed a strong desire to cooperate with Chinese companies in the fields of technology, manufacturing, infrastructure, energy, and resources. Meanwhile young respondents gave more positive comments on the image of Chinese companies and fully recognized the role of Chinese companies in promoting people-to-people ties by participating in cultural exchange activities.