Energy China promotes cooperation and exchanges with foreign companies in the energy sector in a low-carbon, high-efficient, energy-saving, and eco-friendly manner.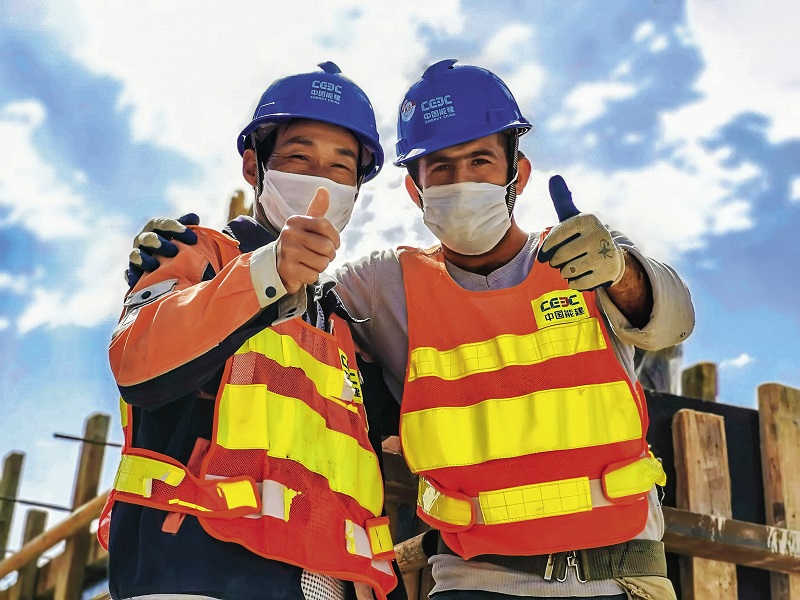 Chinese and foreign employees working together in harmony.
In 1950, the Northeast Power Administration, one of China's regional power suppliers at that time, established a dedicated design department in Changchun, Jilin Province. This marked the beginning of China Energy Engineering Group Co., Ltd, or Energy China Group, a company dedicated to electric power design, planning, and infrastructure engineering.
Over the past seven decades, the company has completed landmark projects including the nation's first 220-kilovolt (KV) transmission line, the first nuclear power station, the first million-kilowatt (KW) coal-fired power generating unit, and the first ultra-high voltage (UHV) transmission line. Energy China and its subsidiary companies have always aligned themselves with the development of the national electric energy sector, forged an ethos of staying pioneering and daring to exceed others, formed the characteristics of braving difficulties in pursuit of excellence, and created commercial values while giving back to society.
Acting on its motto of staying green, low-carbon, clean, highly efficient, energy-saving, and eco-friendly, Energy China promotes cooperation and exchanges with foreign energy companies. For example, the company helped Argentina harness the water resources from glaciers and build a dam to generate electricity. A hydropower station built in the fault zone of the Himalayas by the company has served grid supply for the China-Pakistan Economic Corridor; solar panels have also been erected in the tropical deserts to power people's lives in the Middle East.
Energy China has established more than 260 branches in 90 countries and regions so far, with its business reaching more than 140 countries and regions.
Green Marks across the Globe
Belo Monte Dam Phase II ± 800KV UHV direct current transmission project in Brazil is over 2,000 kilometers long, with 80 percent of Brazil's economic activities taking place along the route. It is the largest clean energy transfer project in Brazil and the first project to use China's UHV transmission technology. The excellent survey and design work cannot be separated from the diligence and wisdom of Energy China's engineers.
In the course of 51 months, the company successively stationed more than 70 people to Brazil, who faced and overcame various challenges, such as different project management models, differences in design standards, and complex design interfaces, making the green power highway that runs north to south through Brazil possible.
From Brazil to Pakistan, Indonesia, Singapore, and Dubai, Energy China has left green marks across the globe, adding green energy to the world.
The Southernmost Hydropower Station
The Santa Cruz River originates from the Perito Moreno Glacier, one of the only three glaciers in the world whose total area is still growing. Harnessing the water for power generation has been the dream of Argentineans for half a century. UTE Represas Patagonia, a joint venture formed by China Gezhouba Group Corporation, a main subsidiary of Energy China, and Argentine companies, won the bid to build the Condor Cliff and La Barrancosa hydroelectric dam along the river in 2013.
The Perito Moreno Glacier is located more than 100 kilometers away from the project site. Protecting the surrounding ecological environment has become an important task while carrying out the project. With their rich experience and cutting-edge technology, Chinese engineers have made meticulous design arrangements to avoid affecting the glacier. One of the arrangements was to reduce the water storage level of the dam by 2.4 meters from what it was in the original plan. Fishway and drain holes, drawing off necessary water for the survival of fish, shrimps, and other aquatic lives in the lower reach during dry season, were also designed, fully meeting environmental protection requirements.
The construction of a hydropower station in the southernmost region of South America has faced many challenges, such as extreme cold weather, difficulties in protecting the ecology, cultural relics and fossils, as well as the COVID-19 pandemic. Builders coordinated the efforts of all participating parties and established a joint COVID-19 prevention and control mechanism to ensure uninterrupted construction.
They also provided help for the local fight against the pandemic. Solidarity with local people in tackling the challenges brought about by the pandemic deepened the friendship between Chinese and foreign employees.
After the station is completed, it will ensure power supply for 1.5 million Argentine households every year.
Braving the raging COVID-19 pandemic, Energy China employees have been sticking to their positions in key construction projects across Asia, Europe, and Africa. Their braveness has ensured the steady progress of overseas projects.
On September 29, 2021, China Energy International Group was formally established by Energy China. The high-end international business platform was built with the objective of taking full advantage of integrated resources and professional advantages of Energy China in expanding overseas business. During the post-epidemic era, Energy China will make greater strides in going global.
Win-Win Cooperation
"It was the Chinese people who taught me how to manage the dam, and helped me become an environmental expert," said Faith Mwikali Nzimbi, an engineer at the Thwake Multipurpose Water Dam in Kenya. Being able to work in Energy China has made her happy. "Water supply guarantees an ample supply of food and stable electricity, greatly benefiting the local society as a result," she said. In the Thwake dam project, over 90 percent of employees are local reisdents. Their lives have greatly improved from the construction of the dam.
The Thwake Dam is a key project of the Kenyan government. After its completion, it will provide clean tap water for more than three million people in the surrounding towns, alleviate power shortages, promote agricultural development, and increase farmers' income.
Through its construction projects that are underway all over the world, Energy China actively fulfills its social responsibilities. The company has not only built drinking water projects, schools, churches, roads, and other infrastructure, but also used professional advantages to cultivate talents and solve employment problems for local societies.
The construction of the Caculo Cabaca Hydropower Station in Angola, Africa's largest hydropower station, created more than 6,000 jobs for the country during its peak period. Over the four-year operation and maintenance period, Energy China also trained a group of local power station managers and technical personnel.
In Brazil, the Belo Monte Dam project created jobs for 16,000 local residents. In Argentina, the Condor Cliff and La Barrancosa hydroelectric project generated 2,300 jobs and spawned another 6,000 job opportunities indirectly. In Egypt, a power transmission project by Energy China offered more than 7,000 jobs.
In the form of apprenticeships, internships, employment, and regular training, Energy China has established itself firmly overseas and fostered tens of thousands of electric power technicians for countries where each project is located.
"As an ancient Chinese saying goes, 'It takes 10 years to grow a tree and 100 years to bring up a generation of good citizens'. I hope that with the construction of the China-Pakistan Economic Corridor, the next generations of both countries will continue the friendship between China and Pakistan," said Ateed Riaz, principal of TCF School located near Pakistan's Hub Power Station.
In each of its overseas project, Energy China has developed deep friendship with local people and achieved win-win cooperation.