On November 14, the Mawan Smart Port, the first smart port in the Guangdong-Hong Kong-Macao Greater Bay Area, held its opening ceremony. Located in west Shenzhen, the port houses China's first intelligent container terminal upgraded from a traditional bulk cargo terminal, and powered by cutting-edge technologies, including artificial intelligence, 5G, the BeiDou navigation system, and blockchain.
More than four decades ago, Shekou, where the Mawan Smart Port is located, was just a remote and backward fishing village. It faces Yuen Long and Lau Fau Shan in the New Territories of Hong Kong. No one expected that such a desolate beach area could develop into such a modern international urban zone with the annual GDP per capita exceeding US $60,000. The former fishing village has also explored a successful development model of Port-Park-City (PPC), which is enlightening for countries and regions along the Belt and Road.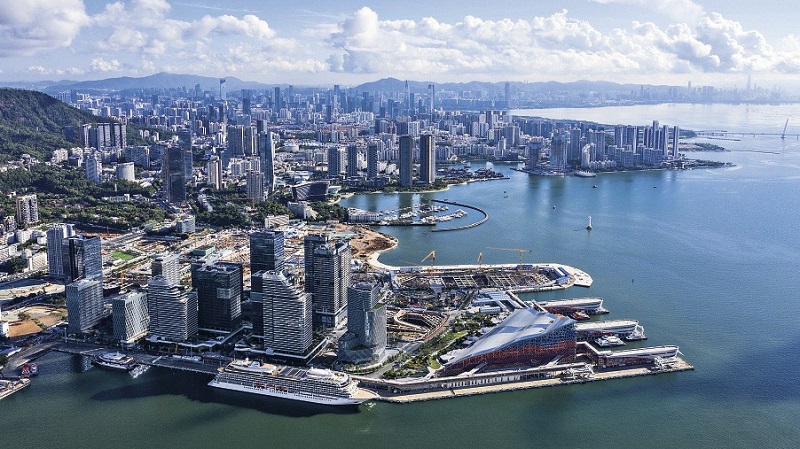 Shekou, once a remote and backward fishing village, has become a modern internatinal urban zone in Shenzhen, Guangdong Province.
A Test Ground
In October 1978, 61-year-old Yuan Geng acted as executive vice chairman of China Merchants Group. He made the decision of introducing foreign capital to fund an industrial zone in Shekou, taking advantage of the relatively cheap land and labor in the mainland at that time. The Shekou Industrial Zone was demarcated on January 31, 1979.
Various reform measures were then carried out in Shekou, a 2.14-square-kilometer experimental zone, making it a place of frequent miracles.
Shekou was the first place in China to recruit talent openly from across the country, promoting the flow of talent and tapping into the potential of human resources. In order to improve efficiency and economic benefits, bold innovations were made in the corporate management system, distribution system, personnel management system, housing system, and social security system among others.
The reform spurred business vitality, and unleashed and developed social productive forces, providing valuable experience and reference for China's broader reform and opening-up. The slogan, "Time is money, efficiency is life," put forward by Yuan Geng in 1981, shook then prevailing conservative and rigid mindset like "a bolt of lightning piercing the sky."
A number of Fortune Global 500 enterprises, such as China Merchants Bank and Ping An Insurance, were born there. Shekou is now known as the place that cultivates the most renowned enterprises per unit area.
The "Port-Park-City" Model
Shekou started to prosper as a port in 1979. To attract foreign investment, an accessible supply of raw materials needed to be sorted. Therefore, the first largest investment of China Merchants Group in Shekou was to build a port. It was during this period that the predecessor of the Mawan Smart Port came into being.
A well-established port with highways, and access to water, electricity, and telephone communications, was attractive enough for foreign investors, and an industrial park was gradually formed in Shekou. Statistics showed that from 1979 to 1983, the Shekou Industrial Zone attracted a total of 522 million HK dollars in foreign investment. Shekou became a magnet for foreign-funded enterprises. Representative businesses at the time include Sanyo Electric Machinery (Shekou) and China International Marine Containers.
As its economy grew and emerging industries gathered, Shekou saw the manufacturing industry gradually withdrawn. After three rounds of industrial and urban upgrading, Shekou is now widely praised for its optimized urban function, livable natural and cultural environment, and innovation platforms connecting to the world.
In the process of developing the Shekou Industrial Zone, China Merchants Group explored a PPC development model. The Shekou Cruise Homeport and Shekou Net Valley are successful examples Shekou set in restructuring the port and the park.
In November 2016, the Shekou Cruise Homeport held its grand opening ceremony. It is China's largest modern international cruise homeport and marine portal, operating cruise lines to overseas destinations, including Japan, South Korea, Vietnam, the Philippines, Thailand, Singapore, as well as China's Taiwan and Hong Kong.
By the end of 2020, the Shekou Cruise Homeport had had 17 cruise ships from 11 cruise companies berthing there. Over less than five years since its opening, the port has received more than 22 million tourists, including nearly 1 million arriving by cruise ships.
In 2010, China Merchants Group officially launched the Shekou Net Valley project in an effort to restructure the economy in Shekou.
After more than 10 years of construction and operation, Shekou Net Valley is now home to 420 firms. They include global big names, such as Apple, IBM, Philips, and Nestle, as well as many homegrown businesses that have gone public.
Shekou Net Valley has become an industrial park specializing in industries involving the next-generation information technology, Internet of Things, e-commerce, and cultural creativity. While generating about RMB 40 billion in output value, the park has created about 30,000 jobs. The output per square meter in the area now values RMB 100,000, compared with RMB 2,000 before Shekou Net Valley was built.
Relevance to Belt and Road Initiative
Many countries along the Belt and Road route are in a similar situation Shekou faced some 40 years ago. Based on the experience of Shekou, China Merchants Group has promoted a similar development model overseas based on local conditions. The PPC model has been implemented in countries like Djibouti and Sri Lanka.
Located in the Horn of Africa, Djibouti has great potential to develop into an international shipping center, a regional financial center, logistics center, and intermediary trade center. Port is Djibouti's most valuable asset, contributing more than 80 percent to the country's GDP. Djibouti is the first place where China Merchants Group promoted the Shekou PPC development model.
In February 2013, China Merchants Group acquired 23.5 percent of the shares of Port de Djibouti S. A. (PDSA) at US $185 million. In August 2014, the PDSA constructed the new Doraleh Multipurpose Port (DMP) with a total investment of US $580 million. The port was put into use in May 2017 with a designed capacity of 7.08 million tons of bulk cargoes and 200,000 TEUs (20-foot equivalent unit) of containers per year. So far, the DMP has handled more than 7 million TEUs of containers and 40 million tons of bulk cargoes.
In November 2016, China Merchants Group reached an agreement on building the Djibouti Free Trade Zone (FTZ) with the Djibouti government. The planned area of the FTZ is about 48.2 square kilometers, with investment of about US $400 million. The project started construction in early 2017 and officially opened in July 2018. Now, more than 180 Chinese and foreign enterprises have registered in the park.
As the new DMP was put into operation in 2017, port-related business has been gradually moved to the new port area. The vacated former port area has been designed for building commercial centers, business district, hotels, and tourist facilities. In December 2020, China Merchants Group officially signed an investment agreement for urban development of the former port area. The construction of a demonstration center, residential facilities, and other preliminary facilities has begun.
Since China Merchants Group became a shareholder of the PDSA, the port has contributed a total of US $57.88 million in taxation to Djibouti and created more than 10,000 local jobs directly or indirectly. In addition, China Merchants Group has been active in giving back to society in the African country. It has been offering scholarships for outstanding students and has made donations valuing US $9.1 million in total.
(Compiled by China Today)