"The newly-opened plant in Yangzhou, east China's Jiangsu Province, is the 54th production base of Saint-Gobain in China. We are optimistic about the Chinese market and our future here," Javier Gimino, senior vice president and Asia Pacific CEO of Saint-Gobain Group, expressed his full confidence in China's economic development.
In 2020, the COVID-19 pandemic swept across the world, leading to a global economic downturn. Despite the fact that Western media have been bad-mouthing China, its resilient economy has given European companies great confidence in doing business in China. Saint-Gobain Group is among the many companies who are determined to continue their operation in China.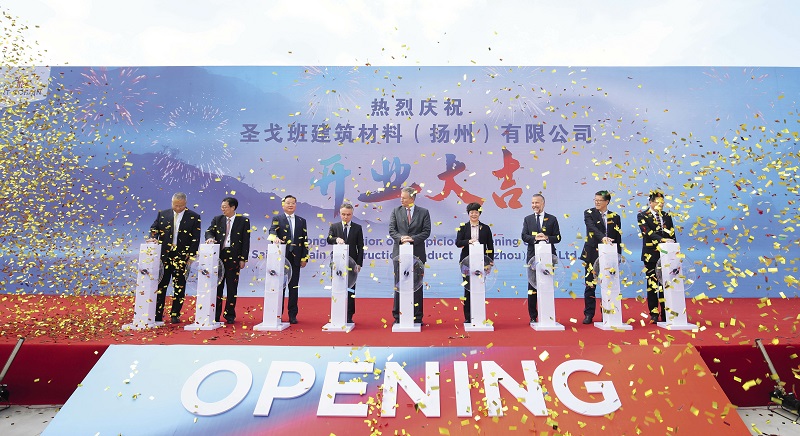 Saint-Gobain, the French industrial conglomerate, opens its 54th plant in China, in Yangzhou City, on May 17, 2021 to meet the country's soaring demand for new plaster products.
Responding to China's Low Carbon Call
In May, this French industrial conglomerate opened its 54th plant in China to produce gypsum-based plasters for the local construction market, having operated in China for 36 years. According to Javier Gimino, the new plant is marked by "low energy consumption and negative carbon emissions."
"Chinese President Xi has on various occasions stressed China's new goals for green development. This is a reflection of the sense of responsibility China has as the world's second largest economy, and also shows the direction for foreign companies operating in the country," said Gimino. "We are in long-term cooperation with Yangzhou municipal government. When we learned that Yangzhou No. 2 Power Plant generates 400,000 tons of desulfurization gypsum waste every year, we decided to build a gypsum plant next to it to use the waste from its power generation as raw materials for gypsum production, thus forming a comprehensive industrial chain of solid waste utilization."
Presently, the first phase of the gypsum plant can produce 600,000 tons per year and consume more than 400,000 tons of desulfurization gypsum solid waste per year.
On the other hand, from the point of view of the decoration and painting industry, gypsum production uses less than one-seventh of the energy consumed in cement production. Replacing cement with gypsum is currently one of the most environmentally friendly and energy saving options. "The gypsum products our Yangzhou plant produces every year could reduce carbon dioxide emissions by 500,000 tons, equivalent to the amount of carbon dioxide absorbed and fixed by more than 40,000 mu (nearly 2,700 hectares) of forest," Gimino said.
The operation of Saint-Gobain in Yangzhou has successfully formed a development mode of "low energy consumption and negative carbon emissions." "This is in line with China's green and sustainable development strategy, so I believe it will become an important direction for the future development of our group in China," said Gimino.
China, a New Innovation Platform of the World
Gimino's opinion is shared by Sylvain Laurent, global executive vice president of Dassault Systèmes. "China's carbon targets have also encouraged Dassault Systèmes to go further in this area. We hope that our technology can help China meet its carbon targets," said Laurent.
As a world-renowned software company, Dassault Systèmes moved its Asia Pacific headquarters from Tokyo to Shanghai back in 2012. "Shanghai has a very good business environment and will be an innovation highland in the future," he said. "At the same time, being based in Shanghai enables us to better serve China and other Asian markets."
The year 2021 is the first year of China's 14th Five-Year Plan period. "China's development strategy is a model for other countries. It is not only effective, but also well-targeted," Laurent said. "China formulates its development plans every five years and adjusts its strategy constantly. When problems are identified, it will not hesitate to make improvements. We believe the 14th Five-Year Plan will open up new opportunities for Dassault Systèmes in China."
As a European entrepreneur who has lived in China for 10 years, Laurent is amazed by the development pace he has observed here. "When I first came to China 10 years ago, people from almost every industry were eager to know what was happening in the rest of the world," he recalled. "But 10 years later, the situation has changed drastically. China no longer needs to refer to other countries. In some industries, it has become the pacesetter for the rest of the world."
In 2021, Dassault Systèmes will cooperate with China State Railway Group to develop new cars and provide software support for the Beijing-Shanghai-Shenzhen maglev high-speed railway project. "We are honored to be part of one of the most important projects in China and to see the transformation of the country's innovative development up close. China is no longer just the 'factory of the world,' but now also the 'innovation platform' of the world."
The CPC is a Doer, not a Talker
"The reason why China is growing so fast is that once a strategy or a goal is announced, it will be implemented in a concrete way," said Laurent.
2021 marks the 100th anniversary of the founding of the Communist Party of China (CPC). For this century-old party, Gimino, Laurent, and other European entrepreneurs have expressed their birthday greetings.
Gimino is a Spanish. He grew up in a communist family, and this has enabled him to have a deep friendship with the CPC. "My father and grandfather were members of the Spanish Communist Party, so I have a lot of respect for the communists. When I came to China, I realized more deeply the communist belief that the Party works for the well-being of the people." It was this friendship that inspired him to come to work in China without any hesitation.
"Without the political and social systems created by the CPC, China could not have achieved such rapid development. The Party draws blueprints and then leads its people to achieve them together," Gimino said as he praised China for the effective prevention and control mechanism it used during the COVID-19 pandemic, as well as its achievements in poverty reduction. "What impressed me most during my years in China is that people feel they are living a happy life, and that tomorrow and the future will be even better. Such confidence in the future and in their motherland is a clear manifestation of the sound development of this country," he said.