The COVID-19 epidemic has led to the emerging of many new forms of employment that are based on the digital economy. According to data from the Ministry of Human Resources and Social Security and other central agencies, the scale of flexible employment has reached about 200 million people. This means the country has entered the gig economy era.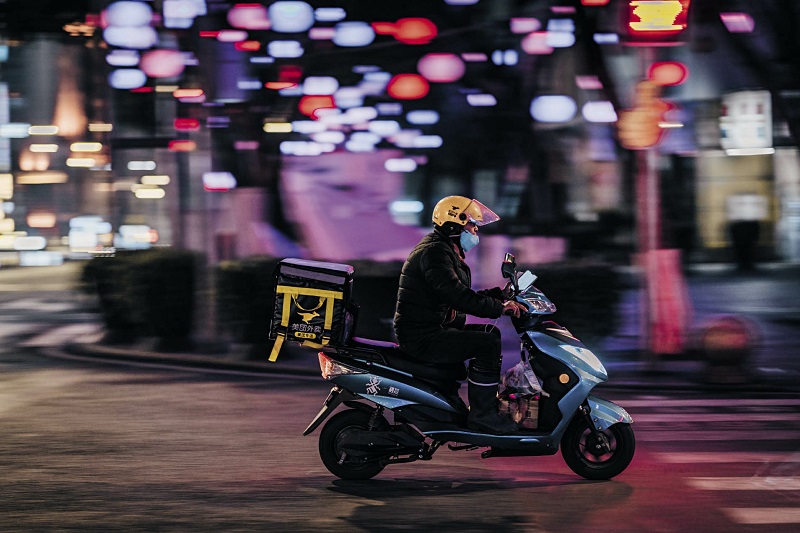 As many people hunker down at home during the pandemic, a delivery driver races along the street of Chongqing on March 4, 2020.
Freedom and Flexibility
The gig economy involves three players – gig workers, platforms, and service receipients. The strong development of Internet technologies and mobile terminal platforms has led to higher human resource allocative efficiency in flexible employment, and hence boosted the gig economy.
During the pandemic, many consumer activities, especially those in the fields of healthcare, education, and catering, moved online, creating new job opportunities. Flexible employment plays a positive role in keeping more people in employment during a time of economic hardship. An example of this is the staff sharing partnership that online grocery stores like freshhema.com and maicai.meituan.com have established with some restaurants. During the pandemic, the former saw their orders skyrocket and consequently experienced a dire shortage of hands, while restaurants were shut down for the most part, and their workers put on extended leave. The partnership alleviated the payroll pressure on restaurants and provided a source of income for their staff.
In the time of the digital economy, more people have opted for, or forced into, flexible employment.
At 8:30 p.m., 35-year-old Li Liang, a designated driver waited at Wanfeng Road in Fengtai District, southern Beijing, ready to take orders via mobile phone from an online platform for driving services. He and his wife formerly ran a small restaurant near a used car trading center in that district, but after the business was closed during the pandemic, he chose to be a designated driver.
Compared with his experience in the hospitality industry, Li no longer has to get up at dawn everyday to prepare food and has more control over his daily schedule. Whenever he feels under the weather, he can take the day off, and make up the lost time the next day. "The peak hours are 9:00-10:00 p.m. I receive three orders by average every night, and make about RMB 5,000 per month," he said.
Flexibility is the biggest appeal of gig jobs. According to a man surnamed Wang who works in the car-hailing sector, demands soar during the morning and evening rush hours, when the rates offered by booking platforms are higher, but the traffic congestion during that time also means higher expenditure on fuel costs. In other time slots, drivers have to jostle for orders. "I can decide when to work according to my schedule. It is flexible. If I am prepared to put in more hours, I can earn approximately RMB 8,000 a month," Wang said.
The flexibility however comes at a cost. Both Li and Wang admitted that their jobs are hard work. They have to struggle to get more orders if they want to earn more money. Their incomes are more unstable, and what's more is that social security is lacking. When gig workers reach an advanced age and can no longer take such short-term jobs, they will face the limbo of having no income and no pension.
Research by the Ministry of Human Resources and Social Security found that although most online booking platforms provide commercial insurance for registered gig workers to cover work-related injuries, the compensation is rather low.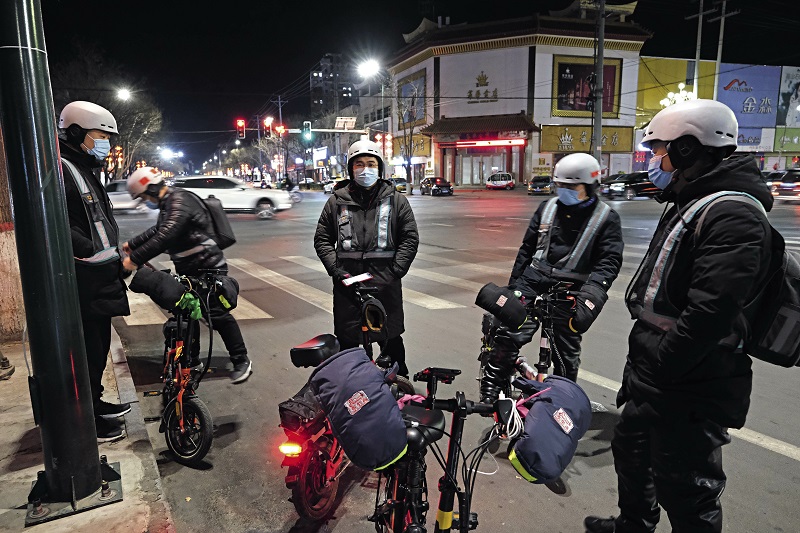 A group of designated drivers in Xiong'an, Hebei Province, are waiting for orders on February 23, 2021.
Rights and Interests
As gig jobs are becoming the mainstream, their diversity has also increased. Live stream anchors, pet food bakers, Takagism designers, and milky tea tasters, and the list continues to include more options for gig workers. Meanwhile more and more companies are open to flexible employment. According to a report by the School of Labor and Human Resources of Renmin University of China, flexible employment accounted for 55.68 percent of all employment in 2020, growing by 11 percent year-on-year. Nearly 30 percent of companies expressed their intention to maintain or increase the size of their flexible hiring.
This new type of employment has changed labor relations from "employer + employee" to "platform + employee." The relationship between these three parties is a partnership that is not subject to a Labor Law or Labor Contract Law. As a result, protection of gig workers' rights and interests has become a growing concern of the public.
Last December a food deliveryman collapsed and died on the way to delivering orders to his next customer. Claiming there is no contracted employment between it and the man, the takeout platform at first only agreed to pay an amount of RMB 2,000 to his family in addition to RMB 30,000 from the insurance company. As the debate on work injury compensation for gig workers triggered by this incident became increasingly heated and public pressure mounted, the platform finally agreed to give the family a settlement of RMB 600,000.
According to surveys by judicial departments, the first major cause of disputes involving gig workers revolves around wage arrears, an issue whose solution is based on the clarification of labor relations in some cases. The second most common dispute is about verification of labor relations, and the third is related to compensation or restitution for severance of employment.
At the 2020 session of the Chinese People's Political Consultative Conference (CPPCC), Chinese President Xi Jinping said at a meeting with representatives of the economic sector, "New forms of employment have emerged unexpectedly. We should adapt to the new situation and allow it to run its course." He warned that the country cannot drag its feet in adopting new laws, regulations, policies, and measures in responding to new forms of employment, which are essential in protecting the rights and interests of people directly involved in new forms of employment as well as those of their customers.
At the 2021 "Two Session," the central government addressed this issue in its annual work report when it noted, "We will continue to subsidize contributions to social insurance made by workers in flexible employment, and allow people to access social security in the locality where they work even if they do not hold local residency… We will use employment subsidies and other funds to support the development of labor and labor markets, so as to widen the avenues of employment and enable people who are willing and able to work to find more equitable job opportunities." This gives an assurance of help to gig workers.
Business insiders have cautioned that keeping labor costs acceptable to employers should be factored into the issues concerning flexible employment. In order to protect gig workers' rights and interests, the state needs to close loop holes in the legal and policy systems, and these individuals also have a part to play. Commercial insurance can provide a solution that balances corporate costs and workers' rights. For instance, a company can buy employer liability insurance and group accident insurance, while gig workers can buy accident insurance and motorcycle insurance for themselves. These types of insurance can provide an extra layer of protection for both employers and employees in the gig economy.
Innovation in Governance
The task of protecting gig workers' rights and interests tests the governance capacity of the government. Last July the State Council released a document supporting flexible employment, which calls for more protection for workers' rights and interests. For this purpose, the government introduced the following measures: formulate policies to protect workers of platform enterprises; clarify the liabilities of platform enterprises in protecting workers' rights and interests; and encourage platform enterprises and relevant businesses to reach an agreement through negotiations with workers on such issues as remunerations, holidays, and safety.
After the above measures came out, local governments around China soon released relevant policies of their own. The provincial government of Shandong, for instance, published last October 20 measures to support flexible employment. These policies include promoting collective negotiation for people in new forms of employment, improving the social insurance system for them, and providing social insurance and accident insurance subsidies for this group.
The Jiangxi Provincial Federation of Trade Unions unveiled a plan in March of this year for admitting gig workers into unions and providing union services for them. It vows to explore multiple methods to establish trade unions for gig workers or admit them into existing ones.
The Shanghai Municipal Federation of Trade Unions launched an app to help workers safeguard their rights and interests. Through this app, workers can apply for legal aid and other free services like writing legal papers and finding legal representation for arbitrations or lawsuits. So far the Shanghai Municipal Federation of Trade Unions has admitted more than 20,000 gig workers.
When attending the ninth meeting of the Financial and Economic Commission of the CPC Central Committee on March 15, 2021, President Xi Jinping stressed the necessity of promoting the regulated, healthy, and sustainable development of China's platform economy, which is now at a critical stage. To achieve this goal, he pointed out that it is important to strengthen weak areas in the sector for both the long and short term, create an environment for innovation, and resolve prominent problems. The healthy development of the gig economy will allow more citizens to share in the financial gains of the Internet era.