The mobile Internet has changed the everyday life of the Chinese, with the revolution in payment methods being a major highlight. QR code-based solutions have replaced cash payments in most consumption scenarios and facilitated transactions beyond borders and imagination. Third-party payment service providers like Alipay and WeChat Pay have become a new industry with more new players joining in.
Recently, the sector welcomed a new star: U.S. giant PayPal. PayPal is the first foreign digital payment platform licensed to provide services in China, a milestone event.
The stage was set for the American company's entry in September 2019, when the Chinese central bank approved PayPal's acquisition of 70-percent equity in GoPay, a Beijing-based third party payment service provider, and the deal was wrapped up in December that year.
Dan Schulman, President and CEO of PayPal, called it an "important step" for the company to participate in a "dynamic market" in a press release. On December 31, 2020, PayPal acquired the remaining 30-percent shares in GoPay.
Industry insiders think PayPal's full ownership of the Chinese company heralds stable advancement of China's opening up in the financial sector. Besides, it will bring in more possibilities vis-à-vis the cross-border payment market in the future.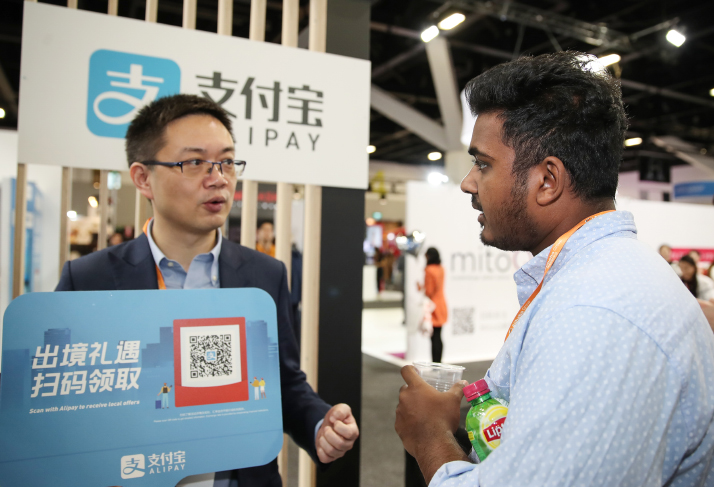 An exhibitor introduces Alipay to a visitor at the Alibaba E-Commerce Expo in Sydney, Australia, on August 30, 2019 (XINHUA)
Opening the door
PayPal's advent in China goes back to 2004, when it established a wholly owned subsidiary in Shanghai, recognizing the huge potential of the Chinese market. However, it was only in 2018 that PayPal got access to the business after the government removed restrictions on foreign investment in payment institutions and clarified rules and regulations.
The policy, aimed at encouraging foreign companies to participate in the payment market and grow through fair competition while preventing monopoly, laid a solid foundation for foreign enterprises like PayPal to enter the market.
According to the China Internet Network Information Center, by June 2020, 85.7 percent of the Internet population in China, or 805 million, were making online payments. Mobile payment users totaled 802 million, accounting for 86 percent of mobile Internet users. U.S. consulting firm Frost and Sullivan predicts that the country's online payment market would be worth $96.73 trillion by 2023.
This huge market potential led to PayPal's acquisition of GoPay. "The move will allow us to be a stronger partner to Chinese financial institutions and technology platforms. We look forward to contributing to the growth of China's e-commerce and payment ecosystem," Schulman said.
PayPal's 2019 annual report said its initial focus would be providing cross-border payment services that will connect the Chinese market to its global network.
According to financial experts, the entry of foreign institutions will have a win-win result. Dong Ximiao, chief researcher with Merchants Union Consumer Finance, a financial services company in Shenzhen, Guangdong Province in south China, told Beijing-based Financial Times that it will create a fair competition environment, enhance the efficiency of resource allocation and improve services. Besides, the eased access restrictions will facilitate the reform of China's payment services market and promote improvement of regulatory policies, another boost to the opening up of the financial market.
He also said unified access standards and regulatory requirements will benefit innovation-driven competition and optimize the industrial structure of the payment services market. This openness will in turn enable the domestic service providers to better comply with international rules and upgrade services, prevent financial risks and facilitate the ability of finance to serve the real economy.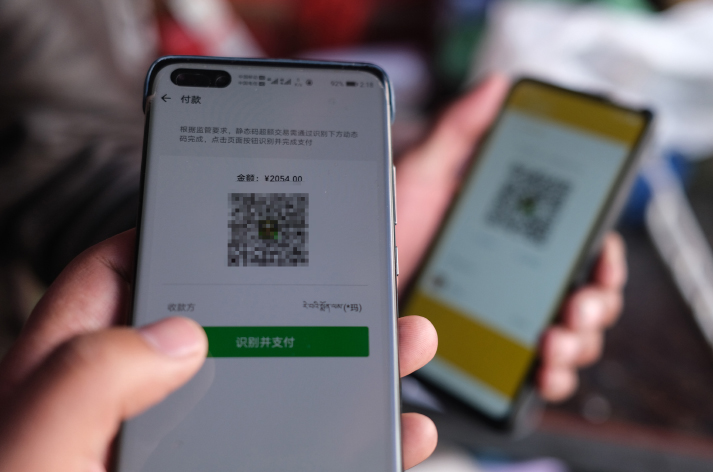 A shopper pays for grocery with WeChat Pay at a shop in Lhasa, Tibet Autonomous Region in northwest China, on December 31, 2020 (XINHUA)
Cross-border business
But despite being a global leader in online payment solutions, PayPal will not find the Chinese market a pushover. Alipay, owned by the Alibaba Group's financial arm Ant Group, and Tencent's Tenpay, which includes WeChat Pay, dominate China's mobile payment market, together holding 94.2 percent of it by the first quarter of 2020, according to market research firm iResearch.
"Undoubtedly, the Chinese market is a big pie for foreign institutions, but it is a mature market featuring intense competition. Compared with global standards, domestic service providers have lower charges, so there is no advantage for PayPal in competing with its Chinese counterparts," Dong Zheng, a credit card researcher, told Economic Information Daily.
Currently, PayPal operates in more than 200 countries and regions around the world. It has more than 360 million active users and its services include 100 currencies.
This large user base will pave the way for PayPal's cross-border business from China. In addition, as China's financial sector opens up wider, global credit card companies like VISA, MasterCard and American Express may enter the market, which will offer Chinese consumers more choices for cross-border consumption. PayPal has a stable cooperation with these organizations in cross-border transactions, which will be its advantage, Dong Zheng said.
Last year, American Express became the first foreign company to be allowed to process yuan-denominated credit card transactions both in China and abroad. Instead of competing head-on with its Chinese counterparts like Alipay and WeChat Pay, PayPal will possibly focus on the opportunities that will emerge after international credit card institutions enter the Chinese market.
Its services are likely to include payment services for foreign users spending in China and for domestic individuals' and companies' cross-border payments.
"Relying on cross-border tourism and e-commerce, it's possible for PayPal to connect the international payment network with China's payment ecological system, which will enable it to develop closer business ties with global credit card organizations," Wang Pengbo, a senior analyst in the payment industry, told new media platform Time Finance.
Dong Ximiao's suggestion is that while allowing foreign investment, Chinese credit card institutions and cross-border payment service providers should be encouraged to go abroad and strengthen their international service capability.
Chinese companies are already thinking along those lines. Bill Deng, Chief Executive of XTransfer, a Shanghai-based payment platform that facilitates cross-border payments for Chinese traders, told Reuters, "We see ourselves as China's PayPal in cross-border businesses."
(Print Edition Title: Tussle for China's E-Wallet)
Copyedited by Sudeshna Sarkar
Comments to zhangshsh@bjreview.com