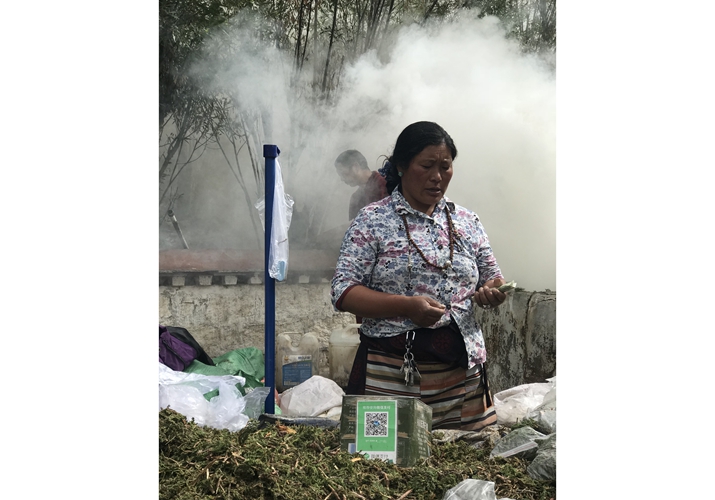 A Tibetan woman sells medicinal herbs in Deprung Monastery in Lhasa, Tibet Autonomous Region in southwest China(NATASHA LOCK)
Throughout my school life, phones offered one significant benefit: a means of communication, via either text or call. Typing out a message, "back in the day," required quite the skill set, i.e., understanding the code of the numbered buttons. Three taps on the number 6, for example, would produce the letter "o." Phones were a means of convenience, but barely a means of life. Fast forward to 2020 and board a train in pretty much any city in the world, there will be one accessory nearly every passenger on board will be holding, clasping onto even, watching, or tapping: their mobile phone.
Today's smartphones have revolutionized life at large: the Kenyan farmer can check the weather forecast; and the student in Brazil can learn English via podcast. Beyond this, they capture the moments we want to remember, inform us of news we'd rather forget, order the new foods we want to try and book our flights to those places we've never visited before. They have connected and globalized the world beyond belief—all this in little over one decade.
China's smartphone and related apps have been coined the "modern Swiss Army knife"; having a phone in China with WeChat, Meituan and DiDi installed means you need not bring anything other than your phone to go about your day-to-day business of living.
It provides access to transport, food, shopping, social interaction, learning, earning, dating, to name but a few. Indeed, mobile phones to China have been what the car is to Americans; a technological change so huge that once harnessed it demonstrated the capacity to revolutionize dozens of different industries.
Of revolutionary capacity has been the adoption of online payments. In China, cash has become a thing of the past, borderline obsolete. This has led to a tremendous transition in the on- and offline ecosystems of monetary exchanges. In rural Guangxi, the Zhuang autonomous region in south China, you can buy your souvenirs through Alipay; birthday gifts can take form in a WeChat virtual hong-bao, or red packet; inside Shanghai's Jing'an Temple, you can buy incense via a smartphone vending machine; and nowadays beggars across China use QR codes to collect donations.
Mobile payment apps in China have experienced success in a way unequivocal to the rest of the world. Moreover, the adoption of mobile payments happened at a supersonic pace; by the end of 2017, 490 million smartphone users in China had enabled mobile payments on their devices. Certain apps have seen success due to their ability to localize their features into the Chinese market in a way foreign companies just have not been able to: Tencent released its virtual hongbao; Alibaba pushed the option to barter prices; and Ctrip provides tour group offers.
On a more recent trip to Chengdu, southwest China, after a night out with friends, we went to cycle back to where we were staying. Heading over to some Mobikes in sight, I suddenly realized my phone had run out of battery, and I had come out without my charging bank. This really hit hard—I suddenly realized not only could I not unlock a bike, but without access to my phone, and therefore DiDi, everybody's favorite ride, I would have no means of getting home. Additionally, having got used to online payments, I frequently leave the house without cash, so I didn't have a single yuan to pay a taxi driver. Luckily, my friend stepped in with a charging bank, but this was one of those moments when you realize how entwined you have become with a trend.
My friends in Beijing shared similar experiences.
We have had a little under five years of online payments dominating money transactions in China. It feels like we've only just begun, airing the pilot episode so to speak, embarking upon an era in which cash will become a thing of the past. The opportunities are endless, leaving me to wonder…
Are online payments the prelude to a full-fledged virtual reality?
The author is a Yenching Academy scholar at Peking University from the UK
Copyedited by Elsbeth van Paridon
Comments to dingying@bjreview.com