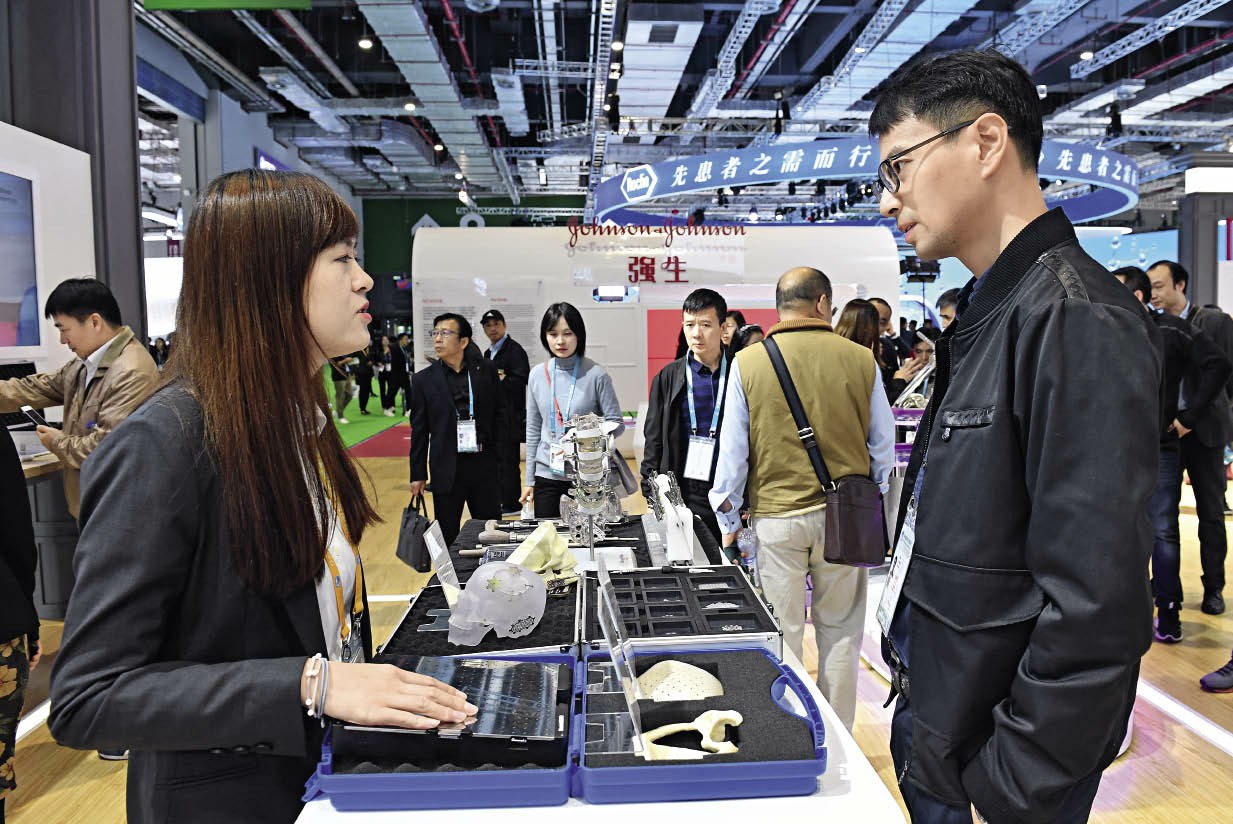 On November 8, 2019, at the second China International Import Expo, Johnson & Johnson displays its innovative products, cutting-edge technologies, and advanced medical solutions in diversified business fields.
AN impressive number of multinational corporation leaders have been giving their approval of China's market performance this year. Comments like "China is one of the few markets with dazzling growth," and "[China's] market growth outperforms other global markets," have been frequently heard in 2020.
The COVID-19 pandemic and its associated challenges have had a serious damaging effect on the global economy. However, as the circumstances of the epidemic prevention and control in China improve, and the economy is on an upward track, many foreign-funded businesses have been attracted to opportunities in the Chinese market. Aggressive new product listing plans, ongoing R&D and production input and an increasing number of headquarters of multinational companies being established in the country are examples of the faith shown by foreign investors.
Outstanding Growth
French personal care company L'Oreal witnessed a 30-percent increase in earnings in China in the second quarter, outperforming other markets across the world. Johnson & Johnson's business in China rebounded briskly as its medical device arm logged double-digit growth.
In 2020, L'Oreal gained much attention in China despite challenges from COVID-19. Brands under the French cosmetics giant have opened many concept stores across China.
Along with the stores are new product lines, technologies, and brands, creating new shopping experience for consumers. For example, L'Oreal R&D center in China recently tailor-made an anti-wrinkle product for Chinese consumers. After it was launched, it became a hit product, breaking the record of online shopping platform Tmall's sales of new cosmetics and skin care products.
L'Oreal has achieved a robust growth of 17.5 percent in the first half of the year and 30 percent in the second quarter.
The company's performance, despite assaults of the epidemic, maintained resilience, said Fabrice Megarbane, president and CEO of L'Oreal China.
The Johnson & Johnson Group has also rolled out a series of measures to strengthen its presence in the Chinese market.
Last September, the first surgical robot developed by the company and a Chinese medical robot maker Tinavi Medical Technologies Co., Ltd. entered the market. Since 2018, Xi'an Janssen Pharmaceutical Ltd., under Johnson & Johnson, has had its 25 new drugs or indications approved to be sold on the Chinese market, setting a world record for Janssen. In July, the multinational's colored contact lens brand rolled out virtual try-on services on the online shopping platform Taobao. In August, its hair re-growth product line entered the Chinese market.
"During the second quarter of this year, Johnson & Johnson's business in China registered robust growth. The medical services, in particular, have achieved double-digit growth, leading the race in the global markets," said Song Weiqun, chairman of Johnson & Johnson China.
Many foreign-funded ventures have similar experiences in China. Recently, an article published on the website of the Wall Street Journal said that the recovery of China's consumption has aided some U.S. enterprises to offset losses caused by declining domestic sales in the U.S., and China has become a "harbor" for a number of U.S. enterprises.
In the latest earnings season, executives of certain celebrated brands in the U.S. specifically mentioned that it was China that helped them get through the arduous three months of lockdown.
An example is David Weinberg, chief operating officer of U.S. sports and leisure brand Skechers, who said that China provided a model of recovery, stability, and growth.
Investment Confidence High
In August this year, China's actual use of foreign investment topped RMB 84.13 billion (US $125 million), an increase of 18.7 percent year on year. According to a report released by the American Chamber of Commerce in Shanghai (AMCHAM Shanghai), most U.S. enterprises in China maintain an optimistic attitude toward the Chinese market.
What lies behind the recent performance of multinationals in the China market?
In Fabrice Megarbane's view, consumer demands for beauty products in the Chinese market have been free from the adverse impacts of the epidemic. This is also due to the favorable policies launched by the Chinese government to boost consumption.
He expressed confidence in maintaining robust growth, "We have confidence and are resolved to proceed and maintain a strong performance," he said.
The GDP growth during the second quarter turned from negative to positive. In August, the growth rate of total retail sales of consumer goods turned positive for the first time this year. China's economy is making a steady recovery, and a slew of favorable policies have also injected vitality into the market.
Allured by market opportunities, numerous foreign-funded enterprises are planning for the future by expanding investment.
In 2020, Schneider Electric's R&D investment in China increased by 15 percent compared with 2019, despite the epidemic. From 2017 to 2019, the German multinational's R&D investment in China increased by 50 percent.
"The appeal of the Chinese market does not only rest with the size, but also with innovation. China boasts the world's largest consumer market. In addition to shaping new business models, it will also accelerate technological innovation," Yin Zheng, executive vice president of Schneider Electric, said, adding that he believes China is expected to become the center of innovation.
Overall, during the first eight months of 2020, the actual use of foreign investment in China was RMB 619.78 billion (US $92 billion), up 2.6 percent year on year. On September 9, the AMCHAM Shanghai issued a report, saying that most enterprises continued to be optimistic about the Chinese market, and 78.6 percent of the enterprises interviewed said that they would not transfer their investment out of China. The share represented an increase of 5.1 percentage points over last year. On September 10, the European Union (EU) Chamber of Commerce in China released a report, noting that in the main, EU enterprises' investment in China remained stable, and only 11 percent of the enterprises surveyed considered moving out of China or changing investment schemes, close to being the lowest level in a decade.
"The data further exhibits that the confidence in long-term investment and operation in China does not change," said Meng Wei, spokesperson for the National Development and Reform Commission.
According to Li Xiaojia, a professor at the School of Public Administration at the University of International Business and Economics, China provides a market full of opportunities for foreign-funded businesses. Under the current situation of global economic headwind, substantial decline in consumer demand, and difficulties in corporate profits, it is of particular significance for multinational enterprises to explore China's large, stable market.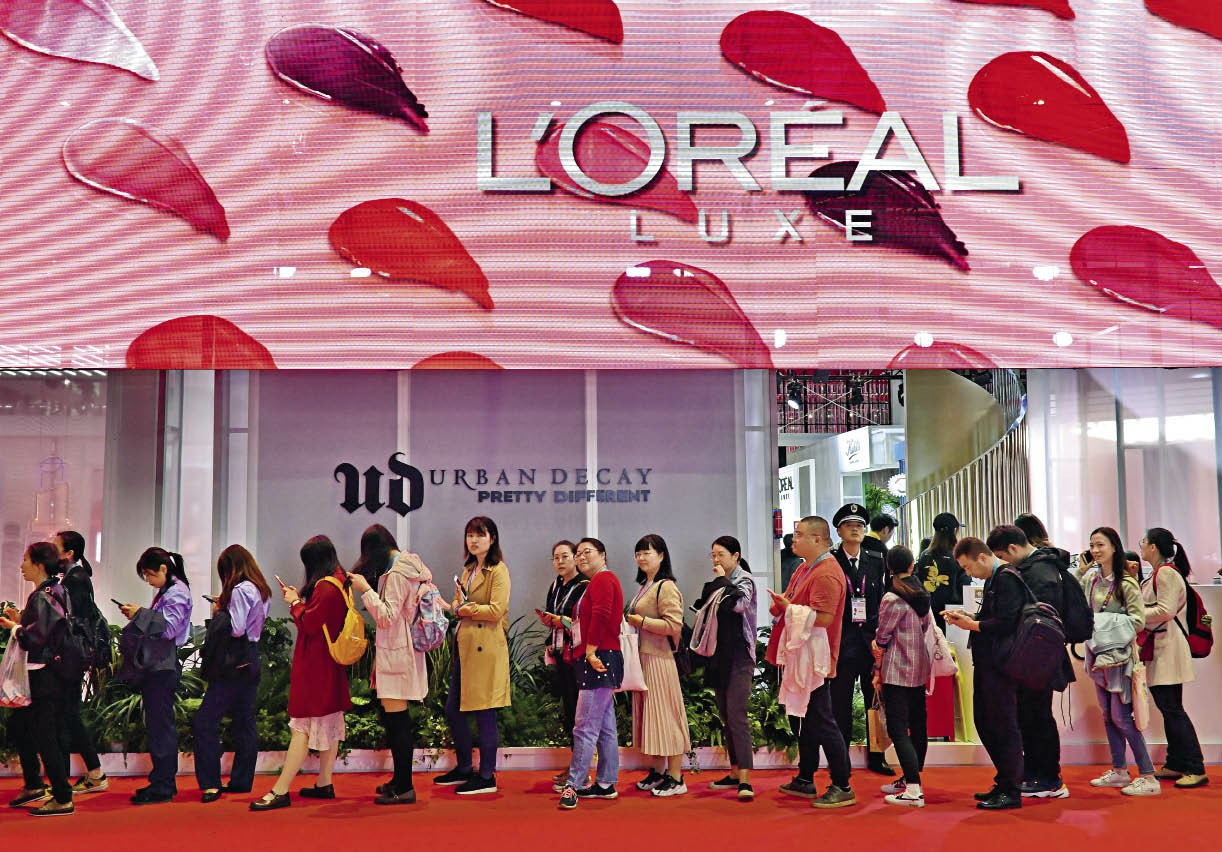 China will become the world's largest market for L'Oreal's products in the near future, and the brand is expected to accelerate the arrival of more products on the market.
Innovation to Unleash More Potential
Over the past few decades, China's cheap labor force and land resources among others were among the main reasons foreign investors put faith in the Chinese market. However, the attraction of China's market now lies in its dynamic and resilience.
Volvo's construction equipment manufacturing arm moved its Asia Pacific headquarters to Shanghai. Merck is scaling up investment in Shanghai to build a major laboratory. From January to July this year, there were 30 newly-built regional headquarters and 11 R&D centers of multinationals in Shanghai. At present, the number of regional headquarters and R&D centers of multinationals in Shanghai stood at 750 and 472 respectively.
Looking into the future, foreign-funded enterprises are betting big on the Chinese market.
At the upcoming third China International Import Expo, L'Oreal will launch five new brands, and display its cutting-edge innovation achievements, including debuting Perso, an AI-powered at-home system offering customized skincare and cosmetic services, in the Asian market. Armani will also unveil its first artificial intelligence cosmetic technology app.
In the long term, innovation is expected to unleash huge potential. More than 40 percent of Johnson & Johnson's consumer goods sales now comes from online channels. Its pharmaceutical arm is proactively promoting "e-hospital" services, enabling remote diagnosis and prescription for patients. "We strive to build the Chinese market into a global engine for digital development [in the medical sector]," said Song Weiqun.
As China opens its market even wider, Schneider Electric is cementing its presence to tap into the huge potential coming along with it.
"We will continue to strengthen input in innovation and in the business ecosystem. In an era of changes, we want to join hands with clients and partners to create a win-win digital future," said Yin Zheng.
Wei Jianguo, vice president of the China Center for International Economic Exchanges, said that as the main reasons for the attraction of China's market have changed, more and more multinationals are establishing R&D centers in China. With the move, multinationals are able to notice and respond to the latest market demands and gain more advantages in competition.
In prospect, the market performance in China is engendering optimistic expectations.
Globally speaking, China is expected to become one of the few markets to achieve positive growth in beauty product sales this year, according to Jean-Paul Agon, chairman and CEO of L'Oreal. He said that previously, the company has forecast that L'Oreal's performance in the Chinese market would have surpassed that in the U.S., which is currently the group's largest market in the world, by 2030.
The day will come earlier given the current situation, Agon said.