IN response to recent claims that U.S. and Japanese companies are moving their business out of China, spokesperson of China's Ministry of Commerce Gao Feng indicated on April 16, even though the raging pandemic has had some negative impact on foreign companies in China, the global supply chain will not be disrupted or transferred following anyone or any country's will.
The production line of JLG (Tianjin) has been busy since it resumed operations on February 23.
Stimulus Package Fuels Production
In the factory of JLG (Tianjin) Equipment Technology Co., Ltd., two production lines have been working round the clock since its operations resumed on February 23. "Last December, Japanese customers placed an order of 200 sets of access equipment. Since then we've been in close contact to follow up the delivery schedule," said general manager Lawrence Zhu, noting that they have to ramp up production because the company had been closed for three weeks after the breakout of COVID-19.
Established in 2008, JLG (Tianjin) Equipment Technology Co., Ltd., located at the Tianjin Port Free Trade Zone, is a solely American-owned enterprise and a subsidiary of JLG Industries Inc. – a world leading designer and manufacturer of access equipment. JLG (Tianjin) is also the first plant that JLG built in Asia, producing access and lifting equipment such as aerial work platforms and telehandlers to meet increasing demand in China and the rest of Asia. The company's total profits and tax contribution reached RMB 110 million in 2019.
The steel plates for the telehandlers are imported from Sweden and the shipment takes at least two months. "We have paid the Swedish supplier for the raw material, but the three-week closure has postponed our sales, so the company had been gripped by a temporary capital shortage," Zhu explained.
Then, a package of 21 preferential policies for companies was unveiled by the Tianjin municipal government, applicable to foreign-invested companies as well. The Tianjin Municipal Bureau of Commerce was the first to contact JLG, and then came the Municipal Bureau of Human Resources and Social Security, the Tianjin Port, and the administration committee of the Tianjin Port Free Trade Zone.
"Having gross income tax listed on the Fortune 300, having a contractual foreign investment totaling US $100 million or more, and being a leading enterprise in their own industry," are the requirements for a company to receive assistance as a key object from the Municipal Bureau of Commerce, and JLG meets all the criteria. The Tianjin Port exempted the stockpiling fee at the storage yard during the company's three-week closure, and ensured the smooth delivery of all JLG's cargo at the port.
In addition, the company's social insurance contributions were partly exempted by the Municipal Bureau of Human Resources and Social Security. "From February to June, the social insurance contributions that have been exempted amount to RMB 3.26 million," said Zhu. The workers' accommodation fee and the factory's utility fees have also been cut, "saving us quite a large sum of money, and have greatly relieved our plight," Zhu added.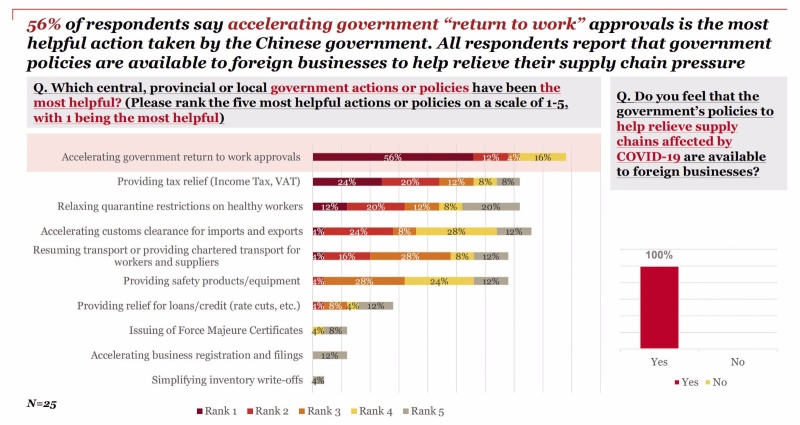 Having more than 30 domestic suppliers with an average annual procurement of RMB 1.5 billion, the company's swift production resumption can accelerate the whole production chain to reach its full capacity. To help local firms tide over the difficulties, the Municipal Bureau of Commerce in collaboration with the Tianjin Port Free Trade Zone built a bank-government-company cooperation platform, on which they opened a green channel for firms to receive tailored services from financial institutions, and the Bank of China's Tianjin Branch has provided JLG with a loan of RMB 300 million.
With the newly infused capital, JLG has sped up its production, with one production line working at full capacity and another resuming its operation to its normal state.
Expanding Production Capacity in China
In January, another US $18 million has been invested by JLG to set up its smart factory in Tianjin, covering an area of 258,000 square meters. The newly built plant is to be put into operation at the end of 2020, with an annual capacity of over 5,000 aerial work platforms and telehandlers worth RMB 3 billion.
Zhu revealed that the new plant is full-process automation enabled. All orders will be delivered to production lines via computers, and robots will work automatically, including spraying painting, welding, assembling, and transportation. This intelligent manufacturing system has been added into the third list of Tianjin's intelligent manufacturers, aiming to build an international demonstrative base for aerial work platform manufacturing.
"The sales of our access and lifting equipment in China have seen an average annual growth of more than 50 percent. That is why we expanded our investment to build this smart factory in Tianjin," said William Gu, general manager of JLG Asia Pacific. He further pointed out that in the company's global blueprint, China has been playing an increasingly important role. As a leading company, JLG will not only deepen its localization in China as a long-term strategy, but also build the Tianjin branch as a center to meet the demands of the Asian market.
The BMW Group is another foreign company that has expanded production capacity in China. "China is by far our largest market. We have more than 400 suppliers in China, and are going to localize even more. So the supply follows the demand," Jochen Goller, president & CEO of BMW Group Region China, said in response to the claims that coronavirus may push companies to move their supply chains out of China. He noted that the company has a long-term development plan. "Now, we are starting a new Tiexi plant in Shenyang, which is expected to double the output. Later this year, we're going to open the second phase of our high voltage battery assembly line, which produces the battery packs for our new energy vehicles. Personally, I think what is happening currently might accelerate some of the localization, because you need to be present in your biggest market," he added.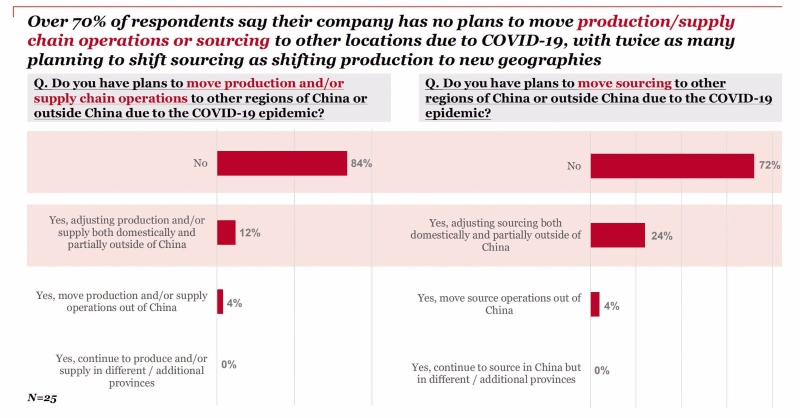 Mass Exodus? No
"In contrast to some global narratives, our China-based data suggests that the majority of our members will not be packing up and leaving China anytime soon," said Alan Beebe, president of AmCham China. "Of course, certain companies in certain industries may diversify away from China or even expand manufacturing operations in the U.S. given the current climate. But this is a costly, time-consuming, and largely irreversible process. It is emphasizing that China appears ahead of the global curve when it comes to restarting the economy following months of lockdown, and many of the reasons why companies are in China in the first place still hold true today," Beebe pointed out.
The survey Beebe mentioned was conducted in March 2020 with 25 companies by AmCham China and AmCham Shanghai in collaboration with PwC China, which studied the impact of the COVID-19 pandemic on American companies' strategies in China. An overwhelming majority of the surveyed companies have had a presence in China for at least a decade or even more than two decades. In the survey 56 percent of respondents say accelerating "return to work" approvals is the most helpful action taken by the Chinese government. All respondents report that favorable policies are applicable to both domestic and foreign businesses, and have helped relieve their supply chain pressure. Over 70 percent of companies say they have no plans at the moment to relocate their production and supply chain operations or sourcing outside of China due to COVID-19.
Actually, back in October 2019 another survey was conducted among 70 American companies. It provides additional, longer-term context for supply chain issues faced by American companies in China. On the cost side, the imposition of tariffs by the U.S. and China typically increased supply chain costs of American companies in China. However, fewer than 20 percent of the responding companies had begun relocating manufacturing outside of China over the prior two years for the purpose of mitigating the negative impact of increasing tariffs. Instead, most American companies try to sharpen their competitive edge by resorting to operation improvements, digitalized transformation, and strategic supply chain management upgrading. For example, 63 percent of surveyed companies say they are investing in new technologies to automate manufacturing and improve competitiveness.
As China brings the epidemic under control, a majority of foreign companies have restarted work, boosting confidence in the Chinese market. According to data released by the Ministry of Commerce, by April 14, 72.8 percent of the 8,700-plus foreign companies nationwide have restarted their operations and productions.
As a leading financial services multinational, Morgan Stanley predicts that the global pandemic will slow down the transition of supply chain. And the reason for that is simple, new investment needs more money, which is the last thing multinationals would like to see during this gloomy global economic situation. The Chinese government has shown its competent management capability in containing the coronavirus outbreak, especially among the emerging markets. The closures of companies and shutdowns of cities during the pandemic will push global companies to focus on building digital infrastructure. China has made headway in the application of 5G technology, the establishment of big data centers, and construction of facilities for the Internet of Things.
"The American business community in China has always been dynamic and resilient," said Ker Gibbs, president of AmCham Shanghai. He further pointed out, "Our survey results show that companies are considering adjustments to their business strategy, but there is no mass exodus as a result of COVID-19."