STAYING in Beijing to earn more money during the recent Chinese New Year holiday is what 20-year-old Zhang Jun had planned, but the outbreak of the novel coronavirus turned his plan upside down.
"I have been an employee of the Windsor KTV at Guomao in the heart of Beijing's Central Business District since I graduated from a junior college in July 2019. I had thought I could earn some extra money during the Spring Festival golden week, so I gave up spending time with my family this year," Zhang said. His parents live in west China's Gansu Province with their two other children. Having so many mouths to feed is really a big financial burden for a rural family living in a poor area.
On January 24, Windsor KTV announced that all its 16 clubs would be closed including the one at Guomao. "We were worried that we would be laid off. Soon, news came that our company had signed a contract to share workers temporarily with Hema Fresh. On February 2, my coworkers and I started to work in Hema stores," said Zhang.
"Windsor KTV is the first entertainment company that signed a contract with us to share their employees. Up till now, around 2,700 workers from over 40 companies in the catering industry have joined Hema's temporary job-sharing plan," Hu Qiugen, general manager of operation at Hema Fresh, told China Today. Hema Fresh is Alibaba's new grocery store chain which combines traditional shopping with digital experience.
In sharp contrast with the tremendous loss of China's catering and entertainment industries during this coronavirus outbreak, online businesses have embraced new opportunities. A new trend – sharing workers among companies – has become very popular since it is a bonus for both online and offline businesses.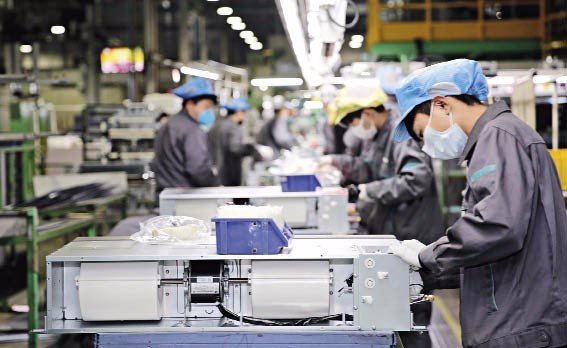 A New Model of Employment
"Every day, I read coronavirus updates on my cellphone," Deputy General Manager of Windsor KTV Yang Ying said. "This unusual holiday was not that relaxing."
"Chinese New Year period is normally the busiest time for our company, with one-month revenue able to triple that of the boom season," said Yang. However, in the last week of January this year alone, the closedown of the 16 clubs caused the company to lose RMB 20 million in revenue. "Even though we've tried hard to reduce losses, a deficit of RMB 50-60 million in February is unavoidable," Yang said.
After the company closed all its clubs, workers have been trapped at home or in their dormitories, waiting for the day when they can resume their work. "We have provided accommodations for our employees who did not go back home, also with the strong hope that sooner or later the epidemic will be over," said Yang.
While Yang and the senior managers were racking their brains for a solution; Hema Fresh reached them with a new model of sharing employees. "It was like a bonus for both of us, so we immediately reached an agreement on the cooperation," Yang said. More than 200 of Windsor KTV's employees across the country accepted the temporary jobs in Hema stores. "Although only 10 percent of our staff members are temping with Hema Fresh, under such special circumstance we want to send our workers a message that we've been trying our best, and wherever there is work there is hope," Yang said, with an optimistic spirit.
Later another 100 workers of Windsor KTV chose the flexible employment and started to work for offline and online companies such as Carrefour supermarket chain and Suning Fresh Food.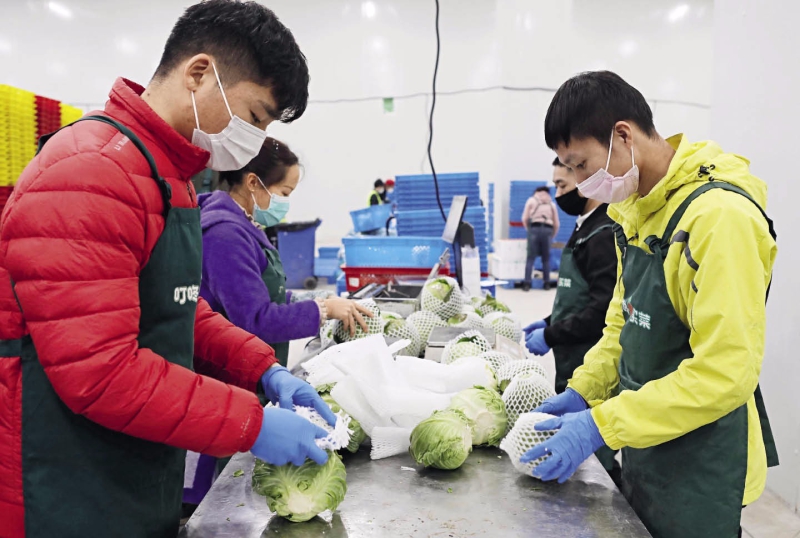 Booming Opportunities Online
China's e-commerce platforms are seeing booming sales of daily life necessity products as more people choose to stay at home and shop online during the epidemic. Companies such as Hema Fresh, Daily Fresh, Dingdong Vegetable, and Suning Fresh Food have seen an increase of orders twice as big as the usual amount in some places, or even multiple times the usual amount in some other cities.
"Only 70 percent of our employees were at work during the Spring Festival holiday, while the growing number of online orders have worsened the labor shortage," Hu said. There was a mismatch in the labor force between a limited supply capacity and the soaring market demand.
According to Hu, supplies, logistics, labor forces, and anti-virus measures all need to be handled. "The epidemic led to roadblocks, and even the lockdown of a city, but supplies must first be guaranteed for people to have adequate daily necessities in Wuhan and other regions around the country. We thus need more employees to take part-time jobs," Hu said.
Xibei, a notable restaurant chain, also accepted the invitation from Hema Fresh to join in the workers sharing plan.
The company shut down over 400 restaurants across the country amid the epidemic outbreak. Hu noted what the virus has done to the catering industry is cruel. "The closedown has left 10,000 workers of Xibei trapped at home, and 10,000 more in their dormitories, without jobs," he said.
"Therefore, we reached an agreement on cooperation. More than 1,000 workers of Xibei passed the job interview and after a short initial training began to work for Hema Fresh," Hu added. The timely action helped both sides during this special period of time.
Hema Fresh, Xibei, and Windsor were brave enough to take the initiative. And soon, this cooperation model was adopted by other companies including Walmart Inc., JD.com, and Lenovo.
"The new model helps idle workers from the traditional industries to earn an income, eases the salary burden of enterprises that are not in operation, and more importantly, provides human resources for the booming online businesses," Yang said. She thinks this sharing model is also applicable during the high or off season of the consumption industry.
Pan Helin, executive president of the Digital Economy Institute at Zhongnan University of Economics and Law, described the sharing model as a creative way of domestic companies to proactively respond to the impact of the epidemic. He believes that flexible employment will be a major change for making full use of human resources in the future. "There should be a highly efficient shift of the unbalanced allocation of human resources in different economic sectors to meet the needs of both the supply and demand sides."