BMW China R&D Center officially opened its facility in Beijing's Shunyi District on May 15, 2018. The center is by far the biggest presence of BMW R&D outside Germany, among those in the U.S., Japan, South Korea, and China, and its size far exceeds the company's R&D center in Silicon Valley, northern California, U.S.A.
Cooperation Essential
Early in March, during the China Development Forum 2019 in Beijing, heads of three of Germany's biggest carmakers, Volkswagen, Mercedes-Benz, and BMW expressed their wishes to increase investment in China and deepen cooperation to better meet the demands of a more open Chinese market.
Then the Chairman of the Board of Management of Daimler AG and Head of Mercedes-Benz Cars Dr. Dieter Zetsche indicated, the booming automobile industry is an excellent example of China's soaring economic development. Over a short period of time, China's automobile market started from scratch and became the world's largest. For international automakers such as Daimler AG, China has become the most important global market, he further pointed out.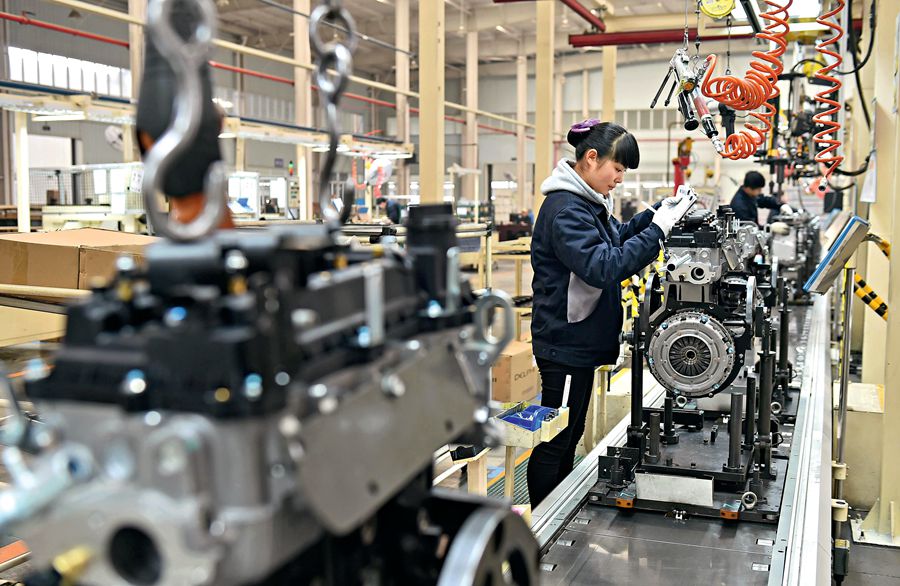 On February 14, 2017, workers are on the assembly line of the A-series small displacement engines at Mianyang Xinchen Engine Co., Ltd., which is also the first Chinese company that has been licensed by the BMW to become its engine manufacturer & supplier.
Zetsche believed that China will be an innovative driving force for the new global auto industry.
Facing the challenges posed by the global automobile industry reform, international automakers represented by German companies have accelerated their investments in China, in a bid to stay ahead of the future competition.
As Harald Krüger, Chairman of the Board of Management of BMW AG, said, China's economy has stepped into the new normal, with both challenges and opportunities ahead. He believed that cooperation is vital for multinationals who would like to grow with the Chinese market.
Global Innovation Hub
In Zetsche's view, from past to present and future, China has become and will be increasingly important for Daimler AG, and crucial for its future development.
For the three German auto giants, the Chinese market's decisive role has long been acknowledged. In 2018, Volkswagen sold 10.83 million automobiles globally, among which 4.2 million were bought by Chinese customers. Meanwhile, the Chinese market is also the biggest market for BMW and Mercedes-Benz, with sales of Mercedes-Benz cars in China exceeding the sum of its sales in the U.S. and Germany.
As part of their localization strategies, the three companies have increased research investment in China, especially in the area of new energy vehicles.
According to Hubertus Troska, Chairman and CEO of the Daimler Group Greater China Region, Daimler AG will deepen cooperation with local partners, such as the Beijing Automotive Group, to invest in Beijing Benz's domestic pure electric vehicles and power cells.
BMW recently announced that in 2020 its first pure electric car BMW Ix3 will be produced and unveiled in China. Also from China, electric cars will be exported to countries around the world. This indicates that China has gradually become an innovative base of BMW rather than just a consumer market.
In 2018, BMW's R&D spending reached €6.89 billion (US $7.73 billion), an increase of 12.8 percent compared to that of the last fiscal year. BMW has also set up a comprehensive R&D network in Beijing, Shanghai, and Shenyang, with each R&D center having different functions to complement each other. The new center in Shanghai focuses on innovative technology and digital application, the Beijing center aims to formulate the company's localization strategy, obtain Chinese industrial certificates, and gather Chinese consumer insights, while the Shenyang center is responsible for research on pure new energy vehicles, monitoring quality, and support for localized production.
Herbert Diess, Chairman of the Board of Management of Volkswagen AG, revealed that the company plans to announce more than 30 models of new energy vehicles in China in the upcoming two years, while in 2020, a car test management platform – the modular electrification toolkit (MEB) at Volkswagen AG – will be launched in China, bracing for a large-scale production of electric vehicles.
Preferential Policies for Foreign Investment
At the G20 Osaka Summit 2019, Chinese President Xi Jinping delivered a keynote speech in which he promised to speed up the process of opening-up and to realize high-quality development. On June 30, China's National Development and Reform Commission and Ministry of Commerce released three policy papers to bring Xi's commitment into concrete measures, further expanding foreign capital's access to China. To keep the continuity and stability of foreign investment policies, the new policies encourage the expansion of foreign investment into areas of modern agriculture, advanced manufacturing, new and high technology, energy conservation, and environmental protection, and the modern service industry to optimize the regional distribution of foreign capital.
According to the National Development and Reform Commission, the Catalogue of Industries for Guiding Foreign Investment (2019) has the following features: first, the foreign investment fields have expanded dramatically; second, foreign capital is encouraged to flow to high-quality manufacturing. Over 80 percent of the newly added or modified items in the new catalogue belong to high-end, intelligent, or green manufacturing; third, foreign investments are encouraged to be placed in producer services related to artificial intelligence, clean production, carbon capture, and circular economy; fourth, the government will support the transfer of foreign invested industries to central and western China. For their promising prospects, high-end manufacturing, AI, and the new energy industry have become the hotly-sought sectors by foreign enterprises.
Future Opportunities
To seize future opportunities in China, the three German auto giants have started cooperation with China's three Internet giants known as BAT (Baidu, Alibaba, Tencent) since 2018. For example, BMW joined Baidu's Project Apollo – an autonomous driving platform, collaborates with Tencent to build a smart travel service system, and installed the TmallGenie – Alibaba's smart home speaker into new cars.
Krüger pointed out, China is speeding up the transformation of the global auto industry exemplified by its leading role in new technologies, such as speech recognition, autopilot, and safety driving, as well as in artificial intelligence. In the process, China has evolved from a strategic market to a global value creation center, with the world's largest talent bank.
Diess shared Krüger's sentiments. He said that Chinese companies are quite quick and efficient in innovation, which is commendable. He also lauded China's startups and mobile service providers for their creativity and quick response to the market.
On July 2, the "Boao Consensus" was released in China's Hainan Province at the World New Energy Vehicle Congress (WNEVC 2019), which aims to gain 50 percent of the market share of global new energy vehicles by 2035, with an electricity transformation of the global auto industry.
Klaus Fröhlich, member of the Board of Management of BMW AG responsible for its technology and R&D, attended the meeting and remarked in his speech, that China has taken an initiative to build the world's first smart city, while the BMW Group's strategic target corresponds with China's development vision, new energy and intelligent networking cars in particular. For the BMW Group, China is a driving force for innovation. According to Fröhlich, at present, 20 percent of the global BMW vehicles are made in China and the ratio will continue to grow; meanwhile, China is also the BMW Group's fastest developing research center in the world.