TWO years ago in his speech delivered at the UN headquarters in Geneva, Switzerland, Chinese President Xi Jinping laid out the core question of the current global era, "What has happened to the world and how should we respond?" The world is still plagued by many problems: rising trade protectionism, unilateralism, populism, imbalanced global development, and the fact that many developing countries still don't have a voice in some international institutions. As Xi said at the closing ceremony of a global governance forum co-hosted by China and France in Paris on March 26, 2019, the world now faces deficits in governance, trust, peace, and development.
As the Belt and Road Initiative (BRI) construction gains momentum, more and more countries and regions have joined. As of April 30, 2019, a total of 131 countries and 30 international organizations had signed cooperation agreements with China on joint construction of the Belt and Road. Guided by the principle of extensive consultation, joint contribution, and shared benefits, scores of new international cooperation platforms and mechanisms under the BRI framework have been established. Seemingly, a new type of globalization and global governance is emerging.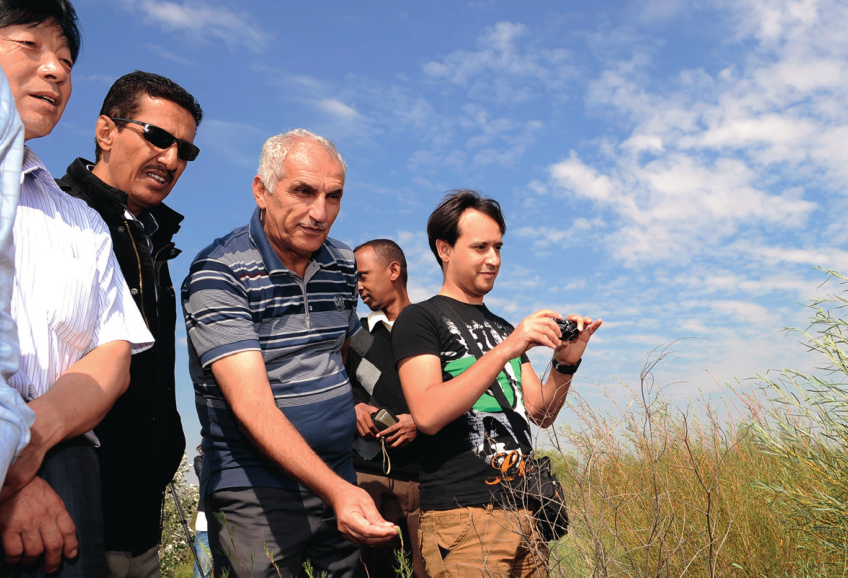 Trainees from Arab countries participating in a training program about desertification prevention and control take a field trip to the outlying area of Mu Us Desert in Yanchi County, Ningxia Hui Autonomous Region.
Core of the New Globalization
Luan Jianzhang, director-general of the Research Office of the International Department of the Central Committee of the Communist Party of China (IDCPC), said in an interview with China Today in April that the emergence of a new type of globalization is mainly due to problems in traditional economic globalization.
In his speech delivered at the opening ceremony of the 2nd Belt and Road Forum for International Cooperation (BRF) held in April, Xi noted that imbalanced development is the biggest hurdle in the world today. In Luan's view, imbalanced development is also the overriding contradiction of the world today, which has been brought about by the economic globalization model of the past. Luan said the root cause of this globalization challenge is traditional global governance, which is based on rules that have been established under the dominance of some wealthy developed countries and are also beneficial to those countries. Therefore, the globalization challenge can be primarily ascribed to the structure of global governance.
Xi didn't use the term "new globalization" in his BRF speech, rather saying, "We need to promote trade and investment liberalization and facilitation, say no to protectionism, and make economic globalization more open, inclusive, balanced, and beneficial to all."
According to Luan, this explains the new type of globalization. "Economic globalization essentially means the globalization of the market. When the market-oriented economy plays its role on a global scale, some of the stakeholders get richer than others, leading to imbalanced development. Then global governance is needed. One important point of the Xi Jinping thought on diplomacy is to guide the reform of the global governance system with fairness and justice," said Luan.
At the 28th Wanshou Forum themed "The Belt and Road Initiative: New Type of Globalization and Global Governance" co-hosted by IDCPC and Tsinghua University in April, former director of the State Council Information Office Zhao Qizheng said the new type of globalization and global governance precisely encapsulates the essential nature of the Belt and Road Initiative.
Under the principle of extensive consultation, joint contribution, and shared benefits, a host of BRI cooperation projects have been rolled out to improve inter-connectivity and promote more balanced development of the world. At the same time, the domestic development of certain countries is also becoming more balanced. Therefore, the joint construction of the Belt and Road embodies the concept of a new type of global governance, and sets the trend of new globalization, steering the world economy towards being more open, inclusive, balanced, and beneficial to all.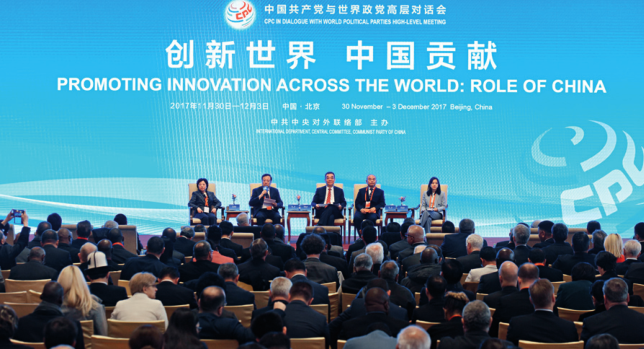 A sub-session themed "Promoting Innovation across the World: Role of China" is held on December 2, 2017 during the CPC in Dialogue with World Political Parties High-level Meeting.
BRI's Role in Advancing New Globalization
People from countries along the Belt and Road have endorsed the initiative's role in nurturing a new type of globalization and global governance,
"The Belt and Road Initiative may help a new vision of globalization, which means a more human-oriented, just globalization able to reduce poverty, inequality, stop climate change, and promote a win-win cooperation between different peoples, cultures, and civilizations," former Italian Prime Minister Massimo D'Alema said in an exclusive interview with China Today on the sidelines of the forum.
He went on to say, "The Belt and Road Initiative has achieved many important successes since its introduction in 2013. These include a lot of investments, infrastructure, boost to economic growth in several countries, particularly promoting a new type of people-to-people connection, which is, I think, the most important achievement."
Former president of Morocco's House of Councilors, Mohamed Cheikh Biadillah, told China Today, "The BRI is a great initiative and is nurturing a new world order. I believe all countries involved will benefit from it."
He further pointed out that a new round of globalization is expected to take shape on the basis of the BRI. "Countries should reach consensus on such things as trade, exchanges, and cooperation to create a just, transparent, and equal globalization that features mutual respect, mutual benefit, and a win-win outcome."
According to Biadillah, human development has experienced three waves of globalization. The first was brought about by the ancient Silk Road; the second was driven by the Industrial Revolution dominated by Western countries including the United Kingdom, France, and the United States; the third is the current one formed on the basis of the world order established after World War II. He believes that the Belt and Road is expediting the fourth round of globalization.
In his speech given to the forum, Vice Minister of International Relations Department of the Central Committee of the Communist Party of Cuba Juan Carlos Marsa said, "The Belt and Road Initiative entails a new type of economic globalization and cultural globalization, intended to tap into the political and economic potential of countries on the basis of mutual trust, equality, and win-win outcome." He thinks the BRI is inclusive because it attaches value to mutual respect and complementarity of different countries, and is exempt from practices of exclusionism, plunder, sanctions, intimidation, and coercion to serve some country's interests. He lauds China's huge contribution to stability and balanced development of the world as well as the development opportunities brought by China to other countries.
Fekadu Tessema Degefu, a member of the Ethiopian Peoples' Revolutionary Front Executive Committee, said that the BRI is far-sighted, forward-looking, and inspiring, and is benefiting many developing countries. He believes the BRI is precipitating the formation of new globalization cooperation models, helping countries shun international conflicts and confrontation. Degefu said all these attributes fully show the advancement of China's concepts on governance. In particular, he commended China's principle of non-interference in the internal affairs of other countries, and regarded that as an exemplary model in the international community.
Degefu said that the joint construction of the Belt and Road is creating many opportunities for Ethiopia's development and revitalizing the country, enabling it to share China's development achievements. "We have [long been] espousing the value of the BRI [in Ethiopia]. In cooperation, many win-win projects have been carried out. A host of Chinese companies have set up their factories in Ethiopia, for example, in the fields of construction materials and automobile assembly, fueling local development." Now, China is Ethiopia's largest trade partner and project contractor.
Degefu hopes China can continue to strengthen its cooperation and exchanges with African countries, in particular about governance, which is expected to improve African countries' order and promote equality and justice. He believes that will enable African countries to be more involved in global governance and the joint construction of the Belt and Road.
Transforming via New Technology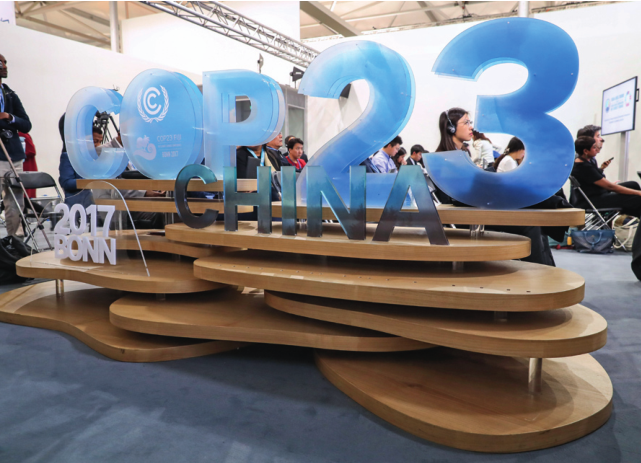 China sends delegates to the United Nations Climate Change Conference held in Bonn, Germany on November 15, 2017.
In the discussion about the new type of globalization and global governance, the topic of new technologies is a prominent one, given their enormous role in our modern society.
Donald Charles Hellamann, a professor with the Jackson School of International Studies, Washington University, said at the forum that as the driving force for social change, technologies and the accompanying industrial revolution are driving global development. He said that among a wide range of challenges, inequality is the central one facing humanity, and needs to be urgently addressed. All these facets actually demand both theoretical and technological innovations. As technologies can bring many changes into effect, Hellmann said there is not only a need to learn about technological reforms, but also to come to the understanding that technologies can reshape society and lead it to the next stage of development.
Hellmann maintains that to deal with new challenges like global warming and those brought by big data, technical support is vital, and the right of countries to equal participation should also be ensured. He said the inclusive nature of the BRI can guarantee fair decision-making, and the initiative thus sets up a desirable platform of global governance. He also emphasized the importance of being open to different ideas and different backgrounds, which, he believes, is the only way to jointly cope with challenges and solve problems. He said the BRI has generated a strong aggregated force to attract participation in addressing the common challenges of humankind. Hellmann hopes that China can leverage the technological reforms to gain more rapid development.
Geoff Mulgan, chief executive of the U.K. National Endowment for Science Technology and the Arts, sees technology as a critical factor for global governance. Our global governance institutions, including the UN and WTO, have become rigidified to some degree, because they have lagged behind in terms of many key factors about global governance like technology, Mulgan said at the forum.
In an interview with China Today on the sidelines of the forum, Mulgan indicated that humanity still faces the looming threat and challenge of security. "I would call missing places where there are no institutions of global governance," he said.
"There are no norms to protect cyber security, for example, to handle flows of data across borders to make sure one country does not develop dangerous artificial intelligence applications which could harm everyone else. And I hope China will move into a leadership position on these issues, just as China has done on climate change," he said.
Mulgan said that global governance, in many facets, needs leadership and the corresponding mechanisms to deal with issues like organized crime, refugee challenges, and challenges associated with the digital economy.
Commenting on the Fourth Industrial Revolution, Mulgan said, "Many of its key techniques and technologies have been artificially confined to particular places, particular firms, and particular social groups. They haven't spread out; they haven't reached the small towns, the small businesses, and outlying regions. And this has created three overlapping problems in many parts of the world: One is productivity stagnation, the second is worsening inequality, and the third is distrust on the part of the public."
To address the problems, Mulgan said, "It is vital to spread access to knowledge and improve the capabilities to shape digital technologies. It requires new kinds of industrial policies, which help small and medium-sized businesses catch up with the big ones much more quickly. It means very different regional policies to help the outlying regions keep up with the developed regions."
According to Mulgan, economic growth is not the only thing that matters for a country; social equality and people's happiness are equally important. "We shouldn't just see growth as an economic factor. It's not just GDP. If that [growth] isn't also leading to a better quality of life for people, then there will be unhappiness and there will be a backlash. So, I think the lesson of what happened since the financial crisis is that we need to revive growth, but it's not the same growth as in the past. It has to be more balanced, more inclusive, and better aligned with human wellbeing rather than just growth of GDP."
New global governance is called for to realize all these.