IN the first half of 2019, Coca-Cola will buy out Costa, a coffee brand owned by British hospitality giant Whitbread Group for US $5.1 billion. This is a clear indication that the world's largest beverage producer, founded in 1886, is developing rapidly in the direction of "full-range beverage companies" in the face of changing consumer tastes. Coca-Cola forged ties with China 30 years after its founding. In the world's largest market, Coca-Cola has overcome a mountain of challenges, retained its world-famous reputation with the development of Sino-U.S. relations and China's reform and opening-up.
Return to China's Mainland
Coca-Cola entered the Chinese market as early as the 1920s, and Shanghai is one of the brand's most important sales markets.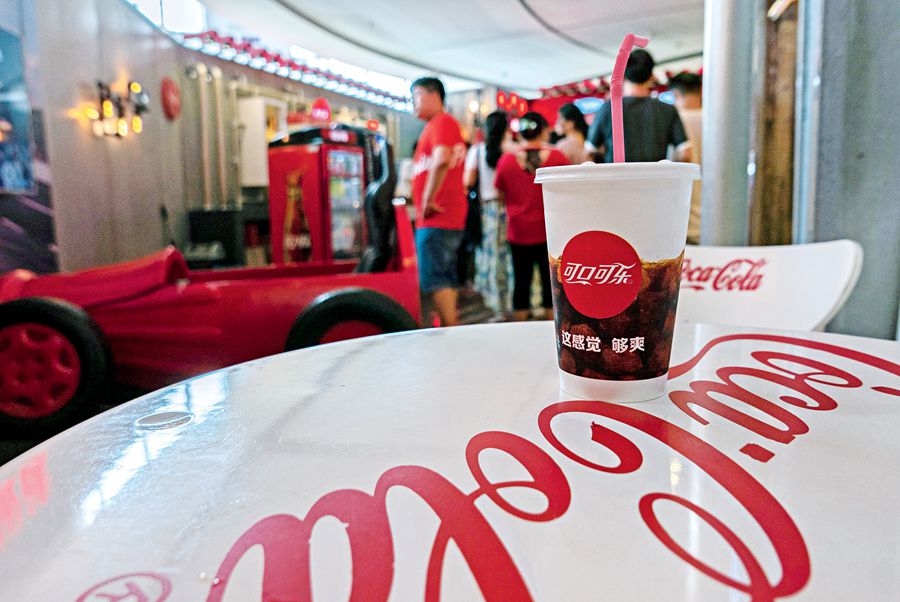 A Coca-Cola Happy Experience Store in Dayuecheng Shopping Mall, Tianjin.
In 1927, Coca-Cola established a factory in Shanghai. At that time, Watsons Water was responsible for bottling the beverage. In 1933, after just six years, the Shanghai factory became the largest bottling plant outside the U.S. In 1948 Shanghai became the first market outside the U.S. with annual sales exceeding one million boxes (24 million bottles). Coca-Cola's poster was indispensable in the ballrooms and entertainment venues like the Paramount and Ciros Plaza in Shanghai at that time.
However, over the next few decades, this beverage, which tastes a little like Chinese medicine, disappeared on the mainland market owing to historical reasons.
The Third Plenary Session of the Eleventh Central Committee of the Communist Party of China, convened on December 18, 1978, prioritized economic construction and initiated the reform and opening-up. That month, some other important events were also taking place.
When China and the U.S. completed negotiations for establishing diplomatic relations at the Beijing Hotel on December 13, 1978, Coca-Cola was also in cooperation talks with COFCO in the same hotel. Three days later, China and the U.S. issued the joint communique on the establishment of their diplomatic relations, declaring mutual recognition and formal establishment of diplomatic relations on January 1, 1979. Coca-Cola, which entered China's mainland market on December 19 that year, became the first foreign enterprise to do so after the nation initiated reform and opening-up.
According to the agreement between Coca-Cola and COFCO, the U.S. adopted a compensation trade model or other payment ways to provide Coca-Cola canning and bottling equipment in China's major cities and tourist regions, and set up filling plants in China in order to begin sales. Before the Coca-Cola China bottling plant was established, sales were arranged by COFCO on consignment. According to the COFCO arrangement, the first consignment of 3,000 boxes of Coca-Cola was shipped to Beijing from Hong Kong at the end of 1979 under the assistance of NG Fung Hong.
Factory Site Selection and Construction
After Coca-Cola returned to the Chinese mainland market, the primary concern was the factory site selection. The U.S. suggested Shanghai, the city with a historical connection to the American beverage, but, there was still leftist ideology in China after reform and opening-up, and Shanghai had no intention of hosting an American factory.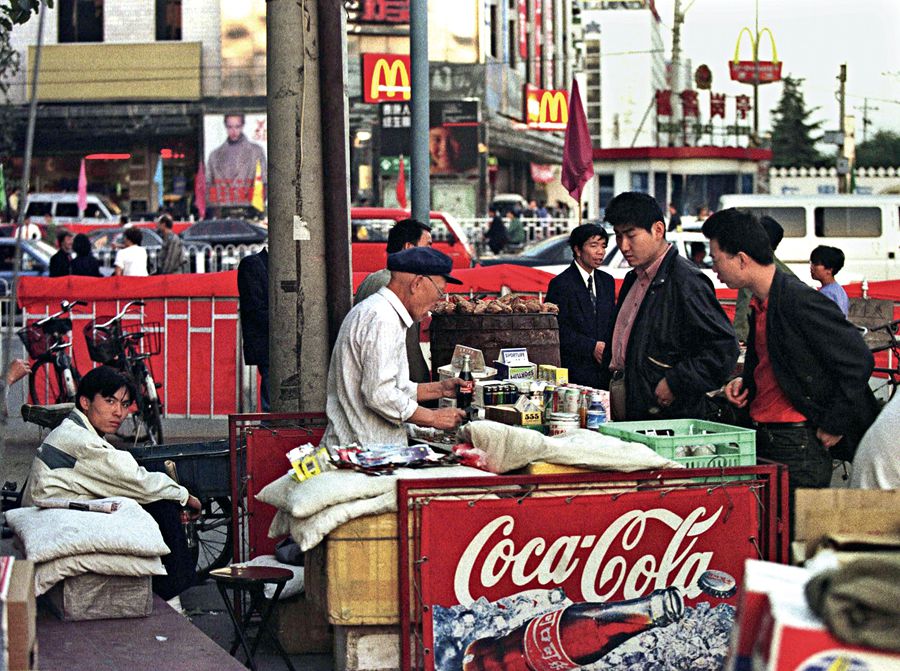 A Coca-Cola retail stand on the street of Beijing, 1997.
In April 1981, with the support of Lin Hujia, then Party secretary of Beijing, the bottling plant was finally established in a building of Beijing Roast Duck Factory, a subsidiary of COFCO. To secure water quality, Coca-Cola provided a reverse osmosis water purification system for the Beijing factory, which was the world's most advanced water treatment equipment and used by only a few of countries at the time.
Under the cooperation model of the two parties, Coca-Cola installed a fully automated bottling line capable of filling up to 1,200 bottles per minute, which was equivalent to the advanced level of Western countries at that time, and China spent US $300,000 a year to purchase Coca-Cola concentrated syrup. In the process of equipment installation and testing, Coca-Cola experts and technicians made more than 180 visits to Beijing to help install equipment and train Chinese technicians. Taking into account the proficiency of local employees, the demands on the Chinese market, and the needs of equipment maintenance and repair, the actual production speed was 300 bottles per minute at the initial stage of operation. Coca-Cola originally expected to invest US $600,000, but eventually built the plant at a cost of nearly US $1 million.
The Coca-Cola factory in Beijing played an exemplary role for China's beverage industry, which led to visits by leaders from the domestic beverage and pharmaceutical industries, who were deeply impressed by its strict quality management. Today, reverse osmosis water treatment equipment and a production speed of more than 1,000 bottles per minute are still the standard in China's beverage industry.
After a week of trial operation, the production line officially went into operation, and the first run of Coca-Cola bottled in China left the production line. At that time, The New York Times reported that when the factory opened, it was accompanied by the beating of cymbals and drums and explosions of firecrackers resounding in the skies.The then chairman of Coca-Cola Group said that China is a big treasure where there are many opportunities. Later, Coca-Cola opened bottling factories in Guangzhou and other cities, along with a concentrate solution factory in Shanghai in 1988. Since then, all the beverage concentrates needed by Coca-Cola's bottling plants in the Chinese market have come from Shanghai.
Rise to Fame
Although Coca-Cola had a stellar reputation abroad at that time, sales were not as optimistic as expected in the early days of its return to China's mainland. The average monthly wage of Beijing residents then was about RMB 40-50, and most consumers were more likely to accept the domestic drink Arctic Ocean soda, which was RMB 0.15 per bottle, while Coca-Cola was RMB 0.45 a bottle.
To open up the market as quickly as possible, Coca-Cola Beijing branch started sales promotional campaigns in all the shopping malls, where consumers would get a balloon or a pair of chopsticks if they bought a bottle of coke. The campaign attracted much public attention, and was the first of its kind by a foreign enterprise after the start of the reform and opening-up.
It was, however, not until 1986 that Coca-Cola's operation was officially sanctioned in China. China promulgated and implemented the Law of the People's Republic of China on Foreign-Funded Enterprises on April 12 of that year, which explicitly protected the rights and interests of foreign businesses.
In October that year, 18 television stations across the country broadcast Coca-Cola advertisements on a certain day. Thereafter, Coca-Cola's advertisements dazzled the whole country, while a growing number of people had become interested in the easygoing and carefree Western leisure culture represented by Coca-Cola. The brand had gradually been accepted by Chinese consumers.
Coca-Cola has spent 40 years, since returning to the country's market in 1979, to flourish in China which is now the brand's third largest market in the world. More significantly, KFC and McDonald's had followed Coca-Cola in succession to expand their business in China.
Testimony to China's Development
Coca-Cola's image could be sighted in many milestones of China's opening-up process, including the Asian Games in 1990 and the Olympic Games in 2008.
Today, in the process of transforming into a full-range beverage company, it is necessary to build a huge beverage mix covering consumers' lives. Coca-Cola has always been accomplished at running the leading brands; it can correctly choose the place of goods delivery. If what the leading brands are concerned with is the general situation, then what the small brand needs to break through is specific points. For example, what's behind the earliest launched "Share a Coke" bottle is Coca-Cola's insight into the One-Child Generation's status of "being alone while not lonely."
So far, Coca-Cola has invested US $13 billion in China, established 45 factories and directly employed about 45,000 people. Its revenue in China in the first half of 2018 exceeded RMB 20 billion (US $292.4 million).
In 2016, Coca-Cola's two bottling partners, COFCO and Taikoo, were restructured.
With the rapid development of the business, Yunnan Taikoo Coca-Cola Beverage Co., Ltd. moved to a new location in June 2018, and increased its production capacity. At the same time, the new plant won the LEED (Leadership in Energy and Environmental Design) certification for its role in energy conservation and environmental protection. Photovoltaic power generation equipment is installed on the roof of the main factory building and special glass with a two-way heat insulation function is used on the wall of the office building. Seventy-five percent of the factory buildings' roofs are made of highly reflective material, the production and storage areas are illuminated by natural light and the intelligent lighting system is automatically activated when the illumination brightness is insufficient.
The new plant also has a 600-cubic-meter rainwater collection system for plant-area greening and road flushing. The waste water treatment system in the factory can purify about 3,120 cubic meters of water every day, which is partly used for greening and toilets in the factory area.
James Quincey, chairman and CEO of Coca-Cola, noted that since the reform and opening-up in 1979, China has undergone rapid changes, and Coca-Cola is fortunate to be able to participate in this process. As Coca-Cola's third largest market in the world, China represents Coca-Cola's most important and exciting opportunity, and Coca-Cola is confident about the future of the Chinese market.
"Coca-Cola has experienced an extraordinary 40-year span in China and is the biggest beneficiary, participant, and witness of China's reform and opening-up," said Zhang Jiantao, vice president of Coca-Cola's Greater China, South Korea, and Mongolia business. Over the past 40 years, Coca-Cola has developed from a single brand to more than 20 brands in China. It has experienced a process from product innovation to business model innovation. With the development of the Internet and digital technologies in China over the last 10 years, Coca-Cola now uses AI systems to understand local consumers and analyze their purchase behaviors.
"China is now the second largest economy in the world, and its enormous size gives the Chinese people full confidence in the future. China is expected to release its huge growth potential through deepening and expanding economic activities," said Zhang.
"We have launched dozens of new products recently and our business in China is very good," he said, adding that he believes China's GDP growth in 2018 was relatively stable, indicating that China's consumer demand is still increasing. "We have heartfelt support for the government's tax and fee reduction policies, and have more confidence."