THE small town of Zhili in Huzhou, east China's Zhejiang Province, has a population of 450,000 living within an area of 25 square kilometers. Lying on the south of Taihu Lake is the Shoulder Pole Street, which once was a street with an area of 0.58 square kilometers. Today that street has developed into the largest children's clothing industry cluster in China, and transformed Zhili from a once utterly backward town into a promising center of industry.
Growing Industry of Children's Wear
Children's wear is the core industry of Zhili. Various styles of shops selling a dazzling array of children's garments can be seen everywhere. According to statistics, half of children's clothes in China are made here. No one could have imagined that such a "capital of children's wear" actually originated from a single street with the name of Shoulder Pole.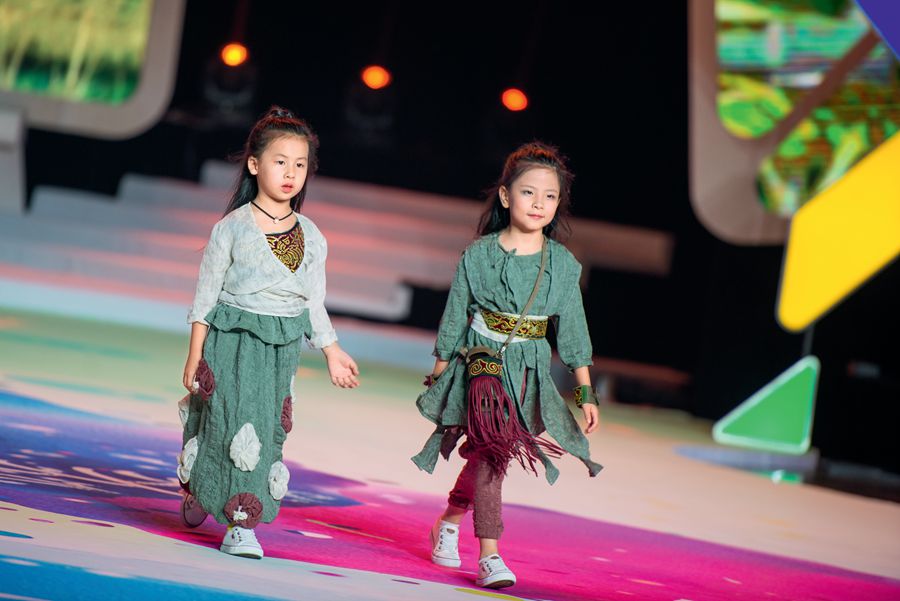 A children's wear design competition in Zhili.
In the early 1980s, the hard-working Zhili people carried their handmade small commodities such as embroidered pillowcases and children's bellybands using shoulder poles, and sold them along this street. Later the street became known as Shoulder Pole Street.
In the 1990s, the children's clothing industry in Zhili began to enjoy a good reputation throughout the country. But at the same time, there were many disadvantages that stood out, for example, business households were scattered and the market was not very specialized. Very soon some people realized that the business model of Shoulder Pole Street was hampering the development of the industry, and it was urged that they build a larger platform. In 1996, the China Zhili Children's Wear City, covering an area of 23 acres with 900 stores, officially opened. However, since it was 4.5 kilometers away from the urban area, the occupancy rate in the beginning of less than 20 percent was far from satisfactory.
Looking at the long-term development of the town, the Zhili Town government took decisive measures to ban all sales in the old urban area and made efforts to specialize the market. It worked to help set up research and development centers for merchants, and provide them with the latest market information such as which styles were suitable with modern trends and which products could sell well.
In October 1997, the Children's Wear City reopened. Zhang Xiaoyun, one of the first businesspeople to settle in, clearly remembers that the store was twice as big as before, but the rent was only 70 percent. As a result, she got more than 1,000 customers in the first year.
In less than a year, with all 900 stores rented out, the Children's Wear City became the largest children's wear market in east China. With the help of such a big platform, Zhili's children's wear industry embarked on a leap-frog development. The latest data show that in 2017, the sales of children's wear in the whole town exceeded RMB 50 billion, accounting for 50 percent of the national market.
Developing along the "Smile Curve"
In 2013, Zhili invested RMB 20 million to build the China Zhili Children's Clothing Design Center, the first in the country. In addition to independent studios for design companies, there are also public service facilities like sample rooms, information release halls, design salons, and multi-purpose halls. The center promised that "companies settling in only need to bring designers, and all necessary services will be provided." Presently, the design center has 20 excellent design teams and 240 in-house designers. In 2017, it generated 15,000 pieces (sets) of children's wear designs and released 93,000 pieces of fashion information, which marked Zhili as the birthplace of fashion trends and brands for children's wear.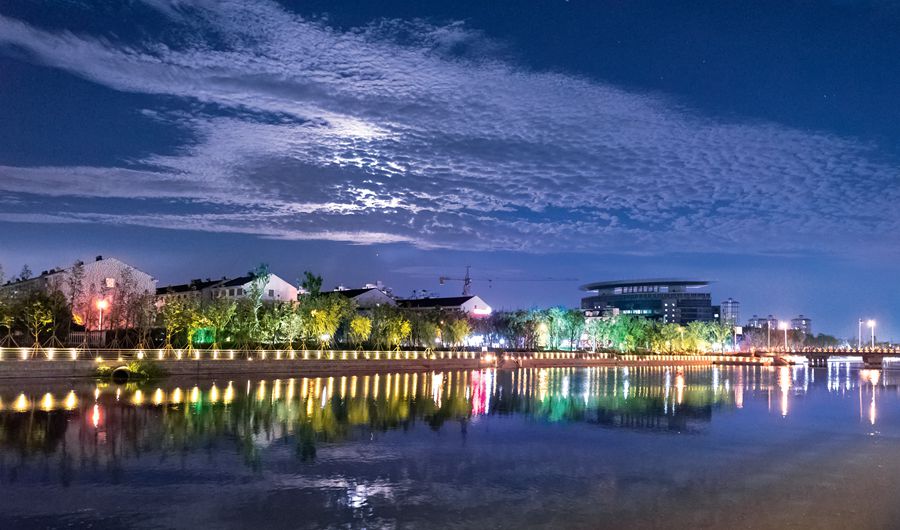 The night view of the cosy little town of Zhili.
"We mainly produce brand series, each of which can have more than 50 templates selling at RMB 4,000 each," said Huo Runcai, head of the Nine-Color Wardrobe design studio in the center. Huo explained that the studio's mainstay is children's down jackets, and that it usually takes the team only one month to complete designing one line. Huo added, "I sold all our old company's sample production equipment, because the center has all that here and we can use them for free. Now the only thing I need to attend to is the design, and I've already cooperated with many big brands, such as Disney and Nishimatsuya."
With the rise of e-commerce, Zhili's online children's clothing market is taking shape on the basis of its massive traditional children's clothing industry. In 2017 alone, Zhili children's clothing achieved online sales of RMB 7 billion. In 2012, the town of Zhili and the Alibaba Group decided to carry out strategic cooperation after much negotiation, jointly creating the Alibaba-Zhili Industrial Belt. This became the first industrial belt in China on Alibaba's industrial cluster platform. As of the second quarter of 2018, there were 4,725 businesses in the Zhili Town Industrial Belt. Three villages in Zhili – Dahe, Hexi, and Qinjiagang – have become famous for their businesses on Taobao, Alibaba's online sales platform. By the end of 2017, there were nearly 2,000 e-commerce businesses in these villages.
Ma Weizhong was one of the first people in Zhili to own a children's wear business. Now, his company BYCR sells children's clothes abroad through the Internet, making him the first local resident to try cross-border e-commerce. "In the past," he said, "We opened our store in front of the factory. I still clearly remember myself squatting in front of the store packaging up clothes to be sent off every day." Now, his company has set up an e-commerce department and developed its own e-commerce platform, exporting products to more than 10 countries and regions. And he has also set up design branches in domestic first-tier cities. At present, BYCR has eight outlets in overseas e-commerce markets, with sales exceeding US $1,000 per day.
In addition to becoming an industry leader, Zhili also has made detailed plans for the future of the children's clothing industry. The town is planning together with the Hangzhou Vocational and Technical College (HVTC) to jointly set up the China Children's Wear College as a branch of the HVTC in Zhili, Huzhou. Its goal is to train highly qualified talents for the industry and solve the human resource conundrum. The town is also planning to build a corporate headquarters park for listed children's clothing companies. The park, with a total area of 165 acres, aims to attract business nationwide and gather the best of China's children's clothing brands, thus helping to speed up the transformation of Zhili from being a famous production center of children's clothes to a center of big influence in the industry. Zhili will also build a children's clothing logistics park in accordance with the industry's demand for integrated storage, distribution, management, settlement, and operation. It aims to establish a modern logistics base with warehouses for the country and even for the world, featuring large scale, timely information feedback, and advanced operation.
Venturing into the Electronic Manufacturing Industry
In Zhili, there is a special group of people whose parents surfed high on the tide of reform and opening-up and became successful private entrepreneurs. However, they are not satisfied with relying on the fruits of their parents' labors, and desire to create their own independent careers. Compared with the label of "rich second generation," they prefer being called the "innovative second generation."
In the summer of 2017, Zhejiang Tony Electronic Co., Ltd. was listed on the Shanghai Stock Exchange. Shen Xinfang and Shen Xiaoyu, the father and son duo who founded the company, beat the celebratory gong together for the first time. Seventeen years ago, the company only weaved fabric for clothes, but now it has successfully transformed itself into "spinning" the world's first-class ultra-fine alloy threads.
The predecessor of Tony Electronics was a woolen sweater factory. In 2001, Shen Xinfang and his son Shen Xiaoyu set up a sweater factory called Dachao Knitting. Facing the downturn in the domestic clothing industry, Dachao Knitting was able to maintain an annual output value growth of four percent and became a designated supplier for many well-known brands, increasing its annual output from hundreds of thousands of pieces to 1.2 million with a sales revenue of tens of millions of RMB.
In the true spirit of a craftsman, Shen Xinfang's son Shen Xiaoyu came up with a bold plan during a trip to South Korea to transform the factory into making alloy wires. In fact, it's something he has inherited from his father's philosophy of manufacturing.
"In 2005, when I went to South Korea for business, I first came in contact with ultra-fine alloy wires, and the prospect of the industry inspired me. I wanted to give it a try," Shen Xiaoyu said. Later when he learned that the wire to be imported was expensive, he immediately recognized it as a chance for domestic production. But to realize this, his company had to face an intelligent cross-industry transformation.
Compared with his father, Shen Xiaoyu is a man of few words, but his earnest spirit made his father determined to support his new plan for the company. He was responsible for product R&D, process control, and market development when the company was a woolen sweater factory. "I like working in R&D," Shen Xiaoyu said, "Now I am still in charge of the company's R&D work."
Judging from the global changes in the apparel manufacturing industry, the father and son's decision to move from the labor-intensive industry that is losing its comparative cost advantage to the automated electronic manufacturing industry was the right choice.
Diamond wire is an alloy wire used for processing and producing high-end mobile phone screens. Foreign competitors had already made it as thin as 0.1 mm, while Tony Electronics has managed to push it further to the astounding 0.06 mm. The key behind the miracle is Tony Electronics' enterprise spirit of "changing the future with intelligent manufacturing." Today, the company has become the core supplier of the world's strongest enterprises such as Apple, Siemens, Tyco, and ABB.
Although Tony Electronics has managed to make a name for itself, it encountered many difficulties at the beginning of its business transformation. In order to break the monopoly of foreign companies, it independently developed its own automatic production line of diamond wires. General Manager Shen Xiaoyu and his R&D team worked tirelessly behind closed doors for months in Shanghai, and finally delivered its original equipment at a cost of only RMB 0.7 million per set, while the imported Japanese equipment on the same level cost RMB 5 million.
In promoting "intelligent manufacturing," the company pinches pennies on the one hand, but behaves generously on the other. In recent years, it has invested RMB 48 million in the construction of smart manufacturing platforms. "In the context of globalization," said Shen Xinfang, "it is the responsibility of every manufacturing company to restore the competitiveness of 'made in China.' And to change the future with intelligent manufacturing, what we need to do is to make the production lines more resourceful."