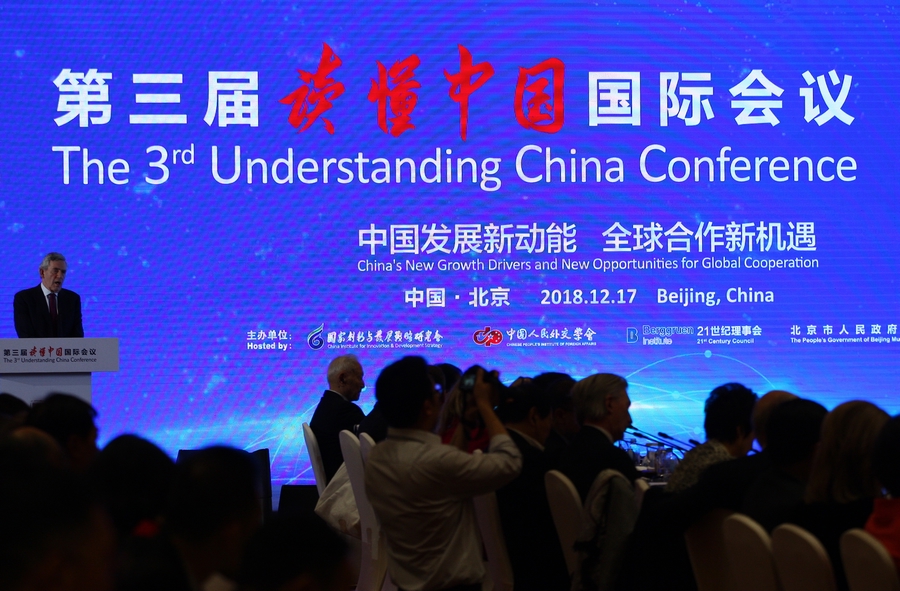 Former British Prime Minister Gordon Brown giving a speech on December 17, 2018 at the 3rd Understanding China Conference.
Stephen Roach
"China is a unique case study for me as an economist."
This quote was taken from an interview with Stephen Roach by China Today during a tea break at the ongoing Third Understanding China Conference held in Beijing.
Stephen Roach, a renowned American economist, is currently a senior fellow at Yale University's Jackson Institute for Global Affairs and a senior lecturer at Yale School of Management.
Believing that human beings can predict the future based on what has taken place in the past, Roach has devoted much his career to studying the future development of the Asian Pacific. Besides this, he also teaches classes at Yale on the study of China, focusing on the next 40 years.
During the interview, he told China Today that China's reform and opening-up from 40 years ago to the future means a lot to him personally, "It matters to me personally, because I am an economist, and it's fascinating for me to study how China has risen to the occasion over the last 40 years, what it has done, and how it has articulated a vision for the future. It's a unique case study for me as an economist."
Roach further disclosed that setting aside all the fame and glories derived from opening up to the outside world, the road is still long. Domestically, the biggest challenge for China is fully implementing its reform plans. While internationally, "I think there's a lot about China that the world does not understand", he noted. Mutual understanding is undoubtedly the foundation for teamwork in the international community. In his eyes, it's extremely important for the rest of the world to work on deepening its understanding of China.
But how can that be made possible? Roaches said, "I think to engage other communities in the world, it would be good to have conferences like this 'Understanding of China' in the United States, in Europe, in Japan. A broad consensus among people is important. The challenge is to convince those outside of China." The key areas about China that should be discussed include China's innovation, manufacturing services, etc.
Nathan Gardels
"If China slows down, America slows down, and the whole world slows down."
Nathan Gardels is co-founder of and senior advisor to the Berggruen Institute. He serves as editor-in-chief of The WorldPost and New Perspectives Quarterly. He is also a member of the Council of Foreign Relations, and the Pacific Council on International Policy.
Speaking of China's growth and opening-up, Gardels said, "As Zhu Min, [former deputy managing director of IMF] was talking, China's growth and opening-up is important to the whole world, because if China slows down, America slows down, and the whole world slows down. So continuing reforming and opening-up into the future is important for the goals of our world."
Regarding the influence of China's growth on his personal life, Gardels noted that U.S.-China trade tensions have directly impacted him.
"For me personally, the current trade tensions are hurting my stock investments. I work in the state of California; they threaten the tax revenues that come from a strong economy. So failure of policy on this front has many ramifications, as Zhu Min said, maybe not today but by 2020 in two years."
Dawn Nakagawa
Looking forward to Sino-U.S. cooperation in AI
Dawn Nakagawa, former executive vice president of the Pacific Council on International Policy, is now the executive vice president of the Berggruen Institute.
"Amazing" is the first word that popped up as Nakagawa passionately described China's 40 years of reform and opening-up. She views the 40 years from a humanitarian perspective, looking how life is changing for the better in a lot of ways for Chinese people, and the government's decisiveness 40 years ago takes the credit of everything that we see today.
"I think it's a good example to the world. I also think the way that China was 40 years ago and what it's growing into is really important for the people of China. So that's great."
As regards to cooperation, Nakagawa, who is familiar with China's development, especially in the innovation area, said that of all the areas for cooperation, she really looks forward to seeing cooperation in AI and genetic engineering, as these are very powerful technological fields. "There are a lot of cautions in the way those are developed and I hope there's more international cooperation around how to do that effectively and humanely, and ensure that what we care about as humans is preserved, as we can only do that by working together, particularly the U.S. and China, which have very strong AI agendas."
"I think AI is a fantastic technology, but it's gonna be a big impact on our society, and we need to think carefully about what we want out of that, so as to avoid some unintended consequences." She also expressed her worries over an increase of competition instead of cooperation in the whole world, including China and U.S., and called for global responsibility to cooperate more, and compete less.
This year also marks the fifth anniversary of the Belt and Road Initiative. Nakagawa said that the execution of the initiative is no easy work, and in her eyes, "I think it's a good intention as countries come together to create great projects to connect each other, and that is good for cooperation and world peace."
Bajnai Gordon
"Hungary needs to be more able to export to the Chinese market."
Bajnai Gordon is a Hungarian entrepreneur and economist, who was Prime Minister of Hungary from 2009 to 2010. He spoke highly of the significance of the Understanding China Conference for him and his country, realizing that understanding China is increasingly important. To him, occasions like this help rectify the misperceptions that still dominate today.
"One part of the world believes that China's emergence and rise is threatening it, while China believes that other parts of the world are trying to block it from emerging. Neither of these understandings are right. We have to find common interests."
As a politician and economist who knows both China's history and present, he said that China is now gradually regaining its global role that it had hundreds of years ago. That means the world needs to embrace it, to understand the meaning of it and adapt with each other. And from technological to agricultural industries, China has already made excellent achievements in these areas.
Gordon favors the huge consumer market of China. In his eyes, China is a strategic direction in terms of economy and people-to-people exchange, and Hungarians need to improve their understanding of China. "We also need to be more able to export to the Chinese market as China is opening up and reforming its economy, which will allow more and more Hungarian products, we hope to sell more goods as well as technologies here."
Güven Sak
"Chinese opening-up matters to us"
China's reform and opening-up has a different meaning to Güven Sak, a Turkish economist, academic, and founder and managing director of the Economic Policy Research Foundation of Turkey (TEPAV), as Turkey adopted a similar opening-up policy at the same time.
"I'm from Turkey, so the Chinese opening-up matters much to us because Turkey also started opening-up in the early 1980s, together with China. But we have different routes, and yours seems to be successful, so I'm going to do some comparison to try to understand the differences."
For him, China's new technologies, especially improvements in the AI technology and digitalization-related areas are the most inspiring and thought-provoking.
Besides this, as Turkey is a participating country of the Belt and Road Initiative, Sak is confident that there will be more areas of cooperation between China and Turkey in the coming years.