"Man is what he eats" – this quote by the German philosopher Ludwig Feuerbach (1804-1872) seems even more relevant today when many industrialized countries are focusing on nutrition and physical fitness. This trend also ultimately reflects the prosperity of these countries.
Since China is also a land of food, a closer look at the dinner table provides us with a deeper insight into the soul of the people and the level of development of the world's second largest economy since its reform and opening-up policy was introduced 40 years ago.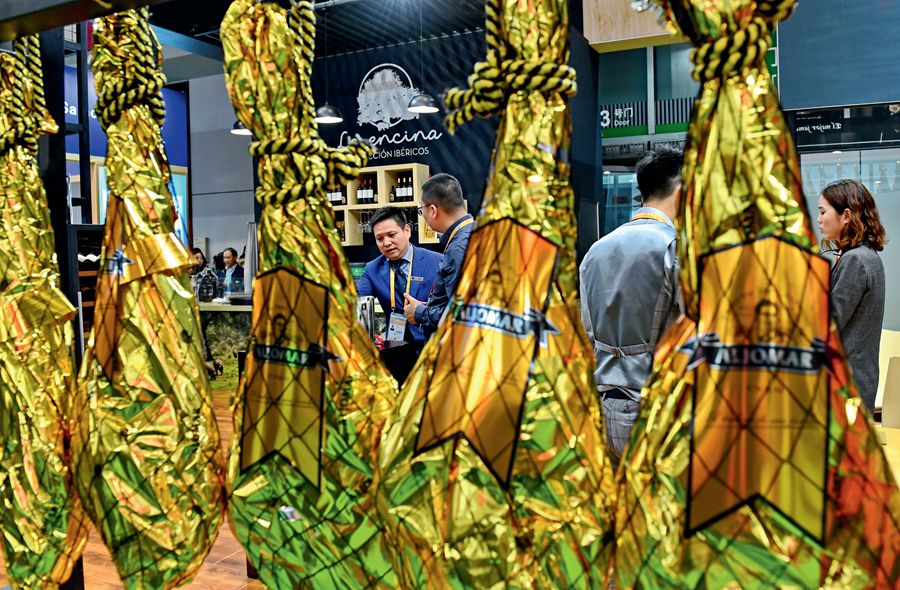 Ham from the Iberian Peninsula: Spain is also represented at the CIIE in Shanghai.
The gap between food types on the supermarket shelves and dining room tables in the East and West has been narrowing for a long time. This became impressively clear at the first China International Import Expo (CIIE), which took place from November 5 to 10 in Shanghai. Not only were high-tech and the latest models from international automobile manufacturers on display, the crème de la crème of the food industry was present in the economic metropolis of east China. Two main halls of the National Exhibition and Convention Center (Shanghai) were reserved for foreign food manufacturers of all kinds, and both halls were fully booked to the last square meter.
If you take a look at the statistics of the Chinese customs authorities, it is hardly surprising that foreign grocery companies showed such a large presence at the CIIE premiere in Shanghai.
According to their data, the Chinese consumer demand for imported food has been going in only one direction for several years — upwards. Last year alone, food and beverages worth US $58.3 billion were imported to China, 25 percent more than the previous year. The average annual growth rate over the past five years was 5.7 percent, according to the statistics.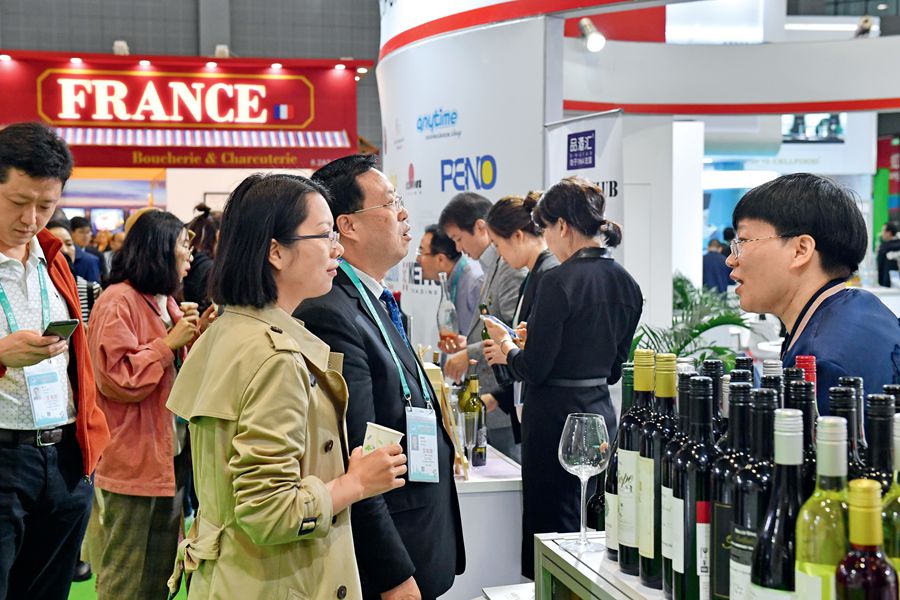 Getting a taste: Expo visitors try French wines.
China's most important food supplier is still the European Union, followed by the United States, New Zealand, Indonesia, and Canada. According to the Chinese Chamber of Commerce, the most popular imported groceries from Europe, apart from cheese, assorted milk products, premium ice cream, and baby and infant food, are olive oil, pasta and pasta sauce as well as alcoholic beverages, packaged biscuits and snacks, coffee, frozen meat, and seafood.
"The fact that more and more foreign food is consumed in China reflects the country's growing prosperity and the new demands of Chinese consumers," says Phillip Chilton, head of International Business at Nestlé Waters China.
The Swiss global corporation Nestlé, which ranked 64th in the list of the Fortune Global 500 companies in 2017, exhibited its products at the CIIE in a large booth. The company has been selling its famous beverage brands of Perrier and San Pellegrino to China for more than 20 years now, initially through a distribution partner in Hong Kong and, since the end of 2016, an additional partner in China's mainland.
The global company and its employees have been able to closely witness the changes in the Chinese food market over the years. Chilton says, "In the beginning, our goal in China was simply to achieve a similar sales volume with our beverages as in Hong Kong." But then sales grew by leaps and bounds. "We first overtook Hong Kong, then South Korea, and finally even Japan," says the American, who has lived and worked in Shanghai for five years. Today, China is Perrier's fourth largest market after the U.S., France, and Canada.
Prosperity Brings New Habits
Perrier's triumph on the Chinese market seems all the more astonishing in view of the fact that Chinese people traditionally don't drink any sparkling mineral water at all, and certainly no cold water. In the beginning, Perrier products were only found in upscale hotels, restaurants, and a few premium supermarkets. The consumers were also mainly foreigners.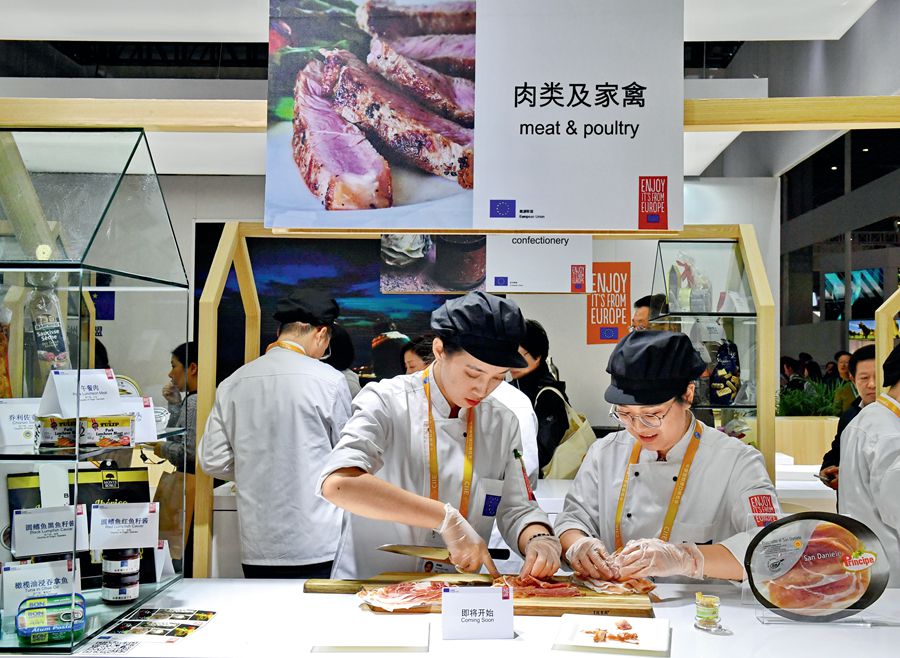 More variety on the plate: Thanks to closer trade relations, more imported grocery products find their way to Chinese consumers.
Today, however, the picture is quite different. Perrier's green bottles can now be found in convenience stores all over the country. Chilton sees the breakthrough of the brand as the result of China's rapid development and the change in lifestyle it has brought with it.
"For one thing, the Chinese have become wealthier. Today there is a big group of middle-income people with high purchasing power in China. Secondly, Chinese people today attach greater importance to quality food. In other words, China has reached a development phase in which people already own houses and cars, and suddenly other things become more interesting for them, for example travel and education, as well as fitness and health, and that includes eating better," Chilton points out. One consequence is that people buy less sugary drinks and look instead for healthier alternatives.
But is it really that easy for foreign food producers to score in a vastly different cultural surrounding like China, where people's eating habits are very different from the West?
"What has certainly made it easier for us to reach our customers in China is that Perrier water comes in a variety of different flavors. Thus, our mineral water is perceived as a beverage here and therefore seen as a healthier alternative to cola and other soft drinks. This makes our product much more accessible to Chinese customers," says Chilton.
In contrast to many other countries, Nestlé's business in China is dominated by flavored sparkling water, especially the citrus flavors, says the American.
Niche Products Pushing Their Way into the Market
The growing trend towards healthy diet among China's middle-income population – which comprises an estimated more than 400 million people in the country and is expected to reach 700 million by 2025 – is also benefitting many other European food producers, among them the dairy giant Arla.
The Danish company has been active in China for a decade now and focuses most of its business on baby food and UHT milk products, says Bob den Hartog, head of International Key Accounts & New Customers / China of Arla.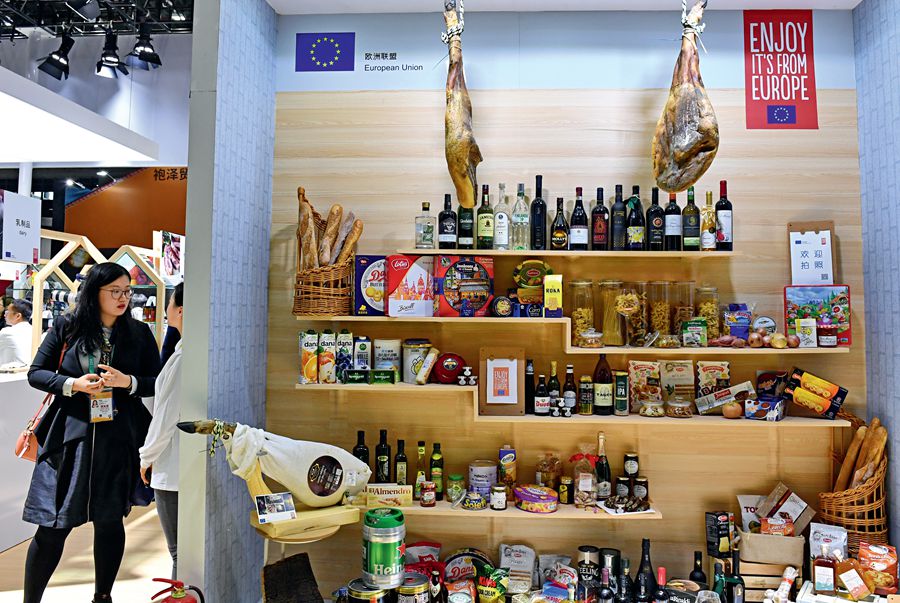 More than 150 premium foods of six categories are on display at the EU booth. Photos by Yu Xiangjun
At the CIIE, Arla particularly promoted its organic milk with new packaging. According to Hartog, "We are the world's largest producer of organic milk and see a huge potential in the Chinese market in this respect." The Danish company sells more than 100 million liters of milk in China every year.
The great potential of the Chinese market has even attracted manufacturers of products which don't appear at first glance to be suitable to Chinese customers. The Swedish Lantmännen Group, for example, was also represented at the fair with its FinnCrisp knäckebrot, despite the fact that Chinese palates traditionally prefer soft breads like the steamed bun called "mantou" or stuffed baozi, a steamed bread-like dumpling with different fillings.
"Our products from the rye series are certainly still a niche product for fitness enthusiasts in China at the moment," admits Ouyang Jiaqian, sales director for Asia at Lantmännen. It will certainly be a few more years before Scandinavian crispbread is crunched by Chinese consumers on a regular basis, she says. In this regards, some intercultural culinary educational work is necessary to be done, says Quyang.
"In Europe, crispbread is not eaten purely by itself. Customers naturally cover it with cheese or salmon. But in China, on the other hand, not every family has cheese, butter, or jam in the fridge. So we not only need to explain to our customers how knäckebrot is normally eaten in Europe, but also share with them ideas on how to combine it with Chinese food culture, for example soaking it in soy milk," Ouyang says.
"When it comes to food, Chinese are naturally keen to try new tastes," says Hein Raijmakers, marketing director of the dairy producer FrieslandCampina. Despite the Western prejudice that Chinese people do not like cheese products, the Dutch manufacturer has been recording growth in sales of its cheese products on the Chinese market for years.
"Although we still do our main business in China with milder cheese types and children's cheese, contrary to common misconceptions, we also sell cheese of stronger flavors as part of our Chinese product portfolio," says the Dutchman.
Cultural Exchanges Promoting Lifestyle Products
In the end, Chinese consumers desire to add a piece of foreign lifestyle to their shopping carts with imported products, says Charles Arthur Smith, Southeast Asia brand ambassador for tea manufacturer Twinings. English Breakfast Tea and Earl Grey are among the bestsellers in China for the English company, which has been active in the Chinese mainland since 2000, he explains.
With its products, the company hopes to transport a piece of English lifestyle and English tea culture to China, the home country of tea, and thus contribute to culinary cultural exchange, says Smith. At the company's CIIE booth, the company played several daily shows that introduced visitors to English tea etiquette. "There is great interest in Western lifestyle in China," says Smith.
There is another reason why more and more foreign groceries find their way into Chinese shopping baskets: with the increasing opening-up of the country, there has been a noticeable increase of Chinese people who travel abroad. While they are abroad, they come into direct contact with foreign food products and eating habits, says Season Wu, general manager of Guangzhou Nice Trading Co., Ltd.
Wu wants to use the CIIE as a platform to bring a piece of traditional candy culture from Germany to China. For this purpose her Guangzhou trading company signed a contract with the famous German marzipan brand Niederegger from Lübeck. "Here at the CIIE, people come to our booth and tell us that they know about Niederegger marzipan from their visits to Germany or through German friends," says the female entrepreneur.
Although German marzipan with its strong almond taste is still unknown to many Chinese people, with the increase of exchanges between China and Germany, it is much easier today to market German culinary delicacies in China than it was 10 years ago, says Wu. Back then, Niederegger attempted to enter the Chinese market, but without much success. By now, the Chinese market is ready for new, high-quality sweets like German marzipan, says Wu.
Better Infrastructure and Simplified Processing
In the end, the new distribution opportunities of the Internet age also provide business opportunities for foreign food companies in China. "We owe the steadily increasing sales of our products not least to the growth of Chinese e-commerce," says Wong Yuzheng, general brand manager at Twinings.
"Online trading and the improved infrastructure in central and western China enable us to reach even more remote regions, whereas in the past we concentrated primarily on major cities like Shanghai, Beijing, and Guangzhou," says the company representative.
The Chinese government is also using many measures to further facilitate market access to food importers. In order to speed up transport – critical for food imports with limited shelf life – many customs authorities have set up "green channels" specifically for imported groceries and also simplified import procedures for foodstuffs.
Nestlé's Phillip Chilton says, "Previously, customs clearance of our products, including hygiene certification, took about a month. Today, the process in Shanghai takes only 72 hours, which is really impressive. As a company, we can clearly see that things are going in a very good direction in China."
Another positive signal for more market openings was given by the Chinese government on July 1 this year, when China's duties on consumer goods and automobiles once again were massively reduced in order to boost imports. Customs duties on 1,449 taxable consumer goods were reduced from an average of 15.7 percent to 6.9 percent, including household appliances, beverages, cosmetics, and pharmaceuticals.
"This year alone, import tariffs on bottled water have been reduced in two phases. In January 2018 they fell from 20 to 15 percent and from July 1 onwards they were reduced further to five percent," says Chilton.
All this is likely to result in even more diversity on Chinese tables in the future as well as more good business opportunities for foreign food companies in China. At any rate, the CIIE in Shanghai has the potential to establish itself as an important event in the calendar of many food companies.
Bob den Hartog of Arla concludes: "The CIIE has proved to be a very well organized, professional exhibition, which offers great potential for us as a foreign company to come into contact with new customers." He assumes that the company will be back in 2019 to attend the second CIIE.