THE first China International Import Expo (CIIE) wrapped up on November 10 with a vast quantity of trade deals concluded. China enters a historic era, transitioning from an export power to a key import market. Amid rising trade protectionism, the CIIE, launched as a major move to further its opening-up, serves as a tangible support of globalization and free trade.
Official data from the CIIE Bureau shows that deals for intended purchase of goods and services within a year at the expo reached a total of US $57.83 billion, which is undoubtedly only the tip of the iceberg of the import market in China. According to Sun Chenghai, deputy director of the CIIE Bureau, among the deals for intended purchase of goods and services, the high-end intelligent equipment section of the expo secured the largest amount of deals worth US $16.46 billion, followed by US $12.68 billion in food and agricultural products, US $11.99 billion in automobiles, US $5.76 billion in medical equipment and healthcare products, US $4.33 billion in consumer electronics and appliances, US $3.37 billion in apparel, accessories and consumer goods, and US $3.24 billion in services.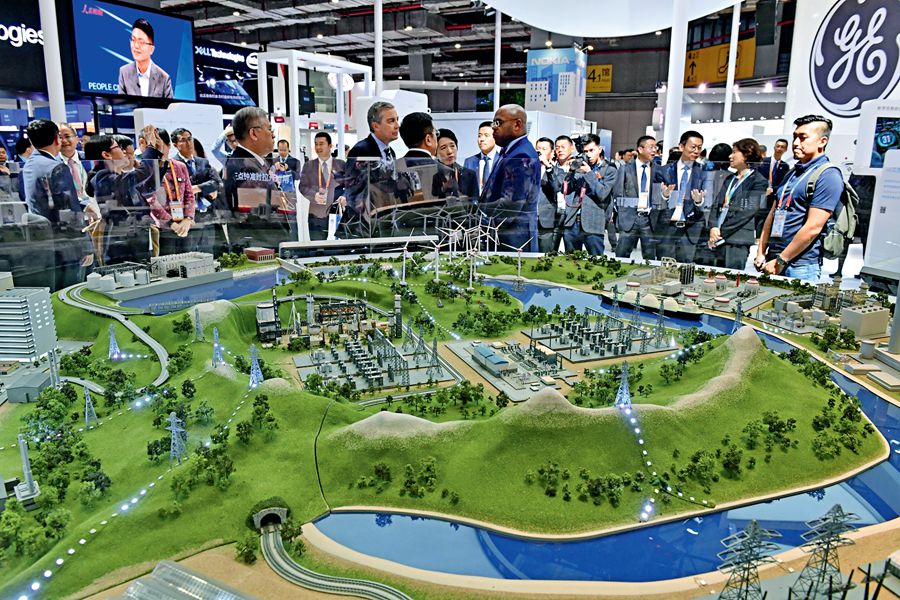 General Electric displays its products and solutions in the fields of medical equipment, aviation, electricity generation, renewable energy, oil and gas, and intelligent manufacturing at the first CIIE. Yu Xiangjun
With the theme, "New Era, Shared Future," the world's first national-level import expo attracted the participation of over 3,600 companies worldwide, attendees from 172 countries, regions and international organizations, as well as 400,000 purchasers.
As President Xi Jinping pointed out in his keynote speech at the opening ceremony, the CIIE is not China's solo show, but rather the performance of a chorus involving countries from around the world.
A Fabulous Platform for Showcasing Openness
Aeromobi's flying cars, Omron's Forpheus ping-pong robot, L'Oreal's makeup-applying robot... many innovative hi-tech products were on display at the expo, turning it into a feast for tech fans. It was learned that 500 kinds of new technologies, products and services premiered at the expo, showing new global trends in various fields.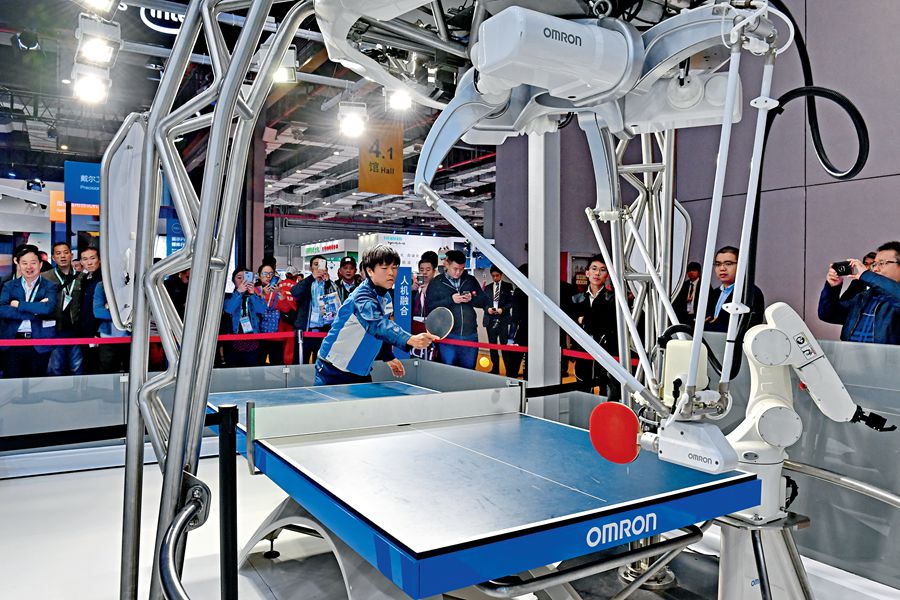 Omron's Forpheus ping-pong robot, the world's first robot table tennis tutor named by Guinness World Records, shows its aptitude in a contest with a human player. Yu Xiangjun
At the expo, China Today's reporter came across a robot, which not only serves you but also converses in a human voice. It attracted crowds of visitors who passed by. At the booth of Sodexo, a world-leading life service provider headquartered in Paris, the robot UU answered questions from a crowd, ranging from what was the temperature of Shanghai to analysis of the stock market. But regardless of the question that was asked, UU was not daunted by any of them.
UU is a service-oriented robot, which combines reception service and AI technology, according to Martin Boden, president of Sodexo in China. It has the function of receiving visitors and checking on work attendance via face identification, and can also amuse visitors with dancing and singing, he said.
"We were very proud to be invited to participate in this wonderful event. It's great to see so many different companies from so many different markets coming together here in Shanghai to demonstrate their goods and services. I think the general feeling of everyone who attends this expo is the great opportunity present here in this great market of this great country. We've met so many new people and made so many new connections. It's such a great thing to be involved," Boden told China Today.
At the expo, Sodexo tried to demonstrate how it brought quality of life services to its customers by bringing together technology and the human touch.
"We've had a great experience in China since we came here in 1995. As a company, Sodexo has been a huge beneficiary of China opening up its markets to foreign investment. So everything that we have seen so far is very positive to our ambition of bringing continued quality of life services to China," Boden said.
Poland-based Rafamet Machine Tools finalized a supply contract during the expo. "We signed a contract for the supply of the Above Floor Wheel Lathe UFB 125 N for the Beijing subway," Rafamet's president and CEO E. Longin Wons told China Today. The company's products started to enter the Chinese market about 10 years ago, and have been used in Chinese bullet trains.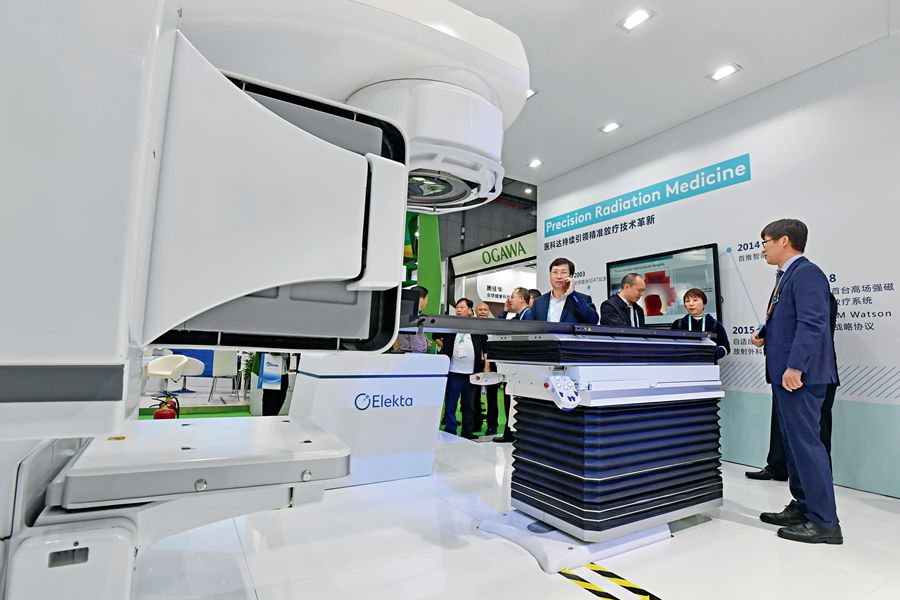 The high definition dynamic radiosurgery era is ushered in at the first CIIE. In the picture a new-generation smart digital platform for versatile radiotherapy is on display. Yu Xiangjun
"China has the largest railway market in the world. And the country's network of high-speed railways is peerless across the globe. So this is our most important market," Wons said.
A Huge Market Teeming with Infinite Opportunities
In the clover-shaped venue, the National Exhibition and Convention Center (Shanghai), food and agricultural products occupied two out of eight halls at the expo. The food booths were very popular for food tasting as the booths always attracted crowds of visitors. The booth for the Irish Food Board was no exception since they offered samples of cooked beef.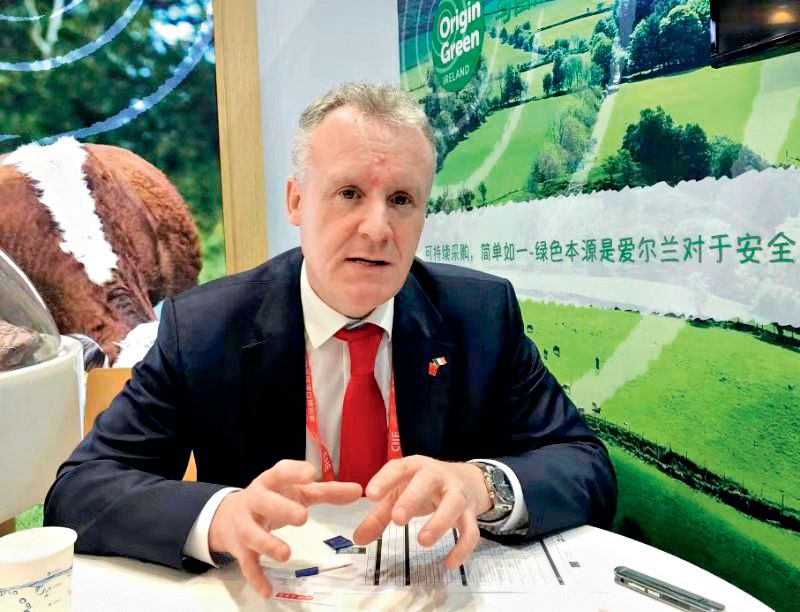 Declan Fennell, manager of the meat department of the Irish Food Board.
"What's new and exciting for us is that our beef got market access in China this year. We were the first EU member country to get market access," Declan Fennell, manager of the meat department of the Irish Food Board, told China Today. At the expo, the Irish Food Board had a representation of 11 Irish dairy, pork, and beef companies.
In 2017, China became the third largest destination for food and beverage products from Ireland with its export volume to China reaching €910 million, more than doubling in four years. Now, China is the second largest export market for Irish pork and dairy products.
"A small country on the western side of Europe, Ireland produces one percent of all liquid milk in the world, and generates 10 percent of all infant formula around the world," Fennell said. He accredited this achievement to Ireland's natural environment and its food safety inspection system.
Chinese mothers are very familiar with Irish infant formula milk powder, like Wyeth's Illuma. It was learned that at the expo, the Irish Food Board signed a strategic cooperation memorandum with Wyeth. The latter promised to import RMB 20 billion (US $2.88 billion) worth of products from Ireland in the coming three years.
"We've seen that as Chinese consumers get wealthier, their demands for quality have increased in the last 10 years. In addition, we've seen the range of products that we can sell to China increase dramatically. If I put it like this, our total food and drink exports in 2017was €12.6 billion, and nearly €1 billion of that amount came from China," Fennell said.
About the importance of the Chinese market to the Irish agricultural and food sector, the China market specialist of the Irish Food Board Conor O'Sullivan's reply is succinct and gets straight to the point, "China is the future." He further elucidated that the huge Chinese population and the development level of its cities show great market potential.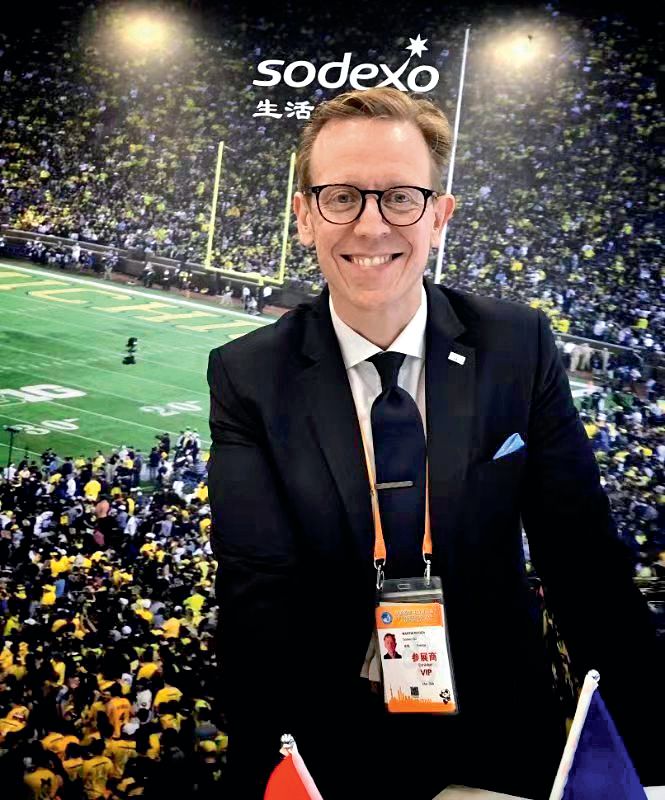 Martin Boden, president of Sodexo in China. Photos by Zhang Hui
Blackmores, an Australia-based natural health company, is another company that sees China as an extremely important market. "We see a very significant opportunity for foreign healthcare brands in China because I think there's a very strong focus among Chinese consumers to have a healthier lifestyle. You know China has something that's called Healthy China 2030 initiative, introduced by the Chinese government in an effort to get people to focus more on nutrition and healthier lifestyles. We think that Western vitamins and supplements have got a role to play in nutrition in China," Blackmores' managing director of Asia Peter Osborne told China Today.
Osborne thinks there is a high level of complementarity between traditional Chinese medicine and Western complementary medicine.
Since its entry into the Chinese market in 2012, Blackmores' business has enjoyed a strong growth momentum. "The healthcare category is probably growing at 20 to 25 percent a year. That's the strongest of any of our markets, very strong growth. We expect it to keep growing, and will continue to invest in the market."
A Closely-Connected Community with a Shared Future
There was an interesting anecdote that happened at the expo. According to Xinhua News Agency, on November 5, while touring the country pavilion with many heads of state and government, Xi invited the Laotian and Vietnamese prime ministers to have a simulated ride on the Fuxing, China's latest generation of high-speed trains, which runs at 350 km per hour. Both guests were impressed by the speed. Looking on from the side, the Russian Prime Minister Dmitry Medvedev also exclaimed: "So fast!"
In response, Xi said, "We are all on board."
This anecdote echoes the current situation of the world. Globalization has closely connected all countries and regions. Recognizing that fact, Xi emphasized in his speech at the CIIE opening ceremony, "China will not stop its effort to pursue an open world economy. And China will not stop its effort to pursue a community with a shared future for mankind." While indicating his firm support for free trade and the multilateral trading system, President Xi also declared that China's new measures to broaden market access will increase imports, foster a world-class business environment, and further its opening-up. The speech has undoubtedly boosted foreign companies' confidence in the Chinese market and also became a hot topic at the expo.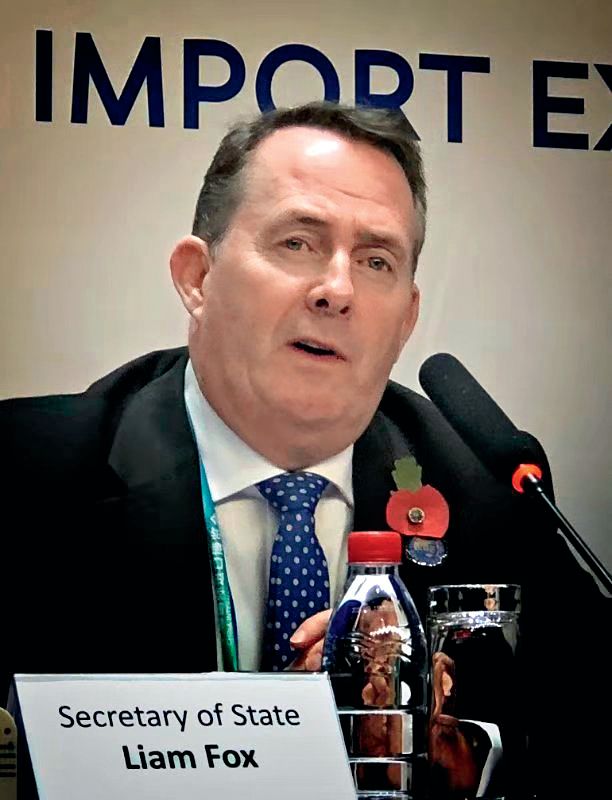 Liam Fox, U.K. Secretary of State for International Trade.
Responding to President Xi's emphasis on the importance of innovation for trade and economic growth, and talking about the prospect of China-U.K. cooperation in this field, U.K. Secretary of State for International Trade Liam Fox told China Today, "Innovation is key in every area to continue improvements in trade. It improves our efficiency, and generally widens the availability of technology. Combining innovation and trade together provides a wide range of goods at ever more affordable prices to a wide range of people."
This is Fox's fifth visit to China this year. He said his frequent visits underscore the commitment of the U.K. government towards a strong bilateral relationship with China. Fox said, "We welcome China's ongoing efforts to open up, increase imports of both goods and services, and improve the business environment. We welcome President Xi's calls to relax investment restrictions in the education and healthcare sectors. I'm looking forward to a clear timeline for liberalization. At the same time, we also encourage China to further deepen its opening-up efforts."
Fennell of the Irish Food Board said that trade liberalization was the key message he got from Xi's speech. He believes that the Chinese business environment will become more open and transparent. "The signals are all positive. We've felt China's determination to further its opening-up and witnessed real moves in that direction. And our beef's entry into the Chinese market is an example of this," Fennell said.
Chairman of Roche Holding Ltd. Christoph Franz endorsed Osborne's view about China's improving business environment. He said, "For example, we have seen a much faster approval of various new and innovative medicines by the Chinese health authorities."
"The first CIIE is a milestone in history for encouraging imports to China. It sends out a very positive signal to the world, and I can only compliment the country for this leadership role it has chosen to take. I have been impressed by the strong commitment which the president has shown to the world with regards to making an open, collaborative society. This is the contribution China is making towards this development," Dr. Franz told China Today.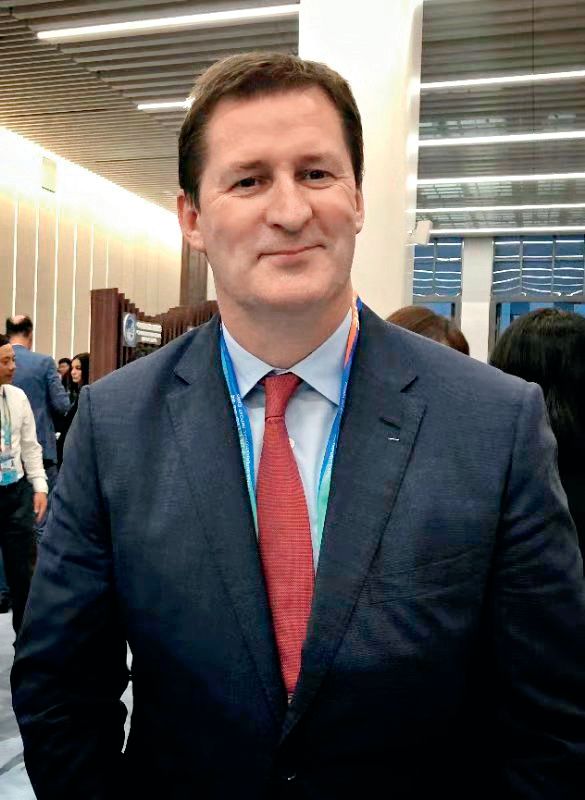 Gordon Hardie, president of food & ingredients of American company Bunge Limited.
For Gordon Hardie, president of Food & Ingredients of Bunge Limited, an American agribusiness and food company, openness was the strong and clear message sent by President Xi's speech. "You know the world lives on open trade, and innovation is driven by trade. The way forward is to open trade among all nations, delivering a level platform on which we can all grow together, and lift up the standards of living. To achieve this goal, we must realize open and free trade," Gordon Hardie said.