THE 2018 Beijing Summit of the Forum on China-Africa Cooperation held on September 3-4 yielded rich results. In particular, Chinese president Xi Jinping proposed eight major initiatives based on the 10 major China-Africa cooperation plans to be the focus for the coming three years. China and Africa enjoy complementary advantages to each other, and broad prospects for economic and trade cooperation. In line with the goal of building a community of shared future, China and Africa continue to deepen their cooperation, and have embarked on a new course in this respect.
From External Help to Intrinsic Strength
Africa is presently facing three major bottlenecks in its development: lagging infrastructure, lack of qualified personnel, and capital shortages. China, on the other hand, has accumulated a great deal of experience in the fields of technology and management over the past 40 years which can serve as a reference for African countries.
On July 22, 2015, the National Bank of Kenya launches its first branch that incorporates Chinese financial services in Nairobi Yaya Center.
In recent years, a major highlight of China-African cooperation is the building of many economic development zones, and industrial and science parks. One of them was built in Mozambique. While Mozambique has rich natural resources, it faces great challenges in transportation capacity and logistics. Beijing Urban Construction Group has built an agricultural product processing center in the country, which includes factories for processing rice, corn, cotton, etc., followed by a large cold storage. It also invested in a commercial logistics park which is under construction. Li Daosong, manager of the Group's international division, mentioned in an interview that a nation's construction needs the guarantee of infrastructure, for without potable water, power supply, and roads, one can do nothing. "For example, if there were highways and airports, the areas along and around them would develop soon," Li said. "And after the completion of the industrial park, it will greatly reduce the cost of local commodity storage and improve the efficiency of transportation. The industrial park investment is to help African people with our experience on industrial chains to improve local development models."
The industrial parks drew upon the experience of China's reform and opening-up in its construction and operation, expanded the African manufacturing industry and created large amounts of job opportunities. According to Li, by recruting a large number of local people, the Group has trained many local technicians. The number of local employees now accounts for 78 percent of the Group's staff in Africa. "We try to use as much local construction materials as possible. In this way we promote local industrialization. We also hope to increase the proportion of local employees, and train some of them to be managers, even general managers," Li added. "I go to Africa every year and have witnessed its rapid changes. I hope that Africa will eventually be able to develop its own manufacturing industry with its own resources. China-Africa cooperation is truly where shared growth and collaboration happen."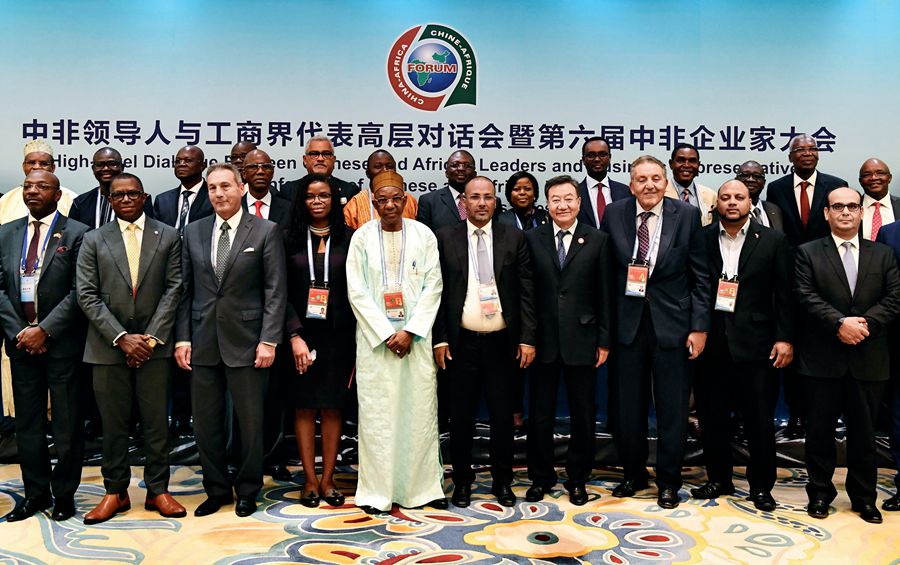 During the High-level Dialogue Between Chinese and African Leaders and Business Representatives Sixth Conference of Chinese and African Entrepreneurs, the China Council for the Promotion of International Trade signed a memorandum of cooperation with its African counterpart organizations on September 4, 2018.
The eight major initiatives China proposed support Chinese enterprises to participate in the infrastructure development in Africa by integrating investment, construction, and operation, focusing on strengthening cooperation in energy, transportation, information and communication, and cross-border water resources. They also support African talents cultivation by providing technical training, talent programs, scholarships, and invitations of visiting China for cultural exchange. This is to cultivate Africa's multi-faceted endogenous growth capacity in order to boost its economic development.
E-commerce: Facilitating Trade
Africa has the nominal advantage of being a late comer in developing the Internet and information technology, and grows up rapidly in mobile financial services. According to McKinsey's research data, half of the world's 282 mobile financial services in 2017 came from sub-Saharan Africa. Africa has one million active mobile financial accounts which support the functions of making payments and deposits, taking loans, insurance, and investment. And that number is still rapidly growing at an annual rate of 30%.
Cross-border e-commerce also plays an increasingly important role in China-Africa trade. For example, Kilimall is an African e-commerce trading platform where a wide variety of goods can be found, from electronic devices, daily necessities, clothing, bags, to personal beauty products, etc. Chinese brand items can be found easily, such as Konka, Haier, and other top brands of TV sets with various models. Since its establishment in Kenya in 2014, Kilimall now has local operations in Kenya, Uganda, and Nigeria, and has made itself an influential, trustworthy and well accepted shopping platform in these countries. At present, it has set up operation centers in Shanghai, Shenzhen, and Changsha, and become the African e-commerce representative in China.
On August 31, 2018, flowerbeds celebrating the 2018 Beijing Summit of the Forum on China-Africa Cooperation debut on Chang'an Street.
Ca-b2b.com is a cross-border e-commerce platform for China and Africa which was officially launched on June 6 of this year. The platform provides one-stop international trade services online covering product releases, legal consulting, contract signing, customs declaration and clearance, insurance services, logistics services, payment, and foreign exchange settlements. The website has a bulletin board where such information as "South Africa has an urgent need to export aloe," "Kazakhstan needs a large amount of plastics," can be seen with corresponding contact information included. Its unique online services, including customs declaration, payment, and foreign exchange settlement, also improve the convenience of cross-border trade between China and Africa.
The eight major initiatives have clearly proposed to promote cooperation between China and Africa in e-commerce and establish its mechanism. With its advantages of high efficiency and convenience, e-commerce is becoming a new channel for promoting China-Africa cooperation in trade and economic development.
Financial Cooperation: a New Highlight
In recent years, financial cooperation has become a new highlight and growth factor for China-Africa cooperation, and played its part in securing the overall development of cooperation.
In 2015, as a part of the 10 major cooperation plans, the China-Africa financial cooperation plan clearly stated that China will expand the scale of its RMB settlement and currency swap business with African countries, encourage Chinese financial institutions to set up more branches in Africa, expand investment and financing cooperation in Africa, and provide financial support and services for the industrialization and modernization of Africa. This year, the Chinese government will provide another US $60 billion to support African countries through government aid, investment of financial institutions, and corporate financing. The US $60 billion includes: US $15 billion in free aid, interest-free loans, and preferential loans; a credit line of US $20 billion; US $10 billion earmarked for development of financing; and US $5 billion earmarked for import trade financing. At the same time, China will facilitate bond issuance by African countries and their financial institutions in China. In addition to this, on the premise of following multilateral rules and procedures, China will support African countries in making better use of financial resources such as the Asian Infrastructure Investment Bank, New Development Bank, and the Silk Road Fund.
In an effort to improve financial cooperation between China and Africa, China has successively set up the China-Africa Development Fund, China-Africa industrial capacity cooperation fund, and special loans for small and medium-sized enterprises (SMEs) in Africa. The China-Africa Development Fund's investment in Africa covers many fields, such as infrastructure, manufacturing, agriculture, and industrial parks. The fund has played an important role in facilitating the investment of Chinese enterprises in Africa, and has produced good economic and social benefits. Special loans for African SMEs have now granted a total of US $2 billion to 32 African countries, relieved the difficulty and high cost of SME financing, supported many African SME projects such as agricultural product cultivation and processing, light machinery manufacturing and small commodity trade, created a large number of jobs for African people, and promoted foreign trade of African countries. Close financial cooperation and the improved mechanism and methods of cooperation between China and Africa have resulted in raising the living standards of African people and improved the infrastructure of African countries in a tangible way.