By staff reporter ZHOU LIN
"ONLY the deeds that can create social values are sustainable, able to pool the wisdom and realize a company's commercial values."
Dr. Chen Ning, a specially recruited expert of the Recruitment Program of Global Experts (also known as Thousand Talents Program) and co-founder & CEO of IntelliFusion told China Today that it was just the rule they followed.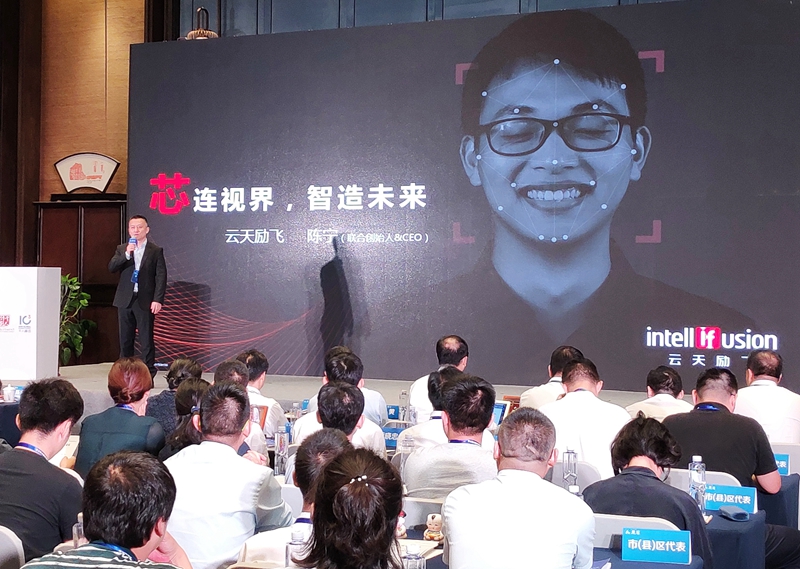 IntelliFusion's CEO Chen Ning gives a talk on the intelligent manufacturing sub-forum of the 2018 High-level Talent Innovation and Entrepreneurship Conference convened in Wuxi. Photo by Zhou Lin
Interdisciplinary Entrepreneurship
Chen Ning has a big claim to fame. The electronic engineer graduate from Georgia Institute of Technology designed the first commercial vector processor chip in China. Before his return in 2009, he had been consecutively appointed as the technology director of Zhongxing Telecommunication Equipment Corporation (ZTE) in the U.S. market, Freescale Semiconductor's senior architect, and chief representative of 4G-LTE international standard, personally owning nearly 30 internationally authorized patents with 20-plus published works and papers.
In 2009, as a member of the Technical Committee of IEEE International Conference on Computer and Communications, Chen found more Chinese attending this international well-known conference for the first time. Meanwhile, in China's mainland, a batch of domestic companies such as Huawei and ZTE were on the rise. "The telecommunications industry was booming then. I wanted to be back to China and dedicated myself to the energetic atmosphere which encouraged mass entrepreneurship and innovation," recalled Chen.
On his return to China in 2009, he was appointed the technical director of ZTE. And in five years, he had made a big breakthrough by inventing the vector processor chip with the state independent intellectual property rights and its communication application chip.
In August 2014, IntelliFusion - a technological innovation enterprise of artificial intelligence (AI) was established in Shenzhen, a southeast coastal city of Guangdong Province. The three co-founders – Dr. Chen Ning, Dr. Tian Dihong and Dr. Wang Xiaoyu were experts in signal processing and integrated circuit, video and image processing, and artificial intelligence respectively.
In the two years that followed, IntelliFusion created a product based on the technology of dynamic portrait recognition, which can accurately recognize facial information in pictures and videos. This technology has since been put into production in China and countries along the Belt and Road.
Chen said that based on a dozen years of working and entrepreneurship experience, he realized that radical innovation and craftsmanship spirit are inseparable.
His company has focused on some niche market, and intended to present products that can greatly improve tasks previously done manually, thus changing the industrial pattern.
"For instance, we applied the technology of dynamic facial recognition in the security industry, and then concentrated on dynamic portrait intelligence, combining the high-tech with professional teams to improve our new products," he said, "only a competitive product can earn a broad and bright prospect for the company."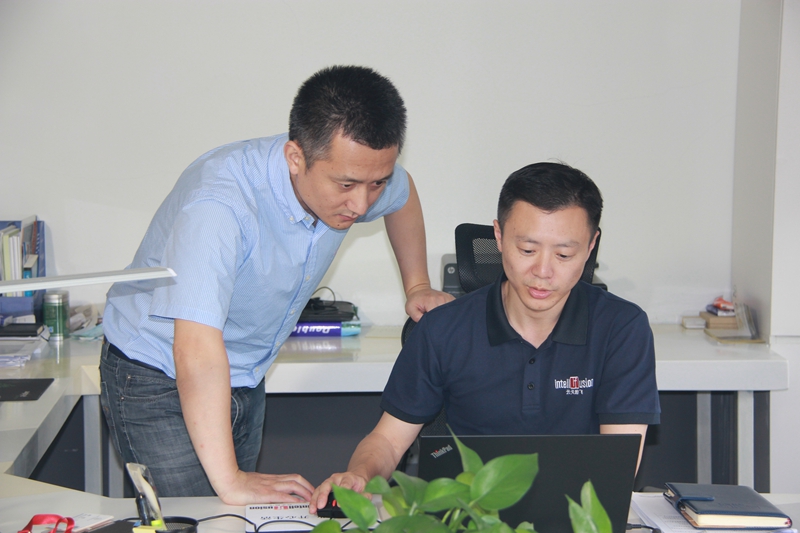 IntelliFusion's co-founders - Dr. Chen Ning and Dr. Tian Dihong discuss new research products.
Enriching Life through Innovation
On January 26, 2017, a local police station in Longgang District of Shenzhen City was informed that a three-year-old boy was lost, suspected to be kidnapped. After checking the video surveillance system of the area, the police soon discovered that the boy was taken by a middle-aged woman whose face was clearly captured by the camera. Based on the facial recognition and identification technology, the police identified the woman and found that the boy was taken north to Wuhan City in Hubei Province. Early the following morning the suspect was arrested at the Wuchang Railway Station in Wuhan. In less than 15 hours, the police successfully rescued the kidnapped boy, thanks to the facial recognition and identification system invented by Chen and his team.
This system is the first dynamic portrait recognition system in the world that can collect, search, control, and conduct deep data mining with large-scale portrait information. Since its application in Longgang District, it has helped the police solve 6,000-plus criminal cases, and this successful model has been replicated in other districts of Shenzhen and expanded to 80-odd cities nationwide including Beijing, Shanghai, Hangzhou, and Qingdao, as well as some Southeast Asian countries. As of June 2018, IntelliFusion has established over 10,000 front-end devices in the network and gathered more than 15 billion dynamic portrait data.
The same system was presented at the 2016 G20 Hangzhou Summit, Boao Forum for Asia Annual Conference 2018, and SCO Qingdao Summit, winning unanimous praise for its excellent performance in security applications.
Dr. Chen Ning showcases the company's products with dynamic portrait recognition technology.
Building AI Industry Ecosystem
The concept of artificial intelligence (AI) originated in 2006 when Dr. Geoffrey Hinton of Edinburgh University proposed the concept of "deep learning" which transformed AI from a boundary science to a core technology in giant high-tech companies in Silicon Valley. In 2012, with the industrialization of AI, numerous overseas talents rushed back to China and started their own companies, whilst some high-end specialists were recruited for national talents programs. Looking ahead, the evolvement of AI will forever change people's life experience, even accelerating the progress of human civilization.
Chen believes that China and developed nations are standing at the same point in AI development. With its large population and huge data base, China is fertile soil for AI industrialization.
"If we can ensure an open market and the sustaining introduction of high-caliber overseas talents, it is entirely possible for us to take the lead in AI technology innovation and application," said Chen. "The world is transforming from the era of Internet to that of AI, and technologies both home and abroad are not that mature. Rather than simply copying other's patterns, we should develop the e-cloud recognition and facial recognition technologies while solving problems in concrete industries, and the next step is business model innovation."
IntelliFusion has its own plan to make steady progress in this field. Centered on dynamic portrait recognition, the company will promote the algorithm optimization of visual intelligence recognition and speed up the research on high-performance AI chips. This will facilitate building a high-precision visual intelligence system with quick access to information and deep data mining, targeting multiple AI plus models, including AI plus new security, AI plus new social governance, and AI plus new retail merchandising. Eventually, a high-efficient, sustainable, and innovative AI industry ecosystem will be established together with a business conglomerate covering industrial applications in various fields.
Chen pointed out that China has a huge development potential in the field, further boosted by its huge market. He indicated that the open, inclusive and innovative environment in Shenzhen is suitable for overseas returnees to start their own businesses. A city of migrants, Shenzhen also boasts of a perfect electronic information industry chain.
Nowadays, IntelliFusion has completed its three rounds of financing, with a value assessment of nearly RMB 10 billion. As a Unicorn enterprise independently grown in Shenzhen, it aims to build up an AI industry ecosystem in its blueprint.
"Our products have already been promoted in Malaysia. We hope that technology can not only bring prosperity to China but also build a community of interests with nations along the Belt and Road," said Chen.