By staff reporter ZHANG HUI
AT the session "Put AI to Work" of the Boao Forum for Asia (BFA) Annual Conference 2018, where guest speakers excitedly discussed the current applications and future prospects of AI technology and its accompanying problems, a novel gadget on site drew people's attention – the scrolling screen on the side of the stage showing the speaker's words and the corresponding English or Chinese translation in real time. As it turned out, a Tencent mini app for simultaneous interpretation was working. By scanning the code for the mini app with their smart phones, attendees of the session could also read the transcript on their phones. This served as a fabulous example of AI application. The high accuracy of the AI's transcription was a testament to the application's technological prowess despite its just passable translation. Nonetheless, it already constituted a threat to on-site simultaneous interpreters. Attendees pondered over the impending obsolescence of the careers based on interpretation services.
At the annual BFA conference themed "An Open and Innovative Asia for a World of Greater Prosperity," innovation naturally became an important component of the conference, with a range of sessions touching on it, including "The Next Wave of Technological Revolution," "The Future of Transportation," "The Future of Production," and "Put AI to Work."
Look to the Future
With the increasing application of new technologies including AI, the fourth industrial revolution seems to have arrived. Many discussions and debates are occurring around pertinent issues and the direction this will take the world in, and this year's Boao Forum was no different.
In rail transport field, CRRC Chairman Liu Hualong predicted that transportation would be oriented towards ensuring green, efficient, smart, and harmonious experiences.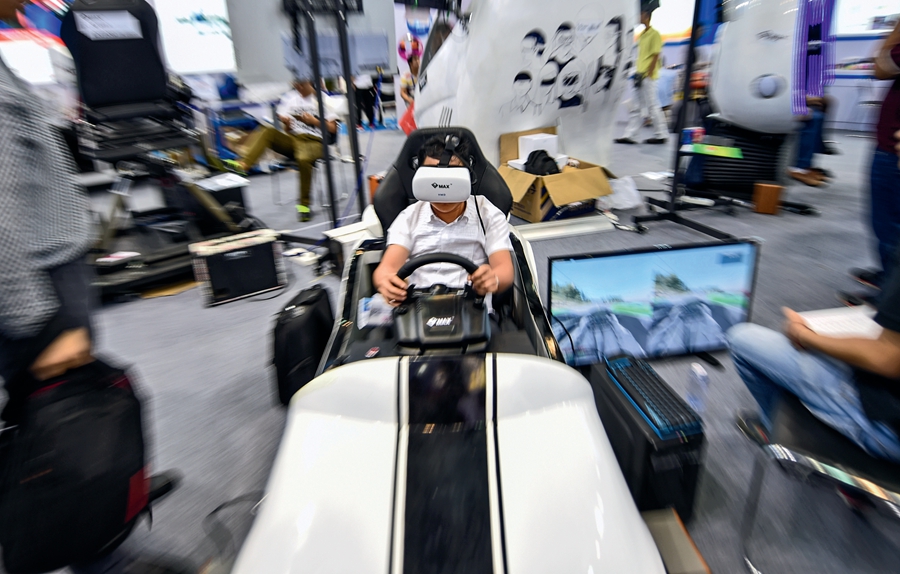 A gamer races across a virtual world in Shenzhen wearing a pair of VR (virtual reality) glasses.
"Technology will fuel green and smart development of the sector. The Fuxing high-speed train is a typical representative of innovation in China's railway sector. The train can implement self-management and monitoring throughout the entire journey and make remote control possible through the whole process. Moreover, an unmanned subway train has also been put into trial in Shanghai. Progress in technology is bound to bring industrial changes," Liu explained. He added that comfort of future vehicles would be greatly improved, and vehicles would provide access to almost everything like a remote office and shopping.
"In the future, the car will not be just a vehicle, but a mobile space," said Shen Hui, founder, CEO and Chairman of WM Motor Technology. He indicated his company would focus on services provided in the mobile space.
To the lingering smog which occurs in China from time to time, vehicle emissions are big contributors. In the view of Chairman and CEO of Broad Group Zhang Yue, to improve efficiency of energy use by vehicles, efforts should be made to lessen the weight of the vehicle.
Yasumi Kudo, chairman of NYK Group, said his company developed a new type of ship with an incredibly energy-efficient power system to reduce carbon dioxide discharge. Autopilot technology has also been applied to the vessel, which has already been put into production.
Rudolf Staudigl, president and CEO of Wacker Chemie AG, believes that by 2025 it would be quite possible that chemical products would not rely on petroleum as their major raw material, thus minimizing carbon emissions.
In the domestic appliances sector, people's demands for functional products in the past has upgraded into demands for comforts and luxuries. Chairperson of Gree Dong Mingzhu said, "I think the most important change brought by big data to consumers is embodied in services. Supported by big data, behind the scenes, technicians can maintain operation of air conditioners. If it's a big hardware problem, technicians can also diagnose it without being on site and then send workers to fix it."
With the increasing application of AI, many jobs would be phased out or morph into different ones. Allan Gabor, a permanent member of Merck's Performance Materials Global Leadership Committee, thought that to deal with the situation, companies should join hands with the government to train their employees accordingly. In his view, AI has helped improve production efficiency, but also showed its shortcomings, which makes it necessary for companies to hire well-educated people to control the smart machines, thus streamlining the whole production process.
Putting AI to Work
With the arrival of the ABC (AI, big data, and cloud computing) era, AI is seemingly spearheading innovation trends. Finding ways to realize the mass commercial use of AI technologies has come to the forefront of the public and commercial discussion.
Chairman of iFLYTEK Liu Qingfeng believes that with the increasing application of deep learning algorithms, AI will play a growing role in assisting human beings to complete various tasks in a range of fields at the premise of protecting user privacy. "AI applications will mainly cluster in various industrial sectors with personal demands being taken into consideration as well. So we can imagine in the future everyone can have an AI assistant to help you better do your work. Maybe in the beginning it might only do 10 percent of one's job, but years later it could deal with 50 percent of the work, thus greatly liberating people from laborious and repetitive tasks," Liu said.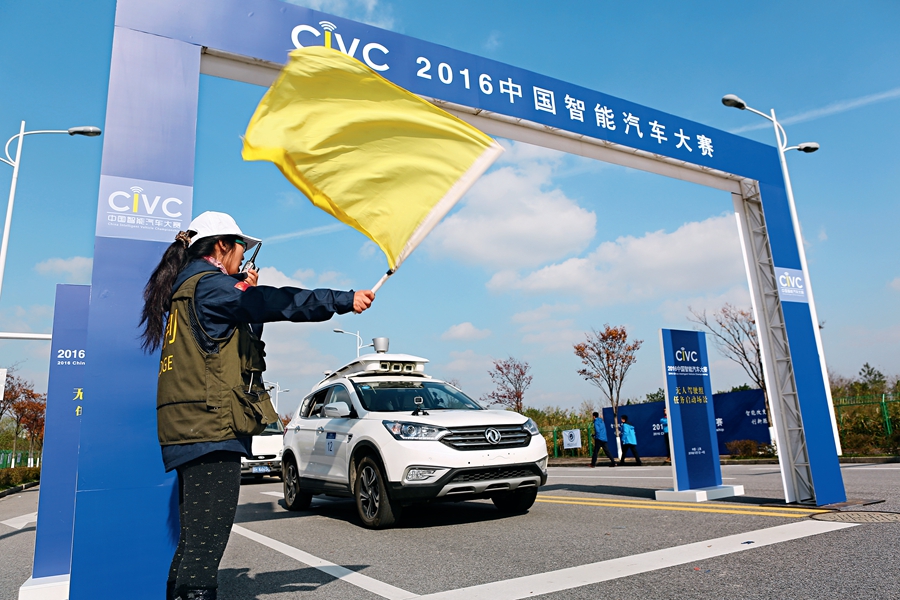 On December 2, driverless cars line up to race at a preliminary contest of the 2016 China Intelligent Vehicle Championship held in Jiading District of Shanghai.
In fact, AI has been applied to grading test papers in China's national college entrance examination, and even outperforms manual grading. Supported by big data, AI has also been used in China's court system to assist judges in handling cases. Moreover, last year, an AI device with the capacity of a general medical practitioner passed China's national qualification examination for medical practitioners. Supported by the AI application, last August, the National Health and Family Planning Commission and the Anhui provincial government jointly founded China's first hospital with AI assisting doctors to provide more efficient services to patients. Robotic assistance has also been used in the Chinese PLA General Hospital. Doctors in Chinese hospitals are usually overloaded with patient's visits. So after a patient arrives, he or she can first talk to a robot to inform it of the patient's basic information and conditions. When it comes to his/her turn for seeing the doctor, the doctor already has the information. During the inquiry process, the robot's interrogative ability can also be trained and thus further improved.
AI can surely play a role in helping a company's development. Hsiao-Wuen Hon, corporate vice president of Microsoft, said AI could help a company realize transformation and upgrading in three aspects. The first is about products and services. As Hon said, years ago Internet Plus was in vogue; now AI Plus is gaining momentum. Second, Hon believes that AI will draw a company and its clients closer. Third, AI can improve a company's operational efficiency. "Thus we can produce cheaper and upgraded products," Hon said.
Zhu Guang, senior vice president of Baidu, said, "Baidu has opened up a lot of data processing capabilities in such aspects as voice, picture, video, and natural language processing, which are all open to developers. Now we have a legion of 500,000 developers. In the next five to 10 years, every industry will deeply integrate with AI. There will be some very large platform companies that provide all kinds of firms with better tools, computing power, and algorithms to help them achieve AI-powered transformation." According to him, Baidu is working with banks to help them realize the transition, building up the banks' financial capabilities.
At present, a sentiment that is in vogue with the rise of AI technologies is that human jobs will be replaced by robots. For example, the Tencent simultaneous interpretation app threatens to replace human interpreters. President of Taiwan Semiconductor Manufacturing Co. Mark Liu assured his audience at the BFA annual conference, "Don't be afraid of AI. With brain and soul, we're peerless. AI is just part of our technologies." He thought differences in both linguistic systems and cultures had left a big space for the improvement of machine translation. Liu predicted that with the collection of big data, the accuracy of machine translation would continue to increase. "A lot of translation work can be done by the machine. We don't need to spend time on things that can be done by the machine. So you don't need to feel that AI is taking your job! The problem is how to make good use of AI to assist people to better and more efficiently complete their work," Liu remarked.
Tricky Social Issues
New technologies often lead to collision and blending of various values and ethics in their applications, leaving a big space for discussion about how to better use them.
Former Director General of the World Health Organization Margaret Chan thought that a technical revolution should primarily address urgent social issues by providing solutions. Chan believes it is very important to ensure people across the world can all benefit from the new technical revolution.
Zhang Deqiang, Visionox's chief scientist, endorsed Chan's view, saying, "The ultimate goal of all technologies is to solve the various afflictions plaguing society, for example diseases and poverty, and better serve human beings."
Francis Gurry, director general of the World Intellectual Property Organization, held that the neutrality of science and technology needs to be well managed to achieve a positive social impact. Gurry said, on the one hand new technologies have been developed and applied worldwide, exerting global influence; on the other hand, state-level management was more effective than international governance. Thus, international discussions need to be carried out and efforts made regarding better management of technologies.
Israeli entrepreneur and investor Yossi Vardi believes the world needs inclusive measures to enable participation of people from all walks of life. He indicated that today some social groups might have been marginalized, unable to share resources, but the situation shouldn't be allowed to continue. Therefore inclusive solutions are needed.
In the discussions at the BFA annual conference on technology, data safety was also one of the major concerns for attendees. John Chen, BlackBerry executive chairman and CEO, said the most important issue in the big data era is the ownership of data. "If individuals have ownership, whether or not government or companies should have the right to access the data is a big issue. For individuals, if a company intends to use the data, it should pay him/her because he/she is the owner. So I think issues like this are actually related to everyone of us," Chen pointed out.
Technology giant Baidu, through the provision of a vast array of services, has produced a huge amount of data. "Every employee of Baidu shoulders the important responsibility of protecting user privacy and ensuring data safety. For us, it's a task we must complete, not just a supplementary work, as it's the premise for many of our other projects," Baidu President Zhang Yaqin said. He revealed that Baidu has crafted a very strict procedure, including encryption, to ensure user data safety.