The year 2023 marks the 50th anniversary of the establishment of diplomatic relations between China and Spain. Taking culture as a bridge, the two ancient civilizations have had brilliant people-to-people exchanges over the past five decades.
Inma González Puy, a Spaniard from Madrid, Spain, has lived in China for more than 40 years. She has committed her life to promoting the exchange between Chinese and Spanish cultures and witnessed the development and expansion of exchanges between China and Spain in art exhibitions and dialogues.
From serving as the cultural attaché of the embassy of Spain in China to working as the director of the Miguel de Cervantes Library in Shanghai, Inma has seen the tremendous development brought about by China's reform and opening-up and has been fascinated with the country's profound history and culture. As a result, she has spared no effort in doing her part to build a platform for cultural exchanges between China and Spain.
A Dream Comes True
"When I was a teenager, by chance, I read the Spanish version of several pieces of Chinese literature written by Pearl Buck, Lin Yutang, and other writers. Since then, I have always been curious about the distant and mysterious country," said Inma in fluent Chinese. From then on, she tried her best to learn Chinese, and has become more and more fascinated by Chinese culture, "I must find an opportunity to come to China!" she said to herself.
She was eager to learn Chinese and understand Chinese culture, but Confucius Institutes were not so prevalent around the globe at that time in the early 1970s, making Chinese learning resources in Spain quite scarce. In the end, she began to study Chinese at BCN LIP (Barcelona Language Immersion Program) Language School, the only one that taught Chinese in those days. In addition to school learning, she worked at local Chinese restaurants on weekends just to learn more Chinese from Chinese bosses.
When Beijing began recruiting Spanish students in 1979, Inma, of course, was part of the first group. "I was attending college and was very happy when I heard this good news. I immediately applied to study at Beijing Language Institute and finally came to the Chinese capital," she recalled. For three years in a row, she spent her summer vacations in China, and after the language courses were completed, she traveled to other cities around China. It was during these three wonderful holidays that she made up her mind that she was going to stay in China.
In 1983, she became a cultural attaché at the embassy of Spain in China, a position which she held for the following 20 years. During the period, she met her husband, the famous Chinese percussionist and drummer Liu Xiaosong, and her dream of settling in Beijing finally came true.
For more than four decades, Inma has been committed to promoting cultural exchanges and cooperation between Spain and China both at work and in daily life, hoping to bring the peoples of both countries closer together.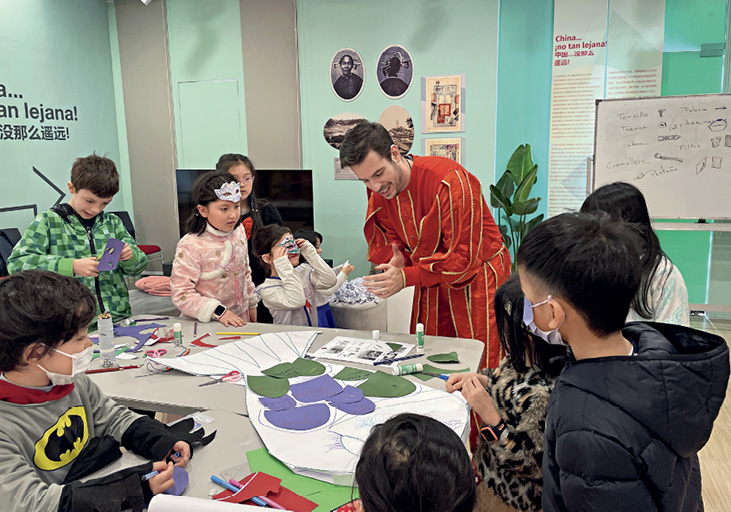 A group of children interacting with a Spanish teacher at a salon activity held in Miguel de Cervantes Library in Shanghai.
Promoting Chinese Contemporary Art
From ancient culture, lively art, and rich cuisine to magnificent landscape, Inma loves everything about China. Whenever she has free time, she loves to travel around to see China's beautiful rivers and mountains. The country's rich history and culture of more than 5,000 years have greatly impressed her. She has helped Chinese artists perform Don Quixote and invited Spanish people to read Rickshaw Boy.
Recollecting about life in China back in the 1980s, Inma said, "It was a wonderful time for everyone." During the initial stages of China's reform and opening-up, people were very curious about everything that happened outside China, but they rarely had the opportunity to access relevant information. For this purpose, Inma used her spare time to create a space for Chinese artists, musicians, and poets to communicate with like-minded diplomats who lived in Beijing at that time.
"We invited them to our home and regularly held concerts, exhibitions, and poetry meetings. Through such small exchange performances, we hoped to expose them to some of the latest information about our home country, and create more opportunities for art institutions at home and abroad to get to know them." Inma said that they also raised funds to organize rock music concerts by Cui Jian, He Yong, and other bands in Beijing's Ritan Park, which were very successful. "We were a kind of 'small patrons of the arts,' it was the start-up stage of China's rapid development, and it was a blessing to be here, to see and experience it firsthand."
The Chinese Modern Art Exhibition opened at the National Art Museum of China in February 1989. "This was a pivotal event in China's art circle at that time, and artists from all over the country came to the capital to attend the exhibition," Inma recalled. It was during the exhibition that she met several young Chinese artists and bought some of their works. "There were many gifted artists in China, but no way for the world to hear about them, and I felt that I could do something," she said.
When a group of Spanish officials visited Beijing in 1995, Inma curated an exhibition of works by 35 outstanding Chinese contemporary artists in Barcelona, Spain. The cover of the exhibition album was the faces of 35 artists. This was the first time that Chinese contemporary art was exhibited in Spain, and it caused quite a stir as a result.
Soon afterwards, these works were unveiled at the Venice Biennale in Italy and the São Paulo Biennale in Brazil during the same year. The fabulous art works of the Chinese artists amazed many Western audiences. "Today there are quite a few artists who have not only harvested economic gains from that, but also have become global cultural figures. This is something they did not expect at the beginning," Inma said.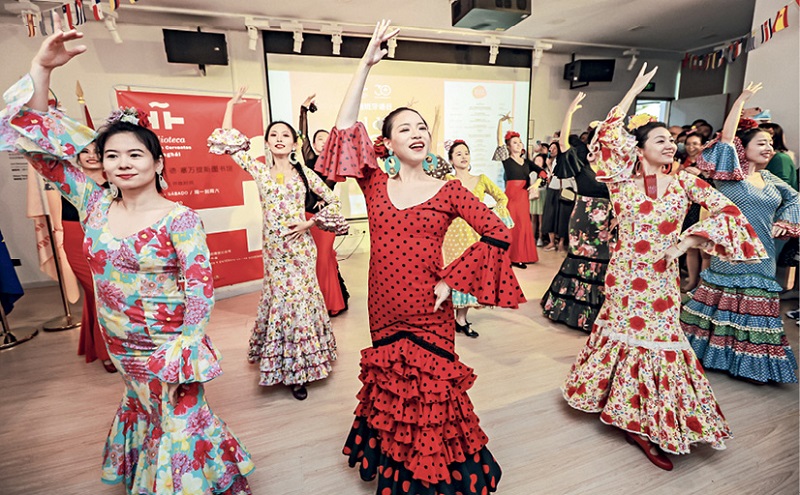 Chinese ladies performing Flamenco on Spanish Language Day, an annual event held on April 23 in Cervantes Library in Shanghai.
Promoting Cultural Exchanges
Inma worked at the Spanish Ministry of Foreign Affairs and Cooperation since 2003, focusing her work on helping more Spanish people understand Asian culture, especially Chinese culture. "At that time, I had a lot of contact with the local Chinese community and the non-governmental Chinese association in Barcelona, and was also close to the Chinese embassy and consulates in Spain and made a lot of Chinese friends," she said. She also organized many Chinese cultural events and exhibitions.
With her help, an exhibition of bronze wares in the collection of the Shanghai Museum was held in Spain in 2005. This was the first time for Spain to host an exhibition on ancient Chinese bronze, and it attracted as a result a large number of people from Spain and neighboring European countries who were interested in Chinese history and culture. This exhibition provided an opportunity for many foreigners who had never visited China to see with their own eyes Chinese bronze wares for the first time, and some fell in love with Chinese culture. "I hope to create opportunities for my family, friends and more foreigners to experience the charm of Chinese culture in person. It is a great honor to work with the Shanghai Museum to curate such a meaningful exhibition," Inma said proudly.
Inma pays special attention to the changes that are taking place in China in the field of culture. "Compared to a few decades ago, China's cultural venues are much more modern and international now. From small cultural exchange activities between China and Spain to the frequent exchange of various cultural performances, the cultural resonance between the two peoples is gradually strengthening."
Nowadays the number of Spanish restaurants and institutions that teach dance in China is increasing annually, showing the growing interest in Spanish culture among Chinese people. Similarly, Spanish people also have a keen interest in Chinese language and culture.
According to Inma, Spanish universities began to set up Chinese majors in 2003, which were welcomed by many undergraduates. There are many Chinese training institutions in Spain these days, and most Spanish parents want their children to understand some Chinese. Due to the increasingly close economic ties between China and Latin America, it is widely believed that the Chinese market has great development prospects. Learning the language well is a prerequisite for communication and cooperation.
In addition, Spanish people are very interested in Chinese philosophy and literature. A growing number of Spanish publishers are publishing translations of Chinese literature, including classic masterpieces as well as contemporary literature. Chinese films also have many followers in Spain, and everyone knows or has seen the films of famous directors such as Zhang Yimou, Chen Kaige, and Jia Zhangke.
"Although the geographic locations of the two countries are far apart, the hearts of our people are very closely knit together. Both countries have rich cultural, artistic, and tourism resources. We are all enthusiastic, communicative, and passionate about food," she said, who is particularly pleased with the high level of appreciation and resonance of Chinese and Spanish people for each other's cultures.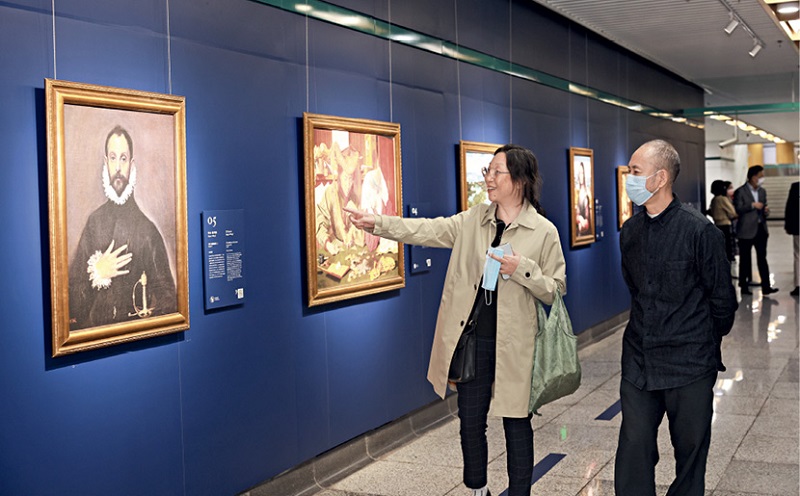 Passengers in Shanghai's Longhua Metro Station stopping to appreciate the exhibits of Encounter the Prado, featuring real-sized recreations of the Prado Museum's most recognizable works.
Witnessing Great Changes
"No other country is growing so fast as China!" Inma said. Working and living in China over four decades, Inma has personally felt the great changes which came about as a result of China's reform and opening-up, from economy to culture and art, from infrastructure to transportation.
"When I first arrived in China, people maintained a respectable distance from foreigners. Today, China is highly internationalized and the world is particularly inclusive. A large number of foreigners come to China to work, study or travel. Many pieces of China's beautiful architecture are the work of internationally renowned designers, and many new art galleries and museums have been built not only in Beijing or Shanghai, but other places all over the country," Inma said. She believes that after the collision with Western contemporary art in the 1990s, Chinese artists have gradually formed a unique style, and can show the extensive and profound Chinese culture through international artistic expression.
"As the world is learning about China, the interest of many Spanish people has been ignited in China, and the sense of identity of Chinese culture is getting stronger, and now it is easy to establish close ties with China," reflected Inma. She also encourages young people to come to China and "experience this wonderful ancient culture and its diversity."
This year China and Spain are celebrating the 50th anniversary of the establishment of diplomatic relations. In her view, Sino-Spanish relations have been developing smoothly. "China has repeatedly stated that Spain is its excellent strategic partner in Europe. This year, the Miguel de Cervantes Library in Shanghai is also organizing a series of splendid activities to add new highlights to the cultural exchanges between the two countries," Inma said as she looks forward to it.