The goal of German young man Robert Adolf is to shoot short videos showing the culture of all 56 ethnic groups in China.
Not many know that the huge population of China is made up of 56 ethnic groups. All of these groups have their own customs, architecture, clothing, and festivals, which are so attractive to foreigners like Robert Adolf, a post-90s German young man who came to China after his graduation in 2017. Since his arrival, he has been visiting many areas where ethnic groups live and presenting their diverse cultures to the world through a series of short videos. To date, Adolf has seen the majestic and precipitous Nujiang River in Yunnan, the magnificent Jiabang terraces in Guizhou, listened to the melodious folk songs of Dulong ethnic minority in Dulongjiang Township, Yunnan Province, taken a Tujia language class at the ethnic school in Enshi, Hubei Province, and had a haircut with a sickle in Basha Village, Congjiang County of Guizhou.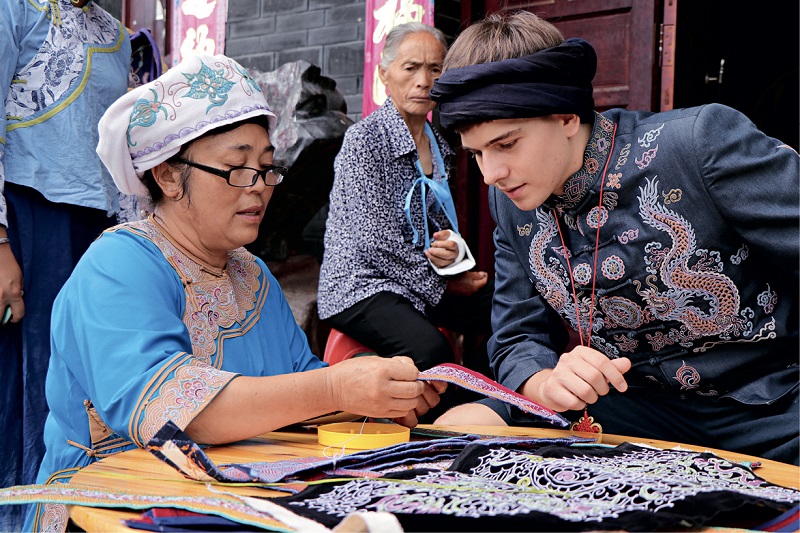 Robert Adolf is learning the horsetail embroidery – a national intangible cultural heritage – with the Shui people at the Sandu Shui Autonomous County in Guizhou.
Fascinated by Chinese Culture
During his childhood, Adolf was fascinated by Chinese kungfu and clothing in Disney's 1998 animated film Mulan. But he never thought that he would work in China 19 years later.
"My friend ran a coffee shop in Changde, Hunan Province, and I was invited for a visit," said Adolf, who fell in love with Chinese steamed buns with stuffing, widely known as baozi, the first dish he tried when arriving in China. "It is so delicious!" said Adolf, who has since become known as "German baozi."
The young man fitted into local life in Hunan in no time. "I was curious and wanted to try everything." He tasted numerous Chinese dishes, including zongzi, a glutinous rice dumpling, Chinese pancakes in Shandong Province, Tianjin potstickers, eggs fried in famous Pu'er tea, and river snail rice noodles from Liuzhou of Guangxi Zhuang Autonomous Region. As an authentic foodie, he is particularly interested in sharing his experience via short-video apps like TikTok.
Born in a small village near Munich in southern Germany, Adolf has a natural affinity for rural life. When he came to China, he went to the countryside to discover and sample delicious food. That experience also gives him a chance to immerse himself into the rich and colorful culture of Chinese ethnic groups. "I didn't even plan my trips, just walked around to see what I could discover. The places I went to were so beautiful, and the people I met were so friendly. Their unique culture attracted me so deeply," said Adolf.
At the border between Hebei Province and Inner Mongolia Autonomous Region, he met some Mongolian and other ethnic people, and later learned that there are actually 56 ethnic groups in China. "It is amazing! Why not show their cultural charm to the world?" he said, explaining why he makes short documentaries on China's ethnic groups.
Ethnic Cultural Charm
Adolf's short video project began in 2021. He ventured deep into remote areas of the country, recording the culture and life of ethnic groups as it is. He has three Chinese partners, who were responsible for shooting, editing and other work. In September 2021, they set out from Lianyungang in Jiangsu Province and drove all the way through Hubei and Guangxi toward Guizhou, recording the customs and cultures of Tujia, Miao, Dong, Bouyei, Yao, Shui and other ethnic groups along the way.
"Local people were so friendly. They invited us to their home for dinner or rice wine, treating us like family," he recalled.
"Our first stop in Guizhou was a village where Miao and Dong people live together," said Adolf. The village he mentioned is located in Jiabang Township in the hinterland of the Moon Mountain, west of Congjiang County, Qiandongnan Miao and Dong Autonomous Prefecture in Guizhou Province. When Adolf and his team arrived, it happened to be the harvest season. Large areas of the rice paddies shone like a golden ocean in the valleys, with stilted buildings dotted in between. Local people sang and danced in ethnic costumes. The scene was unforgettable.
"In Guizhou, you can truly experience the colorful life of ethnic groups, the simple folk customs and their rich spiritual life," recalled Adolf, adding that he was also impressed by the hospitality of the Shui people when he visited Sandu Shui Autonomous County in Guizhou. "Two ladies welcomed me and hugged me." The ladies are a twin – Wang Minzhi and Wang Minxian. They work as embroiderers, and are using short videos to record their daily life and promote agricultural products. The generous twin gave him a valuable item of horsetail embroidery clothing as a present.
Horsetail embroidery, with a history of more than 1,000 years, is a treasure passed down by Chinese Shui women from generation to generation. It has been inscribed on the national intangible cultural heritage list. The handicraft features horsetail hair as raw material and complicated stitching processes. The finished product is exquisite, and durable, with distinctive ethnic characteristics, winning the Shui handicraft honor of being a "living fossil" of embroidery.
While filming in Guizhou, Adolf also participated in celebrations for the most important festival of the Shui people – Duan Festival, the ethnic group's New Year. On the festival, they worship their ancestors, sing traditional songs, and watch horse races. The celebrations usually last for nearly two months, and are known as the "longest national festival in the world."
"Every village takes turns to cook for the whole community. People would sit together to eat and drink, then sing and dance. It's fun," Adolf said.
The diverse ethnic cultures and festivities made Adolf and his team change their filming plan on several occasions. "In order to fully record the distinctive characteristics of each ethnic group, we had to do some homework in advance. And we needed a bit of luck to record some of the precious customs or festivals."
The Guzang Festival is an ancestor worship ceremony of the Miao ethnic group, which is celebrated for a month every 13 years. In Guizhou's Rongjiang Miao Village, Adolf's team arrived just in time for this traditional festival, an occasion for Miao people to express their respect for and tribute to their ancestors. Celebrations for the festival include a series of rituals, such as offering cattle as a sacrifice to worship ancestors, and making drums with cowhides. During the festival, Miao girls dance in groups to music played by lusheng, a reed-pipe woodwind instrument that plays an important role in ethnic Miao heritage. During the month-long festivities, much time is devoted to prayer for the ethnic group's peace and well-being.
"People dress up in national costumes, drink and dance while playing the reed pipe. We were invited to join them!" said Adolf. Adolf and his team changed their original plan of staying for one week in each village, and spent a month there to celebrate and record the most memorable and longest traditional festival of the Miao people.
With no sophisticated filters or pre-prepared scripts, the short documentaries released by "German Baozi" have received a large number of clicks online. "A short video featuring Miao costumes reached 19 million viewers on Tiktok," said Adolf, adding that he didn't film the documentaries for clicks, but rather to record people's true life stories.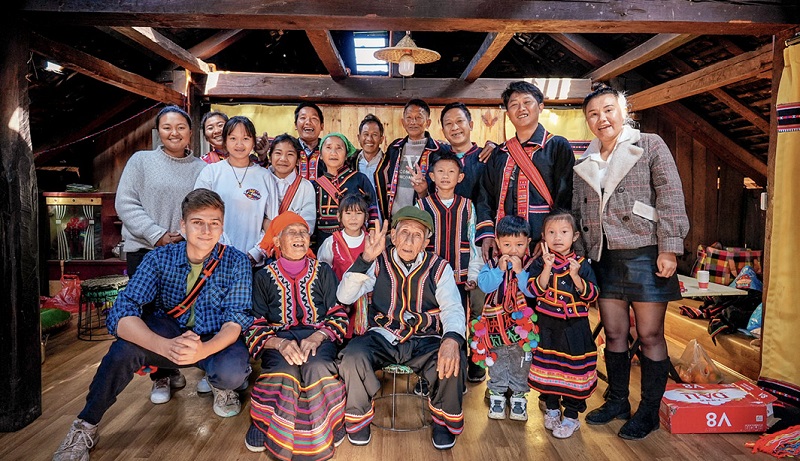 Adolf takes a group photo with Lahu people in Laodabao Village of Pu'er City, Yunnan Province.
China Through the Lens
Adolf said that he did not set a timetable for his short video project, but he will keep on filming until he finishes recording all of the 56 ethnic groups in China.
Although most of the ethnic villages he visited are situated in remote mountains and forests, Adolf found, with surprise, that the local authorities have paved roads, and made running water, electricity, toilets, and kitchens available to all households. Public schools with playgrounds were also prevalent. Meanwhile, many villages are tapping into the potential of their diverse ethnic culture to develop rural tourism and distinctive industries. While increasing their income, the ventures help pass down local people's traditional handicrafts, said Adolf. Young people who had previously left their hometown and migrated to bigger cities for job opportunities are coming back and starting businesses in their home villages.
"Life in China's rural areas is convenient as supermarkets and parcel storage cabinets are seen everywhere," said Adolf. One of his short videos about a senior Chinese lady selling baked sweet potatoes has reached more than 1 million views overseas. "Foreign viewers are surprised at the convenience of online payments in the countryside. Internet connection here is really good," he said. Back in Germany, people are still using credit cards in grocery shopping, and the poor Internet connection sometimes means that people need to use cash, said Aldof.
In addition, Adolf noticed the big differences between China and Germany in terms of neighborhood and interpersonal relationships. "In German villages, families aways focus on their own business rather than frequently communicate with their neighbors. By contrast, Chinese villagers are more hospitable and accommodating. Households often celebrate festivals and hold ceremonies together and are always ready to give a helping hand," he said.
Chinese people are warm and hospitable, and many live a culturally colorful life. It is very different from what is depicted by foreign media. "My relatives and friends in Germany are eager to visit China," said Adolf, who hopes that one day, people would see the real China that he has seen, through their own eyes.