A bushy grey beard, a Hawaiian shirt, and a cap embroidered with his name make up the trademark of Mark Levine who often sings country music melodies about China while playing the guitar. The American man wears many hats — a doctor of sociology, a country music guru, and a professor at Minzu University of China.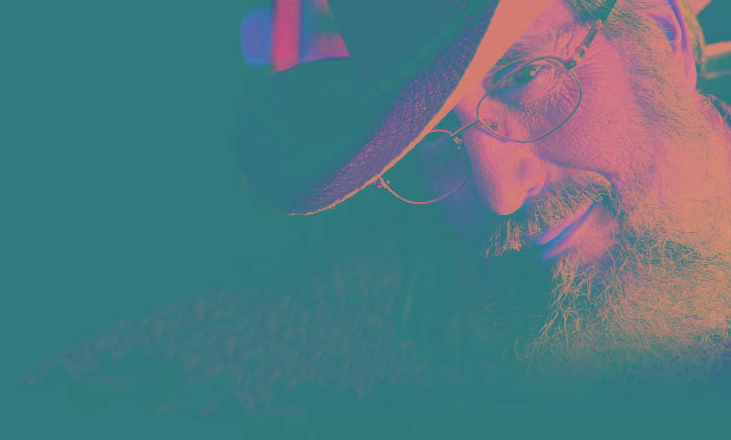 Mark Levine
A Magic Land
Over 15 years ago, Levine traveled across the Pacific Ocean to China and started an adventure in a remote land. The only belongings he brought at the time were a book and a special edition of the China Pictorial magazine with the cover featuring Zhou Enlai, one of the founding fathers of the New China. The book titled Red Star Over China still sits on the bookshelf at his apartment in Beijing. Once in a while, he takes out the book and reads moving stories about the 12,500-kilometer historic Long March of the Red Army of the Communist Party of China, the forerunner of the People's Liberation Army, in 1934-35. "Their courage has always given me hope in life," Levine said.
During his more than 15 years of working and living in China, Levine has traveled extensively to many parts of China using his unique perspective of writing and American country music to tell the story of a rapidly developing China.
"I live in Beijing and have been teaching and working here for many years. I've traveled all over China and have been to 29 provinces, municipalities, and autonomous regions," Levine said proudly. He found that the real China is typically different from the impression most Americans have of it. This magical land is far more exciting than he could have imagined. And over these years, he has also witnessed the tremendous development of China.
Levine clearly remembers his first long-distance trip he took in China. It took him a few hours by plane and then two hours by car before finally reaching his destination. But nowadays, due to the construction of the high-speed railway and highways extending in all directions, it takes only one and a half hours to reach the same destination.
"I have taken all kinds of trains in China, including old-fashioned K-Fast and T-Express trains. But recently, I have had the opportunity to take China's bullet-like high-speed trains, which I have to say is really a pleasant and unforgettable experience," said Levine. According to his observation, earth-shaking changes have happened to people's lives, making life in China much more convenient. For example, it is now a lot easier to be able to get to train stations, airports, and so on.
Levine's life is also undergoing dramatic changes. He said that during his first few years in China, many people did not know about the iPhone. But now, more than 10 years have passed, and China's electronic payment and sharing bicycles have given him a convenient life.
When asked about the biggest change he saw during the years he's been here, Levine said that must be the significant increase of confidence in students. "When I arrived in China, most students were very shy. At present, no matter which school they study in, students are confident and eager to share their views about China and beyond."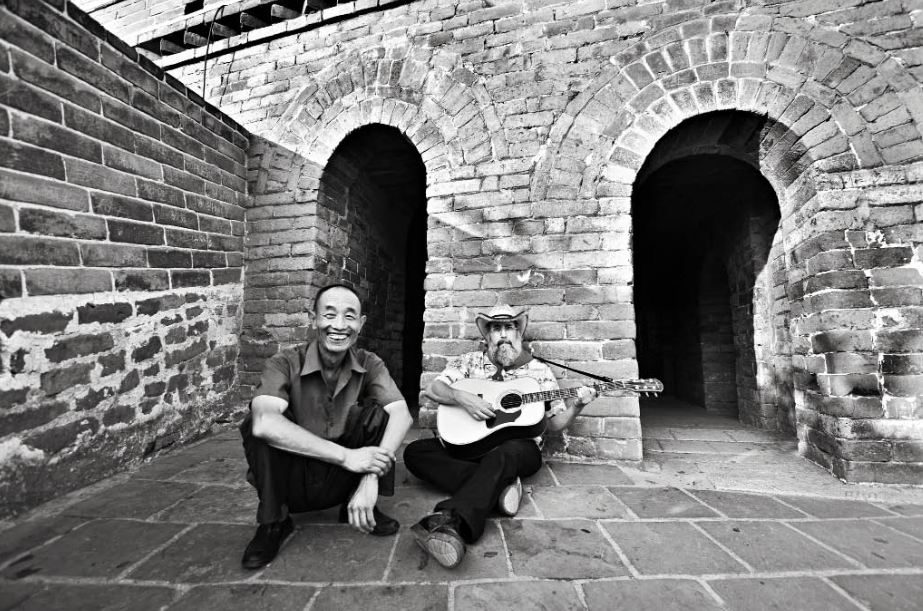 Mark Levine singing a song he wrote called On Top of the Wall on the Great Wall.
Life Inspires Me
The provinces and regions that Levine has visited include both big and small cities, as well as some rural areas, which offered him an opportunity to come into contact with different types of cultures and people. All these have made it into his songs like Beijing Winds, Mood from the Chinese Countryside, Crossing the Yangtze River, and On Top of the Wall. Most of his songs are inspired by his life experiences. The wind in Beijing blows by every year, just like the passion in his heart that will never be extinguished, invigorating this magical land and everything here that he loves.
The great changes which have occurred in urban and rural China, the high-speed railway, the Wen-chuan earthquake in 2008, and post-disaster reconstruction, and the Chinese people's fight against the COVID-19 pandemic together with the international community; all these Chinese stories have greatly inspired Levine. "Some of my songs are about places that I've traveled and they talked about the stories and the experiences there," said Levine. In his living room, he has hung numerous pictures taken during his traveling around China, recording the colorful life in big cities like Beijing and also in ethnic minority areas such as Zhangjiajie, Fenghuang Ancient Town, and the Lijiang River.
During the pandemic, Levine composed an English-language song Together We Must Take a Stand – Defeat the Novel Coronavirus. The lyrics go, "Panicking will do no good, but common effort surely would. Coronavirus we will defeat, around the world it must be beat. So here and there in every land, together we will take a stand."
Feeling the changes in China, he also wrote a book Stories from My Chinese Journey. In the book, he tells his personal experiences in China from a perspective of a foreigner. How to get a driver's license without speaking Chinese? How to enter the Chinese idol contest "Avenue of Stars?" How to participate in Chinese wedding ceremonies? What is it like to spend the Spring Festival in a Chinese village? The answers to all these questions can be found in his writings and songs.
"The book was written for foreign friends," said Levine, hoping that through his words and songs, more foreigners can learn about China, understand more about China, and hear the voices from China. After its publication in 2014, an American reader wrote to him, "The China you present in the book has really opened my eyes. If there is any chance, I will definitely check it out!"
So far, Levine has composed more than 70 songs about China. Currently, his new book Singing My China Stories to the World is also being written, in which he wants the world to see the real China and the tremendous changes that have taken place in China. "I see Chinese people singing, dancing, working or studying. Happy or sad, they see progress and have hope for life to continue to get better," Levine noted.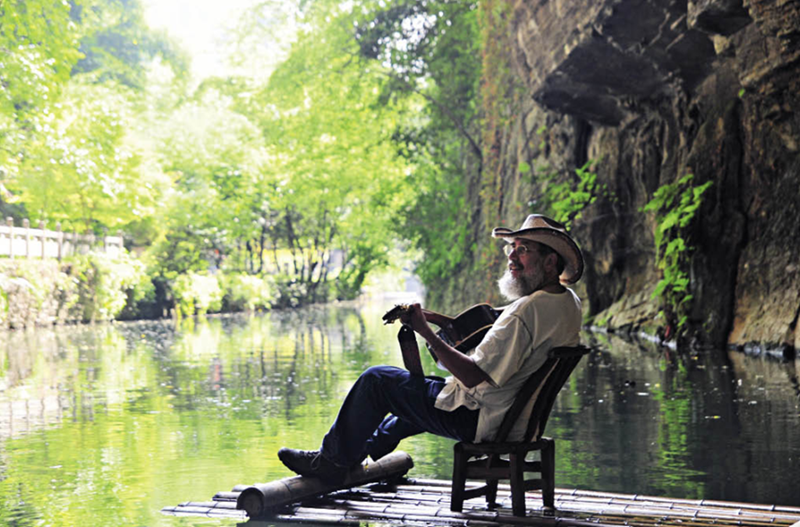 Mark enjoying a ride on a bamboo raft at the Feng-huang Ancient Town in central China's Hunan Province.
Exchange of Diverse Cultures
Minzu University of China, where Levine teaches, is an institute of higher education that brings together students from all of China's 56 ethnic groups from across the country. The collision and exchange of diverse cultures have continuously given him inspiration, helping him to deeply understand the traditional Chinese value of "building a diversified and harmonious world, and regarding the whole world as one community."
"I started to teach in Minzu University of China in 2007. I heard it is an ethnically diverse campus, but I didn't understand how much so," said Levine, who has been teaching the courses of British and American Culture, Public Speaking, and Debating at the university.
Levine has long been serving as a volunteer to help train student docents who give English-language tours at the ethnic museum on campus. It is a museum of ethnic cultures with lots of exhibition halls of musical instruments, clothing and household items from various Chinese ethnic groups. Sometimes, he sings folk songs with his students from different ethnic groups.
In Levine's eyes, with the advancement of China's development, the question of how to introduce China to the rest of the world and tell the story of its development has become increasingly important. To eliminate misunderstandings and increase overseas recognition of the real China requires the participation of more foreigners who have visited, studied, lived, and worked in China, but also needs more Chinese students who are studying abroad to promote Chinese culture and the image of China.
Whenever his students go abroad to further their studies, Levine would ask each of them the same question. "You're going abroad; what are you going to bring to foreigners?" As for Levine, every student is like a young ambassador. There's a massive amount of confusion all over the world about what China is like. And the young people need to take the opportunity to help fix that. In 2014, Levine received the Chinese Government Friendship Award, which is the highest honor awarded by the Chinese government to foreign experts working in China. Inside the ethnic museum, Levine showed the photo taken at the award ceremony. "That was very exciting, and I am very excited every time I review that," he said. At his home, he still keeps the certificate and trophy.
When asked about the happiest time he has had in China over these past years, Levine said, "Getting a Chinese green card! China is now my home, and getting recognition from my family is the most memorable event for me." In 2016, Levine obtained a permanent residence card granted by the Chinese government.
Nowadays, he gets around riding shared bicycles through the streets and alleys, and uses Alipay to scan QR codes. Occasionally, he goes to the Zizhuyuan Park near the campus to play the diabolo, or Chinese Yo Yo, with locals. He also brings his guitar and sings songs wherever he goes.
"Braving difficulties and hardships, we set out on the journey again. Season after season, though there are sorrows and joys on our journey, we never hesitate to march on. And the road is just under our feet," Levine chants the theme song of TV drama Journey to the West, adapted from a classic Chinese mythological novel, at his Beijing home.
From his travels, reflections, observations, and sentiments, Levine has built a bridge between Chinese and Western cultures, and will continue writing and singing about China and his experience here.