"At the University of Sheffield, we believe in the freedom of expression and debate. There is no doubt that the world will be changed by the pandemic; however, it has demonstrated the importance of global collaboration. The Sheffield Confucius Institute (SCI), with its focus on language and cultural understanding, is a powerful force to enable and encourage successful and continued collaboration between the U.K. and the People's Republic of China," said Malcolm Butler, vice president of Global Engagement at the University of Sheffield. He further pointed out that moving teaching online during the pandemic had the added benefit of providing students from all over the world with access to Chinese language learning classes.
Caring for Each Other during the Pandemic
Right after COVID-19 broke out in early 2020, teachers and students of the SCI organized fundraising activities to purchase medical supplies for China in fighting the epidemic.
Malcolm Butler, vice president of Global Engagement at the University of Sheffield.
Unexpectedly, the epidemic then escalated into a full-blown pandemic as the entire European continent was shrouded in the haze of the coronavirus. The Chinese Embassy in the United Kingdom, the Consulate General of China in Manchester, and the Confucius Institute Headquarters all expressed that they would provide assistance to the teachers and students of the SCI to help them overcome the difficulties.
"The SCI is seen as one of the leading centers of China-U.K. collaboration, and has been named 'Confucius Institute of the Year' three times," said Butler, who stated that through continued collaboration with the partner universities – Nanjing University and Beijing Language and Culture University, they will drive the strategy and meet the U.K.'s continued demand for Chinese language education. And this time, they have received thousands of medical face masks and hundreds of pairs of protective gloves from their partner universities.
Liu Li, president of Beijing Language and Culture University, sent a letter to the University of Sheffield and the SCI in which he promised to ensure the health and safety of all teachers and volunteers abroad from his university, and as always to support the development of the Confucius Institute and international Chinese language learning classes. He also emphasized that all his colleagues would spare no effort to provide assistance to their partner in jointly and bravely combating the coronavirus.
However, the pandemic situation continued to deteriorate in the U.K. since March 27, and the SCI again organized a donation drive, in which the students of the youth department and their parents actively participated. Lucy Zhao, dean of the SCI, said, "As of April 6, we have passed all contributions received from staff, teachers, and parents onto the U.K. Association for the Promotion of Chinese Education (UKAPCE), which was then combined with other donations and presented to Public Health England (PHE) and finally to the National Health Service (NHS). Separately, more money was raised and donated to the Sheffield Hospitals Charity, a charity that invested £2.5 million in hospitals across Sheffield last year."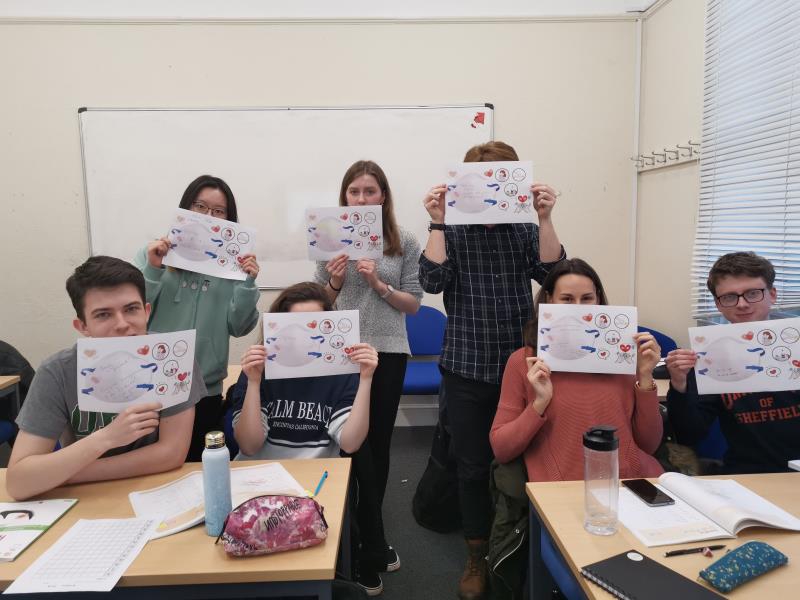 An array of cross-cultural activities about wearing a face mask during the pandemic are organized on the classes of Sheffield Confucius Institute to improve the self-protection awareness of students and teachers.
"We set an ambitious target of £3,000, and we are delighted to say that we have far surpassed this target through a combination of donations to our JustGiving page and the immense generosity of our Saturday school, the Star Mandarin School." Zhao further elaborated, "We are also continuing with our cultural activities with virtual events planned for the Dragon Boat Festival to ensure our community is supported and engaged during these challenging times."
Learning Chinese Online can Be Fun
In line with government guidelines, all face-to-face teaching was suspended and moved online. All staff at the university were advised to work from home and have been doing so ever since then. Though it was challenging and unusual for them, the teachers have had to find new and innovative ways of teaching their students through online classes as well as understanding the challenges students might be facing whilst "attending" classes from home.
"Although the world is in a very different place compared with how it was six months ago, we have to carry on our work to the best of our ability," said Butler, and then added, "The SCI has quickly adapted to delivering teaching and research activities online."
On June 3, Modesto Corderi, a Spanish drama language teacher, gave an interesting and practical lesson on the use of performative language teaching for language teachers at the SCI. All participants appreciated and gave positive feedback to this online training, lauding it as "a refreshing rain after a long drought."
The teachers first watched two videos about useful drama techniques that can facilitate interaction on Chinese classes in primary and secondary schools and for adults respectively. In the videos, Corderi vividly analyzed language acquisition characteristics and teaching skills, and designed teaching games for elementary and middle school students and adults. He also trained teachers in strategies to develop and apply drama and communicative activities to make their language classroom more effective. He also encouraged teachers to use collaborative language learning using a wide range of tools and methodologies in different cultural contexts and situations.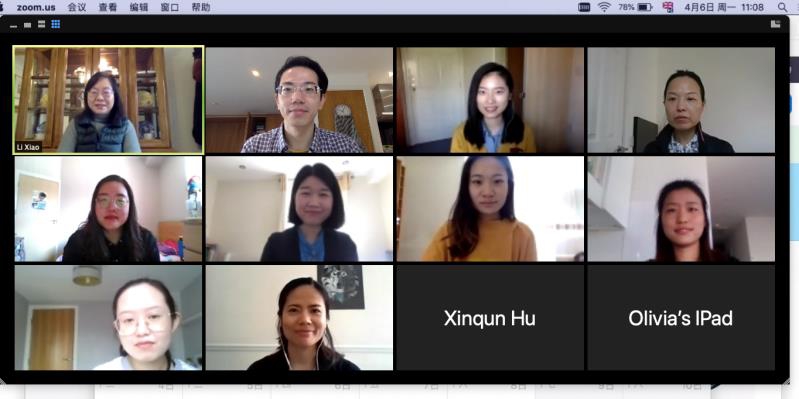 Language teachers at the SCI participate in an online training and research activity to find new and innovative ways of teaching their students through online classes.
Then came the Q&A session. Huang Huihui, a Chinese teacher, asked how to apply the drama techniques to online teaching under the circumstance of the pandemic, to which Corderi gave a specific example of the drama game "I am a tree," in which the teachers acted as "actors" online.
"Foreign language teachers should act as directors, students as actors, classrooms as stages, and textbooks as scripts," Corderi shared his teaching secrets. He then pointed out, "It is a pity that most foreign language teachers think that they are both directors and starring actors. They usually go on a rambling monologue and treat their students as the audience, who feel so bored yet unable to leave. Therefore, we need more teaching directors."
Strong interaction, this is what Huang thought is the point of the training. "This method has inspired us in the classes of teaching Chinese as a second foreign language. I am trying to combine task-based teaching and performative language learning in teaching online classes."
Becoming a Global Language
"Language gives us the ability to innovate, collaborate, and share knowledge – beliefs which are core to the University," said Butler, pointing out that there had seen an increasing demand in recent years for Chinese language education at the Confucius institute and they expected this to continue. "Though the pandemic has been challenging, it has also brought us new opportunities with a number of students worldwide joining our online classes, something that was not possible before. Our research into language acquisition has empowered our work at the Confucius institute and we will continue to promote Chinese language and culture to the local and global community," he noted.
Since the founding of the first Confucius institute in 2004, China has established 550 Confucius institutes and 1,172 Confucius classrooms in primary and secondary schools in 162 countries and regions around the world. There has been an increasing popularity of Chinese language learning globally, with the number of Chinese learners reaching 100 million.
"Isn't it a pleasure to meet with friends from afar?" Sir Keith Burnett, chairman of the SCI, quoted the influential Chinese philosopher and great teacher Confucius who lived over 2,000 years ago.
"Most of my life has been spent as a scientist and teacher of brilliant students around the world. That included some wonderful ones from China. Despite the circumstances, I was so happy that the connection between teacher and student could continue for me albeit across the Internet." Burnett said that he was doing his online teaching in this new virus-ridden world. It was a balm to his feelings in these difficult times.
"There are enormous concerns about the changing political contexts. Some forces are saying we shouldn't work together. But as universities, it is our role to explain the benefits of cooperation," said Burnett. He noted that it is even more important during a pandemic, and stressed the importance of U.K.-Chinese ties. "Collaboration between the U.K. and China – and beyond– is needed more than ever to fight a pandemic in a politicized world," he concluded.