The Chinese saying "Even mountains and seas cannot distance people with common aspirations" perfect describes the relations between China and Italy, two countries with a long-lasting friendship.
"In today's complex international situation, cultural exchanges and cooperation are more necessary than ever as they are not only a source of inspiration, but also an important way to understand the basic values of different countries," said Federico Roberto Antonelli, Cultural Counselor at the Italian Embassy in Beijing and Director of the Italian Cultural Institute (IIC) when he recently went to this year's China International Fair for Trade in Services (CIFTIS) in Beijing
In an exclusive to China Today, Antonelli indicated museum exchanges can promote mutual learning between civilizations, strengthen bonds between peoples, and inject new vitality into Italy-China ties. That's why the IIC organized numerous cultural activities across China even during the pandemic.
"Both China and Italy have created splendid civilizations during the long span of human history, and a wealth of spiritual and cultural heritage," he said. "At this historic moment, Italy draws inspiration from its unique cultural identity and sends a strong message to China of conducting cross-cultural collaboration and dialogues in the cultural sector. We firmly believe that art and culture are universal languages that can bring diverse civilizations, countries and people closer together."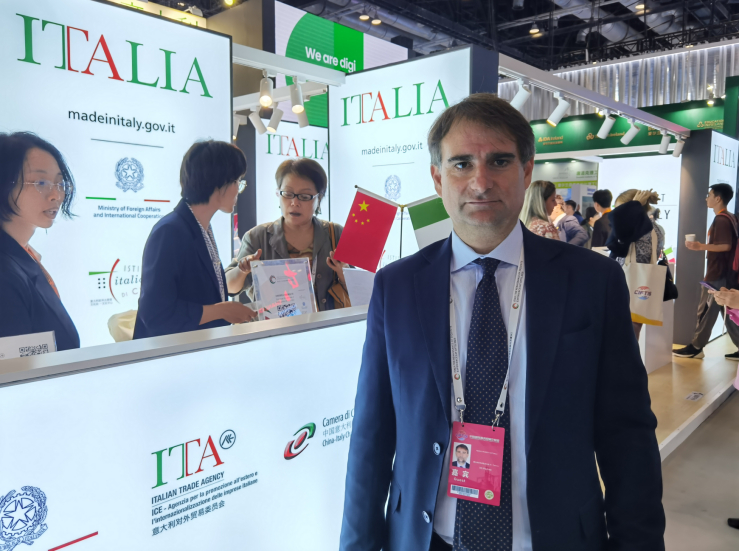 Federico Roberto Antonelli, Cultural Counselor at the Italian Embassy in Beijing and Director of the Italian Cultural Institute in Beijing (Photo by Zhou Lin)
Italy boasts two periods of cultural brilliance – the period of ancient Rome and the Renaissance. These two periods have inspired more than a dozen Italy-themed exhibitions curated and held in Beijing, Shanghai, and other Chinese cities for the vast Chinese audience. These exhibitions include the Light of Ancient Roman Civilization at the Beijing World Art Museum of the China Millennium Monument, self-portraits of famous artists from Italy's Uffizi Gallery on display at the National Museum of China, and the Centenary Triptych at Raffles City Beijing, celebrating the centenary of Leonardo da Vinci, Raphael and Dante.
"China and Italy are both stellar examples of Eastern and Western civilizations," said Antonelli, who hopes Italy and China will have more cooperation in various cultural fields, including films, modern art and design, food, fashion and other creative industries.
At the ongoing 2023 CIFTIS, 20 Italian firms and institutions are present, with their fields ranging from industrial design, engineering services, legal services, financial insurance, transportation and logistics to cultural services.
The trade between China and Italy over the past five years has increased by 42 percent, reaching nearly US $80 billion last year, official statistics show.