A Beijinger and artist draws inspiration from a classic painting to showcase Beijing's daily life along its famed Central Axis.

The scroll of Beijing Central Axis Landscape and its cultural creative product.
I was born near the Palace Museum in Beijing, the historical landmark that had been the palace of China's imperial rulers for five centuries, when it was known as the Forbidden City. During my childhood, I lived east of the museum, where there were typical hutongs, narrow alleys with traditional houses of grey bricks and grey tiles. I have loved painting since I was a child and was admitted to an arts and crafts college in the west of Beijing in 1979. Every day, I went back and forth between my home and school on my old bicycle, passing through several scenic spots in the old area of Beijing.
Many of the scenic spots were components of what is known as Beijing's Central Axis today, a nearly 8-kilometer stretch running from Yongdingmen, or the Gate of Perpetual Peace that was the front gate of Beijing's old city wall, northward to the Bell Tower and Drum Tower. The stretch was the core of old Beijing's spatial structure, urban planning, culture, and daily life and has retained its role despite changes over centuries.
In 1979, I went to study arts in the Beijing Arts and Crafts School, which has developed into today's College of Art and Design of Beijing University of Technology.
Traditional Chinese painting was a major subject during the four years of learning. I still remember the class where the teacher spoke about the famous painting of Qingming Festival at the Riverside. Painted by Zhang Zeduan during the Northern Song Dynasty (960–1127), it is an epic painting on a scroll more than five meters long and 25 centimeters wide, depicting life among different segments of society, in both the rural areas and the city, peopled with more than 800 human figures.
It made me imagine myself to be one of the figures in the painting, a student traveling in the capital city with my teacher and admiring the songs sung by people working for river engineering projects. At that moment, the seed of the ambition to paint Beijing's Central Axis was sown in my heart.
After graduation, I worked as a designer at a factory that made gold-inlaid lacquerware and I learned the art of combining handicrafts with traditional painting. Later, I studied printmaking at the China Academy of Art, one of China's oldest art colleges. I systematically learned theories and skills with Western painting. In 1989, I began to work as an art teacher at the College of Art and Design of Beijing University of Technology.
Finally, in 2011, I began to work on my painting of Beijing's Central Axis. The primary principle of my creation is to present real, comprehensive and detailed scenes of the daily life in Beijing. It involved not just painting but also intensive research. I consulted a large number of historical and folk documents about Beijing, which began to serve as the capital of Chinese feudal dynasties in the Yuan Dynasty and was then known as Dadu. I met many experts and artists in the city's old area, interviewed more than 30 elderly people living near the Central Axis, and made more than 6,000 figure sketches as well as over 2,000 pages of diagrams of ancient architectural structures.
I used silk, not canvas, for my painting, which falls into the genre of Jiehua, or boundary painting. It refers to the accurate depiction of architectural forms with the aid of a ruler. With elaborate research, I finished my painting, Beijing Central Axis Landscape, with extreme details. For example, I have included over 300 cars of recognizable brands and more than 10 types of lanterns that the merchants used to decorate their storefronts.
It took me four years to finish this 50 meters long and 70 centimeters wide silk painting, starting from the south end of the axis. The scroll has more than 4,000 figures and countless buildings.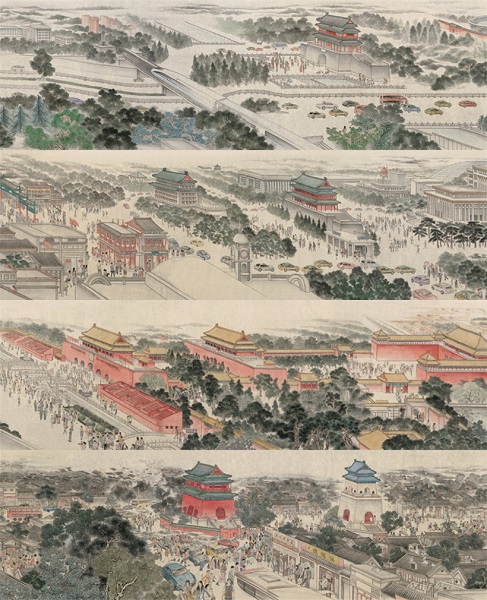 Sections of the Beijing Central Axis Landscape.
I felt my painting should not just retain the traditional style, but also conform to public aesthetics. If I used only the traditional Chinese painting method, I would not have been able to provide a perspective, and had I chosen only Western techniques, they would not have been compatible with the long scroll format. Therefore, I integrated the strengths of both traditional and modern Chinese techniques with Western ones.
Traditional Chinese paintings don't paint cars. Therefore, I used modern painting technique to draw the cars. As for the human figures, I tried to convey communication between people. I painted a young man asking for directions and an old couple strolling around. It also has an autobiographical element. I have included myself playing with my son.
The four themes are arranged from south to north, starting from the south end of the axis Yongding Gate to Qianmen Gate, then from there to the Tian'anmen Square, then from the square to Jingshan Park, and finally from the back street of Jingshan to the north end Bell Tower and Drum Tower.
For Beijingers like me, the Central Axis is not only a geographical location, but also the memory of a place rooted in our hearts. In 2019, Beijing Central Axis Landscape was exhibited at the International Symposium for Beijing Central Axis World Heritage Application. In 2024, China will seek UNESCO World Heritage status for the Central Axis at the World Heritage Committee. I hope my painting can serve as a window for people all over the world to know about the Central Axis of Beijing and the spirit of Beijing.

The designing process of the Beijing Central Axis Landscape. Photos courtesy of Yan Long
YAN LONG is a professor at the College of Art and Design of Beijing University of Technology.