Studies of ancient Chinese civilization have been progressively prevalent in China in recent years. Variety shows such as The Nation's Greatest Treasures and National Music Gala have set off a new trend making Chinese culture fashionable. The TV programs are helping to adapt traditional Chinese culture through innovation and make it more attractive for modern audiences.
Traditional folk music is now loved by more young people as an important part of Chinese culture. For example, guqin (a seven-stringed plucked instrument) works such as Chang'an Twelve Hours Fantasy posted on bilibili.com (a bullet comment video website with a younger user base) makes the ancient art of ethnic musical instruments more appreaciated by young people who will hopefully carry this art forward.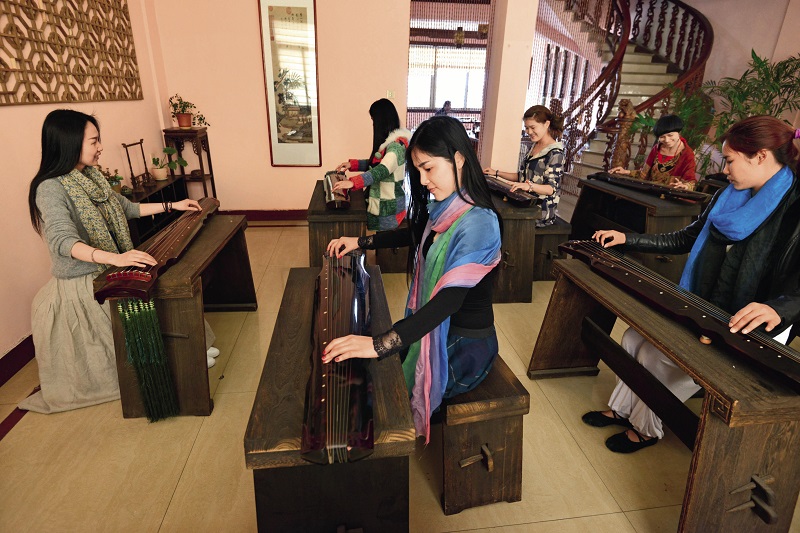 Several young businesswomen practice the guqin under the tutelage of music master Wu Xiaoxiao in a guqin studio in Yiwu, Zhejiang Province, on March 24, 2015.
Folk Instrument Innovation
The broadcast of the third season of National Music Gala in 2019 has been well received by young audiences, and much related content on bilibili.com has gained a considerable number of views. A fourth season has been released since December 2021. So, why does it attract so many viewers? And how is traditional folk music being rejuvenated?
"Folk music is our root, and we can't lose it," said Lin Weihua, chief director of National Music Gala. "We hope to discover more outstanding Chinese music talent through this program, and hope that traditional Chinese music gains popularity among more young people, so that it can be passed down from generation to generation. We also hope that the innovation and adaptation of traditional folk music will be accepted by more young people.
China has always been called "the state of rites and music," and ancient music plays a significant part in personality cultivation, cultural life, and national etiquette. China's long history and diverse culture have shaped various genres of music. They are the cultural legacy that boosts Chinese people's confidence, and accordingly gives the program makers inspiration and source of creation.
Diversified forms and innovation are the key and highlights of the program's success. "The program adheres to the original goal of inheriting and promoting China's excellent traditional culture, and constantly promotes the creative transformation and innovative development of Chinese folk music. There has been a comprehensive upgrade in the program pattern, competition system, and contestants," said executive director Li You. From 4K ultra-high-definition TV technology in the first season, to multi-dimensional perspectives in the third season, from the live-action elements in the first two seasons to people-centered storytelling of the third season, and from bands in the first two seasons to the grouping of individual musicians in the third season, the National Music Gala has constantly been exploring new program presentation methods and narrative structures. It is the pursuit of change that has enabled the program to get increasingly popular.
These young folk musicians inherit traditional Chinese music, channel modern musical elements into the performance of folk musical instruments, and express their understanding of tradition in a new musical language. The unique audio-visual effects produced by integrating ancient and modern, Chinese and Western music styles have made the show popular among young audiences.
Dissemination Upgrade
"Interesting" and "cool" are the two words often used to describe the traditional music vlog Guqin Zhensuo. It is its innovative adaptation that allows guqin music to expand its audience in online media and provide a reference for the dissemination of traditional culture.
We-media is an Internet platform that relies on active network interaction. During their performance and composing of music, many We-media accounts, including Guqin Zhensuo, have achieved integration with electronic music, rap, pop, and other genres to produce their unique music works in which the past meets the present.
The combination of popular and traditional culture is a new trend in the development of ancient music in recent years, which is also an expression form that attracts young people to understand traditional music. Zide Qinshe uses its Guqin Zhensuo account as the base for online communication, and has formed a band featuring a combination of the guqin, pipa (a four-string plucked instrument), flute, and drums, playing adaptations of select popular songs familiar to young people. The theme songs of popular TV dramas loved by young people today, the animation music of childhood memories of the "post-80s," and the revolutionary songs reflecting feelings of the older generations have all become high quality music content adapted by Guqin Zhensuo, and have attracted attention online. "I didn't expect to hear this piece of music played with traditional musical instruments, and it still sounds so good," is among the many comments they recieved, showing how folk music creation and adaptation has captured the public's attention. "Let cultural heritage becomes our wealth, not the cultural relics found in museums" is the philosophy of Tang Bin, founder of Guqin Zhensuo.
Guqin Zhensuo has also boldly combined guqin and electronic music to create masterpieces such as Daxia 2049. The new folk music, which integrates modern cyberpunk elements and traditional music and art elements, not only reproduces the emotional rhythm of guqin melody, but also shows the progressive futuristic growth of this music genre.
Liu Qi began to learn the guqin after graduating from junior high school. She has studied under Ding Chengyun, a famous professor at Wuhan Conservatory of Music and the fourth-generation descendant of the Fanchuan School of guqin. In her spare time, Liu watches guqin-related we-media posts at bilibili.com and the content on Guqin Zhensuo. In her opinion, this form of electronic music fusion is still controversial. "With respect to the inheritance of traditional culture, there are always disputes between the old and the new," said Liu. "But times are always changing as long as the melody is still the sound of the guqin, as long as the starting point is to promote the guqin, such interesting creativities are worth trying."
The fusion of ancient and modern is not to abandon the tradition and cater to the new trend, but to refine the time-tested tradition in response to the needs of the public in the new era. This is a development path that traditional culture needs to explore in contemporary inheritance, and Guqin Zhensuo has made this possible.
Continuing Humanistic Spirit
The Book of Rites · Record on the Subject of Music focuses on the role of music in cultural education, how it is used to educate people and as the foundation of living in peace and cultivating morality. What variety shows like National Music Gala and we-media such as Guqin Zhensuo do, is to express the core cultural value embodied in the traditional musical instruments through modern aesthetic perspectives, so that folk music culture can also help to lift the spirits of contemporary Chinese.
Cheng Haowei, vice director of the Yunzai Guqin Club of Wuhan University, started to learn and study the guqin music after graduating from high school, just out of an interest in the ancient music instrument. Making people calm and measured, in his understanding, is the essence of guqin culture. "Although music has a great enlightenment effect in the Confucian culture, for me, it's of course emotional, but not so strong. After all, it gives a sense of calm and peace," he said.
For Liu Qi, playing the guqin is a way to calm herself down. "After learning to play the guqin for six years, I found that I had become calmer, quieter, and more self-disciplined. In fact, we're now used to the fast pace of life. It's not easy to settle down, but the guqin allows me to make it," she said.
As a junior student majoring in music education, Liu is also promoting guqin culture and teaching the guqin in her spare time. Her students include not only children but also adults who are attracted by the quiet and stable inner peace created by playing the instrument which they believe can free their minds from daily concerns.
With the blessing of Internet technology, people have begun to creatively transform traditional culture in a modern society. Among them, young guqin fans, vloggers, and practitioners in the music industry are all using the Internet as a platform to let ancient traditions continue to ignite the human spirit, while being rejuvenated by technology.
NIU MENGDI is a reporter of Guangming Daily;
DONG ZHENGLIANG is an undergraduate at Communication University of China.