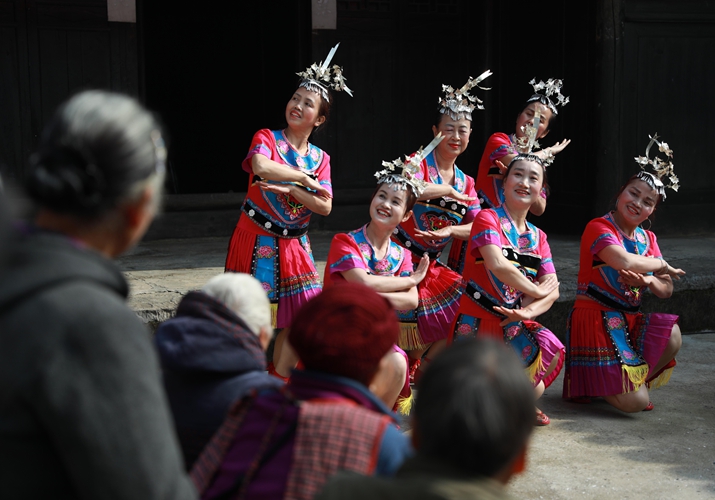 Dancers perform for farmers in Yuping Dong Autonomous County in Guizhou Province, southwest China, on November 30, 2020 (XINHUA)
Even before the third decade of the 21st century began, China had already broken several world records. It had ended extreme poverty and landed a module on the far side of Moon. On December 4, 2020, China successfully commissioned its new-generation nuclear fusion research device, a crucial breakthrough in taming nuclear energy that could meet all our energy needs for centuries to come.China has thus become a model for countries trying to lift themselves out of poverty, and also for all those in the West who have sat on their laurels and must today choose between falling into the dustbin of history, or resuming their scientific and technological prowess and responding to the legitimate aspirations of the people.
Secret of China's progress
The secret of China's development lies in the ideals its leaders have infused in the country: Chinese-style socialism, which puts the people first. In his speech at the closing meeting of the First Session of the 13th National People's Congress in March 2018, President Xi Jinping called on all state personnel to "always put the people first, always serve the people wholeheartedly, and always work hard for the people's interests and happiness.""The people are the creators of history," he said, drawing his inspiration from the very cradle of Chinese civilization. First, there were China's great thinkers like Lao Zi, Confucius and Mencius. Then came the scientific inventions that have profoundly influenced humanity: papermaking, gunpowder, printing and the compass. Besides literary masterpieces, the ancient Chinese have also excelled in monumental projects that are still admired, like the Great Wall, the flood control and irrigation system in Dujiangyan of Sichuan Province, and the Forbidden City, the erstwhile royal palace in Beijing that is now known as the Palace Museum.China now aims to reach a new level of prosperity by 2035. In this context, I was glad to read Xi Jinping: The Governance of China Volume III where several speeches are devoted to programs to reduce extreme poverty. We would like to hear about such programs from our leaders in the West. Xi played a pioneering role in improving these programs when as a young official, he was deputed to poor areas that have since flourished. From 2012 to 2017, China's rural poor population fell from 98.99 million to 30.46 million.According to Xi, the success of these programs was also due to the fact that the poor areas had received help from the first Communist Party of China secretaries as well as the teams deployed there to identify problems and find solutions. In 2018, no less than 195,000 first Party secretaries were assigned in these areas, assisted by 775,000 working team members. Another factor for the success was the use of all local resources available and entrepreneurship, especially in sectors such as tourism, solar energy and e-commerce. Relocation of populations from inhospitable areas to places with better economic prospects was one more factor. Building roads, railways and infrastructure also played an important role in opening up these regions and providing public services. Finally, state funding, pairing between the well-off eastern provinces and disadvantaged areas in the western regions, together with the extensive contributions of private and public companies made it possible to overcome extreme poverty. The annual state budget allocated to this task grew at an average annual rate of 22.7 percent from 2013 to 2017.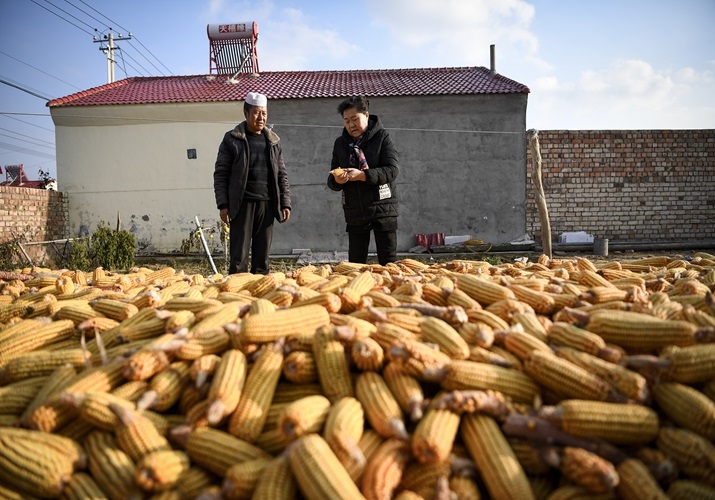 Ding Haiyan (right), a poverty alleviation official, visits a farmer in a village in Tongxin County, Ningxia Hui Autonomous Region, northwest China, on October 28, 2020 (XINHUA)
A nation's soul
With Xi also underscoring the need for China to be not only a prosperous, but also a beautiful nation, I would like to highlight how he envisions the arts and culture, especially since according to the founder of the Schiller Institute, Helga Zepp-LaRouche, German poet, philosopher and playwright Friedrich Schiller envisioned beauty as opening the door to reason.Speaking at a joint panel discussion with members from the literary, art and social science circles during the Second Session of the 13th Chinese People's Political Consultative Conference National Committee on March 4, 2019, Xi emphasized that "as cerebral undertakings, literature, art, philosophy and social sciences are creations of the soul; they are indispensable and must never go astray."The new era of Chinese socialism calls for outstanding writers, artists and theorists and Xi called on intellectuals to leave their ivory towers and focus on the people. "As an ancient Chinese poet said, 'Prose and poetry are composed to reflect the times and reality.' We should keep pace with and speak for our times," he said.Xi took the works of Confucius, Mencius, Plato and Shakespeare as examples, saying "If writers and scholars do not focus on creating fine works, but take shortcuts and seek instant benefits, they cannot grow into masters." He quoted Zuo's Commentary on the Spring and Autumn Annals, one of the famous Confucian classics, saying, "The highest attainment is to exemplify virtue; the second highest is to perform great deeds; the third highest is to put forth noble ideas." He also reminded artists of their social responsibility: "to inspire minds, refine character and warm hearts." "As well-known public figures, you are expected to set an example for society with your lofty aspirations, sound morals and noble sentiment." Finally, his advice is to "reject sycophancy in favor of self-respect, and vulgarity in favor of refinement." These are the reasons to push cooperation between Western countries and China.
(Print Edition Title: Setting an Example)
The author is editor in chief of the Nouvelle Solidarité newspaper and a researcher with the Schiller Institute, France
Copyedited by Sudeshna Sarkar
Comments to yanwei@bjreview.com