CHINA is home to many universities and vocational schools co-funded by Chinese universities and leading foreign academic institutions to provide students world-class education and academic experience. Typical examples include Duke Kunshan University (DKU) and Xi'an Jiaotong-Liverpool University (XJTLU). Now, the ravaging COVID-19 epidemic has sent them to create new ways to present such an experience. The two universities began online teaching in late February and will continue it until the end of the spring semester. Through this period, teachers and students found that despite the downsides like difficulties of interaction, online teaching exhibited many advantages that traditional classrooms lack. Meanwhile, online teaching better highlights university's mission of educating people. University is not just a place to impart knowledge, but also a place to help students achieve transformation and growth. Moving classes online also means useful attempts and explorations to enable lifelong learning in society.
Xi'an Jiaotong-Liverpool University in Suzhou, Jiangsu Province. started online teaching in February.
Maintaining High Levels of Teacher-Student Interaction
When Tang Lan, a sophomore in DKU, registered for the "Biology 110" course, she did not expect to complete the lab assignments at home. It usually takes 24 hours or more to finish an Escherichia coli bacteria cell transformation test. However, Tang completed one in just 10 minutes thanks to the advanced simulation software recommended by her professor. "Although it was operated in a virtual laboratory, the learning experience is no different. I still need to write an experimental report, just like the previous biology class," said Tang.
Due to the impact of the novel coronavirus epidemic, DKU moved teaching online starting from February 24, and provided students with 3,500 online courses on the Massive Open Online Courses (MOOC) platform for free.
For online teaching, the key lies in maintaining a high level of teacher-student interaction. To this end, in addition to recording videos, teachers at DKU managed to enable student participation and discussions on par with offline classes by leveraging functionalities of livestreaming platforms.
In order to give students a stronger sense of face-to-face participation, Zhu Qian, an assistant professor of history at DKU, encouraged all students to turn on their cameras. "My students live in different time zones. Some had to join the class at 4: 00 or 5:00 early in the morning, but they were dynamic and engaging as I saw through the camera," said Zhu.
According to Matthew Rascoff, who is responsible for digital education at Duke University, technology is generally considered to be impersonal, but in this case, the university hoped to use technology to rebuild the academic community so that teachers and students are actively involved.
"I was worried that online teaching would reduce class interaction, but the grouping function of live teaching platforms facilitates our real-time communication," said Caroline Palmer, a freshman studying in DKU from Connecticut, the U.S.
Through months of online teaching practice, Lindsay Mahon Rathnam, an assistant professor of political theory at DKU, has found a distinctive advantage of online teaching. She believes that the traditional classroom discussions suit extroverted students, who are better at expressing opinions in front of audiences. Introverted students often have qualms about speaking in public, she added, noting that online discussions are more inclusive and allow all students to have time to reflect, engage, and contribute to the discussion.
According to Zhao Chun, a lecturer at the Department of Electrical and Electronic Engineering of XJTLU, students' online feedback is more outright than those did offline. "I can immediately understand which knowledge points students have questions about, and which need to be explained more," Zhao said. After each lecture, Zhao usually leaves some time to explain questions frequently asked.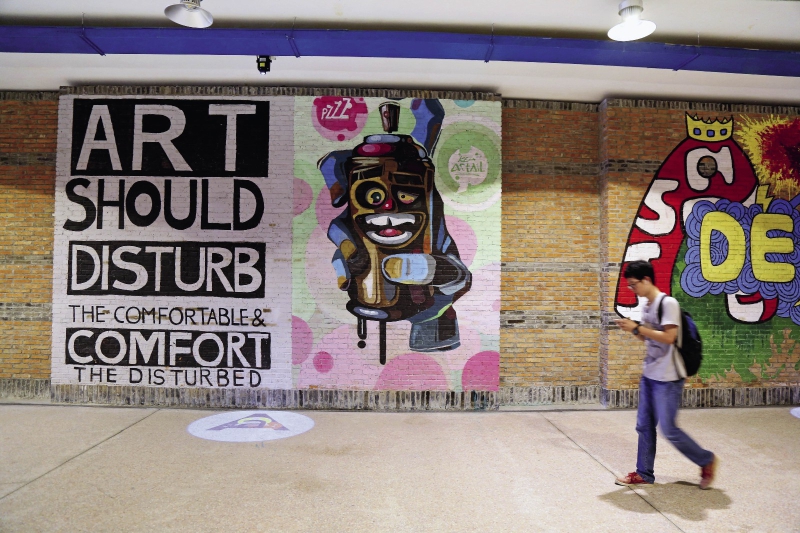 An underground passage on the campus of Xi'an Jiaotong-Liverpool University is covered with graffiti.
Triggering Reflection on the Role of Teachers
XJTLU, located in Suzhou Industrial Park in Jiangsu Province, also started online teaching on February 24.
More than 700 international teachers have launched 465 courses for over 10,000 students around the world on the university's online teaching platform.
"We have to move the teaching online for the safety of students, but it is by no means a makeshift move, nor a simple alternative to offline education," said Xi Youmin, executive president of XJTLU.
"At present, the role of most teachers in colleges and universities is still based on knowledge imparting, and some teachers can provide timely feedback. But I think that in the future, more teachers need to change this one-way knowledge transfer and focus on inspiring students to explore knowledge by offering guidance, effective supervision, and timely feedback," said Yu Hao, a lecturer at the Department of Physics of XJTLU, reflecting on the role of the teacher.
Some teachers said that the combination of online teaching and traditional classroom teaching in the future will be very beneficial.
"Online teaching has higher requirements for students' self-directed learning," said Roberto Donà, a professor at XJTLU International Business School Suzhou. He asked students to study his graduate course materials, including texts and videos, before online classes and then he would answer questions, and give a quiz on the online platform. After that, he would organize an online discussion.
"I don't use the online teaching platform to teach the course content, but use it to discuss what to learn," the professor said, adding that he combined online and offline teaching to improve the course itself.
Teachers should increasingly play the role of a guide, give the classroom to students, and stimulate the internal driving force of students, according to Lindsay Mahon Rathnam from KDU. Classroom discussions are about presenting views after intensive learning and thinking rather than showing fragmented, random, and shallow ideas, said Rathnam. In the future, she will continue to use the online discussion platform as a teaching tool to complement traditional classroom teaching.
Rathnam is also constantly rethinking teaching methods during the course of teaching, in order to optimize students' learning experience. She noticed that in traditional classrooms, teachers' body language, expressions, and voices are very important, and for online teaching, voices have become the main communication medium. "In online teaching, I sometimes slow down my speech appropriately to keep the pace of what I said consistent with students' thinking. Through pauses and pitches of the voices, I allow the students to capture the focus of the course," she said.
Building an Innovative Academic Community
Emphasis on "helping students learn how to learn" is the educational feature of XJTLU. In 2017, the university proposed an integrated approach to education based on the changes of the demand for talents in the digital era. The focus is to cultivate industry elites with strong capabilities of integrating and innovating as part of their strengths to meet the demands of future emerging industries.
Affected by the epidemic, the university announced greater efforts will be made to promote online education. Its signature project – the "Learning Supermarket" – will be launched soon. The project shall explore new forms of future universities by integrating leading online education resources and research results from around the world with the strengths of XJTLU.
The new educational model is also what DKU is focusing on. DKU Interim Vice Chancellor for Academic Affairs Scott MacEachern said that by creating an online university, students in different countries can have virtual global conversations with professors and classmates, which is also a unique way to put down roots in globalization. In the future, the university will integrate experience drawn from online teaching into the classroom teaching, continue to innovate, improve the openness of the campus and the ability to integrate resources, and contribute to building an academic community for life-long learning and innovation in society.
SU YAN is a reporter with Guangming Daily.