B
ORN in 1952, Rémy Aron, a renowned French artist, developed a passion for Chinese culture at a young age. He first traveled to China some 20 years ago and since then Aron has made frequent visits to the country.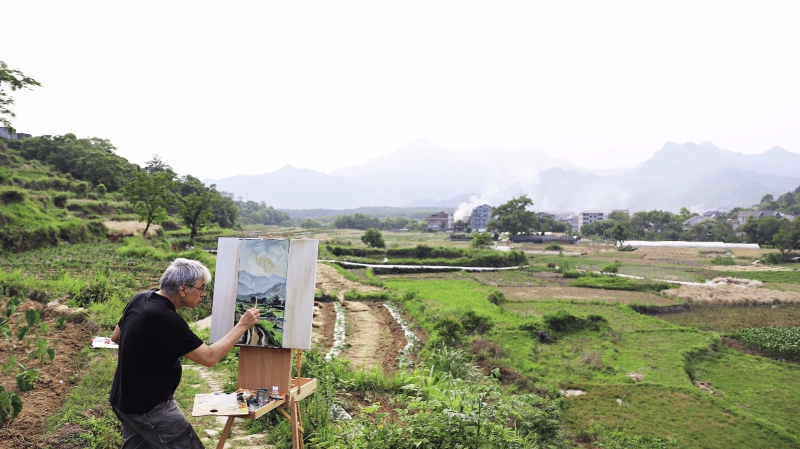 French artist Rémy Aron paints outdoors in Wenzhou, southeast China's Zhejiang Province in May 2018.
A Knight of the Order of Arts and Letters, former president of the La Maison des artistes, president of the French Association of Plastic Arts (AFAP), and member-researcher of the China National Academy of Painting, Aron has participated in art exhibitions and organized en plein air painting events between China and France. In addition, he has been active in arranging exhibitions and seminars bringing together artists from China and France, all of which earned him the title of "messenger of Sino-French cultural exchanges."
With COVID-19 spreading rapidly in France, Aron has been under lockdown in his Paris apartment. In an interview with
China Today
, he acknowledged that the lockdown provides plenty of time to paint and reflect, hoping that humanity will be able to display unity and cooperation in the face of this unforeseen catastrophic event.
Comfortable Life Despite Lockdown
Living in the heart of Paris, the Aron family usually spend the weekend in the countryside in their old family abode in Neauphle, located in the suburbs of the capital.
On the afternoon of March 12, Natalie Miel, Rémy's wife called him at the studio asking him to gather painting equipment as an "imminent lockdown" was announced by the French government. Miel is also a painter and has also travelled extensively in China. "Since that day we have been confined in Neauphle," said Aron.
Despite occasional bouts of anxiety caused by the epidemic, which is exacerbated by media pressure, "We can say, without being too indecent in relation to the great tragedies experienced worldwide, that as painters, and despite this lockdown, we live comfortably," confessed Aron.
Taking the lockdown as a form of retreat, the artists are alone most of the time in the couple's studio, face to face with their canvas, inner selves, and the quest for unity.
Both artists spend their time between gardening and painting, and Aron makes use of this surplus of time to read and reflect on the writings of the great masters, giving him "reassurance and confirmation" in his endeavors.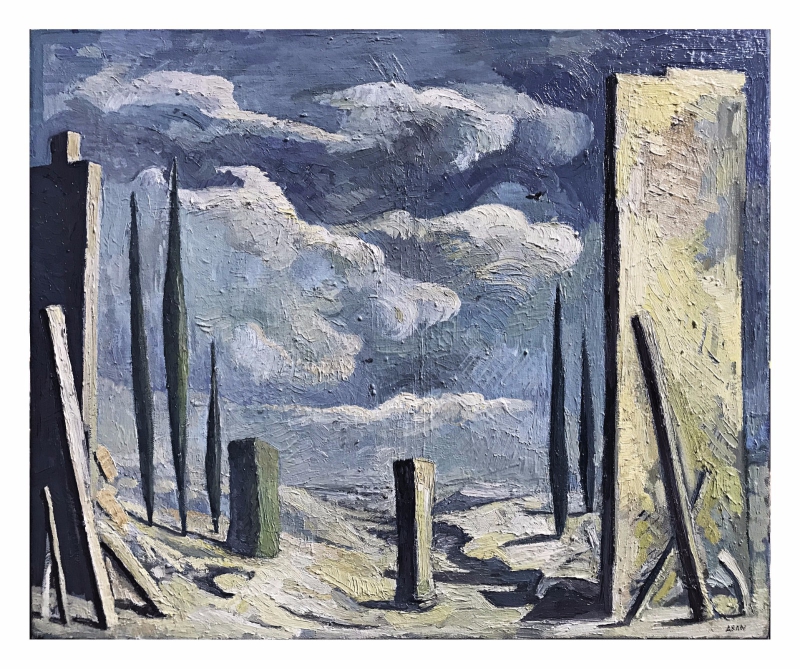 Rémy Aron's work
Paysage
.
The Arons have four children who are also in lockdown but all in different places. Their eldest son and his girlfriend have returned from abroad and worked from home in Paris. Their youngest daughter and her husband were both locked down in their London apartment and worked from home while looking after their two children. Their eldest daughter, a nurse, works in a psychiatric ward, and even though her family lives close to the Arons, they avoided all contact in order to abide by social distancing rules. Aron worried about her because she "has neither masks nor gloves." Their youngest son had gone on vacation with his girlfriend to his grandfather's home in the Alps and could not return to Paris. While looking after his grandfather, he took advantage of this quiet time to write his thesis on the pedagogy of Wang Shu, the great Chinese architect.
According to Aron, the family quickly understood that the disease was utterly contagious and serious, and that anyone could be infected when meeting other people. "We also understood very quickly that the only solution was absolute obedience to collective rules of containment, since we unfortunately had no other weapons."
An Exhibition Planned in Wuhan
For almost 20 years, Aron has continuously traveled throughout China and met with Chinese artists. At the same time, he has often invited Chinese artists to France, which has actively contributed to promoting exchanges between the two countries and their respective development of art and culture. "Like Florence in Italy during the Renaissance, she [Suzhou] was able to maintain artistic traditions and education while fully developing the local economy, which allowed her [Suzhou] to preserve the original art of painting in the midst of the desert that is contemporary art," he told the media during a visit to Suzhou City in east China, last November. "This is how the real cultural Renaissance can come about," said Aron.
Over the last few years, he has befriended many Chinese artists and maintained regular contact with them during the epidemic via WeChat, Weibo (micro blogging), and other online portals. He said that a good Chinese friend sent him a box full of a variety of invigorating herbs and some face masks for personal use. Such a friendly gesture was heart-warming.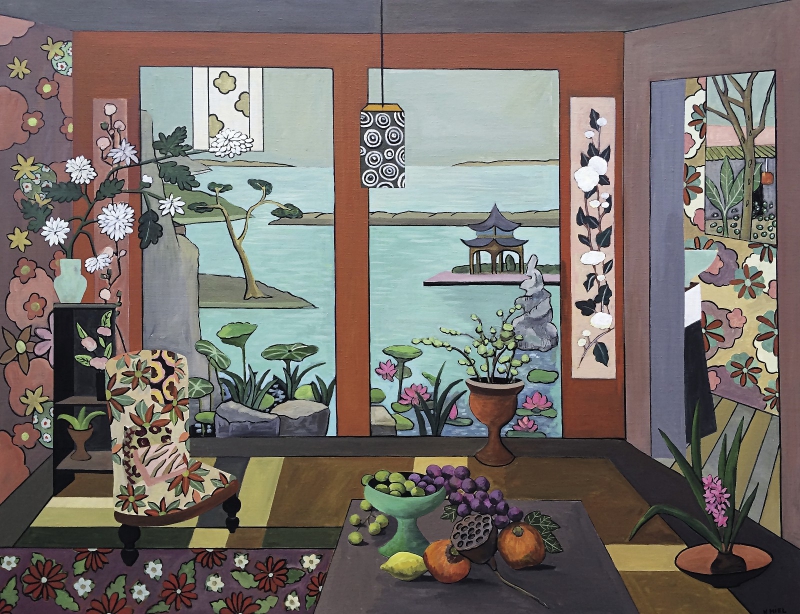 The painting of Rémy Aron's wife Natalie Miel
Le pavillon chinois
.
Aron said his two upcoming trips to China had to be postponed, but the exhibit planned to be held in the ICI-LABAS gallery at the 798 art district in Beijing, still opened in May as scheduled, bringing together works from artists in China, including Yang Feiyun and Shi Lei, together, with two Italian painters, and three French painters, namely Pierre Carron and the Arons.
"In the face of the trauma imposed by this epidemic, I remain fully convinced that the association of Western and Chinese artists will contribute to envisioning the world that will come about." He has therefore planned a large exhibition in Wuhan in cooperation with a Chinese friend who has the same desire, in order to underline the revival of spiritual and artistic cooperation between France and Wuhan.
Aron has been closely monitoring the fight against the epidemic in China. "By taking truly incredible measures, China has saved many lives and above all has set an example and used appropriate measures to curb this health crisis," he said. According to Aron, these political decisions are in line with Chinese philosophical traditions, which give prominence to the respect for human life and the well-being of the community.
At present, the epidemic situation in China is under control, but the world is still in the throes of a pandemic. When China was at a difficult stage in the fight against the epidemic, France reached out and provided material assistance. As a sign of gratitude, China has already sent medical supplies to France, such as medical protective masks, surgical masks, protective suits, and gloves. The French Ministry of Solidarity and Health has ordered a total of one billion masks from China. On March 29, the first batch of 5.5 million masks touched down in Paris from Shanghai.
Aron told
China Today
that he was grateful for China's material assistance. He said that humanity is living through a period that will provide lessons and hope.
"It is the first time that such human solidarity has been displayed so apparently. I believe that we are on the right track. Confronted with an invisible infectious predator, we can display the same attitude and universal understanding. Perhaps now is the time to work towards real and effective global governance that should take care of the health and harmony of our world," said Aron.
LIU YANQING is a freelance interpreter.