AS the raging novel coronavirus disease (COVID-19) enveloped all of China, a myriad of cultural institutions across the country have been temporarily closed to reduce the flow of people, including museums, public libraries, cultural centers, extra-curricular training courses, and even cinemas. However, a diverse range of dynamic cultural activities, enabled and powered by technological advancements and Internet-based technological platforms, are vying to provide the public with rich online cultural experiences and content.
New Experiences Associated with Museums
Zhao Xu, a Ph.D. student at Tsinghua University, harbors deep affection for culture and museums. He originally planned to visit museum exhibitions during the Spring Festival holiday; however, the sudden onslaught of the COVID-19 epidemic left him cooped up at home. "I've noticed that numerous museum websites and official cultural WeChat accounts have launched online exhibitions. It's a good experience to click in and enjoy what on offer. I've gained a lot by visiting these online exhibitions these days," said Zhao.
On February 1, the National Cultural Heritage Administration launched on its website the first batch of 50 virtual exhibitions, allowing users to enjoy the fine collections of various museums across the country.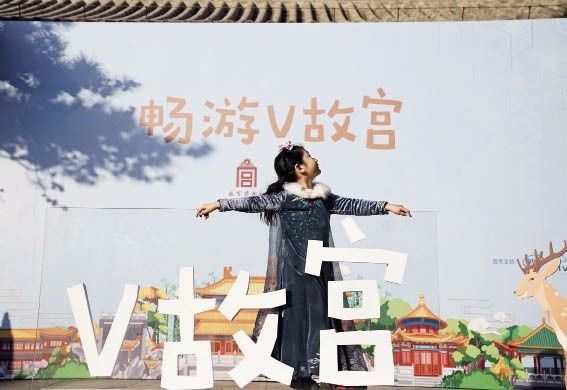 The "Panoramic View of the Palace Museum" presents an impressively new and unique experience for Zhao Xu, who said, "By clicking the button Exploring the Myth Enclosing the Forbidden City, you feel like you are standing on the square in front of the Hall of Supreme Harmony, with the Hall of Supreme Harmony, the Hall of Literary Glory, the Hall of Consolation of Mothers, the Hall of Mental Cultivation, the Palace of Heavenly Purity, and other iconic architecture promptly popping into sight in a seamless linear spatial sequence, and that too in high detail allows the magnificence to be appreciated at close range. Full 360-degree panoramic appreciation of snowy scenery in the Forbidden City instantly emerges just at the click of the button Enjoying the Brilliance in Snow, which enables Internet users to feast their eyes on the glory of the Forbidden City and indulge in the charm of the world cultural heritage from different angles."
Zhao lavished compliments on the experience of the online platforms, "I seldom viewed online exhibitions before due to the inferior experience compared to a physical visit. I am pleasantly surprised by the rich and impressive multiple-platform 'cloud-based exhibitions' experience this time. In some ways, it presents a rich and more splendid exhibits than visiting them in person."
Presently, the "Panoramic View of Palace Museum" digital exhibition has been launched by the Palace Museum, the "Online Database of Exhibitions" has been introduced by the National Museum of China, and the "Digital Dunhuang" is pushed by the Dunhuang Academy. All of them, as well as the virtual exhibition platforms rolled out by the Memorial Hall of the Victims of the Nanjing Massacre by Japanese Invaders, Emperor Qinshihuang's Mausoleum Site Museum and some other museums have utilized new platforms and cutting-edge technologies such as animation, games, VR, and AR to provide holographic image appreciation, virtual touch interfaces, and immersive experience services, drawing hoards of museum fans. Administrative organs in cities including Beijing and Suzhou have also established big data cloud platforms for museums, and launched the online Meet the Museums series on their official micro-blog accounts. The public can enjoy exhibitions and collections via their mobile phones.
While relaxing at home, in addition to enjoying virtual experiences of the digital exhibitions of nationwide museums, people can also participate in public courses related to museums that are usually provided on-site.
"I enjoy the series 'Narrations of Brother Peng' best," said Ding Sitong, a fifth-grade student of Yinchuan Primary School in Ningxia Hui Autonomous Region. She is often unable to hold herself back from regularly checking the WeChat account "Audible Museums" and indulges herself in the audio clips of "Three Kingdoms – Cultural Theme Exhibition." She clicks open the picture upon hearing the introduction of the copper leopard inlaid with gold and silver, carefully survey the plum-shaped spots processed by gold and silver fault technology in the leopard's body and the agate inlaid in the leopard's eyes.
Online courses related to museums have become a highlight of online cultural education. The Sichuan Cultural Heritage Administration, in concerted efforts with educational departments and social mobilization efforts, has launched the "Holiday Museums" WeChat account, offering 200 episodes of Chinese and foreign museum educative courses to the public for free, providing quality learning resources for the general public, especially primary school students.
This move will promote the application of a new generation of Internet technology advancements in the dissemination of China's excellent traditional culture, contributing to the integration of traditional and modern cultures.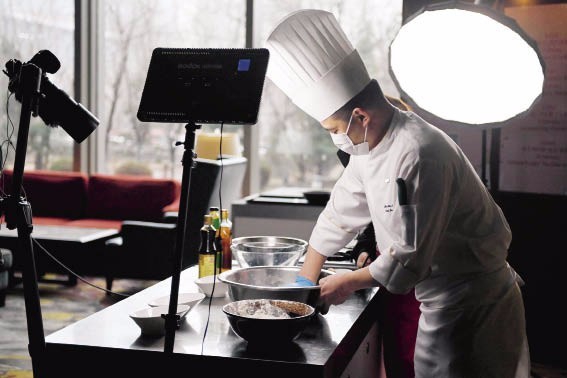 Sharing Cultural Life
Zhang Min, who lives in Handan City, Hebei Province, has had an ardent passion for dancing since her childhood. After retirement, she has been honing her dancing skills by practicing square dancing and folk dances. In the meantime, she has been reading books and newspapers in the library for the past five or six years. As the epidemic ravaged the country, both the square dances on the streets and the dance classes in the gym were suspended, and the library was also temporarily closed. She originally thought that she would have to sit idle at home, depressed by the boredom, but she learned from her dancing partner that the city's cultural center launched a series of online dance classes for the middle-aged and elderly. Zhang went online and found a vast amount of materials to study and learn. As a result, she has spent most of her time at home learning about dancing. "I still feel like there is not enough time. I want to take this opportunity to learn more so I can teach other dance partners later. When we get together to dance in the future, there will be more new dance forms that we can learn from each other," she said.
At the same time, Zhang found that she could also listen to audio books on smartphone by logging onto the municipal library website, as well as browse books and read newspapers on the computer. She immediately informed her friends of these valuable resources as well.
Facing a life interrupted by the coronavirus outbreak, cultural centers and public libraries around the country have launched a large number of online courses for the public to enrich their time spent indoors. Shandong Provincial Cultural Center has integrated and released 400 sets of MOOC (Massive Open Online Course) resources covering 10 categories, including traditional Chinese learning, encyclopedia of life, sports and body building, culture, and art. In Chengdu, Chenghua District Cultural Center and Jinjiang District Library, in collaboration with Superstar Digital Culture Museum, jointly launched a series of free online courses involving history, literature, arts, Chinese studies, science, philosophy, psychology, film and television, music, intangible cultural heritage, and life encyclopedia.
Shandong Provincial Cultural Center "transitioned" the public welfare art training course online. Qingdao Cultural Center planned and produced digital cultural resources on a broad range of topics such as calligraphy and square dance teaching, and opened online public welfare training classes. Jinan Cultural Museum launched an online art learning program, providing video lessons and teaching of vocal music, calligraphy, painting, dance, photography, and opera appreciation, to name after Yantai Cultural Museum and "Loving Art+" jointly created a cloud-based "learning art" platform covering 50 categories in the field of art including music, dance, and drama, all being available free of charge throughout the day to facilitate citizens to participate in art training.
Virtual Campaigns on Inheritors of Intangible Cultural Heritage
In addition to the cultural MOOC, virtual programs on intangible cultural heritage have generated more cultural resources to nourish people's daily life.
The Shandong Provincial Cultural Center cooperated with the WeChat account of the BaiHuaZhou Traditional Craft Studio to establish a Live Lab livestreaming platform for intangible cultural heritage artists, which can promote online videos of intangible cultural heritage inheritors to promote intangible cultural heritage. At present, 30 to 40 inheritors of the intangible cultural heritage projects including Taishan shadow play, Taishan paper-cutting, Gansu plant textile printing, and Xiangxi embroidery have participated in the live webcast, attracting more than 300,000 online viewers.
On the afternoon of February 16, Wang Xiaotian, a master of Guqin (a seven-stringed plucked instrument in some ways similar to the zither), played the musical instrument in a live show of the Live Lab platform, attracting thousands of viewers and earning much praise. He rendered incredible performances of renowned pieces such as Returning after Resigning, Moon at the Fortified Pass, Two Cranes Listening to a Spring, Verse of the Autumnal Wind, Wild Geese Descending on the Sandbank, and the Complaining Queen in Changmen Palace...all presented in an interactive livestream. Wang introduced the lyrics first and then performed the classical pieces, whose melodic beauty and exquisiteness were soul-stirring and enthralling. "The master's performance is intoxicating," "The brilliance of the wonderful online concert has deeply enriched our life at home," another gushing amounts of praise were expressed by the viewers throughout the performance, and many presented gifts and applause as the music aroused their inner feelings.
The public, at one click of the official WeChat account of the Sichuan Provincial Cultural Center, can also indulge in the appreciation of 10-episode Sichuan heritage projects series Bashu Techniques, also produced by the center. The production of the feature-length documentary lasted 300 days, with materials accumulated following visits to 10 cities, interviewing 20 craftsmen, and photographing 10 traditional handicrafts.
The utilization of new technology to disseminate the essence of culture digitally and online has catalyzed cultural content delivery, boosted its vitality, and enriched and diversified people's cultural life.