long ago, a group of photos of college graduates caught the attention of many Chinese netizens. Dozens of female students from Hunan University of Chinese Medicine, holding silver needles in front of the statue of Bian Que, a legendary ancestor of traditional Chinese medicine, or wandering around in the garden and smelling herbs, posed for graduation photos. What sparked all the buzz was that instead of wearing the standard Western-style bachelor's graduation gown, they wore colorful traditional Chinese Hanfu clothing. Hanfu means clothing of the Han people, who are the predominant ethnic group in China.
Several dance lovers dressed in Hanfu dance on the plank road of Jiulong River in Rucheng, Chenzhou, Hunan Province, on November 2, 2019.
In recent years, Hanfu culture has attracted an increasing number of people, especially the younger generation. Walking in the streets, shopping malls, and popular Chinese tourist attractions, it is becoming more common to see people wearing traditional Chinese attire. Wearers are not only fascinated by the beautiful appearance of Hanfu, but also interested in the rich and profound culture behind it.
Hanfu on the Rise
Zhang Yun said although she has always been a fan of Hanfu, it is only recently that she began wearing it in public. "Every Spring Festival, Dragon Boat Festival, Mid-Autumn Festival and other traditional festivals, I will wear Hanfu to go out and express my respect for traditional culture."
Zhang said that she fell in love with Hanfu as a young child. When she entered college, through studying Chinese traditional culture, she developed a deeper attachment to Hanfu. "In the past two years, as the popularity of Hanfu has soared, the public's acceptance of it has also increased. Now you can wear it in an honorable way, feeling dignified and beautiful," said Zhang.
Most people think that Hanfu refers to the costumes of the Han Dynasty (206 BC - AD 220), which is a misunderstanding. Hanfu first appeared in China more than 3,000 years ago and was evolved with fashion in the following dynasties. During the Han Dynasty, through hand-painted patterns, cutting, sewing, ironing, and other processes, the clothes were made using unique dyeing, weaving and embroidery techniques. They were characterized by crossed collars tied to the right, ribbons, and hidden buckles. Later, a variety of styles gradually evolved, such as curving-front robe, straight-front robe, high waist skirts, and embroidered skirts, an epitome of Chinese style and aesthetics.
"I didn't expect Hanfu to be so elegant!" said Li Hong, a millennial girl, after seeing a group of girls in Hanfu walking in the street. When she got home, she began to study the culture of Hanfu and began to make the clothing herself. She delved into the study of Hanfu from ancient books, then bought cloth and designed the clothes with a twist, making it more fashionable and adding modern elements.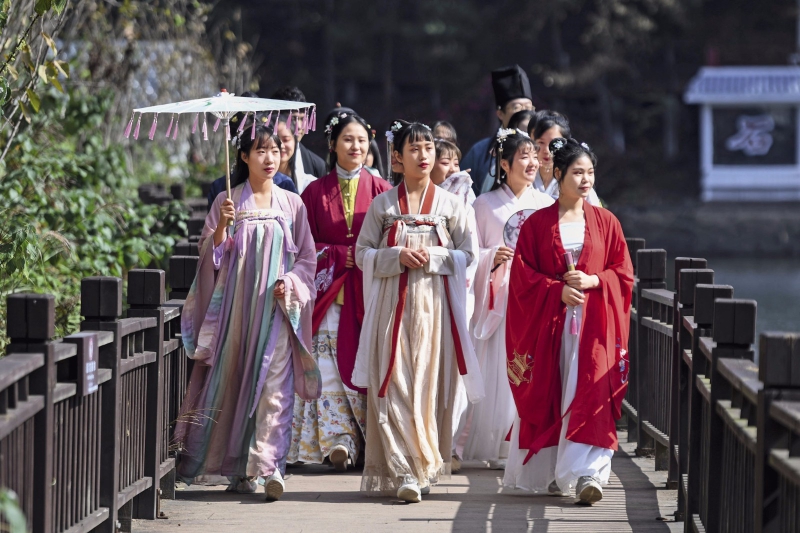 Many fans of Hanfu wear the attire to carry forward the traditional culture.
According to the 2018 survey by Hanfu Information, a Weibo blog, the average age of Hanfu wearers is 21.03 years old. Among them, the 19-24 age group accounted for the highest proportion, which was 52.14 percent. Compared with the previous year, the proportion of people under the age of 18 is increasing, showing that Hanfu is being worn more by the younger generation.
"At present, the development of Hanfu among young people is 'explosive.' The development of anything will take off as the young generation participates," said Bao Huaimin, who has studied the culture of Hanfu for more than a decade. He noted that more than ten years ago when Hanfu began its revival, most of the people who demonstrated interest in it were those in their 30s and 40s.
Hanfu Is Big Business
Hanfu is mainly divided into two categories: daily clothes and ceremonial robes. Generally, people wear daily clothes. The price of a set of daily clothes can reach US $100, and this can vary depending on the workmanship and fabric. This kind of daily wear attire is generally processed in large quantities in a factory.
A set of more affordable ancient Chinese clothing can be purchased for under US $10, but that's not Hanfu in the real sense, because it does not follow the original design. There are essential differences between traditional Hanfu and studio, film, and television costumes. Hanfu has strict design patterns because it is endowed with cultural etiquette and connotation.
In the past, custom-made Hanfu could be ordered and collected within days, but now customers must wait for months because of increased demand. According to a Hanfu fan, the orders of a very popular made-to-order high-end Hanfu maker he knows are already booked to November 2020. According to the 2018 Report on Hanfu Consumers released by Tmall, the number of Hanfu buyers increased by 92 percent year-on-year in 2018. Statistics from other relevant institutions, showed the scale of the Hanfu industry has topped RMB 1.087 billion in 2018, and it is expected to continue to grow in 2019.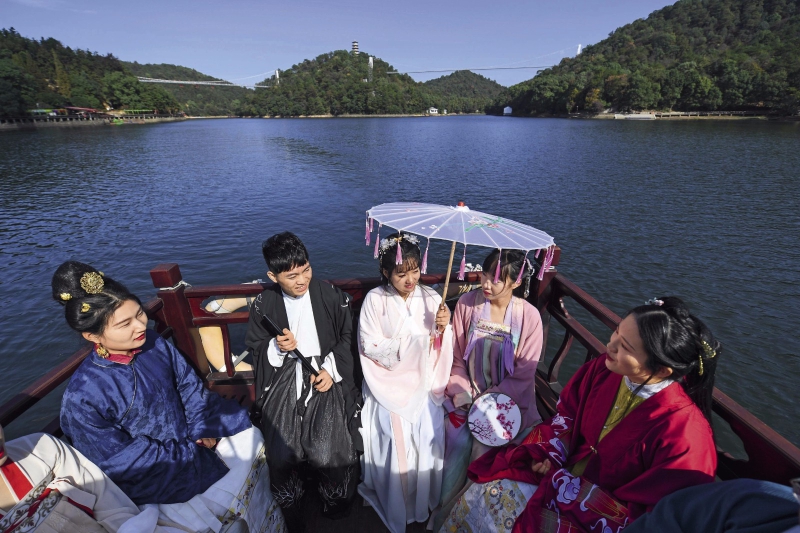 On November 19, 2019, the Hanfu Festival is held at the Shiyan Lake scenic area of Changsha, Hunan Province, where Hanfu lovers enjoy themselves by riding boats across the lake.
Hanfu fever is also driving the development of related industries. Su Yang, 36, who has been involved in the wedding industry for many years, said more and more young couples want to hold their wedding ceremony in Hanfu style, hoping to experience the unique charm of Chinese traditional culture. "In fact, it's not cheap to hold a Hanfu wedding. The whole wedding ceremony is in line with the ancient law, from the site layout, wedding clothes to the ceremonial links. The props adopted in the ceremony, such as small tables, copper basin, Han plate, gourd cups are all specially customized, and it will cost between RMB 30,000 and 40,000," said Su. The relatively high cost has done nothing to deter enthusiasts. At present, the Hanfu style wedding orders in Su's company have been scheduled to March this year.
In addition to Hanfu weddings, other merchandise such as ancient fans, lanterns, and bags are also very popular. Gradually more and more professionals and brands are engaging in designing and producing these items, which also helps to drive the Hanfu industry.
Culture on the Body
Certain Han costume lovers in the age group of millennials and post-millennials like to hang out with their friends at traditional festivals, such as the Chinese Valentine's Day and the Lantern Festival. Li Shanli, a Hanfu enthusiast, said that she had recently joined the Jinan Hanfu Group which has more than 800 members.
They often organize members to wear Hanfu to visit various scenic spots in Jinan.
In the eyes of many "Hanfu youth," Hanfu not only represents the clothing but also provides a connection to traditional culture. At present, many primary and secondary schools offer courses on Chinese studies, and many colleges and universities have societies of Chinese studies. Traditional dramas and handicrafts have entered the campuses, providing a basis for the popularization of Chinese costume culture. At the same time, Hanfu culture also enables children to develop a stronger interest in the essence of traditional culture, and thus enhance self-esteem and self-confidence in the national culture.
With the rapid development of China's economy, people have gained more cultural self-confidence, and attention is shifting to the rejuvenation of national culture. As a symbol of Chinese aesthetics, Hanfu contributes to quietly motivating a re-emerging Chinese fashion style.
___________
Zhang Peihao is a People's Weekly reporter.