CHINA is home to porcelain. There are thousands of art forms related to porcelain in the country. Among these art froms, carved porcelain is a very unique kind.
Porcelain carving is derived from jade carving and stone carving. It first appeared in the Song Dynasty, and prospered in the late Qing Dynasty. By carving, the sleek surface of porcelain is engraved with different patterns or poem inscriptions or both, instantly becoming three-dimensional, and this, to some extent, injects spirit into the porcelain.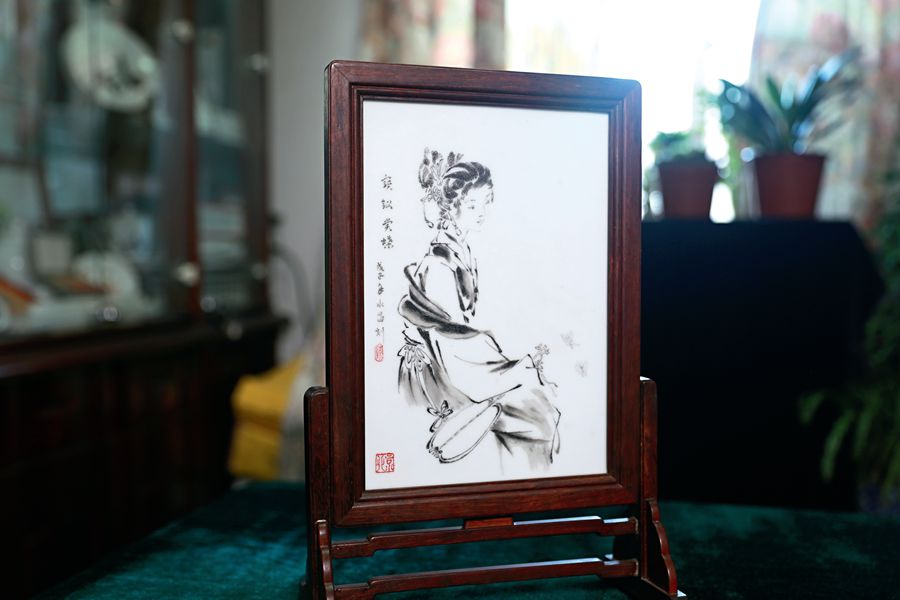 Baochai Appreciating Butterflies, a story from the Chinese classic A Dream of Red Mansions, carved on a porcelain screen by Chen Yongchang.
Beijing carved porcelain is unique among various types of carved porcelain across China. As an intangible cultural heritage of Beijing, it originated in the Qing Dynasty during Emperor Qianlong's reign. There was an office in the imperial palace especially set up to pool skillful craftsmen from around the country to work for the imperial family. It was in this cultural setting that Beijing carved porcelain was developed. In the late Qing Dynasty, a high-ranking official Chen Bi set up an arts and crafts school in Beijing with training courses for various arts and crafts disciplines, and Beijing carved porcelain was among them. A brief history reveals the characteristics of Beijing carved porcelain: closely connected with imperial needs, it is considered noble and thus favored by collectors.
Refined Craftsmanship
As its name indicates, carved porcelain refers to porcelain carved by specially made knives. The carvings might be deep, shallow, thick, or light, which is controlled by the artist to express the spirit of the calligraphy and images to be carved. As a result, the paintings and the porcelain are complementary and add color to each other.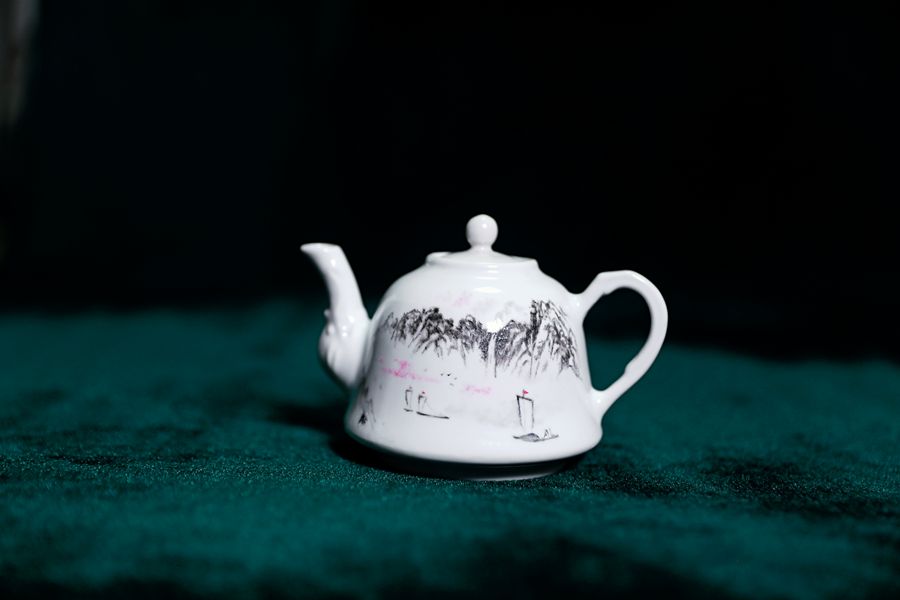 A landscape painting carved on a teapot by Chen Yongchang.
To create a fine carved porcelain, there are two main steps that are followed. The first one is designing. Before carving, the artists usually design and visualize the whole craft in their mind first, which requires them to possess and draw on both artistic technique and experience. After designing comes drafting. The artists need to outline the patterns of what they've conceived on the surface of the porcelain, laying a foundation for carving.
There are three kinds of skills in the carving of porcelain. The first one is chiseling. An artist normally grips a small cuboid wood block with two adjacent fingers as a hammer, and then with it knock the top of the diamond chisel rhythmically. Through different levels of strength used during chiseling, varied shades and patterns can be created.
The second kind of skill is carving. After outlining, the artist starts carving the patterns on the surface of the porcelain with a diamond knife.
The third kind of skill is engraving, mainly used for outlining the patterns. For example, when an artist wants to carve a human figure on the porcelain, he first engraves the outline and clothes before chiseling or carving for further refining.
After the carving process is completed, the artist will fill in the patterns with color. This step might be repeated several times for a natural, clean, and detailed result. Normally, a finished piece might need several layers of coloring.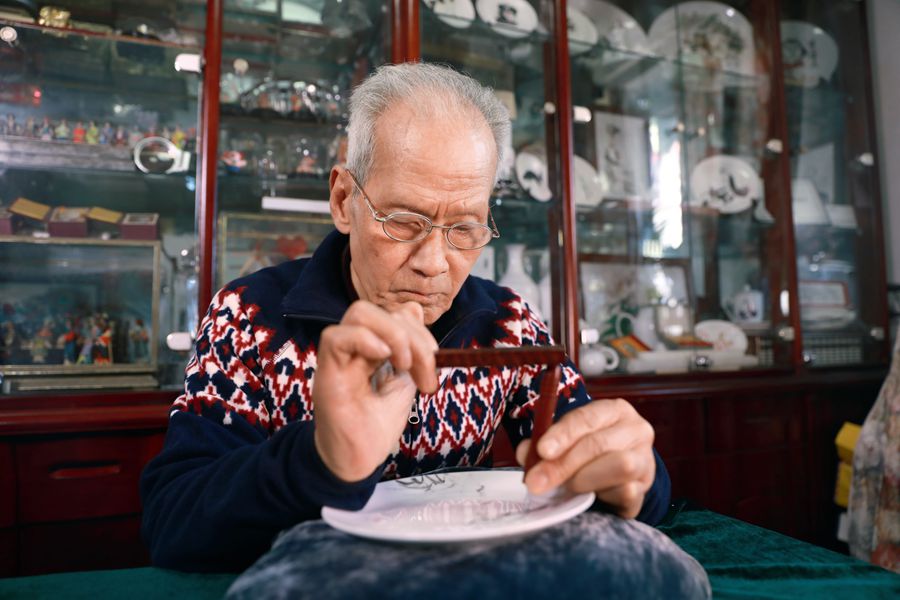 In his 80s, Chen spends most of his working time in his living room, which also serves as his studio.
Beijing carved porcelain is crafted on the glazed surface of porcelain by utilizing the skills of chiseling, engraving, and carving to present various details of a traditional Chinese painting. Different lines are used as the basis to present the appearance and spirit of the pattern to be carved. The carved images are then colored with Chinese ink or colorful pigments. The clear contrast caused by the difference between the smooth glaze and all the harsh carved tracks give the porcelain new values in the eyes of collectors.
Today, not many pieces of carved porcelain from the Qing Dynasty remain. This is mainly due to two reasons. First, this craft requires advanced skills as porcelain is hard and brittle with a slippery surface. Second, porcelain carving combines painting and carving, which means to finish a single piece requires a very long period of time and much effort.
The Third Generation Successor: Life-Long Devotion
In the 1900s, the best way to make a living for those who lived at the subsistence level was to learn a kind of craft. In 1904, Chen Zhiguang, a native Beijinger, dropped out of school due to poverty. His parents then sent him to the arts and crafts school in the district of Xuanwu in Beijing to learn porcelain carving from the famous artist Hua Yuesan. Today, the third generation successor of Beijing carved porcelain that succeeds Chen is his son Chen Yongchang.
Chen Yongchang began his career at 16 years of age. Over the following 60 years, he got the essence of his father's skills and incorporated his own style of Chinese calligraphy and Chinese painting into his carving, creating works with profound cultural appeal to viewers.
Now in retrospect, Chen said the biggest lesson he learned throughout his career was that inner peace is the key to good porcelain carving. To him, the artist needs to sit down and focus his full attention when carving, as a reconnected line is easily noticeable. The whole process demands patience, which can only be cultivated through practice.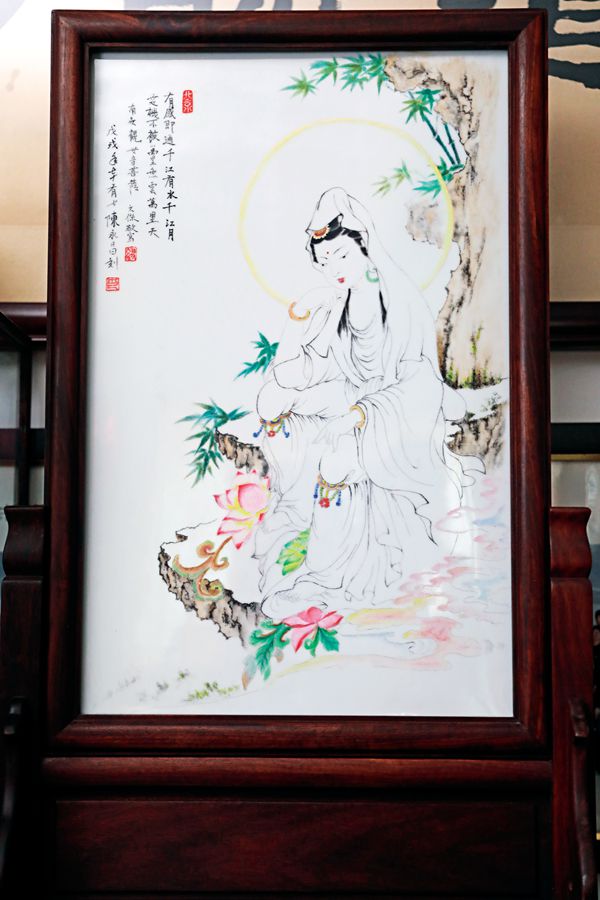 A piece of work with a Buddhist theme carved on a porcelain screen by Chen.
"A single stroke of a painting requires mere seconds of a painter's time, but it takes one to two days to be carved. Besides, at the beginning we did not have diamond knives; our main tools were steel chisels, which took more time than today. At the same time, we also need to have a taste for the painting to be carved."
For a long time, Beijing carved porcelain remained little known to many. In 2009, it got listed on Beijing's intangible cultural heritage list, which brought it attention and financial aid from the Beijing municipal government. In 2014, the Intangible Cultural Heritage Protection Center of Beijing's Xicheng District organized an activity to pool volunteers who were interested in China's traditional craftsmanship and teach them the skills. In 2017, the Beijing municipal government held lectures in Beijing Union University to publicize Beijing carved porcelain among college students. As a result of the effort made by the government, more people have come to learn about this heritage.
Chen Yongchang hopes more young people will participate in protecting this art, and he vows to do whatever is needed to help preserve the craft. Now, Chen is passing this craft on to his student Zhou Xiaoming, who was one of the volunteers in 2014.
The Fourth Generation Successor:
Injecting Emotions
Zhou Xiaoming is one of those referred to as millennials. She is now the fourth generation successor of Beijing carved porcelain.
Born in the suburb of Zibo, Shandong Province, Zhou says she grew up in a ceramic production center, and became familiar with this field from an early age. In addition, she majored in ceramic design in college and has studied Chinese painting since childhood.
"In 2014, when the protection center was looking for volunteers, I immediately signed up. As a lover of ceramic art, I find carved porcelain very interesting, and I want to inherit it if I have the chance. At the time I singned up, I had no confidence I would be selected as there were so many volunteers signing up. Luckily, I got the chance to sit together with nine other students in Mr. Chen's class. Now I am the only one who has made it my life career."
In Zhou's eyes, porcelain carving is a comprehensive art, and its innovation lies in a deep understanding of its theory.
Zhou pays great attention to the temperature at which porcelain is baked. She uses a lot of porcelain from Jingdezhen in east China's Jiangxi Province, since they are baked at a lower temperature, making the glaze relatively soft and easier to carve.
"I like carving on porcelain with transmutation glaze, a kind of porcelain baked by fire using a technique which gives the glaze ununiformed shapes. When I was creating my work A Lonely Road, I tried more than 20 porcelain vases before finally choosing one. The glaze of the chosen vase trully resonated with my initial ideas as it looks like a winding road, reminiscent of the overland, winding road that Monk Xuanzang took from China to India in pursuit of Buddhist scriptures. At times it was windy, snowy, freezing, and at other times there were sand storms and burning hot weather."
Zhou wrote her thoughts on paper and displays it together with the work at exhibitions so viewers can further understand the background of her carvings.
The injection of new blood into this venerable art is revitalizing Beijing carved porcelain. There is still much lying ahead for us to further explore this century old art.